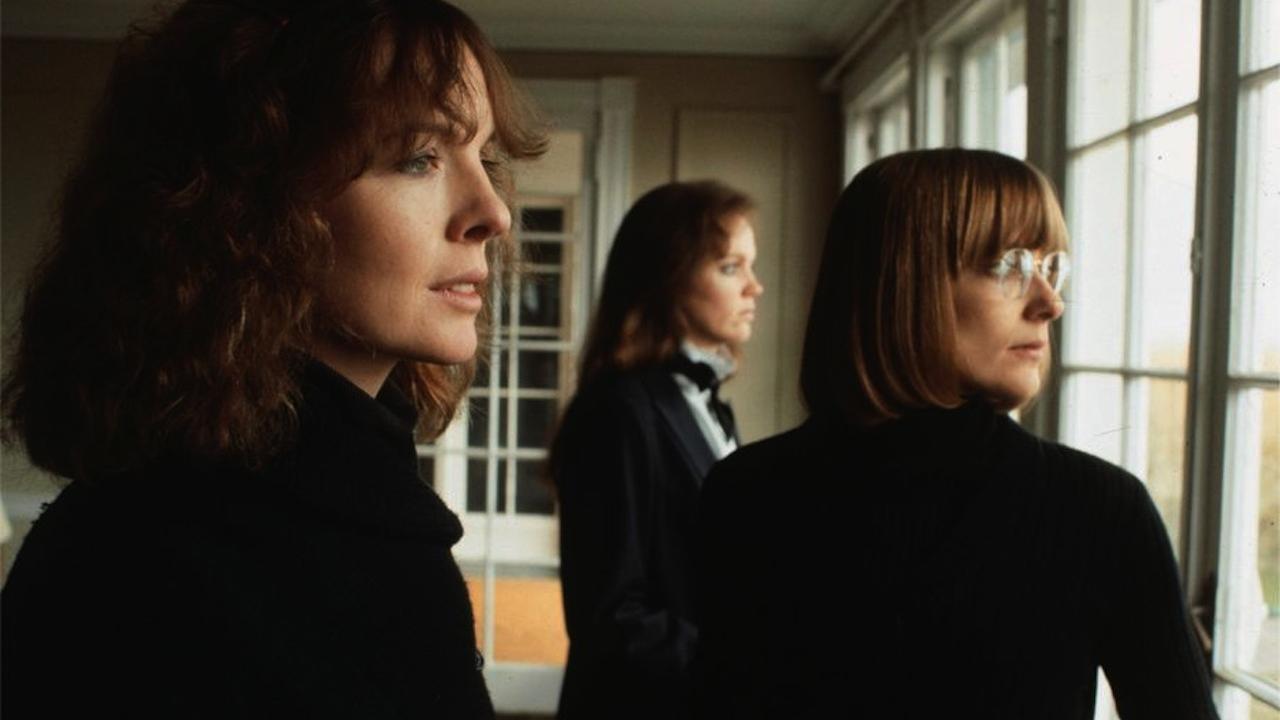 The 7th film written and directed by Woody Allen
Interiors is Woody Allen's first serious work – a quiet drama about a family. It's not only his first dramatic film – it's his first dramatic ANYTHING. Years of stand up, playwriting, acting and writing comic short stories was put aside for 100 minutes. Not in a bad way- but there is nothing funny about 'Interiors'.
Diane Keaton, Mary Beth Hurt and Kristin Griffith play three sisters who barely get along. Their parents (E.G. Marshall and Geraldine Page) have recently separated, leaving the daughters to deal with their family, their partners, their ambitions and their lives.
Conception
"But, I love you. And we have no other choice, but to forgive each other."
This was Allen's first dramatic work - not just dramatic film. Six films, years of standup, the odd TV special, a couple of plays and dozens of magazine pieces - none of it was ever not funny. Says Allen [1]:
I wanted to work in dramatic films a little bit. I didn't want to work in them most of the time, but I wanted it to be part of my production. And I was not going to start off with any half-hearted measure. I was not going to do a little bit of dram or a conventional drama or a commercial drama. I wanted to go for the highest kind of drama.
Yet, that deeper seriousness was always there. Says editor Ralph Rosenblum [2].
Even before he made a movie, he had that Bergmanesque streak. He was going to make funny movies and pull the rug at the very end. I wasn't shocked by the original end of Take the Money and Run(where Virgil is machine-gunned), but I thought it was stupid. But that's something he has carried through all his movies and he will finish his life making serious movies. He says that comedy writers sit at the children's table and he's absolutely right about that. He wants to be remembered as a serious writer, a serious filmmaker.
The film was certainly inspired by Ingmar Bergman. Bergman is a towering figure in cinema. Born in 1918, he began his career in 1944 and worked pretty much until his death in 1989. His mid 50s work really broke through, and his films played in arthouse cinemas around the world. It was at this time that Allen discovered them. He told Mark Kermode [3]:
I was a late teenager and I saw a Summer With Monkia and The Naked Night [more commonly known as Sawdust And Tinsel] and they were just clearly superior to other people's movies.

The fact that he's got a mind and an intellect and the films are about something and they're substantive and they're philosophical and they're profound on a human level - that's all great. But he's first and foremost an entertainer so it's not like doing homework.
Bergman references can be found in Love And Death (1975) and Annie Hall, but this moves beyond using a bit of Bergman for a gag. Bergman's pace and tone are in this film, which was a far cry from the manic slapstick of Allen's earlier films. Allen would continue to use Bergman for inspiration, some times more overtly than others.
The specific Bergman films that inspired Allen was Cries And Whispers (1972), and there's a healthy bit of Persona (1966) too. Says Allen [3]:
The way [Cries And Whispers] was shot was hypnotic. The choice of colour and the choice to do the subject matter poetically, he's really a poet.
These are films starring women and driven by female relationships, something that inspired Allen. Interiors also marks Allen's jump to writing for women first [1].
When I first started writing, I could only write from the man's point of view. And I was the man. Every situation was from a male point of view. But somewhere along the line - I don't know why or what happened - it switched. And suddenly, for some reason, I started to write basically from the woman's point of view all the time.
This was more than just Bergman however. Allen told Roger Ebert [4]:
I wouldn't call it Bergmanesque… I wish it were more like Bergman. But it doesn't have that Swedish sort of cold, cerebral guilt. It has more vitality; it comes more out of the tradition of American family dramas. I'd say it was more like Eugene O'Neill than Bergman.
Eugene O'Neill was another inspiration. His most famous work Long Day's Journey Into Night also tells the tale of a difficult mother and three siblings (this time all men). Allen has even joked about the difficulties of production, referencing O'Neill. Says Allen [5]:
It's always been my fear. I think I'm writing Long Day's Journey Into Night and it turns into [daytime soap opera] Edge of Night.
Allen also credits Anton Chekhov as an influence on this film, in particular the poetic language of Uncle Vanya, and the characters in Three Sisters.
The plot of the story came from a story Allen had heard. A husband at the breakfast table, just very nicely, in a very gentlemanly way, said that he was finally going to leave. And the mother left the table and went to her room and killed herself.
But Allen had started the story thinking of Eve. For all the talk of Woody Allen surrogates in his films, it was with the mother that Allen most identified.
She reflected me. I have a certain part of my personality that has got that rigid, obsessive coldness. Everything has to be perfect and in perfect order.
This family aspect of the story came together after Allen met a pair of families. He told Ebert [4]:
I started with an idea for the mother, a New York woman with incredibly good taste, style, breeding, who doesn't like the way things are turning out for her. Then I happened to meet these two families, one Jewish family in New York, one gentile family in California, both with three daughters who were tremendously competitive. I kind of put everything together and wrote Interiors.
There is no clear Allen surrogate. Renata perhaps says Allen's thoughts on a lot of issues. But it was Joey that is the centre - a role Allen considered for Diane Keaton. Keaton felt more comfortable as Renata, and Mary Beth Hurt took the role. Says Allen [6]:
The film was originally, clearly about Joey, but in the editing and rewriting and shooting, it's become a little more ensemble. Still, I feel that Joey's the central character.
Windows are a big motif in the film, and Allen had considered calling the film Windows. Cinematographer Gordon Willis would use that title for his only directorial effort in 1980. It was Diane Keaton who suggest the title Interiors.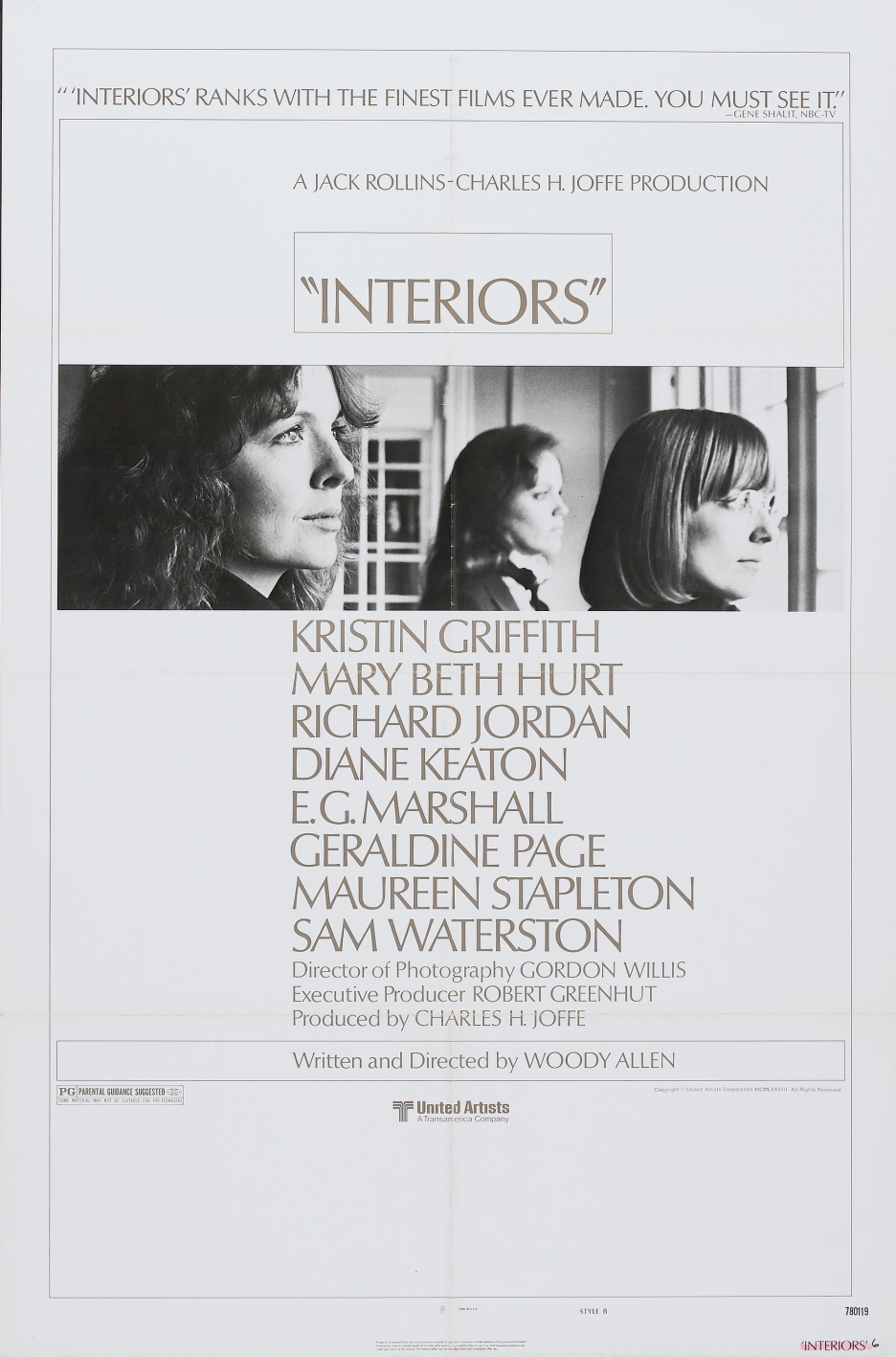 Production
Allen shot Interiors in New York. But this is not a film about external locations. Says Allen [1]:
"This is one of those things that takes place more metaphorically. I mean, I didn't locate this in New York in any way exploited the city. I wanted it to be in the realm of the subconscious and unconscious."
The wonderful house, which we almost only see from the inside, is in Southampton, Long Island. Production designer Mel Bourne saw over 50 houses before settling on what was at the time called Eden Cottage.
"It was a very pretty house and I thought we made it very, very beautiful. But the owners did not think so. When they came back they were mortified. Not that we had done anything wrong; they knew we were going to change it. But they were mortified at how we made it. I thought it was quite beautiful. There were owners of antique stores in town who told us after the picture came out that there was a big run on country antiques, French, English, and American country antiques. Of course, we restored the house to the way it was."
Allen decided not to act in the film. He was self aware enough to understand that audiences would laugh if he was onscreen. He also deemed himself not talented enough to pull off the serious nature of the male roles.
Ideas aside, this is a showcase for cinematographer Gordon Willis skill with light - or lack of light. Willis filmed in wonderful darkness - the final scenes are so soaked in natural darkness, it adds to the gloom.
Continuing from Annie Hall (and again inspired by Bergman) Interiors has no film music - just music that happens in the world of our story. The main source of music is the pivotal scene where Pearl is dancing and breaks a vase.
Moving so far out of his comfort zone was not easy for Allen or his regular team. But this was an important film in Allen's career, the first of a long line of dramas. Says editor Ralph Rosenblum [2]:
"He [Allen] managed to rescue Interiors, much to his credit. He was against the wall. I think he was afraid. He was testy, he was slightly short-tempered. He was fearful. He thought he had a real bomb. But he managed to pull it out with his own work. The day the reviews came out, he said to me, 'Well, we pulled this one out by the short hairs, didn't we?"
The film's production budget was $3.1 million.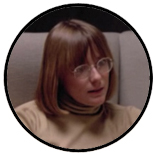 Release date
2nd August 1978
Studio
United Artists
Duration: 99m
US Rating: PG-13
Rotten Tomatoes 77%
IMDB: 7.6
Roger Ebert: 4/4
US Box office: $10,432,366

US Adjusted Box Office: $38,787,000
Screenshots
Cast
Kristin Griffith plays Flyn, in her debut film role. She would have dozens of roles on stage and on TV, but this was her most significant stage role. Funnily enough, her New York Townhouse became a favoured location for the Law And Order producers. It also meant she appeared several times in that show, as different characters, over two decades.
Mary Beth Hurt plays Joey, in her debut film role. She would also have a long career on stage, screen and TV. She appeared in great films such as The World According to Garp (1982) to Young Adult (2011). At this time she was married to William Hurt, who would go on to appear in Alice (1990). Says Allen [1]:
"The minute she walked  into the room, the second I set eyes on her, she was exactly what I envisioned. Juliet just knew her, and she's a wonderful actress."
Richard Jordan plays Frederick. He had many star credits - having recently appeared in Logan's Run (1976) and would go on to appear in Dune (1984), The Hunt For Red October (1990) and more.
Diane Keaton plays Renata. This is her fourth film in a row with Allen. She would work with Allen three more times. In between, she had appeared in the wonderful, but for some reason forgotten drama Looking For Mr Dunbar (1974). It was a her first truly lead role, and she carried the film. She is the most famous person in the billing for this film at the time.
E.G. Marshall plays Arthur. He had a long career and many TV roles, but will be best remembered in film for 12 Angry Men (1957). Denholm Elliot was considered by Allen for the role. He would finally work with Allen in September (1987)
Geraldine Page as Eve. She was a star of stage and screen, known for her work on Teneseesee Williams' works. She was nominated for Best Actress at the Academy Awards for her performance here. She was nominated 8 times before finally winning in The Trip To Bountiful (1985). She was also nominated for a BAFTA and Golden Globe. Says Allen [1]:
"She was at that time our greatest actress in that age group. And she seemed perfect for the part. She's very dynamic and expressive and very refined. In general, I like to trust the actors; when an actor is doing something that's good and meaningful, I just like to leave the camera on them and let them be there and not bother them. And Geraldine Page was that kind of actress, somebody to trust."
Says Diane Keaton [7]:
"When Woody gave her direction, she smiled, nodded her head politely, then completely disregarded everything he said.

Geraldine Page was an acting genius. Rules don't apply to genius."
Says Page [8]:
"I felt I understood the character; that part didn't bother me so much. But the execution of it was extremely difficult because of pleasing Woody."
Page on the film [8]:
"It's so compelling and I'm so pleased about my work in it. It's an unusual film. It's so spare."
Allen had written the role with Ingrid Bergman in mind, but she had committed to working with Ingmar Bergman (of all people).
Maureen Stapleton plays Pearl. She had a long film career, appearing in many great films from Airport. She was nominated for an Academy Award for Best Supporting Actress, and would go on to win in 1981 for Reds.
Sam Waterson plays Mike. He is best known for his 16 years on Law And Order.  This was the first of four times he would work with Allen, next returning for Hannah And Her Sisters (1986).
Interiors
is featured in our book
The Woody Allen Watcher's Guide
Book 1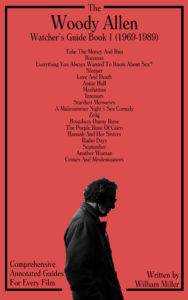 Locations
Bonnie Dune
Decoration and Design Building
Church of St Ignatius Loyola
Crew
Gordon Willis returns as cinematographer, his second film in a row with Allen.
Joel Schumacher's second and last film with Allen, and his last ever as costume designer. He had worked with Allen on Sleeper (1971), but would start work on his first theatrical feature with The Incredible Shrinking Woman (1981), and a long successful film career to follow.
Mel Bourne (Production Design) and Daniel Robert (Set Decoration) were nominated together for an Academy Award for Art Direction. This was Bourne's second film with Allen, having worked on Annie Hall. He would work on Allen's next five films.
This would be Ralph Rosenblum's final film with Woody Allen, having been with Allen since his first film Take The Money And Run (1969). Rosenblum and Allen did not see eye to eye on this film, and their relationship dissolved. Shortly after, Rosenblum moved out of editing into a short directing career. He wrote a phenomenal book about his editing days called When the Shooting Stops...The Cutting Begins: A Film Editor's Story. His assistant on this film was Susan E Morse, who would take over as Allen's editor.
Juliet Taylor, Charles H Joffe and Jack Rollins all return.
Release
Interiors was released in the US on 2nd August 1978. At the top of the US box office at the time was National Lampoon's Animal House, which for one week interrupted a 16 week run for Grease.
It was screened outside the US for the first time on 20th September 1978 as the closing film of the San Sebastián Film Festival in Spain. 
No soundtrack was ever released for the few songs used in the film.
Reception
Interiors earned $10,432,366 at the US box office. Adjusted for inflation, this is Allen's 9th highest earning film in the US.
Fans of the film include Alex Ross Perry. It inspired two songs by modern indie artists - John Grant (who wrote a song called Geraldine) and the band Death Cab For Cutie (who wrote a song called Death Of An Interior Decorator).
Allen on the film's response [9]:
"Some people criticized Interiors, saying that it had no humor at all. I felt that this was a completely irrelevant criticism. Whatever was wrong with it, the problem is not that it lacks humor. There's not much humor in Othello or Persona."
51st Academy Awards
5 nominations
- Best Actress - Geraldine Page
- Best Actress In A Supporting Role - Maureen Stapleton
- Best Director - Woody Allen
- Best Screenplay Written Directly for the Screen - Woody Allen
- Best Art Direction, Set Direction - Mel Bourne, Daniel Robert
36th Golden Globe Awards
4 nominations
- Best Director, Motion Picture - Woody Allen
- Best Actress in a Motion Picture, Drama - Geraldine Page
- Best Actress in a Supporting Role, Motion Picture - Maureen Stapleton
- Best Screenplay, Motion Picture - Woody Allen
32nd British Academy Film Awards
1 win from 2 nominations
- Best Supporting Actress - Geraldine Page
- Most Promising Newcomer to Leading Film Roles - Mary Beth Hurt
Writers Guild Of America Awards
1 nomination
- Best Drama Written Directly for the Screen
31st British Academy Film Awards
5 wins from 6 nominations
Best Actress - Diane Keaton 
Best Direction - Woody Allen 
Best Editing - Ralph Rosenblum and Wendy Greene Bricmont 
Best Film
Best Screenplay - Woody Allen and Marshall Brickman 
- Best Actor - Woody Allen
César Awards
1 nomination
- Best Foreign Film
Writers Guild Of America Awards
1 win from 1 nomination
Best Comedy Written Directly For Screen - Woody Allen and Marshall Brickman
Directors Guild Of America Awards
1 win from 1 nomination
Outstanding Directorial Achievement in Motion Pictures
What did you you think?
"You'll live to be a hundred if you give up all the things that make you want to."

"You only live once, and once is enough if you play your cards right."

"I feel the need to express something, but I don't know what it is I want to express. Or how to express it."

"At the centre of a sick psyche is a sick spirit."

"What happens to those of us who can't create?"

"Drink yourself unconscious. That's the sort of writer's cliche you've never had trouble adjusting to."