The 2nd film written and directed by Woody Allen
Bananas is a straight farcical comedy, about a man who gets caught up in a revolution of a small fictional country of San Marcos.
Allen stars as Fielding Mellish, although he plays pretty much the same character, or kind of character, that he does in Take the Money And Run (1969). In these early films, where Allen was so inspired by The Marx Brothers and Charlie Chaplin, he is pretty much setting up ridiculous situations for his screen persona to play in. The only other headline acting credit in this film goes to Louise Lasser, Allen's ex wife.
Conception
"She says I'm not leader enough for her. Who was she looking for, Hitler?"
Allen's early comedy featured plenty of world politics. With Men Of Crisis... Allen's interest in satirising the biggest news of the day seems very modern, in line with the work of John Stewart and his stable. Allen also satirised international politics in the play Don't Drink the Water.
But the late 60s, America was a very politicised nation. Culturally, several revolutions were in the news, with Cuba and Fidel Castro a particular concern, and Che Guevara. Allen would poke fun at revolutionaries in his short story Viva Vargas! Deemed too radical, The New Yorker rejected it, so Allen had it published in Evergreen Review. Allen told Rolling Stone [2]:
They say it's a political film but I don't really believe much in politics, Groucho has told me that the Marx Brothers films were never consciously anti-establishment or political. It's always got to be a funny movie first.
The script was based in part on Don Quixote USA, a 1966 novel by Robert Powell (the novel takes place in the fictional San Marco, Bananas is set in the fictional San Marcos). Allen was working on the adaptation with Mickey Rose before Take The Money And Run (1969), for a film to star Robert Morse. Bananas is very much it's own script, but it started as an adaptation.
Perhaps why Allen chose to rework an old script was his first idea for United Artist was too much for the studio. It was to be called The Jazz Baby and would feature Allen playing a touring musician. Crucially it was not a comedy. Despite his creative control, Allen wanted to work with the studio and offered a comedy instead. 28 years later, Allen would rework The Jazz Baby into Sweet And Lowdown (1999).
What we don't have any certainty on is the origin of the title. The country of San Marcos is certainly a Banana Republic. Bananas, of course, means crazy. It has been suggested as a play on The Marx Brothers film The Cocoanuts (1929). Allen has said the title comes from the fact there are no bananas in the film. But that itself is taken from the 1923 novelty song Yes, We Have No Bananas popularised by Billy Jones, a surreal song loved by Allen (he would use it as the closing number of the Bullets Over Broadway musical in 2014).
Before Bananas, the working title for the film was El Weirdo.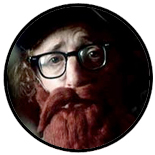 Release date

28th April 1971
Studio
United Artists
Duration: 82m
US Rating: PG-13
Rotten Tomatoes 88%
IMDB: 7.1
US Box office: $11,833,696

US Adjusted Box Office: $69,347,211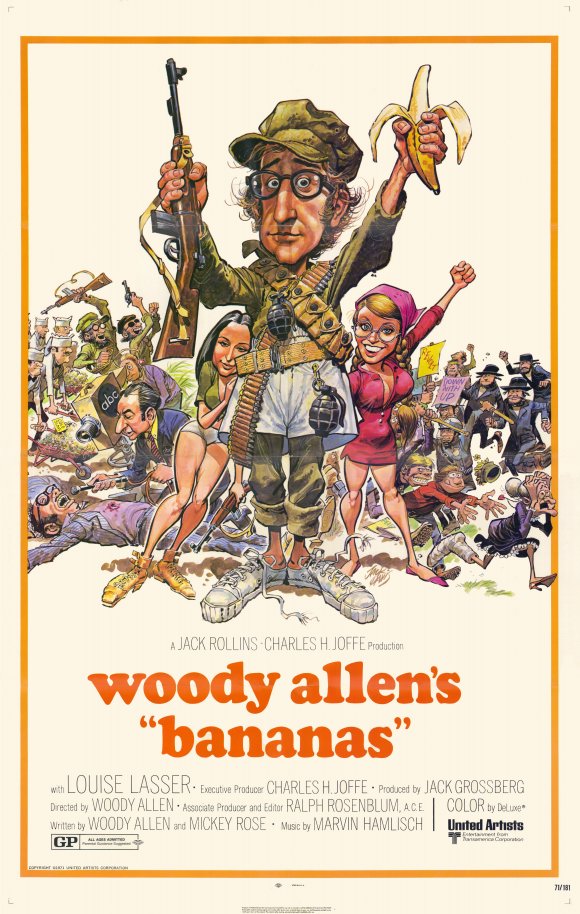 Production
Allen shot San Marco parts of the film in Puerto Rico. The scenes set in America were filmed in his beloved New York. In Puerto Rico, the team hired local crew and once again took advantage of the Cinemobile to get around. Famously a homebody, Allen, at best, tolerated the overseas shoot. He told Roger Ebert [3]:
I can be even more handsome than I am in Bananas, but we shot in Puerto Rico, where the humidity was so high my hair went boing! like Salvador Dali's moustache, no matter how often I combed it. That cut into the handsomeness a little...
Despite the politics and violence, Allen made a conscious decision to keep the film bloodless. It was a comedy after all!
Like his first film, editing played a significant role. Allen reduced the revolution scene from a much longer sequence (reported an hour). An ending that involved Black activists and blackface was (thankfully) cut.
Screenshots
Cast
Having had some role in What's Up Tiger Lily? (1966) and Take The Money And Run (1969), Louise Lasser finally takes a lead role and lead billing. She does a good job in her biggest role in an Allen film.
Lasser and Allen were still married during the film's production, but would divorce shortly after the film appeared. They remained friends over the years and worked together again. She would reappear in some sketches for Everything You Always Wanted To Know About Sex (1972) and a cameo in Stardust Memories (1980). He told Roger Ebert [3]:
I'm too sophisticated to let something like we were once married stand in the way, since she was right for the part. And she's great at improvising... You can get an actor to improvise a line if it's within his field of depth. Like, Louise breaking up with me was within her experience, since she did...
Carlos Montalban as General Emilio Molina Vargas. He is the older brother of Ricardo Montalban (Kaaahn!). He starred in a lot of commercials and did voiceovers. Interestingly, he played another character named Vargas a year earlier in The Out Of Towners (1970). The name Vargas was also used by Allen in the short story Viva Vargas!
Appearing as himself in a funny speaking role is sports commentator Howard Cosell. He commentates the revolution in sports TV style, and he improvised the whole thing. He actually flew to Puerto Rico for his part. He was one of the great sportscasters, and passed away in 1995. Cosell would cameo in Broadway Danny Rose (1984) years later, although Allen would use archival footage of Cosell in Sleeper (1973).
Others play themselves. Sportscaster Don Dunphy and news presenter Roger Grimsby both appear.
The big cameo (and evergreen trivia question) is Sylvester Stallone as a thug who tries to rob Allen, five years before his breakout with Rocky (1976). Stallone was actually Stallone and  his co-star in that scene Anthony Caso actually failed their audition. They went to a drug store and put grease in their hair, and looked tougher, and they managed to convince Allen to give them a shot. Allen and Stallone would go on to play best friends in the animated feature Antz (2000).
Locations
San Juan Capitol Building, Puerto Rico
East 54th Street, Manhattan
John Finley Walk, Manhattan
United Nations Building, Manhattan
Carl Shurz Park, Manhattan
Hotel Belleclaire, Manhattan
Brooklyn Heights Promenade, Brooklyn
Crew
This is Allen's second and last co-writing collaboration with his old friend Mickey Rose. The two high school friends would go their separate ways professionally, with Rose moving to Los Angeles and writing for various television shows like The Tonight Show and the occasional film. The two remained friends - Allen was best man at Rose's wedding and the two talked regularly by phone until Rose's death in 2013. Rose told Eric Lax [4]:
"There was outright laughter sometimes as we worked."
When Rose died, Allen was quoted by the LA Times [5]:
"Mickey was one of the funniest humans I know, a true original and a total eccentric and a wonderful first baseman. "We played a lot of baseball together. Once, when I asked him what death meant to him he said, 'no more malteds."
Marvin Hamlisch was brought back as composer, his second and last film with Allen. As a change from Take The Money And Run (1969), Hamlisch had the freedom to compose standalone songs. Hamlisch would go on to be one of the most acclaimed film composers of our time, and write many of cinema's best songs. He's one of the planet's very few EGOTs and Allen appeared in a documentary about Hamlisch in 2013.
Also returning is Ralph Rosenblum, his second film in a row with Allen. He has been upgraded to editor, as well as associate producer. By now, Rosenblum was a respected film editor of 25 years, and Allen was on his second film. Yet, the editor was impressed by Allen's work ethic. Rosenblum said in his book When The Shooting Stops... [6]:
"Woody packed Bananas so full of jokes that another movie could have been made from its outtakes. If he thought he needed 150 jokes in an hour and a half, he wrote and photographed 300."
Ron Kalish is also credited as editor.
Director of Photography is Andrew M. Costikyan. He worked on lots of commercials and documentaries, and some TV such as Hill Street Blues. He was once a Vice President of the Directors Guild Of America. This was his only film with Allen and he died in 2012. His Chicago Tribune obituary said "His death, like his life, was on time, under budget and very beautiful." Costikyan loved framing people in deliberately obscured ways. 
Casting on this film was handled by casting legend Marion Doherty. In her book, My Casting Couch Was Too Short, she described working with Allen, and developing his legendarily short audition.
I soon realised that Woody was so shy that he did not want those meetings to last more than a minutes or two.

I began scheduling meetings for Woody every five minutes in order to make him feel more comfortable, and we finally got down to every two minutes. I always cautioned agents when I made the appointments that the actors were not to take offence at the brevity of their auditions or Woody's unwillingness to chat; it was definitely nothing to take personally.
Dougherty worked with Allen for a couple more films, before handing over to Juliet Taylor, one of Allen's greatest collaborators, and a protégé of Dougherty's. Dougherty was the subject of the documentary Casting By, (2012) where Allen appeared as a talking head.
Release
Bananas was released in the US on 28th April 1971. At the top of the US box office at the time was Sweet Sweetback's Baadasssss Song, a controversial early precursor to the blaxploitation genre.
The film's trailer featured Allen being interviewed by Frank Buxton, who was one of the voices in What's Up, Tiger Lily? (1966) and created and starred in the television show Hot Dog.
The theatrical poster was the work of Jack Davis, best known for his work in Mad Magazine. He did over thirty film posters in his career, and it helped place Bananas into a specific, colourful comedy camp.
In Denmark and Finland they called it 'Me And the Revolution', and Allen would eventually put in a clause preventing foreign markets from renaming his films.
In 2009, some 38 years after the film was released, a small soundtrack label called Kritzerland issued a soundtrack on CD, paired with Everything You Always Wanted To Know About Sex as a twofer. They named many of the pieces of music themselves, such as 'Rocky Subway Ride'. 
Reception
Bananas earned $11,833,696 at the US Box Office. It was the number one film in the US on 2nd May 1971, for one week. It was the 18th highest earning film on 1971.
Those who count this in their favourite Woody Allen films include Colin Firth, Bill Hader and Albert Hammond Jr. It was the first Woody Allen film that Firth saw at the cinema.
The movie is ranked at the No. #69 spot on the American Film Institute's "100 Years...100 Laughs" Top 100 List.
The Writers Guild Of America voted Bananas as the 69th funniest film of all time in 2015.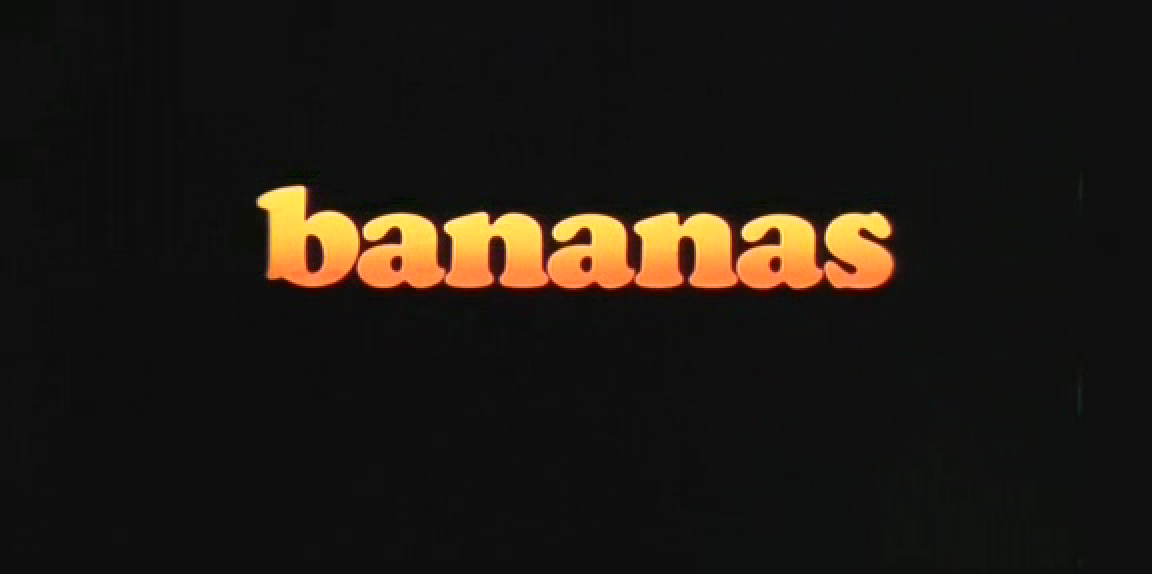 "I object, your honor! This trial is a travesty. It's a travesty of a mockery of a sham of a mockery of a travesty of two mockeries of a sham."

"I once stole a pornographic book that was printed in braille. I used to rub the dirty parts."

"I'm so depressed... I'd kill myself if I thought that she would marry me!"

"Blood! That should be on the inside!"

"I was a bed wetter. When I was younger I used to sleep with an electric blanket and I was constantly electrocuting myself..."

"I fell in love - she just stood there."

"I should be working at a job that I have some kinda aptitude for, like donating sperm to an artificial insemination lab."

"Yes, well, freedom is wonderful. On the other hand, if you're dead, it's a tremendous drawback to your sex life."