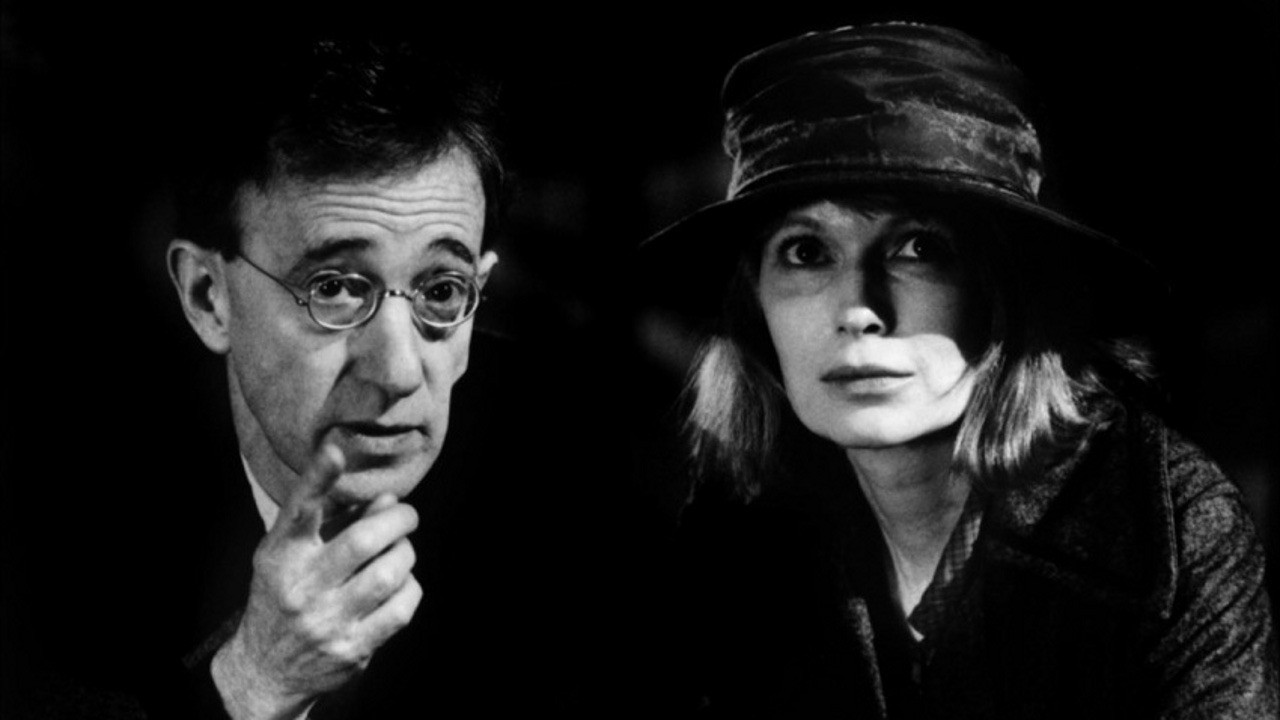 The 20th film written and directed by Woody Allen
This is one of the strangest films in Woody Allen's canon. It's a 90 minute, black and white allegorical play about death and religion. Lucky for Woody Allen that by this point, it had been decades since he had to pitch a film to anyone.
Allen stars as Kleinman, returning to being the sole lead for the first time since Broadway Danny Rose (1984). He lives in a town that resembles old German experimental films by directors such as Fritz Lang. It's a strange allegorical place – always night, always foggy, and it looks like some strange abstract version of Victorian London, or Eastern Europe. The town is plagued by a killer. Kleinman has been roped in to search for the killer, but is given little or no facts to work with, and soon left on his own.
Conception
Shadows And Fog is essentially a film adaptation of a short story/one act play Allen wrote called Death. It was first published in Allen's short story collection called Without Feathers, in 1975. It was one of a series of plays, and it shares the film's inciting incident - a man is woken in the middle of the night to join a mob looking for a killer. The main character is also named Kleinman.
The story of that play was something that Allen thought could lend itself to a film, with a natural tension. So he expanded the script into a screenplay, changing the setting from somewhere in the US to between-the-wars in Eastern Europe. He also added the circus and brothel elements and a new ending.
Also at this point, there was a perception that Allen films with Allen in them are the ones that do the best. Having resisted starring in his own films in several years, Allen relented to his studio's wishes, even though his contract stipulated he had the right to say no. Death provided a lead character that Allen felt he could play.
Allen wanted to make the film in the distinctive style of German Expressionist cinema. It is black and white - a technique Allen has used to great acclaim before. But here Allen uses it differently, to create more mystery and suspense than timeless beauty. Allen has explicitly mentioned directors such as FW Murnau and Fritz Lang as an inspiration, as well as GW Pabst and writer Franz Kafka.
Playing in the world of those directors meant creating a world of from another time and another place. Allen always thought he would have to make it in Europe - one of the reasons this idea stayed unmade for so long. However, having made several studio films (at the new Kaufman Astoria Studios in Queens), it opened Allen up to making the film in the style he wanted, yet still sleeping in his own New York bed. Says Allen[2]:
"The idea of doing it in a contemporary atmosphere is not right. It requires some kind of European village as a setting. It's not an American idea. It doesn't have the rhythm and the tempo of an American idea."
The story Allen landed on is deeply allegorical and other worldly. The mysterious foggy setting remains unnamed (although we have clues it's 20s or 30s in Eastern Europe, and occasionally Allen has said he envisioned it as Germany), and characters are archetypes. Nothing is real, or as it seems.
At its heart, Allen is playing with big themes here. Love, death, art, and magic. Magic, in particular, is a motif Allen has used several times, and very prominently here. But there's plenty of philosophising, sometimes directly in the script. Yet, there's many wonderful Allen one-liners here, probably the most since Hannah And Her Sisters (1986).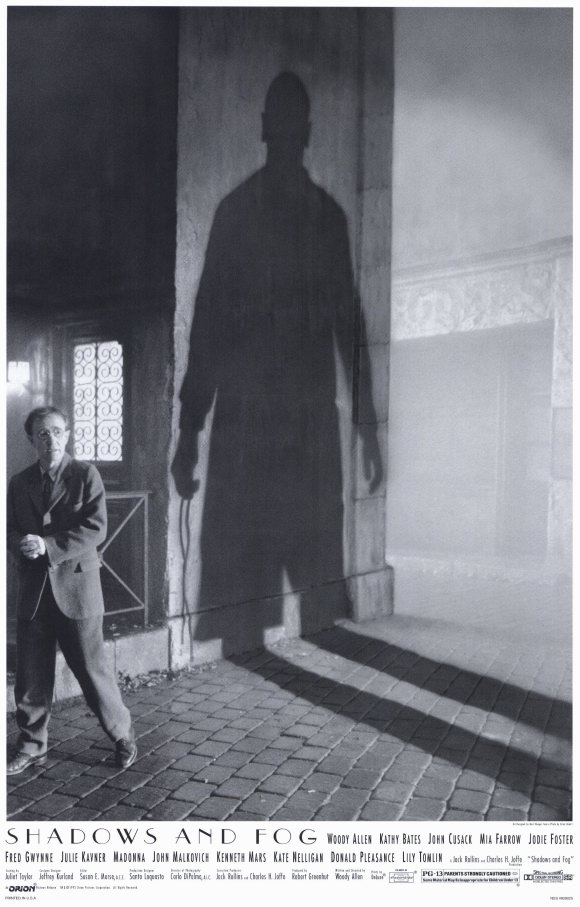 Production
The film was made exclusively in the studio. In particular, it's the Kaufman Astoria Studios in Queens where Allen has made many films before (such as September, 1987, and Alice 1990). Production began on 19th November 1990, and finished on 15th February 1991.
It was the biggest set built in New York at the time, at almost 2500 square metres. Designed by Allen's regular production designer Santo Loquasto, they created the entire town where the film is set. Several interiors (a brothel, houses, a doctor's office and more) as well as several streets, a bridge and a circus. Even with such a lavish set, several locations were reused, with fog and studio trickery to hide the cut corners. Despite that, it was still Allen's most expensive film to date, at $19 million. Of course, it is still extremely modest by the standards of other films at the time. Says Allen[2]:
"Everything was constructed. We were never on the street, always in the studio. The scenic designer, Santo Loquasto, is quite brilliant. And, of course, it helped tremendously that the film was in black and white - and in fog."
With cinematographer Carlo Di Palma, Allen was able to control the look of the film completely, allowing Allen to film in black and white. The aesthetic decision is based again on Allen's love of cinema, in particular German Expressionist cinema. It's his first black and white film since 1984's Broadway Danny Rose (1984). Although he had made several films with Di Palma, this was Di Palma's first black and white film since the 60s.
Yet this was a very different looking picture from Allen's other black and white films. Whereas Allen used black and white for nostalgia (Manhattan, 1979) or starkness (Broadway Danny Rose, 1984), here he used the deep contrast and black shadow to build drama. In keeping with the allegorical story, Allen kept the film's look abstract and unrealistic. Allen and and Di Palma spent a day before production testing lights and certain shots. Says Allen[2]:
"We could have lit it realistically, but it's much more fun to do it dramatically. And since we were working on a set and nothing is real, we felt the license to light it like that."
Allen assembled yet another large ensemble cast. Notably, Allen and casting director Juliet Taylor took great care looking at extras, casting many interesting faces. Possibly due to the stature of working on an Allen film, they managed to cast several actors before they became famous. These include future stars like Peter Dinklage, William H Macy, John C Reilly and Kurtwood Smith.
For music, Allen moved away from his usual mix of American jazz. In keeping with the European feel, Allen went to the music of German composer Kurt Weill. In particular, Allen used music from the Threepenny Opera, Weill's famous masterwork for Bertolt Brecht.
Allen for his part, knew that the big allegorical film would be box office poison. Says Allen:
"It was something I wanted to do and I hoped there would be enough people who saw it that studio people wouldn't bother me."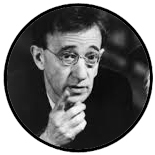 Release date
5th December 1991
Studio
Orion Pictures
Duration: 85m
US Rating: PG
Rotten Tomatoes 50%
IMDB: 6.8
Rate Your Music: 3.24
US Box office: $2,735,731

US Adjusted Box Office: $5,609,900
Screenshots
Cast
Woody Allen stars as Max Kleinman. This is Allen's first film where he appears since Crimes And Misdemeanors (1989) and before that Hannah And Her Sisters (1986). As a lead role, you'd have to go back to 1984's Broadway Danny Rose.
Kathy Bates plays a prostitute. Bates was coming off an acclaimed, breakthrough performance in Misery (1990) She would work with Allen again on Midnight In Paris (2011), 20 years later. Says Bates[3]:
"He was certainly very nice. And, Jesus, you know, such a legend. I didn't feel particularly excited about the actual process. I don't know what kind of a development process making a film is for him, but to my mind, working on a set with people like Lily Tomlin and Jodie Foster and John Cusack, and all these great people in my little scene..."
John Cusack plays Jack. Cusack had just established himself as a teen icon in Say Anything (1989) before taking this role. He was already establishing himself as an actor of depth by taking on more interesting roles at this point. He would work with Allen again on Bullets Over Broadway (1994). Allen described Cussack's character as being a young Tolstoy. Says Cusack on Allen[4]:
"You want to work with the best filmmakers around, and he's one of my heroes."
Mia Farrow returns as Irmy. This is her 11th Allen film for Farrow.
Jodie Foster plays a prostitute. Foster had been acting since she was three, but it was her role in Taxi Driver (1976) that propelled her into film stardom. A few months before this film was released, Foster had starred in Silence Of The Lambs (1991), which would earn her the Academy Award for Best Actress. She would go on to a long career both in front and behind the camera. Foster had actually told Roger Ebert that she wanted to work with Allen in 1980, over a decade earlier. Says Foster, on working with Allen[5]:
"It was amazing how kind of okay I was about his very different, strange way of working. Nobody reads the script, nobody knows what the movie's called or what it's about. They don't tell you where you're going to be or what time period it is. Basically, it's his movie - it's in his head."
Fred Gwynne plays the Hacker's follower. Gwynne is best remembered for his role in the TV series The Munsters. He did have roles in films such as Fatal Attraction (1987) and Pet Cemetary (1989). He died slightly over a year after this film was released.
Julie Kavner plays Alma. This is Kavner's fourth time in an Allen film. She had also, by this time, starred in three groundbreaking seasons of The Simpsons. She would work with Allen again on Deconstructing Harry (1997).
Madonna plays Marie. She is, of course, one of pop music'a most iconic superstars. At this point she was coming off her world beating Like A Prayer album and was taking acting roles in films like Dick Tracy (1990). She would follow it up with great performances in A League Of Their Own (1992) and Évita (1996).
John Malkovich plays the Clown. Malkovich is one of film's most distinctive character actors. He broke out in roles such as Places In The Heart (1984) and The Killing Fields (1984). He would go onto dozens of more great roles, including making fun of his own image in Being John Malkovich (1999).
Kenneth Mars plays the Almstead the Magician. Mars was so great in two Mel Brooks films - The Producers (1968) and Young Frankenstein (1974). He always had lots of TV and voice roles.
Kate Nelligan plays Eve. Nelligan is better known for her stage work, with appearances in films like Eye of The Needle (1981) and The Prince Of Tides (1991).
Donald Pleasense plays the Doctor. He'll always be best known for his role in the James Bond films. He also had a memorable role in The Great Escape (1963).
Lily Tomlin plays Jenny. She is one of the great comics, in film, TV, stage or otherwise. In film, she's had many memorable roles in Robert Altman's films, from Nashville (1975) to A Prairie Home Companion (2006). Says Tomlin[x]:
"We went back and forth between L.A. and New York four or five times to reshoot the end, and each time we'd go back, it would just be Woody's line that would be changed. But we got to go to New York all those times, which was sort of great. I was pleased to be in it."
Mary Louise-Parker was offered but turned down an unspecified role.
Also in the cast was Kurtwood Smith. Smith had appeared in many character actor roles, such as Robocop (1987) and That 70's Show. Says Smith[x]:
"As far as actually working with him, he just told me what he wanted and I did it...That was it. But, again, a lovely time, and there was so many interesting people on the movie."
Shadows And Fog
is featured in our book
The Woody Allen Watcher's Guide
Book 2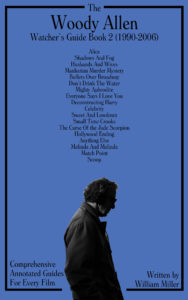 Locations
The entire film was shot at the Kaufman Astoria Studios in Queens.
Crew
Carlo Di Palma returns as cinematographer. This was his 5th film with Allen, having last worked with him last on Alice (1987). He would return for Husbands And Wives (1992).
Santo Loquasto returns as production designer. This is the 9th time he's worked with Allen.
Jeffrey Kurland returns as costume designer. This is his 9th time in a row with Allen.
Susan E Morse returns as editor. This is her 13th film with Allen as lead editor.
Juliet Taylor is casting. This is her 15th film with Woody Allen.
Charles H Joffe and Jack Rollins, Woody Allen's managers, return as executive producers.
Robert Greenhut also returns as producer. Helen Robin co-produces.
Release
Shadows And Fog was released in the US on 5th December 1991, in New York only. The proper release date in the US was 20th March 1992. For most other countries, this film was also released in 1992. Some, like France, it was released before the proper USA release. Although this had to do with Orion's financial troubles. Allen spoke about France's apparent special treatment for the film. Says Allen[1]:
"It was all strictly by chance. I'm not saying I wasn't happy about the way things worked out, but it was an accident."
Shadows And Fog played at the 42nd Berlin International Film Festival, which ran 13rd-26th February 1992.
No soundtrack was issued for the film.
Reception
Shadows And Fog has earned $2,735,731 in the US.
Like Alice (1990), it earned more in France than it did in the US - a trend during this period. Says producer Robert Greenhut[6]:
'They love Woody here. We don't pretend to know why, but they seem to respond to some of his works that aren't exactly embraced in the United States. They seem to be a little more mature here, to display a sophistication and curiosity about film directors that Americans don't."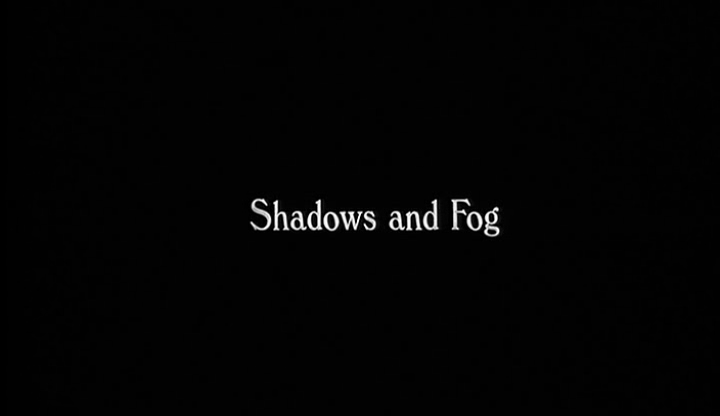 "My father used to say, we're all happy, if we only knew it."

"A deranged person is supposed to have the strength of ten men. I have the strength of one small boy... with polio."

" I don't know enough to be incompetent."

"We're not like other people, we're artists, you know with great talent comes responsibility."

"I never do it with whores. You start out with a burning desire and then you end up the next day with a burning sensation."

"The only love that lasts is unrequited love."

"May all your ups and downs be in bed."

"So when you have the sword down your throat, what happens if you get hiccups?"

"I know what I think but I don't know how to put it into words. Maybe I could get a little bit drunk and dance it for you."