The 9th film written and directed by Woody Allen
Stardust Memories is considered by many to be Woody Allen's first cinematic misstep. It is a film with a lot of problems but amongst the problems are hidden some wonderful moments, but for some, they are overshadowed. For us, we think it's a lovely film.
Woody Allen plays Sandy Bates – a renowned director looking for a change. He is invited and attends a retrospective of his own films, where he is faced with fans and critics all wanting his time. During all this, he reflects on a past relationship that's gone wrong but still haunts him, and tries to find happiness with a new partner.
Conception
The biggest influence on this film is Frederico Fellini's film Otto e mezzo (a.k.a. 8 1/2, 1963). It told the story of Guido Anselmi (played by Marcello Mastroianni), a famous Italian director who is suffering from so-called 'director's block'. We follow him on the set of his new film, a science fiction one, as he sifts through memories of his life gone by.
Stardust Memories, at its core, feels almost like a remake. Allen certainly takes Fellini's premise and runs with it. Allen, as Sandy Bates, is a director attending a retrospective of his films, but there is actually a science fiction element to the film.
The nod to 8 1/2 even comes from Allen's working title for the film, which was Woody Allen No. 4, to show that he was not half the director of Fellini.
(The title of 8 1/2 refers to the number of films Fellini had made by that point, with one collaboration counting as a half. This was actually Allen's 9th film as writer/director, and including collaborations would make this something like 10 1/2.)
But Allen went elsewhere with the premise, and something deeply personal. He told Stig Bjorkman[1]:
"I think that essentially what I wanted to show, as I do in so many of my films, was man's relationship with mortality.This character who is seemingly rich and chauffeured around and successful and all that… he is in his apartment in the beginning of the movie, and his housekeeper brings in this dead rabbit. And he looks at this dead thing and it reminds him of his own mortality. And the rest of the film takes place in his mind."
He has stated that parts where people want Sandy to just make comedies was in part taken from the reaction to Interiors (1978). Sandy definitely shares Allen's disdain for awards, with the Academy Awards being singled out. But perhaps audiences did take it too literally - they thought Allen would never make a comedy again after this film.
The film is also deeply metaphorical, often surrealistic. Aliens appear for some reason. The images on walls change to reflect character's moods. And trains lead you into your fate. A lot of it is set in the mind. It's that kind of film. He told the Paris Review[2]:
"When we did Stardust Memories, all of us knew there would be a lot of flack. But it wouldn't for a second stop me. I never thought, I better not do this because people will be upset. It'd be sheer death not to go through with a project you feel like going through with at the time."
Allen was not only challenging his audience, he was questioning the whole relationship, and the nature of celebrity. He would revisit the topic again in Celebrity (1998), another Fellini inspired look at how we treat our stars. And over the years, talking about this film, Allen has noted it prescience when it came to one particular celebrity. He told Eric Lax [3]:
"Stardust Memories preceded John Lennon getting shot, because I felt there was that ambivalent feeling between the audience and the celebrity. The audience worships the celebrity and on the one hand cuts the celebrity much more slack than the celebrity deserves, merits, or earns. On the other hand, the audience loves it when the celebrity is denigrated and they get an enjoyment of saying, "Oh, you should have read so-and-so about this movie. He really crucified him." They have an ambivalent feeling, and that's the same ambivalence that that crazy guy had toward John Lennon, or that crazy person felt toward Jodie Foster. They idolize them and they're also dangerous."
The idea of the weekend film retrospectives came from real weekends hosted by film critic Judith Crist (she was the first major female film critic in America and the founding film critic at New York magazine). Crist actually appears in the film, and her weekend film festivals lasted until 2006. Says Allen[1]:
"I thought, This would be such a funny idea. A guy was going away on a film weekend and everybody up there is asking me for autographs and asking me if I'll help them with this and will I read this and can I do this, and I'm completely out of my depth and over my head. I'm up there doing the best I can as a favor to Judith Crist, who I liked very much, and I thought that would make a funny movie. That was really the big inspiration for that film."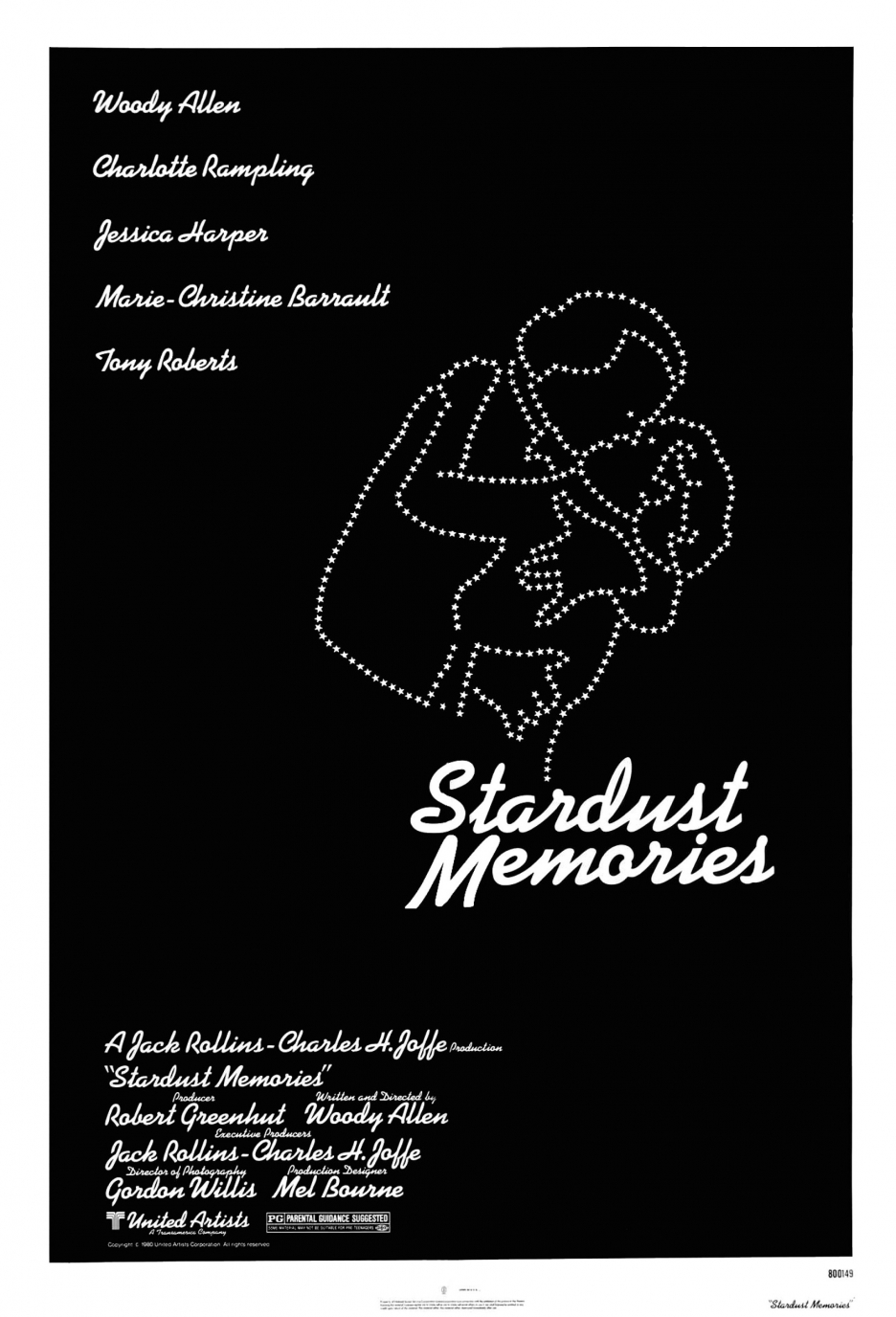 Production
Stardust Memories was shot mainly in New Jersey, with additional shooting in Long Island and various studio sets. The scene of the film retrospective - the Hotel Stardust - is the Great Auditorium in Ocean Grove, New Jersey. Allen told Stig Bjorkman[1]:
"It took a long time to shoot. It took six months to shoot. We were forever shooting. It was a complicated film to do, because it was extremely well orchestrated. And there were reshoots on it. Weather problems. It was just hard to do."
All up the film took 31 weeks to make, the longest Allen had ever spent on one film. Several people who worked on the production and knew the script found the finished product to be far from what they imagined, with many scenes reshot, many ideas edited out.
Yet, Allen felt he was improving as a filmmaker. The filmmaking was certainly more complicated and more sophisticated. He told Stig Bjorkman[1]:
"I felt that I had a command over the technique. I felt that there was a turning point for me, as I said, with Annie Hall and the meeting with Gordon Willis."
Allen once again shot the film in black and white, but unlike the warm romance of Manhattan (1979), this was a starker, colder film. The look was also inspired by Italian cinema and Frederico Fellini in particular. He also took Fellini's style of casting extras for their most interesting faces. Says casting director Juliet Taylor[4]:
"Particularly back when we were doing kind of crazy projects like Stardust Memories (1980) and Zelig (1983), with lots of odd characters in them, someone would come in and Woody would really have to bite his lip not to laugh, because the person would be so funny to him and exactly what he was thinking. So I think he casts people that he knows are going to be what he was thinking of, if that doesn't sound too simplistic."
As is fitting with a film whose name eludes to a Jazz classic, the film is filled with some of Jazz's best. Music of Cole Porter,, Hoagy Carmichael and more, performed by Louis Armstrong, Sidney Bechet, Django Reinhardt and more. On piano for several tracks is Dick Hyman, who first worked with Allen on Manhattan (1979).
Allen had used a lot of his old records to help set the pace. He decided in the end to keep some of them in. The use of Stardust by Louis Armstrong in the final scene is especially powerful. That song's lyric gives the film its title.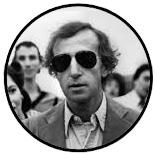 Release date
26th September 1980
Studio
United Artists
Duration: 88m
US Rating: PG
Rotten Tomatoes 72%
IMDB: 7.5
Roger Ebert: 2/4
US Box office: $10,389,003

US Adjusted Box Office: $33,600,100
Screenshots
Cast
Woody Allen plays Sandy Bates.
Charlotte Rampling plays Dorrie. She started her career in Georgy Girl (1966) and starred in many European language films. She would star in many more films and was nominated for an Academy Award in 2015 for her work in 45 Years. Says Allen[1]:
"She was just right for the part. I mean, she's so beautiful and so sexy and so interesting. She has an interesting neurotic quality. I don't remember now who it was - if it was me - who came up with the idea of using her. But the idea was so good, she was ideal."
Says Rampling[5]:
"He was in a particular stage in his life, and he was really quite happy, so we had a really good relationship. He was in between relationships, so he was in a really good mood. Obviously that's changed. But that was a really good time for him."
Jessica Harper plays Daisy. This was her second and last film with Allen, having appeared in Love And Death (1975). She would go on to have a long film career, starring in many great films such as Pennies From Heaven (1981) to Minority Report (2002). Says Harper[6]:
"Woody came to my house and snooped around looking for clues. He noticed I had a violin.  So he made me a violin player. He has a way of taking some of an actor's qualities and applying them to the characters they play, which lends the characters an exceptional realism."
Marie-Christine Barrault plays Isobel. She had a long career in France. She was nominated for the Academy Award Best Actress for her role in Cousin Cousine (1975). This was one of her very few English roles, due to her lack of English, something that is referred to in this film. Says Allen[1]:
"I liked her very much in Cousin, Cousine. She had the opposite quality to Charlotte. A very earthy, solid quality. There was nobody in the United States that interested me in that area, that had that quality at the time."
Tony Roberts returns as Tony, in his second Allen directed film. He would work with Allen three more time, including his next film, A Midsummer Night's Sex Comedy (1982).
The big pub quiz fun fact - Sharon Stone makes her first ever film appearance here, in a memorable cameo at the start of the film. Stone has said many times how much effort she put into her scene and how it started her career. This is her only time in an Allen written/directed film, but has worked with Allen in other ways. Both Allen and Stone were actors in Picking Up the Pieces (2000) and Fading Gigolo (2014). They were also both part of the voice cast on Antz (1998). Says Stone, of her scene[7]:
"I gave it my best shot to melt that sucker."
Several other significant cameos. Allen's ex-wife Louise Lasser (who starred in his first three films), his own manager Jack Rollins, and many more.
Stardust Memories
is featured in our book
The Woody Allen Watcher's Guide
Book 1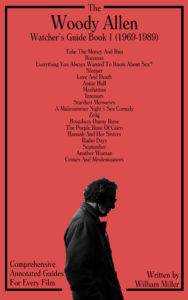 Locations
Ocean Grove Auditorium
Ashbury Park Casino
Bailey Arboretum
Crew
Gordon Willis returns as cinematographer, his 4th film with Allen, his second in black and white.
Santo Loquasto is the costume designer. He would work on and off (mainly on) with Allen for the next three decades plus, starting with costumes, and moving into production design. Loquasto would work on over two dozen Allen films with Allen so far. Say Loquasto[8]:
"I started out doing costumes for him. I was asked to do a film called Simon that Marshall Brickman, Woody's collaborator on Annie Hall and Sleepers, wrote and directed. He must have liked working with me, because he recommended me to Woody."
Assistant to Loquasto is Jeffrey Kurland. Kurland would go on to work with Allen many times.
Dick Hyman performed on piano and arranged some of the music for the film, several pieces that are used as incidental music. This including some Cole Porter classics as well as original compositions. Hyman was a prolific and versatile Jazz pianist, and he would work with Allen, on and off, on music for the next several decades, from small incidental music to arranging the entire film. 
Susan E Morse returns as editor. This is her second film with Allen as lead editor.
Juliet Taylor is casting director. This is her 4th film with Woody Allen.
Brian Hamill was once again the on-set photography.
Charles H Joffe and Jack Rollins, Woody Allen's managers, return as executive producers. Robert Greenhut also returns as producer.
Release
Stardust Memories was released on 26th September 1980 in the US. At the time, Ordinary People was topping the US box office.
No official soundtrack has been released for this film. Which is a shame because it would be one of the very best Woody Allen soundtracks.
Reception
Stardust Memories has earned $10,389,003 in the US.
Adjusted for inflation, this is Allen's 11th highest earning film in the US.
For Allen this remains one of his favourites. He told Stig Bjorkman[1]:
"That was one of my best films, I thought. It was one of my most stringently criticised films in the United States. I don't know in Europe, but here certainly. But it was one of my favourites."
One of the very few films Allen has made that he personally likes (or has personally publicly praised in any way). Until he made The Purple Rose Of Cairo (1985) he referred to it as his favourite of his own films.
Even his manager Charles H Joffe wondered what the film meant. He tole the New York Times[9]:
"When I walked out of the first screening, I found myself questioning everything. I wondered if I had contributed over the past twenty years to this man's unhappiness."
John Lennon was shot and killed by a fan, Mark Chapman just a few weeks after Stardust Memories was released. The scene was eerily familiar to the scene where Sandy gets shot by a fan. Allen has remarked on this several times.
Fans of this film include screenwriter Larry Karaszewski.
Awards & Nominations
Writers Guild Of America Awards
1 nomination
- Best Comedy Written Directly for the Screen
What did you you think?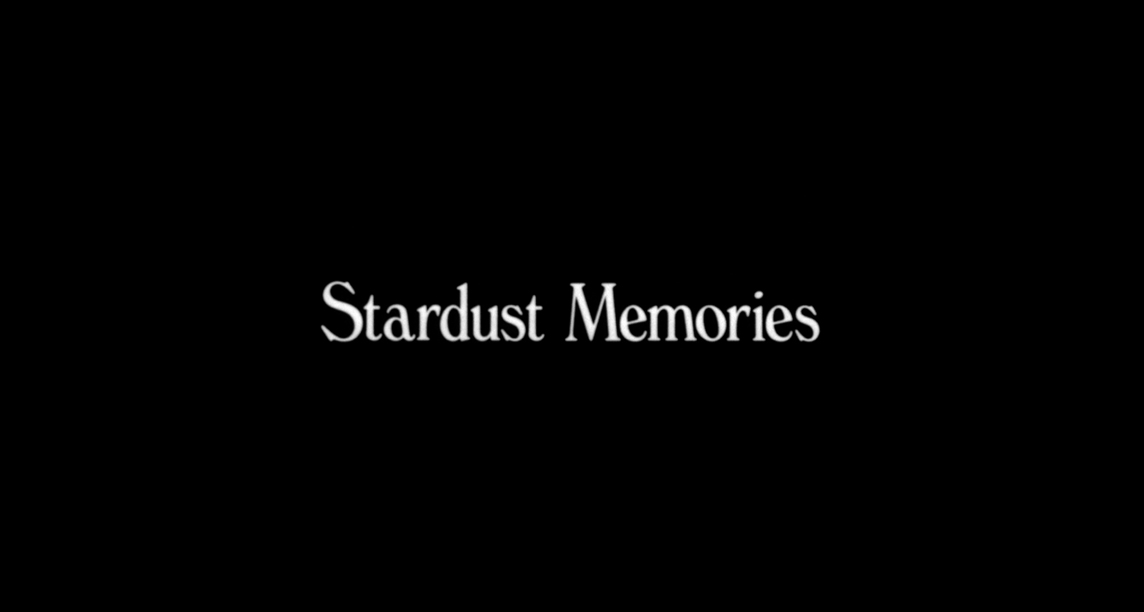 "You can't control life. It doesn't wind up perfectly. Only-only art you can control. Art and masturbation. Two areas in which I am an absolute expert."

"My mother was too busy running the boiled chicken through the deflavorising machine to think about shooting herself or anything."

"To you, I'm an atheist; to God, I'm the loyal opposition."

"I took one course in existential philosophy at New York University and on the final they gave me ten questions and I couldn't answer a single one of them. I left them all blank. I got a hundred."

"For years I thought the Goldberg Variations were something Mr. and Mrs. Goldberg tried on their wedding night."

"You're not the missionary type. You'd never last. And incidentally, you're also not Superman; you're a comedian. You want to do mankind a real service? Tell funnier jokes."