The 8th film written and directed by Woody Allen
Manhattan is Woody Allen's most beautiful film. The stunning black and white photography. The lush and gorgeous score. And, of course, the set. The island of Manhattan, from bookshops to skylines. In the middle of all this, Allen plops some of his greatest characters, one of his greatest moral questions and creates a masterpiece .
Woody Allen stars as Isaac Davis, and we follow him as he romanticises the hell of of New York City, falling in love, and dealing with the poetry of every day life. His life is divided by two women and one friend. One is the teenaged Tracy, (Mariel Hemingway). The other is the high strung, neurotic but sweet Mary (Diane Keaton).
Conception
"To him, no matter what the season was, this was still a town that existed in black and white and pulsated to the great tunes of George Gershwin."
The genesis of Manhattan was quite simple. Says Allen[1]:
[It] evolved from the music. I was listening to a record album of overtures from famous George Gershwin shows, and I thought 'This would be a beautiful thing to make a movie in black-and-white, you know, and make a romantic movie.
After a couple of films with almost no music, Allen reclaims his love of music in a big, big way. Gershwin's music is the spine of the film. The rich, lush orchestra plays Gershwin melodies over the beautiful city scene, and right now there's thousands of New Yorkers thinking about images from this film.
Allen had wanted to make a film in black and white from the very start of his career - including for Take The Money And Run (1969). This would be his first of several black and white films, and he would make another three in the next four years alone. Black and white didn't thrill United Artists, but they relented. United Artists even let their own title card be back and white in the finished film. He told Stig Bjorkman[2]:
Gordon Willis and I were having dinner one night and we were thinking that it would be fun to work in black-and-white and it would be fun to work in anamorphic, in real wide-screen. We were talking about how they did all those war pictures with tanks and aeroplanes, and then we thought it would be very interesting to do an intimate picture like that. I started thinking about it, and then I wrote Manhattan and thought, that's the way we should do it.
As for the story, Allen tried for something bigger. He told Roger Ebert [3]:
Difficulties with relationships. Trouble sustaining a marriage. The decline of American culture. The terrible influence of television. The bane of drugs and fast food. The inability of people to take control of their lives. It's a comedy.
Allen had been joking about the downfall of society, but here he faced it. He imbued the film with his worldview, and Allen locks in his ideas on chance, luck, justice and fate. What is new is an uncharacteristic sense of optimism and romance.
Allen drew again from his life. He was twice divorced by this point, much like his character of Isaac. The romantic storyline with Tracey is thought to be based on his relationship with actress Stacey Nelkin. He was also a TV writer for many years.
He also toned down the trickery of Annie Hall, and the frantic cutting speed of his early comedies. Says Allen [4]:
[Manhattan] has a straight, black and white story. Straight narrative. There's no screwing around in time, and there's no special gimmicks, there's no dream sequences, no fantasies, no voiceovers, nothing. It's a very spartan kind of story.
Of course, a lot of it was Allen's love letter to New York. The city he feels Irrational love for, that he would continue to promote and do just about anything for. New York in 70s cinema had become a tougher, dark place, as seen through Allen's contemporaries like Martin Scorsese. Allen wanted to show another side of the city. Says Allen [5]:
I was raised on those movies that gave you an image of Manhattan, and that was the image of Manhattan that I fell in love with. I grew up in Brooklyn, and I wasn't privy to the parties and the people at the Stork Club with their ermines over their shoulders coming in at four in the morning and calling people on white telephones next to the bed. Where I lived, we ate on linoleum. So when I moved to Manhattan, I wanted the actual Manhattan to be like that. I wanted people to be able to go to the theater at 8:40 and then to a supper club, and to be able to walk home through Central Park. I didn't want them to have to fear for their lives. So I pushed my idea of it, and people always used to say to me, "Oh, you look at New York through rose-colored glasses." And that's fine, but I got my idea of New York from Hollywood.
In the end, this was one of Allen's deepest films - addressing the question of life itself. Allen had something to say about the way were living - or not living. How we set our own boundaries or our society is lost. That the big questions will never be answered, but the small things, like the crab at Sam Wo's, can make it worth living.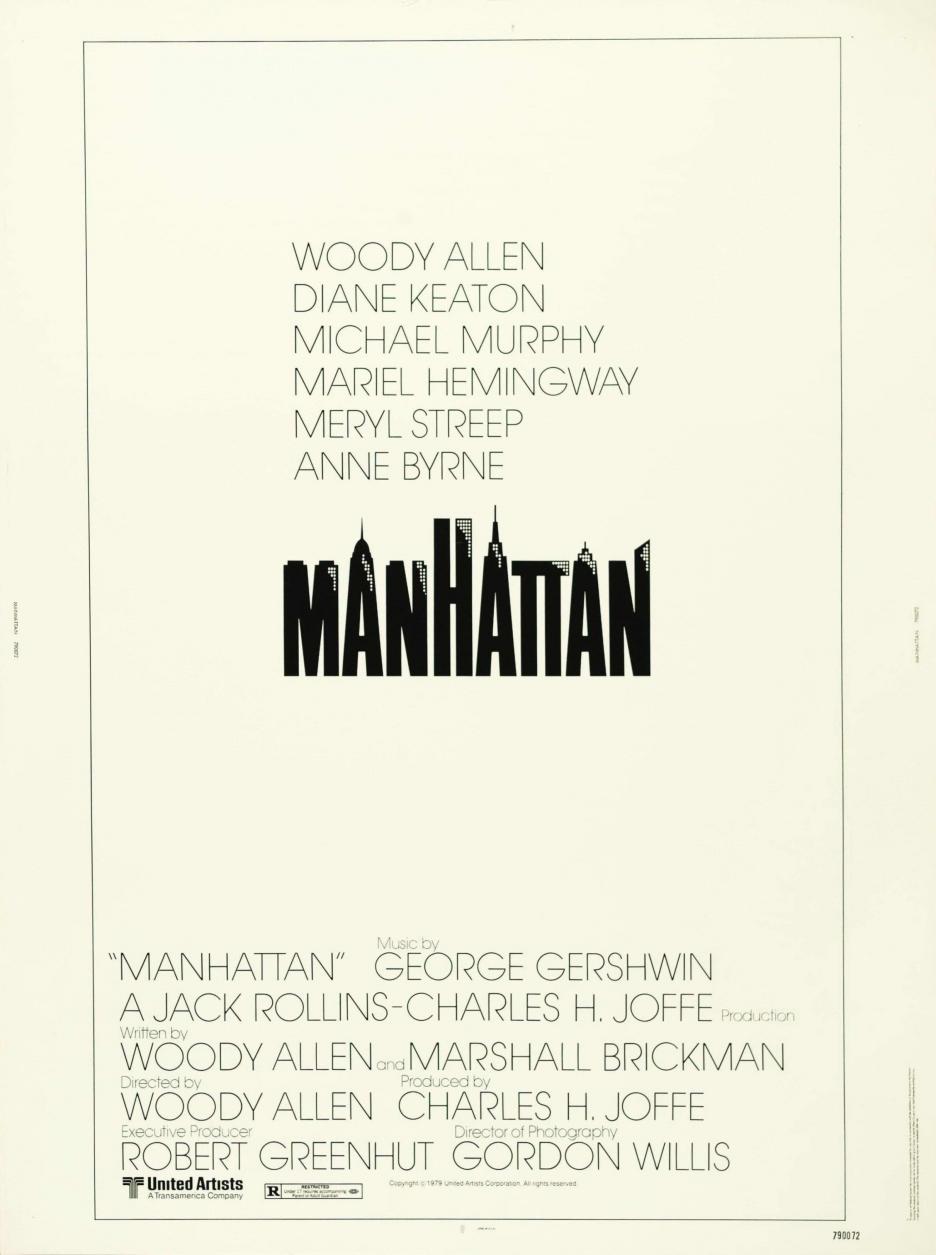 Production
The film was, of course, shot on location around Manhattan. The crew did build a set for the Planetarium scene. They brought their own park bench to sit on to look at the 59th Street Bridge. Other bits and pieces, but essentially this was Manhattan as it looked in 1978/1979. I'm pretty sure it was black and white at the time.
Black and white would prove not only a technical challenge, there was the expense and complications in finding a good lab for black and white film. In the end, Allen built his own, which also meant he was able to make more black and white films easily. Three of his next four films would be black and white.
Manhattan was also widescreen at the time. The film was shot in 2.35:1 aspect ratio, called Cinemascope. It looks gorgeous and we wish Allen would use this more. He would only use this one more time, for Anything Else (2003).
Thought the film, Allen and his team ticked off Manhattan landmark after Manhattan landmark. Just the groundbreaking opening sequence alone, with its iconic use of Gershwin's Rhapsody In Blue, is the greatest cinematic love letter New York has ever received - and she's had many suitors. It was very much Allen's view of his city.
All the music is written by George Gershwin (many of his songs were co-credited to his brother Ira Gershwin, who wrote lyrics). The towering figure in American. It was performed by the New York Philharmonic under Indian conductor Zubin Mehta.
Allen was originally inspired by 1976 recordings of Gershwin songs from an LP called Gershwin On Broadway. Some of those recordings, performed by the Buffalo Philharmonic under American conductor Michael Tilson Thomas, made the soundtrack. Allen actually paid the orchestra for a recording session, but in reality, was just making a payment to clear the use of the pre-existing recordings.
That iconic introduction almost didn't happen. But it was the discovery of Gershwin that would drive the whole film. Said Allen [2]:
"When I first wrote it, the first music you heard over the opening was Bunny Berigan doing "I Can't Get Started," because that was playing several times every night at Elaine's [the famous Manhattan celebrity-filled restaurant] on the jukebox. And we fade in on Elaine's. And then when I did that montage at the beginning, [film editor] Sandy [Susan E.] Morse said, "I just see Rhapsody in Blue here." So I looked at it with Rhapsody in Blue and said, "Yeah, of course that would work beautifully." Then I said, "Then we should just do all Gershwin. We'll get the New York Philharmonic and just do all Gershwin." And we did."
There's at least one deleted scene. Frances Conroy and Mark Linn-Baker were cast as Shakespearean actors. Ultimately they were cut from the film. Conroy would have a slightly bigger part in Crimes And Misdemeanors (1989), and Linn-Baker would be cast in Allen's 2011 play Honeymoon Hotel, Allen's contribution to the play anthology Relatively Speaking.
When Allen finished the film, he was so unhappy with it that he offered United Artists to make another film for free [6].
"I just thought to myself, 'At this point in my life, if this is the best I can do, they shouldn't give me money to make movies'."
Luckily, he was convinced to release it.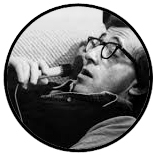 Release date
25th April 1979
Studio
United Artists
Duration: 96m
US Rating: R
Rotten Tomatoes 98%
IMDB: 8.0
Roger Ebert: 4/4
Metacritic: 82
US Box office: $39,946,780

US Adjusted Box Office: $138,461,000
Screenshots
Cast
Woody Allen stars as Isaac Davis. Back on screen after taking a break with Interiors.
Diane Keaton plays Mary Wilkie. This was her fifth film in a row with Allen, but her last with Allen for several years. The two would remain friends throughout the decades, but Keaton was such hot property that she got offered a lot more money to appear in other films. Her next film was Reds (1981), an ambitious 3-hour plus film about the Russian revolution. It starred and was directed and co-written by her then-partner Warren Beatty.
Michael Murphy plays Yale Pollack. This is Murphy's only role in one of Allen's directed films, but he played a similar best friend role to Allen in The Front (1976). He's been amazing in many films, from dramas An Unmarried Woman (1978), The Year Of Living Dangerously (1982) to blockbusters like Batman Returns (1992) and X-Men: The Last Stand (2006).
Mariel Hemingway plays Tracy. She is the granddaughter of writer Ernest Hemingway (who would be a character in Midnight In Paris, 2011). Hemingway had received acclaim in Lipstick (1976), and she was nominated for an Academy Award for her work here - she was 18 at the time. She would work with Allen again in Deconstructing Harry (1997). Says Allen [2]:
"I had wanted to use her - I had seen her in Lipstick [1976] - and I had to meet her live once just to verify that she was right. And she popped by for a minute and we all said hello to her. She was a wonderful, cheerful kid and a terrific actress. Towered over me."
Jodie Foster was considered for the role. She would work with Allen on Shadows And Fog (1991).
Meryl Streep plays Jill Davis. Although only her third film, she was already acclaimed for performance in Julia (1977) and The Deer Hunter (1978). This was her only time working with Allen, although she would go on to do ok for herself in Hollywood. Streep was actually shooting Kramer Vs Kramer (1979) at the same time, and would go on to beat Mariel Hemingway to the Best Supporting Actress Academy Award.
Anne Byrne (later Anne Byrne Hoffman) plays Emily Pollack. This was one of her very few acting roles, and the most significant. At the time, she was married to Dustin Hoffman.
Of the supporting cast, the most significant is Wallace Shawn, who plays Jeremiah. Shawn is an incredible actor, but this was his first role, and would work with Allen a total of five times, with Radio Days (1987) next and at least one Allen film every decade until the 2010s. Says Allen [2]:
"He's a wonderful, wonderful actor. You know, Mary [Diane Keaton's character] keeps talking to me all the time about her ex-husband and how sexually potent he was. I wanted to get someone that was not at all what you would think that this person would look like. Juliet Taylor said 'I know just the person! Do you know Wally Shawn?' And I said, 'No.' So she brought him in, and the second I saw him I thought, 'Absolutely. He's great.'"
Manhattan
is featured in our book
The Woody Allen Watcher's Guide
Book 1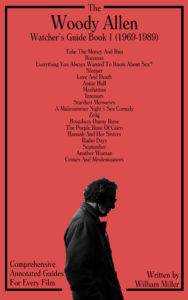 Locations
Elaine's
Time Life Building
Bleecker Street Cinema
Guggenheim Museum
Dean and DeLuca Inc
30 Rockefeller Plaza
Museum Of Modern Art
Queensboro Bridge
Bloomingdale's
Washington Mews
FAO Schwartz
Russian Tea Room
Hayden Planetarium
John's Pizzeria
Dalton Street
The Lexington Candy Shop
Bow Bridge
Zabar's
Hunter College
Crew
Gordon Willis not only returns, he's the MVP here. He pulls off the technical wonder that is this film - making black and white look gorgeous. Willis, for his part, has said this was the favourite of all the films he worked on. Willis said [7]:
"I wouldn't say my style is naturalistic. I would say it's reconstructed reality that embellishes what is already there. In the case of 'Manhattan,' it's romantic reality. You can make the same thing ugly or beautiful, just by choosing what you shoot. It was the choices we made that put the magic in 'Manhattan.' Woody and I both see New York as a black and white town, and I love shooting wide-screen anamorphic. Put the two together and look in the right direction, and you get 'Manhattan'."
Marshall Brickman returns as co-writer. Brickman would go on to pursue his own career, and he wrote and directed Simon (1980), a wonderful science fiction comedy starring Alan Arkin, featuring many Allen regulars (Louise Lasser, Wallace Shawn) and more. Allen would go on to write a string of films on his own, but the pair would reunite for Manhattan Murder Mystery (1993).
Once again, a lot of story came from the pair just chatting. Allen told Eric Lax [8]:
"He would envision a scene and start to ad-lib it and I'd take it from him and carry it farther and he'd take it back from me and carry it even farther—the way people collaborate. We'd joke with each other and he'd play a character and I'd play a character and eventually the story emerged."
Susan E Morse begins a long career, editing Woody Allen films. She would handle his next twenty films, working up to Celebrity (1998). Previously, she had been Ralph Rosenbaum assistant, and worked on Annie Hall (1977) and Interiors (1978). Says Allen [8]:
"When Ralph and I stopped working together, she called up and said she would like to. And I said, 'Fine'. And since then we've been working together."
Hidden away on piano on some incidental music is Dick Hyman. The talented musician would go on to play a big role in Allen's career. 
Juliet Taylor is casting director. This is her 4th film with Woody Allen. 
Brian Hamill was the on-set photographer.
Charles H Joffe and Jack Rollins, Woody Allen's managers, return as executive producers. 
Release
The film's world premiere was a special screening held on 18th April 1979 at the Ziegfeld Theatre as a benefit for the Whiney Museum of American Art.
It was released in the US on 25th April 1979. It knocked The Champ off the top of the US box office.
Manhattan was shown at the 32nd Cannes Film Festival, in May 1979. It was the first film of Allen's to premiere at Cannes, and it would not be the last. As was usual for Allen, he allowed the screening, but only out of competition, as he was not interested in competing in awards. The only cast member to go to Cannes was Mariel Hemingway. Recalls Hemingway [9]:
"Woody wasn't there, nor was the cast. I was the only one representing the film. I think I was just 17. For me, it was just like this was an adventure. I'd never even really had a boyfriend. So for me to play somebody with a boyfriend who was in his 40s was pretty absurd, but I loved the sort of fantasy of it. I loved the fact that I could pretend that it was me.

We got into the theater, the movie started, and my heart was beating. I had never seen the movie, either. So I was scared. In the middle of the film, I started to have a total panic attack. I realized, "Oh no, I have to go back out and all those photographers are gonna be there again! What will I do?" So I freaked. I told my dad that I'd gotten sick and I didn't know what was going on. My dad was great. He was just like, "You're OK. I think you're just panicking." The doctor came and they took me out the side entrance. So I never went through those people again."
There are contractual obligations that this film must be shown in its widescreen aspect ratio. Even in early VHS tapes were letterboxes, with black bars top and bottom. This is included with TV broadcasts and DVDs. There is no 'pan and scan' version.
A soundtrack album was issued on Columbia.
Reception
Manhattan earned $39,946,780 in US cinemas. It was the number 1 film in the US on 29th April 1979, for three weeks. It was the 6th highest earning film on 1979.
Allen made the cover of TIME magazine's 30th April 1979 issue.
Adjusted for inflation, this is Allen's 2nd highest earning film in the US.
Voted 76th in Empire's The 500 Greatest Movies Of All Time in 2013.
Fans of this film include swimmer Diana Nyad.
There have been countless parodies of the film's opening sequence. Our favourite is probably in Neil DeGrasse Tyson's science series Cosmos, where he uses Gershwin music and the Manhattan skyline to illustrate different types of light not visible to our eyes.
52nd Academy Awards
2 nominations
- Best Supporting Actress - Mariel Hemingway
- Best Original Screenplay - Woody Allen
36th Golden Globe Awards
1 nominations
- Best Film
32nd British Academy Film Awards
2 wins from 10 nominations
Best Film
Best Screenplay - Woody Allen & Marshall Brickman
- Best Actor - Woody Allen
- Best Actress - Diane Keaton
- Best Supporting Actress - Mariel Hemingway
- Best Supporting Actress - Meryl Streep
- Best Direction - Woody Allen
- Best Cinematography - Gordon Willis
- Best Editing - Susan E Morse
- Best Sound - James Sabat, Dan Sable, Jack Higgins
Writers Guild Of America Awards
1 nomination
- Best Comedy Written Directly for the Screen
What did you you think?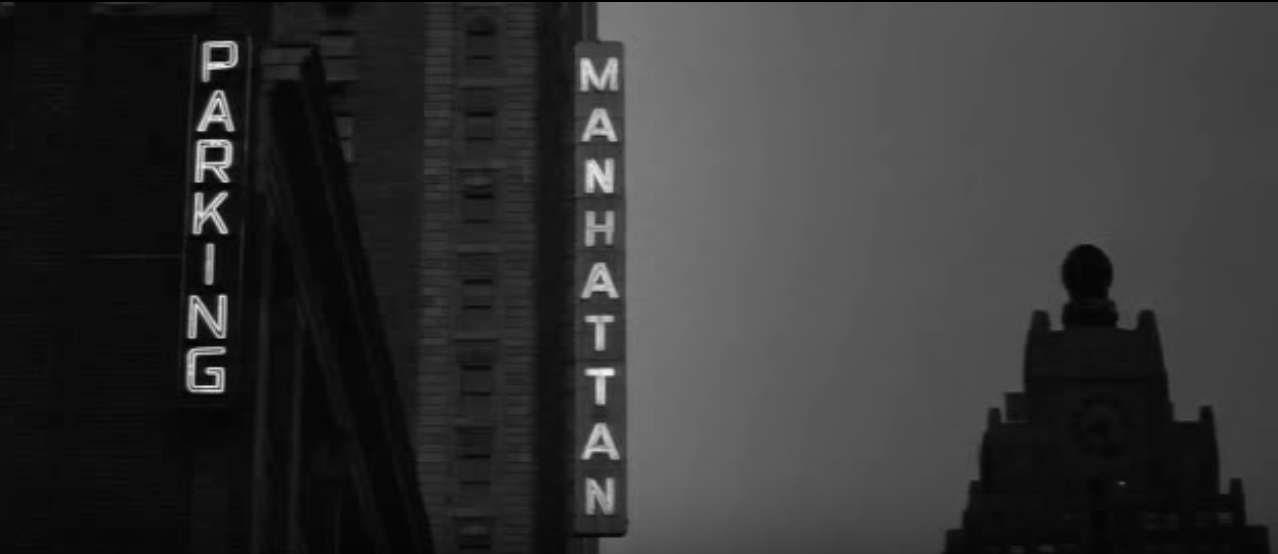 "My analyst warned me, but you were so beautiful I got another analyst."

"I had a mad impulse to throw you down on the lunar surface and commit interstellar perversion."

"I think people should mate for life, like pigeons or Catholics."

"You know a lot of geniuses, y'know. You should meet some stupid people once in a while, y'know, you could learn something."

"I can't express anger. That's one of the problems I have. I grow a tumor instead."

"Because nothing worth knowing can be understood with the mind. Everything really valuable has to enter you through a different opening, if you'll forgive the disgusting imagery."

"I'll probably have to give my parents less money. It'll kill my father. He's not gonna be able to get as good a seat in the synagogue. He'll be in the back, away from God, far from the action."