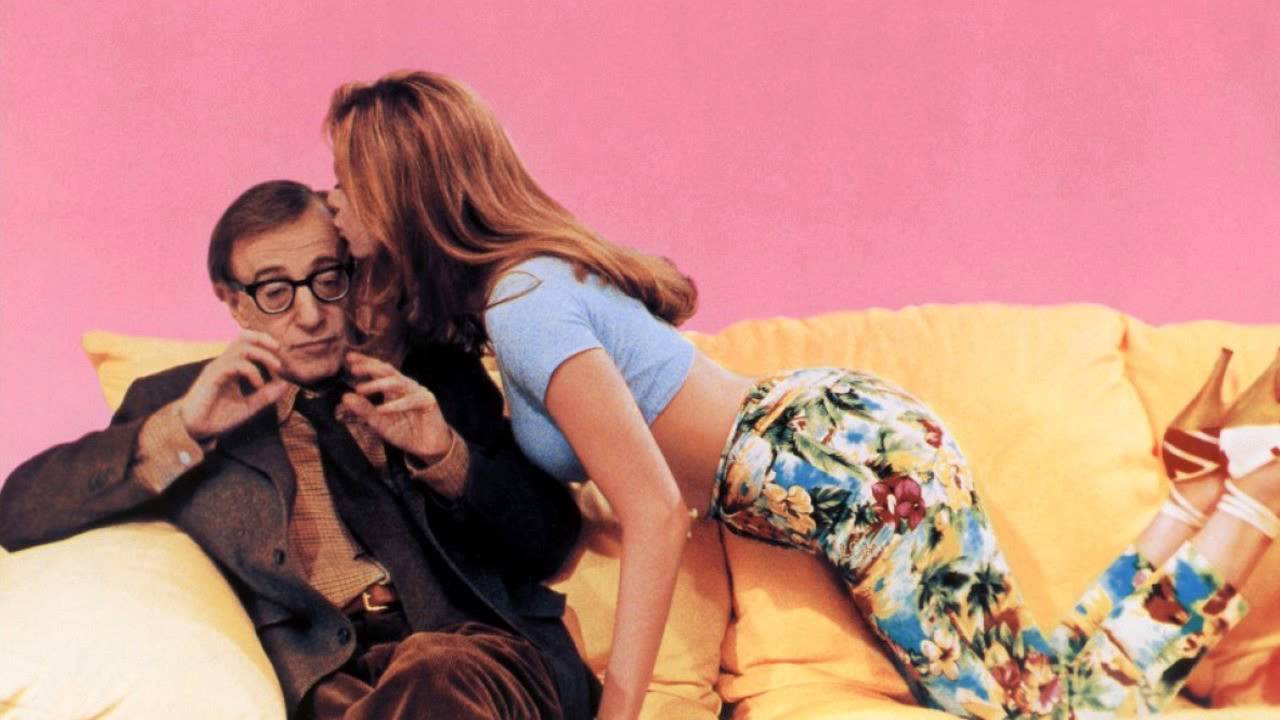 The 25th film written and directed by Woody Allen
Coming off two period comedies, Mighty Aphrodite brings Allen back to contemporary New York for more fun. This time it's Pygmalion set in the Woody Allen world. It's a fun, light hearted comedy that doesn't have much to say. But it's anchored by plenty of jokes and one amazing, award winning performance.
Woody Allen stars as Lenny Weinrib. Together with his wife Amanda (Helena Bonham Carter), the two adopt a child who turns out to be especially gifted. When Lenny gets obsessed by his genetic heritage, he tracks down the mother only to discover she's a lowly prostitute named Linda Ash (Mira Sorvino).
Conception
The story of finding a child's adoptive parent comes from Allen's own experience, being the father of one adopted child, Dylan. Says Allen[2]:
"I remember thinking about Dylan when she was adopted, she was so lovely, I was thinking, I wonder who her mother and father were. And then I thought there was a story there someplace about an adopted kid whose adoptive parents liked the kid so much that they thought, Gee, her mother was probably very nice. And then you go find her mother and you fall in love with her. That was my first thought."
Once again, it was his last film that helped inspire his new one. Says Allen[3]:
"I made it partially in reaction to Bullets over Broadway. I told myself: "I want to make a quiet, romantic film, one that also takes place in New York, while I'm about it…." And it's more serious, more ironic, because I had just spent a year working on an extraverted film, with exuberant characters.".
The Greek Chorus concept was taken from Allen trying to adapt another of his short stories. That story, Retribution (which is collected in Side Effects), was to be fleshed out as another film. Allen lifted the element when his story about adoption started feeling like a Greek comedy/tragedy. For the characters, Allen stays true to real figures and gods in Greek literature. Says Allen[4]:
"That's got a Grecian feeling to it: the more you know about a child's provenance, the worse the situation gets. And I thought I should do that with my Greek chorus."
Allen is famously down on his own acting abilities, believing he is only good in limited roles. For this, he managed to find an occupation for his character that very much fit with Allen the person - a sportswriter. Says Allen[1]:
"I felt comfortable using a sportswriter as a basis for my character. I mean, I love sports. I'm a writer. And I had always thought about being a sportswriter. I've fantasized about spending a year writing sports for a newspaper -- if a newspaper would be interested -- but then I just would want to do home games. And that would probably be impossible. When I imagined being in locker rooms in Seattle or Philadelphia -- or Houston, my God! -- I thought being a sportswriter wasn't such a great idea."
Allen then worked out the ending, with the switch of Linda having Lenny's child being the last piece. Allen apparently sat on the idea for several years before making it.
For not the final time, the script alludes to George Bernard Shaw's play Pygmalion.
One character from Greek legend who doesn't appear is Aphrodite herself - the goddess of love.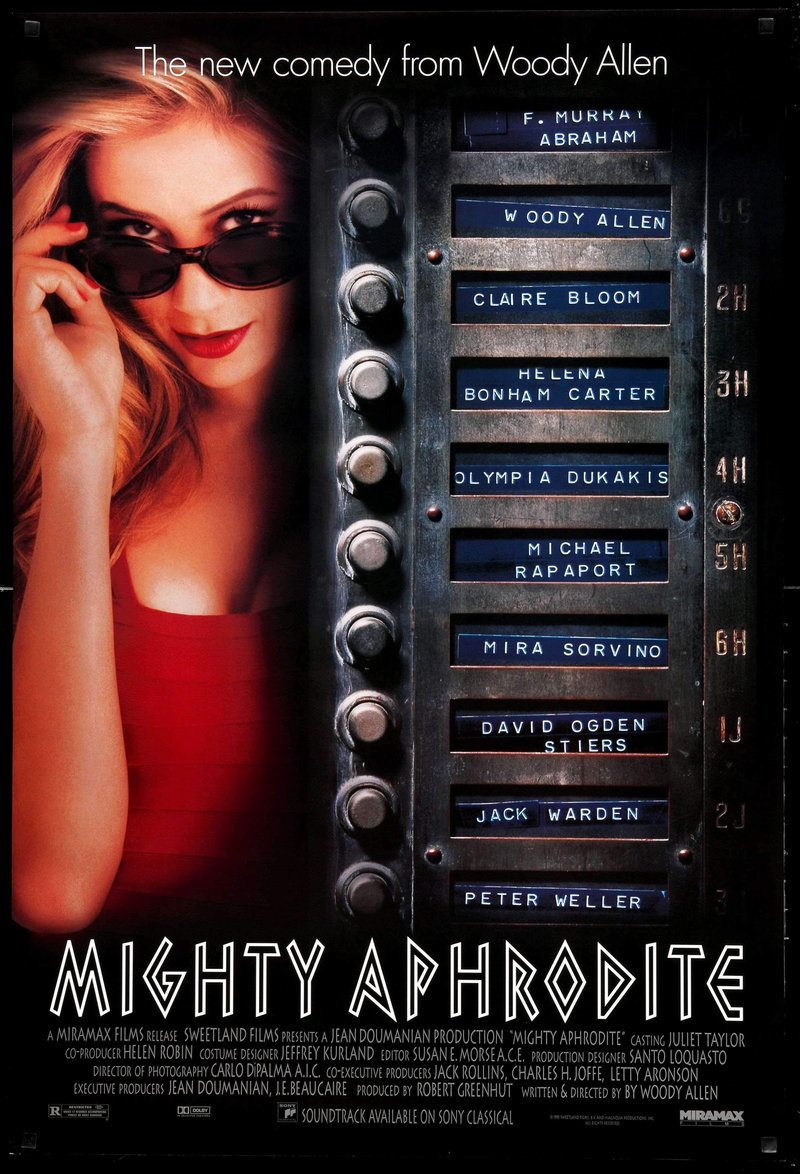 Production
For the first time in many decades, Allen actually left New York, at least in part, to shoot a film. Not since Love And Death (1975) had Allen shot outside of the US, but here he shot the Greek Chorus scenes in Taormina, Sicily. The ancient amphitheatre - Teatro Greco - is also the site of the Taormina Film Festival, which Allen attended in 1971 for Bananas (1971). Production designer Santo Loquasto hid and covered over various elements to make the set work. Says Allen[5]:
"[It's an] unspeakably beautiful place, and I'd always hoped to return."
That clash of culture is a big part of what makes the film work, and Allen worked hard to make the Greek Chorus element feel different from modern New York. Allen, and choreographer Graciela Daniele, worked hard on the chorus, from their movements and their dance numbers. Says Allen[4]:
"I wanted to stylize the chorus. I didn't want these guys to wander in like they're going to buy newspapers, but instead I wanted them to have a certain amount of choreographed motion, as the choruses of the time did."
Mira Sorvino's portrayal of Linda Ash received plenty of acclaim. Part of that performance was her high pitched voice, which even during the production Allen was unsure about. But Sorvino stood her ground and it ends up being a major trait for the character. Says Allen[4]:
"Whenever you have someone doing such an extreme voice, you're out on a limb with it. But she was able to bring it off. I'd look at dailies and think to myself, Looks good to me. I hope I'm not going to get killed with this but it looks good."
For music, Allen chose a surprisingly commercial mix of Jazz. Some, like Count Basie's Take Five and The Ramsey Lewis Trio's The In Crowd, are crossover pop hits. Several songs Allen would use again in other films (You Do Something To Me for Magic In the Moonlight in 2014, Manhattan for Café Society). The original music was once again overseen by Dick Hyman.
This is one of the few times that Allen uses child actors to any significant degree.
There was at least one deleted subplot, involving how Allen and Bonham-Carter's character met. Lili Taylor's work was edited out of the film completely. Olympia Dukakis and Claire Bloom also appear to have scenes cut.
The film's budget was reportedly $15 million.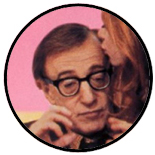 Release date
20th September 1996 (Thessaloniki International Film Festival)
17th January 1997 (US release)
Studio
Sweetland Films
US Distributor
Miramax
Duration: 95m
US Rating: R
Rotten Tomatoes 77%
IMDB: 7.1
Rateyourmusic: 3.24
Roger Ebert: 3.5
US Box Office: $6,401,297
US Adjusted Box Office: $26,000,000
Screenshots
Cast
F Murray Abraham plays the leader if the Greek Chorus. He shot to fame for his role in the film Amadeus (1984). He also appeared in films such as Last Action Hero (1993) and would go on to appear in films like Star Trek Insurrection (1998). Says Allen[4]:
"I'm reading these lords and sirs one after the other. They were all great but none of them had the delivery I wanted, so I finally went to an American and the person who seemed best to me was F. Murray Abraham. It seemed like he had enough Shakespearean authority but spoke like a Brooklyn guy."
Says Abraham[6]:
"What a lot of fun that was. I love the Greeks by the way. They're still the best."
Woody Allen plays Lenny Weinrib.
Claire Bloom plays Mrs Sloan. Bloom's epic career took her from the English stage to working with Charlie Chaplin in Limelight (1952) to the King's Speech (2010) and everything in-between. This is her second time working with Allen, having appeared in Crimes And Misdemeanors (1989).
Helena Bonham Carter plays Amanda Sloan Weinrib. At this point she was known in England, but would break out internationally with roles in films like Fight Club (1999) and many films with her then-husband Tim Burton. Says Allen[4]:
"She was someone I had just seen in those bonnet pictures. She's a wonderful actress. Since she stepped out of those and into things like Fight Club [1999] and Women Talking Dirty [1999], I think she's greater than ever."
Certainly in some sort of madness, Allen had considered Mia Farrow for this role. His casting director Juliet Taylor told him he was nuts.
Olympia Dukakis plays Jocasta. It seems likely her role was reduced, as she gets around 1 minute of screen time. In later interviews, Dukakis had little nice to say about her experience. Says Dukakis[7]:
"I did that 'cause it was two tickets to Sicily, and I went with my husband."
Michael Rapaport plays Kevin. He was best known for roles in films like True Romance (1993), although he makes a fantastic turn to comedy here. He would work with Allen twice more - in Small Time Crooks (2000) and the Amazon series Crisis In Six Scenes (2016). Says Rapaport[8]:
"My father watched me filming a scene five blocks from where he lives and where I grew up.  He was across the street watching me scream at Woody Allen in Mighty Aphrodite.  I remember looking over at him in between takes and gave me a thumbs up.  It was a cool thing, we were both excited."
Mira Sorvino plays Linda Ash. This was Sorvino's first major role, having had small roles in acclaimed films such as Quiz Show (1994) and Barcelona (1994). Sorvino auditioned in New York, but didn't get the part. Allen went to London for more auditions, and Sorvino managed a second chance. Appearing in full costume, she won the part. She would win both the Academy Award and the Golden Globe for her performance, making her star. Says Allen[4]:
"When Mira happened to be in England and asked if she could come by, she walked into the hotel suite with the boots and the short skirt. The minute she walked in I thought she was perfect."
Says Sorvino[9]:
"Everything about that shoot was unnerving. I had been a fan of his since I was 12 and when I was 16 I played the Diane Keaton role in Play It Again, Sam at my high school. So to actually be in one of his films in my twenties was mind-blowing. I was just so shy, but then he's shy too."
Cameron Diaz was considered for the role as well.
David Ogden Stiers plays Laius. This is his third time working with Allen, having last appeared in Shadows And Fog (1991) and would return for Everyone Says I Love You (1996).
Jack Warden plays Tiresias. This was the last of three times Warden would work with Allen. He last appeared in Bullets Over Broadway (1994). He would go on to appear in films such as Bulworth (1998) and The Replacements (2000). He died in 2006, aged 85.
Peter Weller plays Jerry Bender. He will always be remembered for his role as Robocop (1987), and also appeared in acclaimed roles in films like Naked Lunch (1991).
Mighty Aphrodite
is featured in our book
The Woody Allen Watcher's Guide
Book 2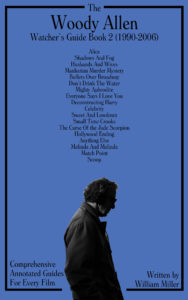 Crew
Carlo Di Palma returns as cinematographer. This was his 10th film with Allen, and would return for Everyone Says I Love You (1996).
Graciela Daniele returns as choreographer, handling their the Greek Chorus scenes. She had previously worked with Allen on the club scenes in Bullets Over Broadway (1994).
Santo Loquasto returns as production designer. This is the 14th time he's worked with Allen.
Jeffrey Kurland returns as costume designer. This is his 13th time in a row with Allen. He also appears as Oedipus.
Susan E Morse returns as editor. This is her 18th film with Allen as lead editor.
Juliet Taylor is casting. This is her 19th film with Woody Allen.
Charles H Joffe and Jack Rollins, Woody Allen's managers, return as executive producers. Sweetland Films execs Jean Doumanian, J.E. Beaucaire and Letty Aronson also return.
Robert Greenhut also returns as producer. Helen Robin is credited as production manager.
Release
Mighty Aphrodite premiered when it played out of competition at the 52nd Venice Film Festival on the 1st September 1995. Allen was also awarded that festival's Golden Lion award. Allen did not attend, but Carlo Di Palma accepted the award on his behalf.
Mighty Aphrodite also played at the 20th Toronto Film Festival which ran from the 7th - 16th September 1995.
The American red carpet premiere took place on 18th October 1995 at the Paris Theater in New York. Michael Rapaport, Mira Sorvino attended, as did Allen, and several cast members of Everyone Says I Love You (1996), which was in production at the time.
It was released in US cinemas on 27th October 1995, distributed by Miramax. At the time, Get Shorty was enjoying the first of a three week run at the top of the US box office.
A soundtrack was released on Stage & Screen on 31st October 1995.
Reception
Mighty Aphrodite has earned $26 million worldwide. It earned $6,401,297 in the US.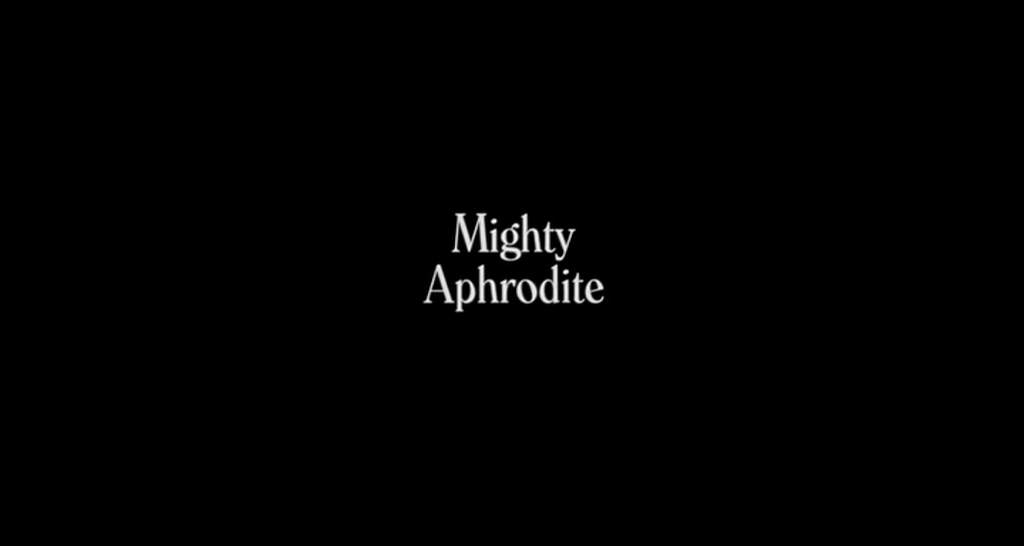 "Achilles only had an Achilles heel, I have an entire Achilles body."

"I see disaster. I see catastrophe. Worse, I see lawyers!"

"I've had 16 fights and I won all of them but 12."

"Of all human weaknesses, obsession is the most dangerous, and the silliest!"

"I'm sure that you're a state-of-the-art fellatrix."

"Who is the boss? You have to ask that? I'm the boss. Mommy is only the decision maker."

"There's a reason the horse is sixty to one though, y'know, he's probably got polio."

"I'm not a violent person! I write about boxing and hockey and football!"

"I don't want to adopt. Not with my genes. I have award winning genes."

"It makes my stomach sick to my stomach."