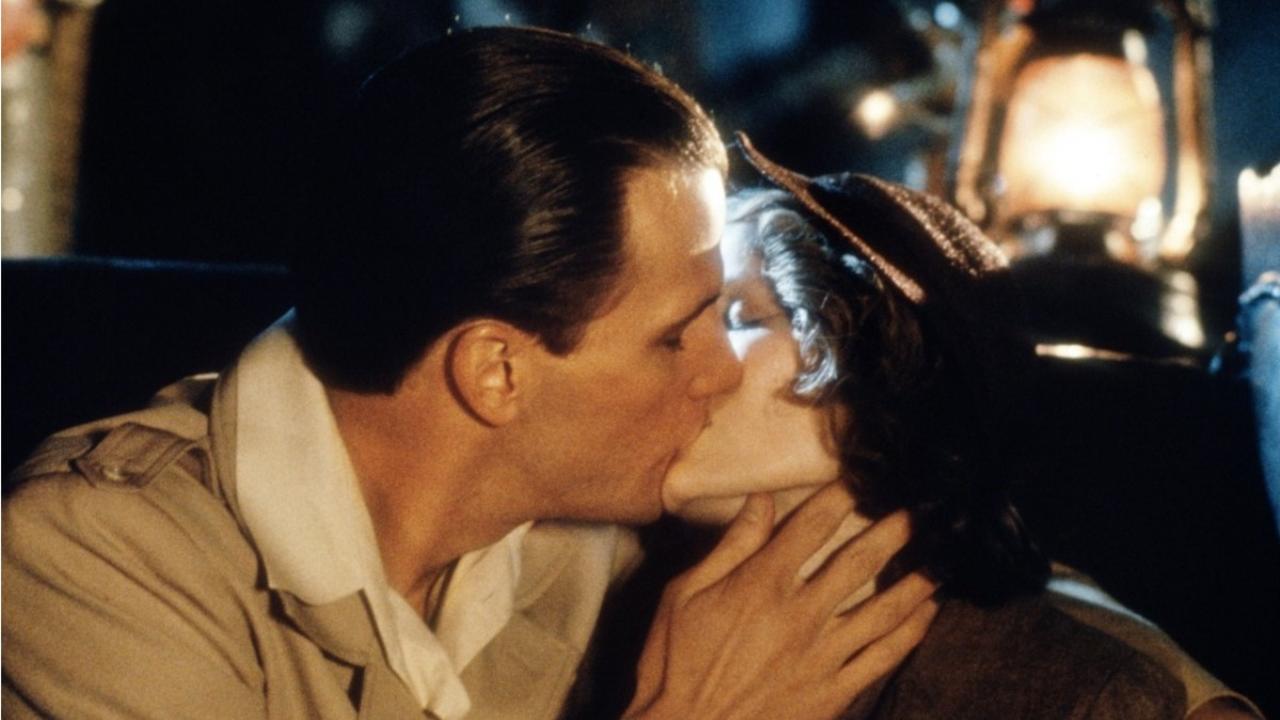 The 13th film written and directed by Woody Allen
This film holds a special place in Woody Allen's filmography. It is Woody Allen's own favourite of his films, whilst he consistently rags on just about every other one. Even now, he claims it is the film that is closest to his original vision. From it, we can see what it is that Allen the filmmaker really wants to do. Beloved by critics if not so much by audiences – not only is it great, it's the the kind of film that only Woody Allen can make.
Mia Farrow stars as Cecilia, a down and out waitress in the depression era Jersey. She's married to a man who beats her, she is poor and unhappy. Her only escape is the cinema, and she sees every film. Black and white, dramatic, sophisticated escapades, such as 'The Purple Rose Of Cairo'. Just as her life hits bottom, one of the characters in the film leaps off the screen to whisk her away.
Conception
The central idea of The Purple Rose of Cairo - an film character steps out of the screen - was also Allen's first idea for the film. Although, it took time for the rest of it to develop. He played around with the main characters being a bunch of out of work actors, but finally settled on one character. Say Allen[2]: 
"I wrote fifty pages and gave up on it and put it away. I only came back to it when it dawned on me that the real actor is troubled by this. So he comes to town and the girl falls in love with him as well as his character from the screen and is forced to choose, and chooses the real one and he hurts her—that's what made the story for me. But until then I had fifty pages where the guy comes off the screen, and I had some fun with that but that was it."
What turned the idea from one of Allen's many stories into something that could work as a film was the ending. Says Allen[2]:
"Then it hit me: the actor playing the character comes to town. After that, it opened up like a great flower. Cecilia had to decide, and chose the real person, which was a step up for her. Unfortunately, we must choose reality, but in the end it crushes us and disappoints. My view of reality is that it has always been a grim place to be, but it's the only place you can get Chinese food."
For Allen, the unhappy ending was one of the reasons to make the film. Yet, Allen was asked to consider changing it by his studio, but supported him when he stuck to his guns. When asked by Esquire why he didn't have a happy ending, Allen replied with 'that was the happy ending'.
The depression era and cinema has a special resonance for Allen. His grandparents were wiped out in the Great Depression, but before that were film theatre owners in New York. The theatre in the film could well have belonged to someone like his own grandfather. 
The film within the film pays tribute to escapist, urbane Hollywood films of the depression era, such as directors like Ernst Lubitsch, an era of film that Allen has praised. Yet, he denies that this is a love letter to cinema in particular. Allen once again returns to the theme of the healing power of popular art as a whole. Allen told Roger Ebert[3]:
"Some of the reviews have said 'Purple Rose' is about the movies. I don't agree with that. To me, the film is strictly about reality and fantasy. Cecilia could have had fantasies about radio, or books, or those popular magazines. To use the movies is merely a visual convenience."
Yet - in the credits, Allen thanks Fred Astaire.
Allen also denies that various other similar works were an influence. Whether it was his own Award winning short story The Kuglemass Episode or Buster Keaton's classic Sherlock Jr (1924), there were plenty of examples of characters mixing with characters of older fiction, and on screen. 
Allen also returned to the past - the 1930s depression era. It is his fourth period film in a row, and one of many journeys to the Jazz age for Allen.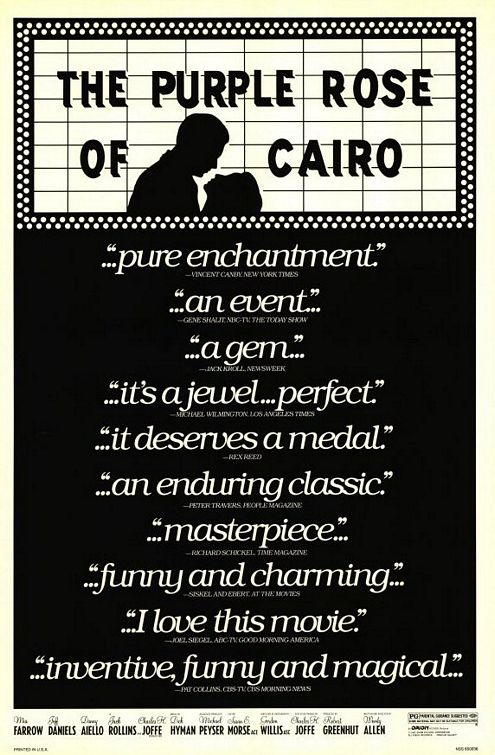 Production
The film was made in Piermont, New York, a small town along the Hudson River, less than an hour north of Manhattan. In 2010 the population was 2510. Allen and the crew took over the town, redressing many of the businesses and the shop fronts. They even dressed the store windows with replica merchandise, and actually constructed a few house façades completely. Bob Samuels, president of Piermont Civic Association, said in 2015[4]:
"The joke was that Piermont was so bad that he had fix it up to make it look like the 1930s."
The town was approached about the filming, and that the production would make the town look 'crummy', but the village board voted yes unanimously. They we also paid $15,000 (in 1983 money) and each shop owner was individually compensated. That Allen would, and could, take over much of an entire town showed his rising ambition.
Allen caused quite a ruckus in town. Shop owners had open-for-business signs for between takes so they could trade. But they also had to tell customers the 1930s prices being advertised were not real. One shop owner refused to participate so it was blocked by a freight car.
The filming also didn't go to plan. A scheduled ten weeks was hit by blizzards. In the end, Allen spent three and a half weeks in Piermont.
The main theatre from the film was called The Jewel Theatre, and was built on a parking lot. The exterior was a façade made just for the film. The interiors were shot at the Kent Theatre, Brooklyn. It was one of the local theatres frequented by a young Woody Allen when he was falling in love with films.
Filming also took place at Bertrand Island, an amusement park in New Jersey. The park was closed just shortly before the film's production. The Raritan Diner in South Amboy was used for Cecilia's work, and is now also closed. None of these great locations have lasted.
Allen's peculiar style was commented on by Edward Herrmann. Heremann told AV  Club[5]:
"It's the only film I've worked on in which the assistant director said, "Action." Woody didn't even say, "Action." He would sort be standing behind a flat, peeking around the edge of it.""
Although tame by anyone else's standards, there was lots of trickery subtlety involved in the film making. Various scenes of Jeff Daniels talking to himself had to be planned out. As did the characters on screen talking to the audience. Where the actors were looking and saying had to be meticulously planned in advance.
The music of this film included making a soundtrack for the fictional film within the film. Although they sound like Allen's usual New Orleans Jazz, they were composed for the film by Dick Hyman. Hyman also contributes an original song called One Day At A Time, the kind of song that would have been the theme for the film within the film.
The production budget was reported to be $15 million.
Release date
1st March 1985
Studio
Orion Pictures
Duration: 82m
US Rating: PG
Rotten Tomatoes 91%
IMDB: 7.8
Roger Ebert: 4/4
US Box office: $10,631,333

US Adjusted Box Office: $25,694,900
Screenshots
Cast
This was only the second Woody Allen film to not have Woody Allen star (the first was Interiors, 1978).
Danny Aiello stars as Monk. Aiello had worked with Allen before - in Martin Ritt directed The Front (1976) and Allen's 1981 play The Floating Light Bulb. He shot a scene for Annie Hall (1977) that was eventually cut. He was in the running for the Nick Apollo Forte role in Broadway Danny Rose (1984), but missed out. He would work again with Allen on Radio Days (1987) and his most memorable roles in films like Moonstruck (1987) and Do The Right Thing (1989) was still to come.
Jeff Daniels stars as Gil Shepherd/Tom Baxter. This was Daniel's first major role (he had minor roles in Ragtime (1981) and Terms of Endearment (1983). He would go on to massive success in films like Dumb And Dumber (1994) and Speed (1994). He would also work with Allen again on Radio Days (1987). Says Daniels[6]:
"You pinch yourself: You're on a set and there's Mia Farrow, and there's Woody Allen off-camera saying, "Action." It's pretty good."
Michael Keaton was originally cast in the role of Shepherd/Baxter. He shot several days worth of scenes, and photos exist of Keaton on set (footage must also be somewhere). Says Juliet Taylor[7]:
"He thought Michael Keaton was great. He just thought he was too contemporary. He didn't meet him first. If he had met him, he would have known that."
Says Allen[8]:
"Michael Keaton was right out of the 1980s, not the 1930s. People are always trying to figure if it was more than that, but that's all it was. I loved him in Night Shift [1982]. I thought he was absolutely terrific. I'd love to do something with him, but that wasn't the piece."
The studio then tried to convince Allen to rewrite the role for himself, but Allen wanted to work with Daniels. Says Allen, on himself playing the part[9]:
"That would have meant rewriting. I wouldn't be a 1930's movie idol. I'd have to be a chorus boy or something."
Says Daniels[6]:
"What I was told is that it's just not working, so Woody recast it. He screen-tested about three or four of us on a Wednesday and made his decision on Thursday. And it was me, and we were shooting on Monday."
Allen promised to cast Keaton in another film. So far, that has not happened.
Mia Farrow stars as Cecilia. This was her first time starring in an Allen film without Allen. She's the lead here and carries the film. It is her fourth film in a row with Allen, and the pair was, of course, in a relationship at the time. Farrow had previously appeared in Supergirl (1984), but that would be the only role she ever took that was not a Woody Allen film in their whole time they were together.
The Purple Rose Of Cairo
is featured in our book
The Woody Allen Watcher's Guide
Book 1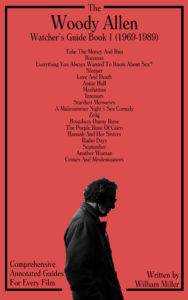 Crew
Gordon Willis returns as cinematographer. This is his eighth film in a row with Allen and his last - an end to a very fruitful and famous collaboration. Willis would go on to be cinematographer for films like The Money Pit (1986) and Presumed Innocent (1990). He also finished the trilogy he started with Francis Ford Coppola when he shot The Godfather Part III (1990). He retired in the 90s, and passed away in 2014. Says Allen[10]:
"Gordy was a huge talent and one of the few people who truly lived up to all the hype about him."
Dick Hyman, Allen's go-to music composer at this time, returns. He does a remarkable job composing the music for the film within the film, as well as all the incidental music. He conducted all the film music as well.
One exception to Allen's regular crew was Stuart Wurtzel, as production designer. Allen's regular Mel Bourne was unavailable, so recommended someone he had worked within. Wurtzel would return for Hannah And Her Sisters (1986) and it would lead to an Academy Award nomination. 
Susan E Morse returns as editor. This is her 6th film with Allen as lead editor.
Juliet Taylor is casting. This is her 8th film with Woody Allen.
Charles H Joffe and Jack Rollins, Woody Allen's managers, return as executive producers. Robert Greenhut also returns as producer.
Release
The Purple Rose Of Cairo was released in the US on 1st March 1985. At the time, Beverly Hills Cop was on its 13th week at the top of the US box office.
The Purple Rose of Cairo played at the 38th Cannes Film Festival, which ran from 8th-20th May 2016. As usual for Allen, it played out of competition, and neither Allen or any of the cast attended the festival. It is the third Allen film to play at Cannes, and his second in a row.
A soundtrack of Dick Hyman's composition was released by MCA Records in 1985.
Reception
The Purple Rose of Cairo has earned $10,631,333 in the US.
This film has the distinction that for many years, Allen professed this to be the favourite of his own films, when asked.
The town of Piermont celebrated the 30th anniversary of the release of this film in 2015. There was a display of production photos from Sally Savage, and panel discussions with people who lived in the town and worked on the film who still lived there. There was also a flash mob of residents dressed in vintage garb.
Jeff Daniels started his own theatre company in his hometown of Chelsea, Michigan, and named it the Purple Rose Theatre Company.
There's also a famous show pitbull named Purple Rose Of Cairo.
Awards & Nominations
| Film | Academy Awards | Golden Globes | BAFTAS | César |
| --- | --- | --- | --- | --- |
| | | | | |
58th Academy Awards
1 nomination
- Best Original Screenplay,Woody Allen
43rd Golden Globe Awards
1 win from 4 nominations
Best Screenplay - Motion Picture
- Best Motion Picture - Comedy or Musical
- Best Actress - Musical or Comedy, Mia Farrow
- Best Actor - Musical or Comedy, Jeff Daniels
39th British Academy Film Awards
2 wins from 4 nomination
Best Film
Best Screenplay - Original, Woody Allen
- Best Actress, Mia Farrow
- Best Special Visual Effects
Writers Guild Of America Awards
1 nomination
- Best Screenplay Written Directly for the Screen
What did you you think?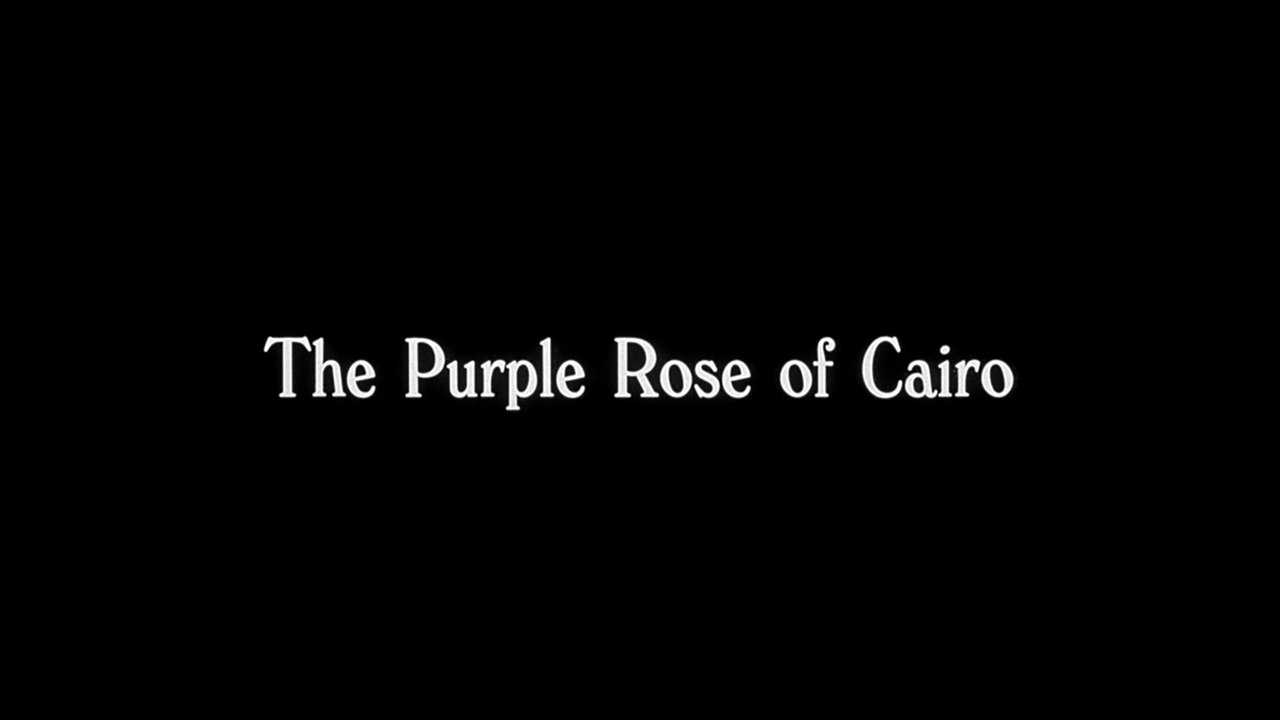 "I just met a wonderful new man. He's fictional but you can't have everything."

"You can't learn to be real. It's like learning to be a midget."

"I'm bored with sitting around. I'm a dramatic character. I need forward motion."

"We'll live on love. We'll have to make some concessions, but so what? We'll have each other."

"I'll come. Why not? What's life without a little risk taking? Who knows?"