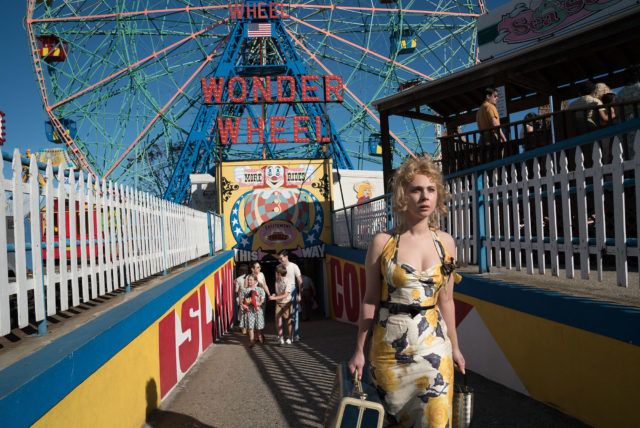 Can it really be four years since Wonder Wheel? Woody Allen's incredibly intense drama saw him return to the past – this time 1950. And once again, he used CGI to make the past come alive.
At the heart of the film is Coney Island, home of the Wonder Wheel ride which gives the film its name. Allen shot lots on the real beach and boardwalk. But through sets and CGI, recreated the beach to look as it did in 1950. Allen and the team also found locations that look like it didn't date from around Vinegar Hill and Cobble Hill, around Brooklyn. Oddly, there's also a scene in the Chinese Scholar Garden on Staten Island that only opened in 1999.
There was also lots of studio filming. The entire apartment was a set, as was part of a beach under a pier. It was all done at Silvercup Studios in Long Island.
Here are the filming locations for Wonder Wheel.
Coney Island Beach
The beach is used in many scenes throughout the film, occasionally augmented by CGI. The opening shot is near the point where West 15th Street meets the beach.
Wonder Wheel
W12th Street, Brooklyn, NY
We see the iconic ride many times. We see Carolina walk from almost underneath it, onto Riegelmann Boardwalk. A lot of the rides and amusements around the wheel were made for the film (the area around it is mainly a car park).
Ruby's Bar And Grill
1213 Riegelmann Boardwalk
This real place was redressed to be Ginny and Carolina's workplace. We also see the boardwalk outside.
Silvercup Studios
42-22 22nd Street, Long Island City, Queens
The apartment is a set – with its huge array of rooms. So is a section of the pier used for a few scenes.
The Cyclone Rollercoaster
W10th Street, Brooklyn
Seen as an establishing shot and also where our gangsters pull up in one scene.
Playland Park
1 Playland Parkway, Rye
The Playland amusement park has been used by Allen before, notably in The Purple Rose Of Cairo and Sweet And Lowdown. The vintage look of the rides was more in line with what Allen was going for. The wonder looking Carvel Ice Cream is on the Playland grounds.
St George Theatre
35 Hyatt St, Staten Island
Ginny with Richie in an old cinema.
Freak Bar
1208 Surf Avenue, Brooklyn
Mickey and Ginny go for a drink.
79 Hudson St, Vinegar Hill, New York
Mickey takes Ginny to his place in Greenwich Village, but it's actually Vinegar Hill. We assume the interior matches the exterior.
Chinese Scholars Garden
1000 Richmond Terrace, Staten Island.
It's part of the Staten Island Botanical Gardens. It didn't open until 1999 so our characters being here is wildly anachronistic.
Nathan's Famous Hot Dogs
1310 Surf Avenue, Coney Island.
A shot of this hot dog stand at the Coney Island location of this chain.
Playland Boardwork
Rye
The location of the fishing men.
Richmond Hill Bingo Hall
11709 Hillside Avenue, Jamaica, NY
This used to be a cinema back in the day.
Jamaica Avenue, Queens
Carolina is walking east towards Richmond Hill. The cross street is 108th St, where Mickey picks her up. Humpty later walks here.
West 12th Street
Ginny and Mickey talk in a car parked on this street, near the boardwalk.
Vinegar Hill House
72 Hudson Ave, Brooklyn
Mickey and Jake talk. Just a few doors down from where Mickey lives.
117th St, Richmond Hill
Jake runs onto 117th St, Jamaica Avenue behind him.
Sam's
238 Court St, Brooklyn
Located in Cobble Hill. Serves as the interior to the fictional Capri's.
79-19 Jamaica Avenue, Jamaica, NY
The outside of the fictional Capri's. It's on the corner of 80th Street.
Unknown Filming Locations
Unknown Filming Location for WONDER WHEEL. Jake burns stuff near these distinctive arches. Anyone recognise them? pic.twitter.com/yZ8xdNtU0T

— Woody Allen Pages (@WoodyAllenPages) April 26, 2021
Unknown Filming Location for WONDER WHEEL. Great old antique shop. New York somewhere – anyone recognise it? pic.twitter.com/1dvNpUKTlJ

— Woody Allen Pages (@WoodyAllenPages) April 26, 2021
Unknown Filming Location for WONDER WHEEL. Locker room for the beach. Is it part of Coney Island? Anyone know it? pic.twitter.com/SPetp03IQA

— Woody Allen Pages (@WoodyAllenPages) April 26, 2021
Find more filming locations.
Or help us identify some unknown filming locations.