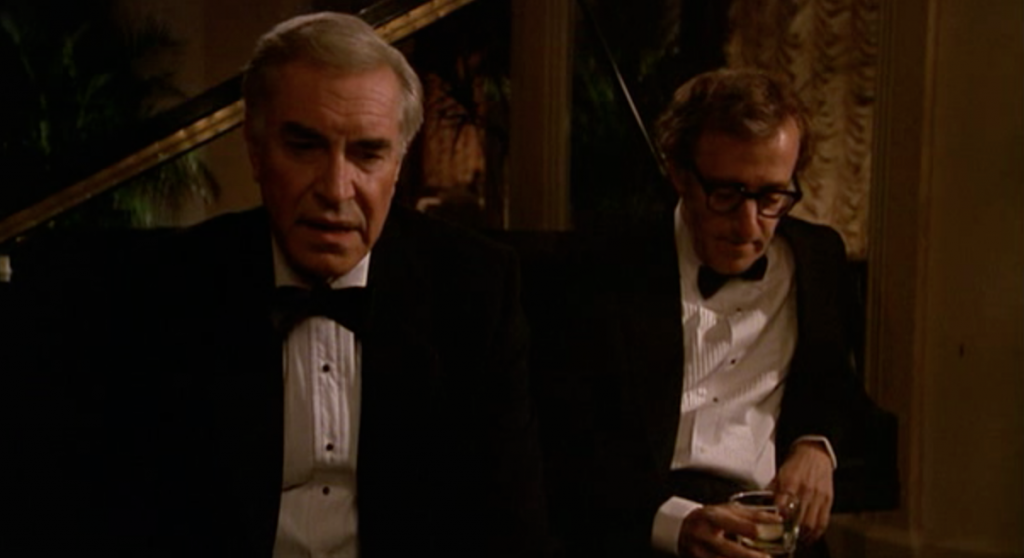 Crimes And Misdemeanors and The Front are the latest Woody Allen titles to hit Blu-Ray. Both are a limited run of 3000 copies, and were released through Twilight Time on 11th February. It's not a release that has made that much noise, but we now have a couple of reviews, and in particular the image and sound differences in the new format.
Slant Magazine reviewed the 'Crimes And Misdemeanors' Blu-Ray.
The image is sharper than on the MGM DVD, but room for improvement remains, though that could potentially be a testament to the film's inherent soft graininess. Background detail is also occasionally shallow, though, and there's a prevailing lack of vibrancy. The English 1.0 DTS-HD Master Audio mix favors foreground effects, but is generally clean and scrubbed of audial ticks. Thoroughly competent, but this presentation could be more robust across the board.

Woody Allen's most inadvertently personal film receives a competently barebones Blu-ray initiation. It'll do for the director's completest fans, but Crimes and Misdemeanors merits a more eventful home-video presentation.
DVDizzy also reviewed the disc.
My second taste of Twilight Time Blu-rays is just as satisfying as the first. The nicely and nimbly shot Crimes and Misdemeanors looks great in its 1.85:1 presentation. The picture is sharp, clean, and vibrant. Detail is great, a suitable amount of filmic grain is retained, and imperfections are minimal, consisting of little more than infrequent tiny white specks that only noticeable under close scrutiny. I'm not sure to what extent Twilight Time is involved in the mastering process, but I do know that having seen two of their discs, the quality of their output seems to rival that of restoration benchmark Criterion and the big studios.

This being a Woody Allen movie, the sound is naturally monaural by design. The 1.0 DTS-HD master audio remains crisp throughout, hiding its age quite well. White English SDH subtitles are clean and quick to appear.

The movie gets about as good of a Blu-ray as it could from Twilight Time, with its highly satisfying feature presentation and light but appropriate serving of extras. While it will cost you more than a typical catalog disc would in general retail, this pleasing release holds promise for Allen's MGM-owned films presently unavailable on Blu-ray
We only found one review for 'The Front' from Home Theatre Forum
The overall picture is slightly on the soft side, but that appears to be deliberate and it is appropriate for the era which is being portrayed. Colors and flesh tones are accurate and the transfer is free of any traces of dirt and damage. Black levels are solid and shadow detail is very good. Exteriors (and many of the interiors) were shot on location in New York City by cinematographer Michael Chapman, and the Blu-ray does a fine job of showing off his excellent work.

The English 1.0 DTS-HD MA audio is hardly spectacular, but it faithfully recreates the way the mono soundtrack was heard in theaters in 1976. Dialogue is clear and understandable throughout, and Dave Grusin's jazz-infused score plays nicely without a hint of distortion. English SDH subtitles are available for those who need them.
Overall, it looks like Twilight Time did a fine job on the releases, although they are typically light on special features. Broadway Danny Rose follows in April from the same distributor, with hopefully more MGM titles to come. Now that these improved prints exist, there's every chance they could be licensed outside the US for wider release as well.