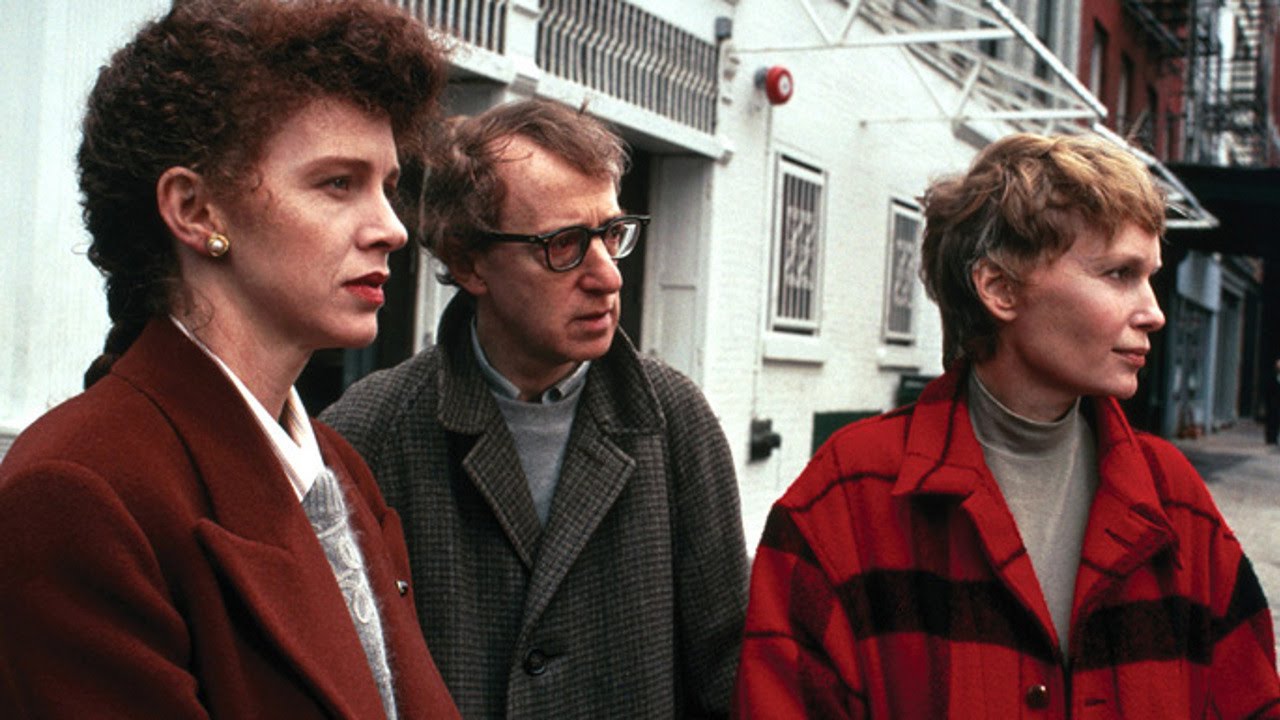 The 21st film written and directed by Woody Allen
This is one of Allen's best films, it shows him at his most energetic, creative and vital, even though the subject matter is extremely bleak. The film, the examination of modern marriage, was released at the same time his relationship with Farrow ended, and it's tough to separate that. Regardless of the drama surrounding the film, the film itself is a resounding, if disturbing, success.
Woody Allen stars as Gabe Roth, a teacher who is married to Judy (Mia Farrow). When their best friends Jack (Sydney Pollack) and Sally (Judy Davis) announce they are divorcing, it leads to a road of discovery for all four characters, and their lives are never the same again.
Conception
For once, the production style of the film went hand-in-hand with a story. Allen wanted to make a rough, more free form film, and developed a story with that idea in mind. The sudden edits and jumps were written into the script. Says Allen[1]:
"I said to myself, why not start to make some films where only the content is important. Pick up the camera, forget about the dolly, just hand-hold the thing and get what you can."
That disruptive element is not new, and Allen has sung the praises of directors like Jean-Luc Godard and John Cassavetes who had worked in similar styles.
Despite the dissolution of his own personal relationship with Farrow, much of that occurred after the film was made. Allen maintains he wrote the story years earlier, and there is no autobiography in it (or any of his films).
Once again, the shadow of Allen's favourite director, Ingmar Bergman, loomed over the film. Many made a comparison with this and Bergman's similar Scenes From A Marriage (1973).
Production
Allen shot the film in his beloved New York City. Production took place from November 1991 to January 1992.
Allen's approach to the technical filmmaking here was deliberately haphazard. Allen had wanted to break rules. Traditional ideas of editing, dialogue, camera angles and more were thrown out for something more visceral and primitive. Says Allen[2]:
"I thought that, since the film's about such neurotic people, and such neurotic relationships, a neurotic style would be appropriate. So I thought I would obey none of the filmmaking rules. I wouldn't care if people were facing the same direction, if they crossed the 180 degree axis of symmetry, if things matched or didn't match, cutting away whenever I wanted, etc. I decided to make the film as crudely, and as neurotically as the content of the film indicated."
Having made some traditionally beautifully shot films (such as Manhattan, 1979), Allen went the other way with list of hand held cameras
Despite the complicated camera moves and staging, there was no camera rehearsal. Allen and his team managed to pull of several long shots, and he used cuts when he needed to extend the scenes.
Adding more challenges to his audience, this is by far the most swearing used in an Allen film to date. It's disconcerting to hear Allen say fuck, and it is the first time he's done so in a professional context since he started as a performer in the 60s. Theres also one scene, when Jack drags Sam from a party, that was brutally violent. Says Lysette Anthony[3]:
"Woody reshot the scene to make me obnoxious. The scene got incredibly violent. I couldn't sleep for three days. I'm not exaggerating…there were people with their mouths open, going "My god, we've never seen this much violence in a Woody Allen movie!"'
Along with the swearing and violence, there's also a bit of explicit sex too.
For music, Allen kept it bare, and mainly music that exists in the film. Backgrounds for parties and music from concerts are the only real music we hear. Allen does use What Is This Thing Called Love?, a Cole Porter song, in the opening and closing credits.
Allen actually wanted to go further and film on home grade 16mm to make it look like a cheap documentary. But he was talked into shooting it in more traditionally cinematic 35mm.
Allen only had three days of reshoots. He claims it was the first time in decades that he came in under budget.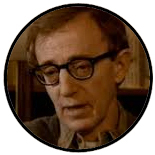 Release date
14th September 1992 (Toronto Festival Of Festivals)
18th September 1992 (US release)
Studio
TriStar Pictures
Duration: 103m
US Rating: R
Rotten Tomatoes 97%
IMDB: 7.6
Rate Your Music: 3.63
US Box office: $10,555,619

US Adjusted Box Office: $22,001,500
Screenshots
Cast
Woody Allen stars as Gabriel 'Gabe' Roth. Having sat out appearing in many of his 80s work, Allen was appearing in two in a row, having last appeared in Shadows And Fog (1991). You'd have to go back to Zelig (1983)/Broadway Danny Rose (1984). Allen had considered playing the role of Jack, which Sydney Pollack would eventually take.
Blythe Danner plays Rain's mother. This is Danner's third time in an Allen film, having last worked with Allen in Alice (1990). She would go on to appear in Meet the Parents (2000) and its many sequels, Paul (2011) and more.
Judy Davis stars as Sally. This is Davis' second film with Allen, having last appeared in Alice (1990). She is one of Allen's most reliable leading ladies, and Allen would use her three more times.  Davis was actually Allen's choice to play Judy, before Mia Farrow decided to play that role. Says Allen[1]:
"Judy Davis is probably the best actress in the world today."
Says Davis:
"I don't think I played it the way you'd expected it. He might have liked that. He was surprised."
Jane Fonda was considered for the role of Sally.
Mia Farrow stars as Judy Roth. Farrow and Allen's personal relationship dissolved during the making of the film, but Farrow decided to finish the film with Allen on professional grounds. This was Farrow's 12th and final film with Allen, ending a professional collaboration that lasted 10 years. Farrow did not star in any non Allen films when the pair was together, and would ultimately pull away from acting all together.
Juliette Lewis plays Rain. Lewis was coming off an acclaimed and breakthrough performance in Cape Fear (1991). She would go on to have an eclectic career in fantastic roles, starring in films such as Natural Born Killers (1994) and From Dusk Til Dawn (1996). Says Allen[1]:
"Juliette Lewis is a wonderful actress."
Emily Lloyd, who had starred to great acclaim in Wish You Were Here (1987) was originally cast in the role and made in to production. But Lloyd was suffering a number of mental and physical disorders and, Allen decided to recast the part. Says Lloyd[4]:
"Woody was on my back. He criticised me for spending too long in the trailer. What he didn't know was that I was making myself sick."
Kristin Swanson was also considered for the role.
Liam Neeson stars as Michael Gates. Neeson was famous in his native Ireland and England. He was still a year away from becoming a huge international star with Schindler's List (1993). He would go on to mix dramatic roles with action films like the Taken series and Batman films. Says Allen[1]:
"He combines this mixture of masculinity and intelligence. He is a superb actor and a real person.There is never a trace of fraud;once about him. He is authentic in every gesture and in every word."
Sydney Pollack stars as Jack. Pollack is also a fantastic director, with films such as Tootsie (1982) and Out Of Africa (1985). Pollack has also acted in acclaimed films such as Eyes Wide Shut (1999) and Michael Clayton (2007). Pollack was also part of the lobby group against colorisation of black and white films in 1987, which also included Allen. At this point, Pollack had not acted very much in decades, and Allen reluctantly asked him to audition. Says Juliet Taylor[5]:
"He said, 'How can I ask Sydney Pollack to read? He's Sydney Pollack!' I said, 'Well, you have to be a little uncomfortable with it, because you've got to read him. You've got to know. It's a huge part.' And Sydney was so great, too. He read through the entire script with us."
Says Allen[1]:
"I could see from the first reading he was very natural and good. He was great!"
Says Pollack[6]:
"[Allen was] meticulous about his writing, but once he got on the set, the control part of it was in the writing. On the set, Woody encouraged freedom, and did very few takes."
Husbands And Wives
is featured in our book
The Woody Allen Watcher's Guide
Book 2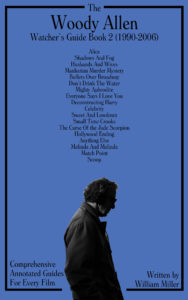 Locations
4651 Fieldston Road, Riverdale
Columbia University
Dean & DeLuca - 121 Prince Street
65 Bleecker Street, Greenwich Village
Riverside Park
68th Street Playhouse, 1164 3rd Avenue
845 Madison Avenue
25 East End Avenue
Madison Square Garden
Duane Park
Hungarian Pastry Shop
Crew
Carlo Di Palma returns as cinematographer. This was his 6th film with Allen, having last worked with Allen on Shadows And Fog (1991). He would work with Allen again on Manhattan Murder Mystery (1993).
Santo Loquasto returns as production designer. This is the 10th time he's worked with Allen.
Jeffrey Kurland returns as costume designer. This is his 10th time in a row with Allen. But he also talks an almost onscreen role - he's the voice of the narrator/interviewer in the film.
Susan E Morse returns as editor. This is her 14th film with Allen as lead editor.
Juliet Taylor is casting. This is her 16th film with Woody Allen.
Charles H Joffe and Jack Rollins, Woody Allen's managers, return as executive producers.
Robert Greenhut also returns as producer. Helen Robin co-produces.
Release
Husbands And Wives had its world premiere at the 17th Toronto International Film Festival, on 14th September 1992. It was the first time an Allen film played at that festival.
With controversies and front page tabloid coverage reaching fever pitch by the time of the film's release, Tri-Star changed their release strategy, from Allen's usual arthouse platform release to a wide opening on 18th September 1992 in the US. At the time, tech thriller Sneakers (1992) was the top of the box office.
The film was so hot that a copy of the film that was on its way to be screened for Liam Neeson was hijacked. Bootleg copies of the film were being sold at $200.
In some territories, this film actually came out before Shadows And Fog (1992) to capitalise on the publicity.
This film has been adapted as a play and is occasionally performed around the world.
In an odd bit of trivia, it was the 25,000th film to be classified by the British Board Of Film Classification.
No soundtrack was issued for the film.
Reception
Husbands And Wives has earned $10,555,619 in the US.
It scored the best opening weekend for an Allen film at they time ($3.5 million) and the UK (£79k on seven screens). It remained in the French top ten for 19 weeks.
Amongst the film's fans are Zoe Liste Jones and David O'Russell.
| Film | Academy Awards | Golden Globes | BAFTAS | WGA | César |
| --- | --- | --- | --- | --- | --- |
| | | | | | |
Awards & Nominations
65th Academy Awards
2 nominations
Best Actress In A Supporting Role, Judy Davis
Best Original Screenplay, Woody Allen
50th Golden Globe Awards
1 nomination
Best Supporting Actress In A Motion Picture - Comedy/Musical, Judy Davis
46th British Academy Film Awards
1 win from 2 nominations
Best Original Screenplay, Woody Allen
Best Actress, Judy Davis
César Awards
1 nomination
Best Foreign Film
Writers Guild Of America Awards
1 nomination
Best Original Screenplay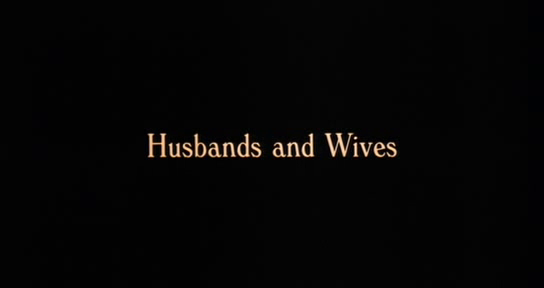 "I will always have this penchant for what I call kamikaze women. I call them kamikazes because they, you know they crash their plane, they're self-destructive. But they crash into you, and you die along with them."

"Change equals death!"

"It's the Second Law of Thermodynamics: sooner or later everything turns to shit. That's my phrasing, not the Encyclopedia Britannica."

"You use sex to express every emotion except love."

"Fucking men! Woman gets to be over a certain age, it becomes a different ballgame."

"Life doesn't imitate art, it imitates bad television."