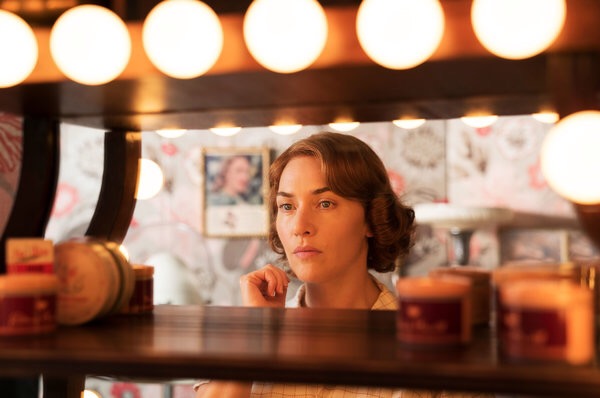 Drama. Always the holy grail for Woody Allen, who has tried for many decades to write the great dramatic masterpiece, one that fully eliminates any of the comedy he is best known for. His second attempt this decade (after the acclaimed and beloved Blue Jasmine in 2013) is Wonder Wheel. Both feature powerhouse female leads, but could not be more different.
Wonder Wheel is not the slow, fish out of water story we saw in Blue Jasmine. The fish here are set to a hot boil. And where Jasmine might take some superficial plot points from A Streetcar Named Desire, it is Wonder Wheel that takes us into a similar, tense, sweaty, chaotic world. Justin Timberlake's Mickey makes no bones about it – this is melodrama. This is Cat On A Hot Tin Roof, and nothing is nice.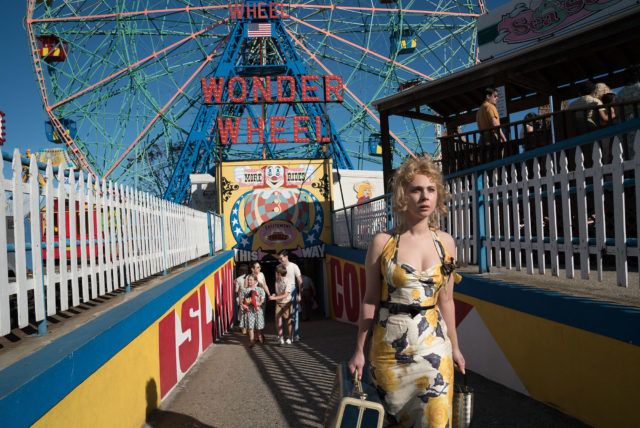 The plot is thick. It's 1950 and we are at Coney Island. Ginny (Kate Winslet) is unhappily but steadily married to Humpty (Jim Belushi), and their troubled son (Jack Gore). But when Humpty's daughter Carolina (Juno Temple) returns, running from the mob, their lives are thrown out of balance. When Ginny starts an affair with local lifeguard Mickey (Timberlake), the stage is set.
With the exception of September (1987), this is by far the Allen film that could most easily translate into a play. Half the film's running time is set in the home Ginny and Humpty share. The rest are stolen moments in restaurants, under boardwalks, and offices. This is a small film, a small story. And with that, we focus on the acting. And much of the film's faults lie with Kate Winslet – she simply makes everyone else look terrible.
Timberlake has not been getting the best reviews, but he's perfectly charming and well cast as the somewhat sinister Mickey. But there are scenes where Winslet is boiling over, and Timberlake just isn't in her league. Belushi fares a little better. Juno Temple however, is a gift. She is the only one holding her own against Winslet in several key scenes.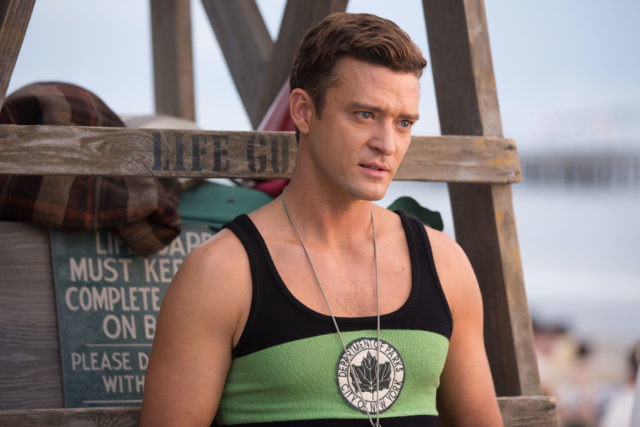 This is a taut psychological thriller. And with that, the characters suffer. Many of them are cartoon stereotypes to fill a plot, like characters in a whodunnit. The younger characters have no inner life, and Carolina might as well be called 'Spanner'. Worse still is Allen's attempts to add depth through narration. It is the biggest weakness in Allen's writing of recent years – and the narrator is Timberlake, the weakest link of the four (although otherwise very watchable). Only Ginny gets any kind of character arc.
Much has been made of the way the film looks and yes, it is breath taking. For a modest film, cinematographer Vittorio Storaro makes every setting gorgeous, distinctive and memorable. There are a couple of outdoor shots of Coney Island, many seen in the trailer, that are as stunning as anything in Allen's long career (and made with CGI). And the long shots, a hallmark of Allen's work, is on passionate display here. You don't cut from Kate Winslet in full flight, and it looks unbelievable.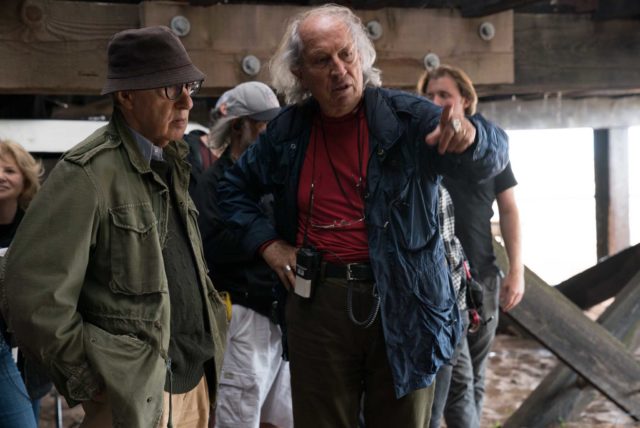 In the end, the film has significant shortcomings. Twice, Allen conjures up a random friend for a character to talk to, to give ham fisted exposition. The film is long, and with no sub plots, it drags in places, especially the middle. And any time Winslet isn't on screen is lesser for it. There is no bigger lesson or thoughts here, other than the usual tragedy of the humans. And Mickey, problematic Mickey, with his terrible narration and on the nose references to other playwrights, drags us out of the film.
Where Wonder Wheel works best is when things get tense, and moves at a white knuckle pace. Tony Sirico and Steve Schirripa are excellent as the mobsters. There are several moments that illicit audible gasps, and you will know what they are when they happen. The film's last act, clearly the reason Allen wanted to make the film, is one of the high points of at least Allen's last decade of work.
This isn't the dramatic masterpiece that Allen always says he strives to make. Some new highs are mixed with Allen's regular shortcomings. He has created another amazing character in Ginny, and a gorgeous, almost tangibly nasty world in this 1950 Coney Island. Wonder Wheel, like its namesake, is a thrilling ride, but falls short of being much more.
Look out for:
David Krumholtz finally gets to be in a Woody Allen film. He was cast as the lead in Midnight In Paris back in 2006, but the film fell through.
Winslet, of course, was also cast in an Allen film but had to pull out. She was set to star in Match Point (2005), and she was also considered for Celebrity (1998). Also of interest is she was (first) nominated for an Academy Award in 1996 for Best Supporting Actress for Sense And Sensibility, but lost to Mira Sorvino for her role in Allen's Mighty Aphrodite.
Tony Sirico and Steve Schirripa worked together on The Sopranos. Schirripa was cast after production started, suggesting Allen changed his mind and wanted two gangsters instead of one. Another Sopranos star also appears – Max Casella.
Other cameos – Allen cameo regulars Dr Kenneth Edelson and John Doumanian are both present. Bobby Slayton, Danielle Ferland and Debi Mazar all work with Allen again in small roles.
Lots of Coca-Cola product placement.
That song? It's Coney Island Washboard by The Mills Brothers, from 1932. No soundtrack for the film has been announced.
The Chinese Gardens in the film is the New York Chinese Scholar's Garden on Staten Island. However, it was opened in 1999, almost 50 years after the film is set. It seems like a big honking anachronism, and uncharacteristic of Allen.
The CGI was mostly convincing, although it did look ropey in places
The plot features a book – Hamlet And Oedipus, by Ernest Jones. This book is also used, and discussed, in Husbands And Wives (1992).
Allen loves Bora Bora, a small South Pacific Island. It's been mentioned in other Allen films as a place of paradise – Everyone Says I Love You (1996) and Magic In The Moonlight (2014). Although it's probably just the name.
As usual, Allen lists his top billed cast in alphabetical order by last name. By coincidence, it happens to be alphabetical by first name.
Wonder Wheel is out now in select US cities, Portugal and Australia. Find more international Wonder Wheel release dates here. For US cities go to the official Wonder Wheel website.