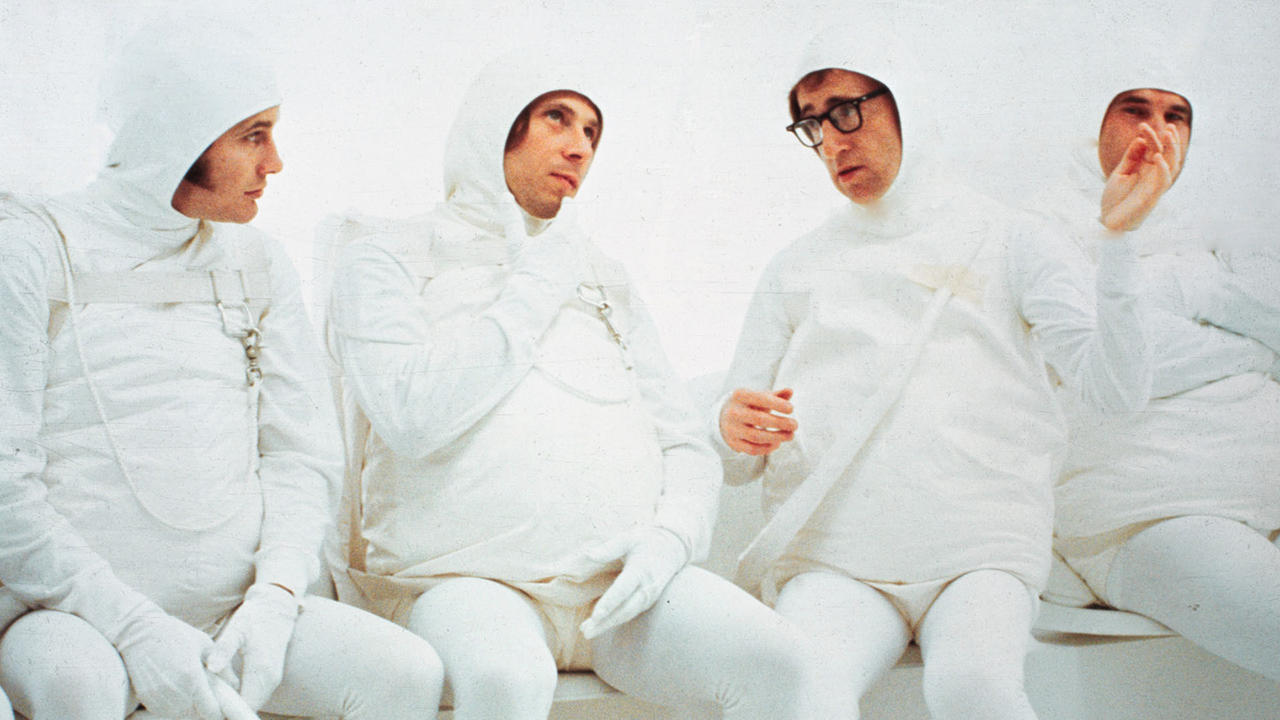 The 3rd film written and directed by Woody Allen
Everything You Always Wanted To Know About Sex* (*But Were Afraid To Ask) is an anthology film in seven parts, each focussed, of course, on sex. From studies of sex, sexual perversions to what it is to be a sperm, it showed Allen to be a film maker who was overflowing with ideas. This time around, he also had a large ensemble cast and a large production budget to match.
The title is taken from a book by David Reubens, but the film has almost nothing to do with the book.
Conception
"I don't know if you've read my book, 'Advanced Sexual Positions: How to Achieve Them Without Laughing'?"
Woody Allen's rise to comedy fame came with the sexual revolution. In film and in comedy, the 60s saw more sex, and Allen helped. His stand up was full of sex jokes. This rise of talking about sex set the scene for the book Everything You Always Wanted To Know About Sex* (*But Were Afraid To Ask). There were also plenty of sex comedies around at the time, with more to come as the 70s and 80s drifted on. 
This film remains Allen's most overt film about sex. But of course he would talk about sex for many decades to come. And it's not like his first two films didn't have lots of sex jokes. 
The book was written by Dr David Reubens, which was could was in part a serious look at the sexual revolution, in part a self help book. The book, released in 1969, was originally optioned by Elliott Gould and producer Jack Brodsky. They sold the rights to United Artists who had signed Allen at the time.
The story goes that Allen saw Reubens on The Tonight Show talking about his book, and Reubens stole Allen's line (from Take the Money And Run, 1969) about sex being dirty "if you're doing it right". There is some thought that Allen taking the job and this whole film is just an elaborate revenge for that slight.
Allen just took the chapter titles and created sketches that are completely unrelated to Reuben's book. No doubt at least some were pre-existing ideas Allen had that he could fit into the anthology format. In fact Allen once claimed he'd string together "every funny idea I've ever had about sex, including several that led to my own divorce."
Not that Allen would have known back then, but his revenge, in the era of Google, is very effective. You can't find Reuben's book without finding Woody Allen.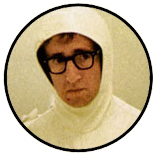 Release date
6th August 1972
Studio
United Artists
Duration: 87m
US Rating: PG-13
Rotten Tomatoes 89%
IMDB: 6.8
US Box office: $18,016,290

US Adjusted Box Office: $91,247,200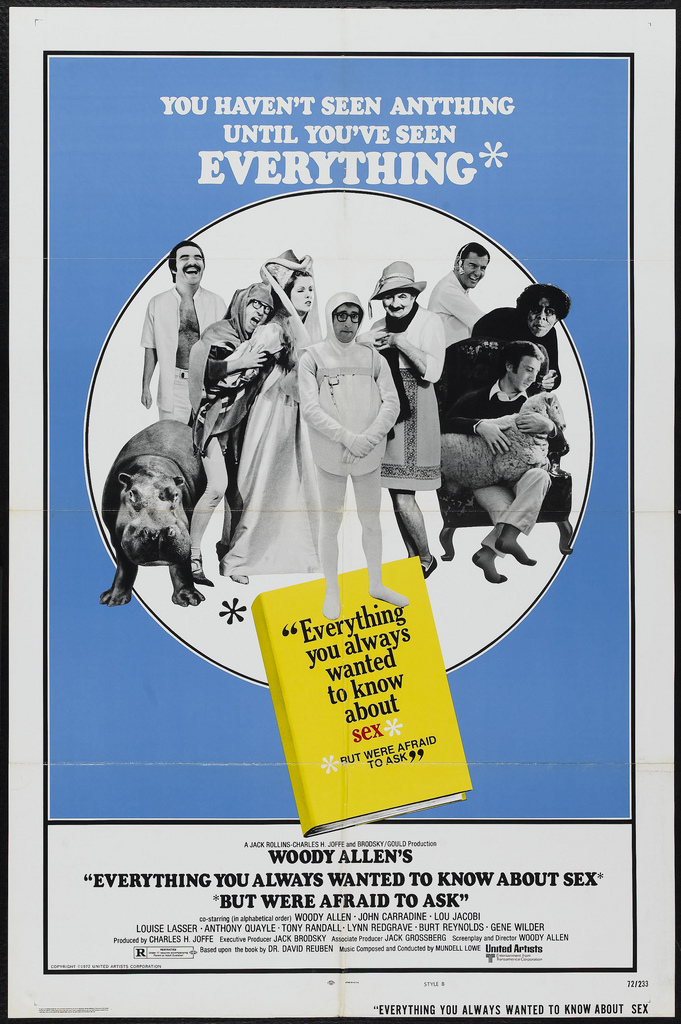 Production
Everything You Always Wanted To Know About Sex was filmed around Los Angeles. It was Allen's most expensive film to date, with many more locations, actors and sets than ever before. This was still before Allen would make New York his home. LA was a good choice for all the different locations and sets done in a studio. However, we don't have any real details on many of the specific locations. 
The set designs and production values saw a significant jump for Allen. Amongst the many sets created for the film was a giant breast. It was manned, with a person inside moving it around, being transmitted instructions.
Allen was also improving as a technical filmmaker. With this film he would start emulating the works of European cinema he loved so much, and talk more about colour, framing, styles and more. The Italian inspired sequence was originally going to be about peasants in Italy, like The Bicycle Thief (1948).  It was Louise Lasser that convinced Allen to make it about modern, rich Italians, making it Allen's most sophisticated filming to date [3]. 
"I really started to feel that piece. I just love it. Some of the shots there are very stylish."
Yet another filmed scene was cut from this film. This time, it was a whole section of the multi-part anthology. Called 'What makes men homosexuals', it features Louise Lasser and Allen dressed as spiders named Sheldon and Lisa. Lasser, the Black Widow, would eat Allen. But he could think of a good ending and after two weeks shooting, gave up on the scene. Many photos of the scene have snuck out. Funnily enough, Allen intended to use music from the ballet The Nutcracker Suite. 
Another scene was written – an Old Testament spoof about a famous masturbating man, a parody of chapter 38 of Genesis – but never filmed.
Allen would make films with short asides (like Deconstructing Harry, 1997) but would return to a true anthology film in 40 years later with To Rome With Love (2012).
The film's budget was reportedly $2 million - a lot for those days. 
Everything You Always Wanted To Know About Sex
is featured in our book
The Woody Allen Watcher's Guide
Book 1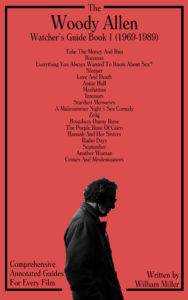 Screenshots
Cast
This is the first time Allen worked with a large ensemble cast. It would not be the last.
John Carradine was a regular of Amercan westerns and horror films, and was already a legend at this point. He is making fun of his own persona in his mock horror role as Dr Bernardo. He is the father of David Carradine, Keith Carradine and many other acting Carradines. Howard Cossell, the sports commentator who appeared in Bananas, turned down the role, fearing it would hurt his professional reputation. 
Lou Jacobi plays the cross dressing husband. The Canadian actor was well known on stage - he actually played Walter in Allen's first play Don't Drink the Water (a part that Allen would later play himself). He would go onto appears several comedies including Arthur (1981) and Irma La Douce (1963).
Louise Lasser returns, in her third Allen film in a row. Despite the spider sequence being cut, she appeared in the sequence 'Why Do Some Women Have Difficulty Reaching Orgasm?'. Allen actually approached real couples to play the roles (Richard Benjamin and Paula Pentriss, John Cassavetes and Raquel Welch). In the end he performed with Lasser, who was his ex-wife. She is the only member of the main cast to reappear in an Allen film, with a small role in Stardust Memories (1980).
Tony Randall plays an operator in the brain scene. He is best known for the TV version of The Odd Couple, which he was actually starring in at the time this film was released. He had lots of film credits but would return to his true love, the stage.
Anthony Quayle plays the King. It is playing type for the British actor, who played many historical and serious roles in films such as Lawrence Of Arabia (1962) and The Wrong Man (1956).
Lynn Redgrave plays his wife, the Queen. Her family, like the Carradines, is another acting dynasty. Redgrave appeared in many roles in films including Gods And Monsters (1998) and Shine (1996). She is the only nomination-only EGOT - nominated in all four awards but not winning any.
Burt Reynolds was just beginning his road to stardom when he took the role of the switchboard captain in the brain scene. Also in 1972, he would appear in Deliverance, a major role for him. He would follow it with a string of comedies that made him Amercian comedy's sex symbol of the 80s. According to Reynolds, Allen never spoke to him on set. 
Gene Wilder makes a memorable appearance in his only work with Allen as Doctor Ross, who falls for a sheep (he is of course far better known for his work with Allen's friend Mel Brooks). On his experience, Wilder said [4]:
"It was like walking on a Bergman set: people talking in whispers, serious looks on Woody's face. He communicates through silence."
Laurence Olivier was considered for the role.
Locations
353 South Arden Boulevard, Los Angeles
Crew
David M Walsh was the Director of Photography. He was unimpressed with the look and colours of Allen's previous films and at first turned down the job. He would return for Sleeper (1973) and go on to shoot great films such as The Sunshine Boys (1975) and The Goodbye Girl (1977).
Dale Hennesy, production designer, designed the very expensive sets. Particularly in the final sketch, 'What Happens During Ejaculation?', Hennesy's work recalls his own in Fantastic Voyage (1966). He would also return for Sleeper.
He returned to Marvin Paige to cast this film, as he was based in Los Angeles (he also cast Take The Money And Run which was made in San Francisco).
The rest of the key crew were one-time wonders in Allen's world; composer Mundell Lowe, editor Eric Albertson and others.
Interesting trivia - music producer Phil Ramone, who defined the sound of legends such as Billy Joel, Paul Simon and many others, has a music recording credit on this film.
Release
Everything You Always Wanted To Know About Sex* (*But Were Afraid To Ask) was released in the US on 6th August 1972. It interrupted a 7 week run by Deliverance at the top of the US box office.
This film, along with Play It Again, Sam, led to a big year for Allen's profile. He appeared on the cover of TIME magazine with the headline 'Everything You Always Wanted To Know About Woody Allen'. In the public's eye, the 60s black and white standup comedian Allen was fading away.
Both Play It Again, Sam (7 May 1972) and Everything You Always Wanted To Know About Sex (13 August 1972) made it to number 1 in the US box office. Play It Again, Sam overtook The Godfather in its 8th week at number 1. The Godfather would return for another four weeks after that. That means Diane Keaton was in films that topped the US box office for 12 weeks straight.
The trailer made a bigger deal of the book, and also parodied 2001: A Space Odyssey (1968).
In 2009, some 37 years after the film was released, a small soundtrack label called Kritzerland issued a soundtrack on CD, paired with Sleeper as a twofer. They took the recordings from masters that were prepared for a contemporary soundtrack release that never happened.
The film's tagline: You haven't seen anything until you've seen everything.
Reception
Everything You Always Wanted To Know About Sex earned $18,016,290 at the US Box Office. It was the number 1 film in the US on 13 August 1972, and the 11th highest earning film of the year. It was considered a success.
Box office wise, this remains a huge success for Allen. It remains Allen's 4th highest grossing film when adjusted for inflation.
David Reubens, the author of the original book, hated the end product. He told the LA Herald Examiner [5].
I didn't enjoy the movie because it impressed me as a sexual tragedy. Every episode in the picture was a chronicle of sexual failure, which was the converse of everything in the book.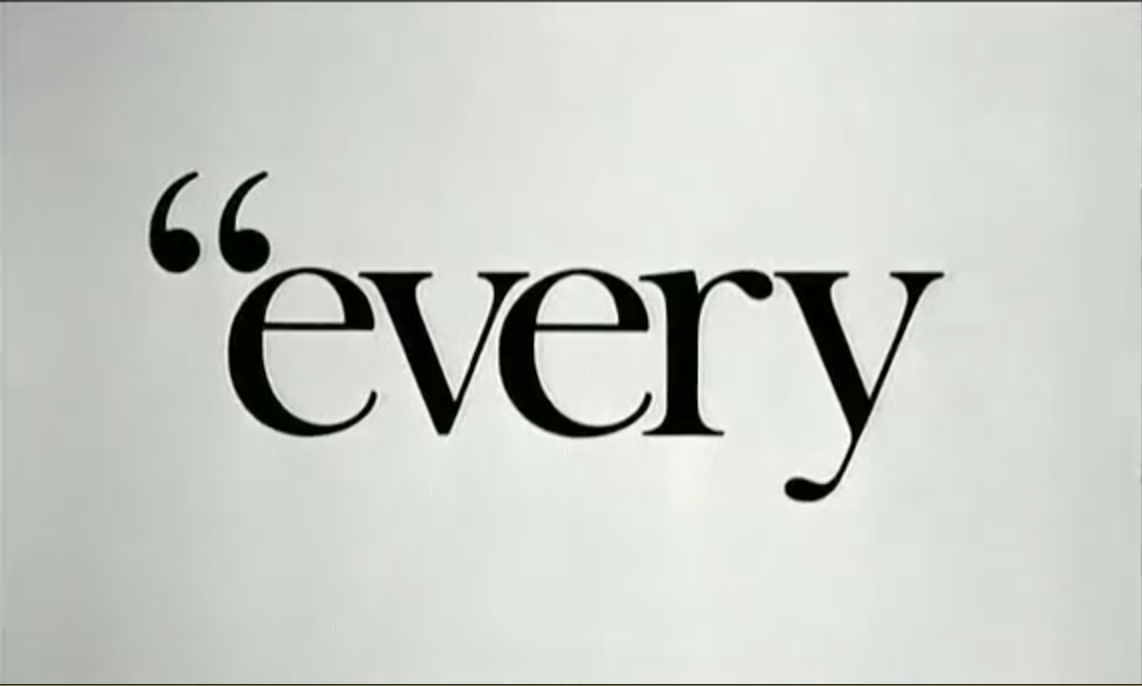 "My father! You who died in childbirth!"

"You remember when you said if I was ever in town, I should look up your wife?"

"I'm not getting shot out of that thing. What if he's masturbating? I'm liable to end up on the ceiling."

"- Kiss me quick!
- Yes!... where is your quick?"

"When it comes to sex, there are certain things that should remain unknown. And with my luck, they probably always will be."

"Remember when you said if I was ever in town, I should look up your wife?"

"I must think of something quickly or before you know it, the Renaissance will be here and we'll all be painting."

"I should be working at a job that I have some kinda aptitude for, like donating sperm to an artificial insemination lab."

"Yes, well, freedom is wonderful. On the other hand, if you're dead, it's a tremendous drawback to your sex life."