5 Films (And A TV Show)… A new series where we recommend films referenced, inspired, influenced or generally like a certain Woody Allen film, from his first to his latest. All picks are subjective – let the arguments begin!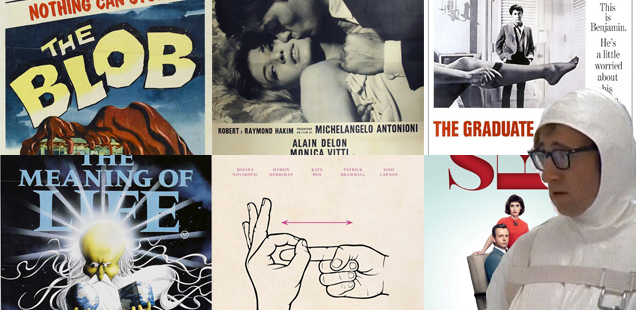 This is the fourth in our new series to expand recommendations for films like Woody Allen films (you only ever get other Allen films!).
Everything You Always Wanted To Know About Sex was a rambling anthology film exploring different aspects of sex. It showcased Allen's sheer volume of ideas, but its title comes from a popular book about sex and the sexual revolution. It also expanded Allen's language as a filmmaker, with him experimenting with fancier sets, European parodies directing other actors.
There are lots to dig into with this film, and to dig further. Sprawling anthologies, bawdy sex comedies, Italian elegance – there's a lot to pick.
Here's our picks – 5 films (and a TV show) to watch after you've seen 'Everything You Always Wanted To Know About Sex'.

The Blob (1958)
Dir. Irwin Yeaworth
It seems every time we dive into the 50s, the more we see the sex and violent subtext hidden under what was a conservative era. The blob typifies this – the couple kissing in a car, attacked by a monster has become cliche.
It is these kinds of subtlety sexy teen horrors that Allen was parodying in Are the Findings of Doctors and Clinics Who Do Sexual Research and Experiments Accurate? There's bits of Frankenstein, Ed Wood, and bits. But the giant boob that attacks is clearly a play on 'The Blob'.
Allen loves to play with film tropes – horror included. And 'The Blob' remains a great snapshot of the era – with a young dashing Steve McQueen in the lead to boot.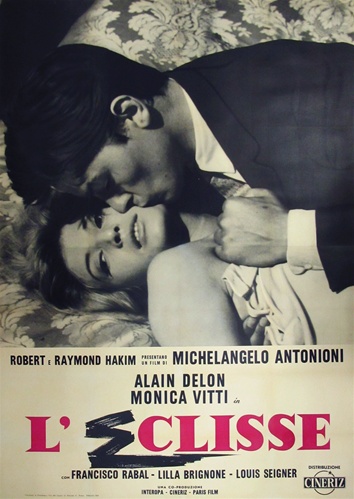 L'Eclisse (1962)
Dir. Michelangelo Antonioni
The first of many times when Allen would deliberately ape a European style was in the segment. The lively, sensual Italian cinema of the 60s has been a well Allen has returned to – in Radio Days, in Celebrity, in To Rome With Love. It starts here with a sly tribute in Why Do Some Women Have Trouble Reaching An Orgasm.
The segment takes down the already rather silly 'Casanova 70', but the genuinely good stuff that inspired Allen is better, in particular the best works of Michelangelo Antonioni. Antonioni made a brilliant trilogy about middle class sexual malaise, with 'L'Eclisse' (The Eclipse) being the last and the best.
There's plenty of good looking people dancing around their passions, including the gorgeous Monica Vitti and the impossibly handsome Alain Delon. Two well-to-dos stuck in a material world, the lack of human touch showing itself in more than sexual ways. It's that onscreen simmering that Allen makes fun of, but genuinely loves.
The Graduate (1967)
Dir. Mike Nichols
The sexual revolution smashed its way into almost every art form in the 60s. Allen probably would not have a career if he did not take advantage of a new language for sex, and made fun of it so well. In cinema's history, the loudest opening shot was 'The Graduate', breaking down so many ideas – what a leading man looks like, what a film romance can be, and how a happy ending can be a heartbreakingly ambiguous look.
Dustin Hoffman was a new kind of leading man – small, neurotic, uncertain. Without this role, it seems unlikely Allen would have ever been a leading man. But the world was changing, and director Mike Nichols was part of an incoming, younger breed of directors.
But it is the enduring sexuality of this film that lives on. That poster. I think you're trying to seduce me. Anne Bancroft made the name Mrs Robinson famous, before someone else came along and invented cougar. One of the very best films of the 60s, or any era, setting the scene for American cinema's ongoing conversation about sex.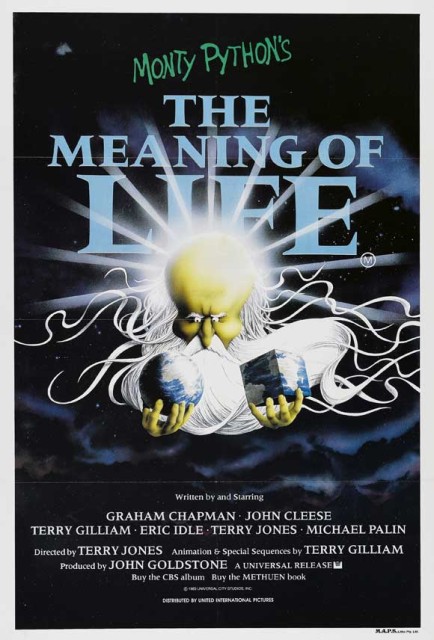 The Meaning Of Life (1983)
Dir. Terry Jones
The biggest, bawdiest anthology comedy film ever. It's not perfect, but there are so many great moments, it has to be included. This was Monty Python's return to sketch comedy. Their TV show had grown in cult status and they had made two films ('The Life Of Brian' and 'The Holy Grail'), now they were overflowing with ideas. Monty Python – Graham Chapman, John Cleese, Terry Gilliam, Eric Idle, Terry Jones, and Michael Palin – were the best of the best.
'The Meaning Of Life' tackles big themes. Like all anthology films, the quality wavers. There's a lot of sex – particularly the beginning, all the birth stuff. Heck, there is a song called Every Sperm Is Sacred. And the Galaxy Song is just one of the best music moments in film.
Allen has confessed to being a Python fan. None of the Python members have ever worked with Allen professionally. Maybe one day…they also have in common that they never seem to retire.
The Little Death (2014)
Dir. Josh Lawson
Our modern pick.
An anthology film exploring the deeper corners of human sexuality? That is laugh out loud funny, heartbreaking and clever? One of our favourite films in recent years is 'The Little Death' – from the French term for an orgasm (Le Petit Mort). Written, directed and starring Josh Lawson, a wonderful new auteur voice, it is about a set of modern couples all trying to find sexual happiness.
The humour is dark, yet touching. The roleplaying couple that get too much into the acting. Sexual attraction to crying goes too far. Made in Australia with a brilliant but largely unknown cast, it is a sweet delightful film. If you like 'Louie', if you like Amy Schumer, you'll love this.
Lawson is probably best known for his acting – he starred in 'Anchorman 2' and 'The Campaign'. But we are eager to see more of his directing work. He'd be great for an Allen film, and for his part he's a huge Allen fan. He even picked 'Everything You Always Wanted To Know About Sex' as his favourite sex comedy.
Masters Of Sex (2013-present)
'Masters Of Sex' tells the story of two sex research scientists – William Masters (Michael Sheen) and Virginia Johnson (Lizzy Caplan) – whose pioneering work in the 1950s and 60s helped us all to understand sex. That sexual revolution that spawned the 'Everything You Always Wanted To Know About Sex' book is playing out in this wonderful drama.
And there's heaps of sex. Like, heaps. We are enjoying the current season a lot.
Sheen has worked with Allen, starring in Midnight In Paris. Allison Janney appeared in 'Celebrity' and Helene Yorke left the show for a short while to star in the Bullets Over Broadway Musical.
Let us know your picks for 'Everything You Always Wanted To Know About Sex' and if you agree with our picks. We are also looking for picks for Sleeper, which is the next film we will cover. Let us know in the comments below or on Facebook or Twitter.