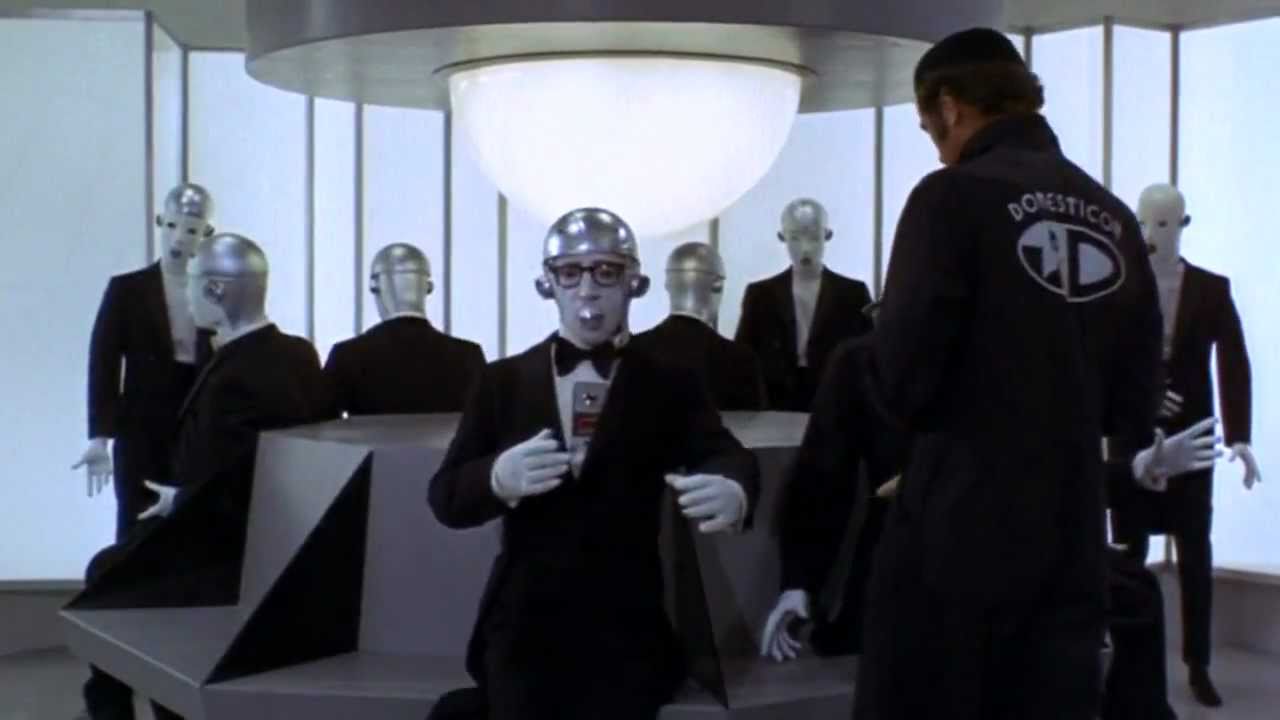 The 4th film written and directed by Woody Allen
Sleeper is a farcical comedy and continues Allen's growth as a visual director, a writer with more than just jokes and probably most importantly of all – the arrival of Diane Keaton into his films.
It's another great set-up for Allen's stock onscreen persona. He plays Miles Monroe, a man who has been frozen for 200 years. He finds himself in a strange futuristic world, run by an oppressive, big-brother-like government force. He unwittingly becomes part of the underground movement and causes a revolution.
Conception
"I wake up 200 years later and I'm Flash Gordon."
Woody Allen is famously a Luddite when it comes to technology. The science fiction idea of the future was not an idea he had spent much time on in his stand-up or his writings. It is not an area he would return to - this is still the most overtly science fiction work by Allen.
Possibly the bigger influence on Allen is science fiction through cinema. He cribbed Fantastic Voyage (1966) for Everything You Always Wanted To Know About Sex (1972), and he has stated over the years that he's a fan of 2001 and other science fiction of the era.
The first idea was a four hour epic, with an intermission. The first part would be set in the present day, the second half set in the future. But Allen soon realised it would be a logistical nightmare, even though his studio United Artists were supportive.
The setting in the future was also a way for Allen to make a silent film in the sound era. It was also Allen and co-writer Marshall Brickman's way into making a silent film. Says co-writer Marshall Brickman [2]:
"We decided that in the future speech was a privilege. Only certain people were entitled to speak.

That was the conceit. We started to talk about it and then realized our strong suit was in the spoken word. Audiences had come to expect ideas rather than body movement like Buster Keaton from Woody Allen. We also had trouble figuring out the rationale for producing a silent film in a world where sound was possible."
There are nods to classic silent film sequences throughout the film, with nods to The Marx Brothers' Duck Soup (1933), Harold Lloyd's Safety Last! (1923) and more.
Despite the laughs, Allen took the science fiction seriously. He met with science fiction writer Isaac Asimov to make sure his futuristic ideas were plausible. And a lot of it did come true (in their own way).
In his letter to Asimov, Allen spelt out clearly that he knew nothing of science fiction (although this could be Allen's usual deadpan). Asimov, in his autobiography, said [3]:
"I had lunch with Woody Allen and two of his friends on December 20 and when Allen asked me about the script, I told him flatly that it was terrific."
Asimov was asked to be technical director on the film, but could not do it. He recommended fellow science fiction writer Ben Bova instead, who took the job. 
Continuing from Bananas (1971), there's a strong theme of social commentary. Allen is making fun of world leaders, group think, commercialism and much more. This thread in his writing would distill into a larger criticism of culture, but this movie has a strong political bent at its heart. It also means many of the references have not aged well after four decades. 
There are lots of references - H.G. Wells' When The Sleeper Awakes being one. In fact, this film scuppered a rival studio's plan to turn that story into a film. But there's dystopian futures of 1984 and Fahrenheit 451 on show. That said, there is still a lot of Chaplin, Marx and Bob Hope.
This also marks the first time Allen made a film with a real plot - a beginning, middle and end - and not a string of gags stitched together. He had written many plays that fit that bill, but again he was continuing to grow as a film maker, and doing something subtly different.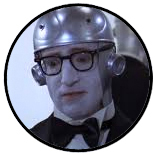 Release date
17th December 1973
Studio
United Artists
Duration: 88m
US Rating: PG-13
Rotten Tomatoes 100%
IMDB: 7.3
Roger Ebert: 3.5
US Box office: $18,344,729

US Adjusted Box Office: $89,236,200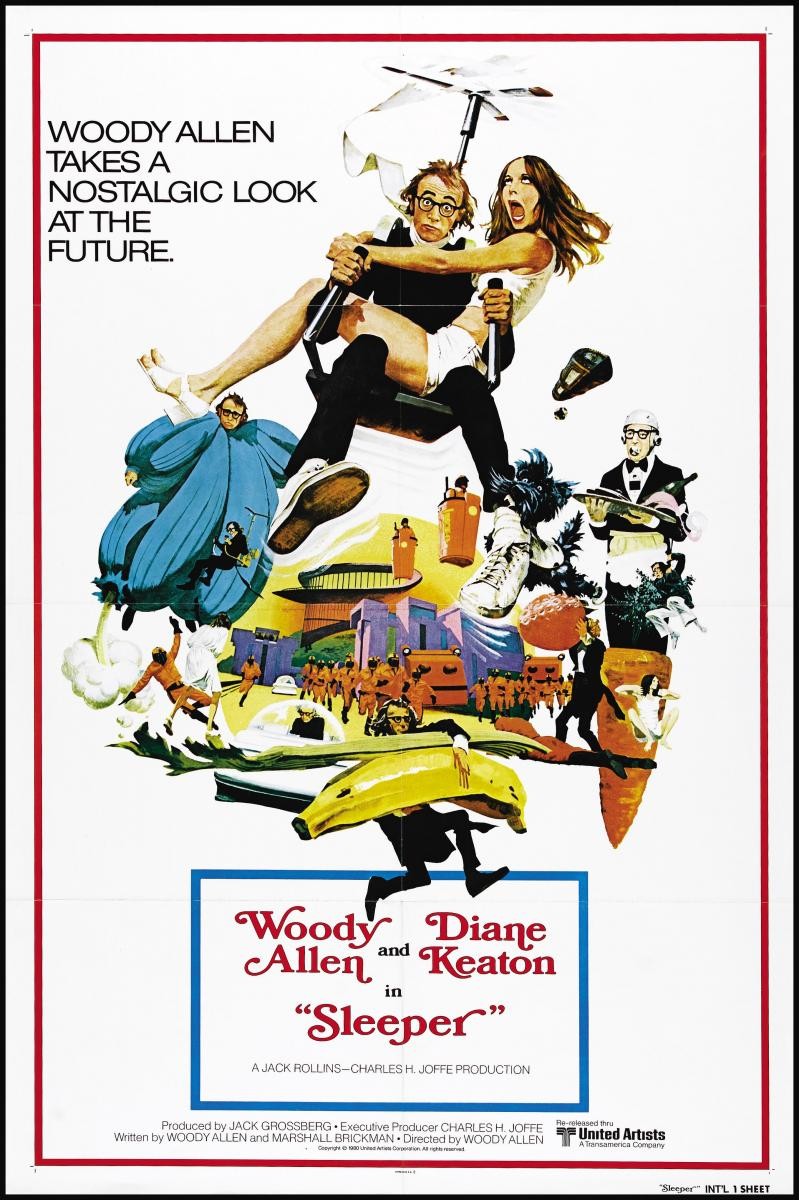 Production
Allen shot the film in many westerly locations - Monterey, California, the Mojave Desert, and Denver - wherever he could find futuristic looking buildings. Denver in particular brought a wealth of futuristic locations, including the hospital and the McDonalds. It is an interesting and unique vision of the future - clean but sparse (as opposed to, say, Blade Runner).
Allen's first idea was to film in Brasilia, the futuristic looking capital of Brazil. That idea proved too expensive, but in later years Brazil would campaign for Allen to make a film in their country. It is a big box office country for Allen.
Allen was reportedly a perfectionist, and the sets and props were extremely complicated. All the bubble cars were controlled by levers. There was lots of stunt work and mechanical props. Allen would comment that this film was about wires.
Allen's first cut of the film was 140 minutes, and he kept tinkering with the film two days before it was released. Several scenes were ultimately cut - one involving Allen as a pawn in a real life chess game, and one with him showing off magic tricks to Luna (Diane Keaton). Two scenes were shown in lobby cards that are not in the finished film - one scene involving Allen in a tuxedo floating in mid air, and one involving being chased by the big chicken on a road. Allen also rewrote and reshot the ending.
Allen actually performed on clarinet on the soundtrack. He recorded with The Preservation Hall Jazz Band. The legendary band with the fluid line-up are based out of Preservation Hall, in the French quarter of New Orleans. Allen is a lifelong fan of New Orleans Jazz and went down to New Orleans to record the soundtrack with them.
The Preservation Hall Jazz Band were paid $12,000. The band leader (and trumpeter) Percy Humphrey said [4]:
"He did what you should do when you sit with another man's band. He played along with what we played. He didn't try to be a celebrity."
Jim Robinson (trombone) compared Allen to George Lewis, who was one of Allen's heroes.
Also credited on the soundtrack are The New Orleans Funeral and Ragtime Orchestra. This was the septet that played with Woody Allen every Monday night at Michael's Pub in New York, and part of the soundtrack was recorded there. Part of the septet was Marshall Brickman.
The songs used are classics of the New Orleans Jazz genre - many Allen would use again in later. It was taken as a strange choice at the time - a film about the future soundtracked by 50 year old tunes - but as Allen has stubbornly continued to use jazz in his film, it seems less alienating these days. The choice was made when Allen decided there was no futuristic music he liked. 
Screenshots
Cast
Woody Allen plays Miles Monroe. 
This is the first Woody Allen directed film to star Diane Keaton, who stars as Luna. Says Allen [5]:
"I tried to make her into a Buster Keaton-like heroine, someone who is funny and who is always getting their hero into trouble. And she did that well."
She worked with Allen on Broadway (Play It Again, Sam in 1969), appeared in Allen's unreleased short Men Of Crisis: The Harvey Wallinger Story and the film version of Play It Again, Sam (1972) directed by Herbert Ross. This is the first of five films in a row she would star in with Allen, out of seven overall.
Two other actors get a supporting cast billing.
John Beck plays Erno Windt, the nominal leader of the rebellion. This is Beck's biggest role in film, but he had a 40 year career with many TV roles. He would have a long career in TV, appearing I'm everything from Star Trek, Fantasy Island, Murder She Wrote, Dallas and dozens more.
Mary Gregory plays Dr Melik. Gregory had a 55 year career in TV, from Gunsmoke in 1956 to Weeds in 2010. She also appeared in great films like They Shoot Horses, Don't They? (1969)
Locations
Church of the Risen Christ, Denver
Boettcher Memorial Tropical Conservatory, Denver Botanic Gardens
Currigan Hall (demolished)
Sculptured House
Varner House
Culver City High, California
Brenton House, Boulder
Bronson Caves
The Mile Hi Church of Religious Science
Crew
Ralph Rosenblum returns as editor. He worked on Take The Money And Run (1969) and Bananas (1971). They would continue to collaborate until with Allen until Interiors (1978).
Allen also worked with a writing partner - Marshall Brickman. Brickman was a musician who ended up pursuing writing, working on some late night talk shows such as The Dick Cavett Show and The Tonight Show (he was their youngest ever head writer). He met Allen in the late 60s and would write jokes for him (as well as others like Johnny Carson and Joan Rivers) and wrote one screenplay that was never made, called The Filmmaker. According to Brickman [2]:
"It was about an independent filmmaker trying to get a film made and he has an eccentric girlfriend. It was very unconventional in its structure. A little bit precocious. A little bit rambling. At that time Woody didn't yet have enough clout to get a film company to give him money to direct and act."
Allen would go on to work together on some of Allen's most acclaimed work. Allen told the New York Times [6]:
"Marshall makes my game better. It's like playing tennis with a pro."
Neither he or Allen have ever revealed who wrote whichever line. He would return for Annie Hall (1977) and Manhattan (1979), Allen's two most successful films, as well as Manhattan Murder Mystery (1993).
David M Walsh's second and last Allen film in a row as cinematographer. He would go onto a long career working the camera for many films such as Murder By Death (1976), Goodbye Girl (1977) and many more.
Also returning for one more round was Dale Hennesey, the production designer. He worked on the amazing sets used in the more science fiction elements of Everything You Always Wanted To Know About Sex (1972). He would go on to work on films like Young Frankenstein (1974) and Logan's Run (1976). He was inducted into the Art Director's Hall Of Fame in 2008. 
A.D. Flowers handled the special effects. Flowers had worked on films such as The Godfather (1972). He created many of the effects, including the expanding cereal. Says Allen[7]:
"I needed some kind of slimy substance that moved around and would wend its way across the table top. He came up with some kind of strange ichor that did that - and to this day I have no idea if it was harmful or dangerous or gave me lung cancer for the future! I just don't know!"
A young Joel Schumacher worked on Sleeper as a costume designer. It was one of his first jobs in the industry, and crucial one for him. Schumacher said in 2014 [8]:
"It was Woody Allen who changed my life. In Christmas of 1971 he hired me to do the costumes on Sleeper. We happened to be in the Rocky Mountains, which was very unusual for Woody to leave New York, and he encouraged me to be a director, but said that first I had to write. He said 'you're clever and funny, I think you can do it'."
Schumacher would work once more with Allen on Interiors. He would then go and direct blockbusters like The Lost Boys (1987), Falling Down (1993) and a couple of Batman films.
Casting was done by the legendary Lynn Stalmaster. It is the only film that the he casted for Allen, in a career than spanned almost 400 movies.
Release
Sleeper was released in the US on 17th December 1973. At the time, Papillon was the top of the US box office.
In French speaking Canada, this film was renamed Woody And The Robots. Allen would stop allowing distributors to do this, with very few exceptions.
Despite that expensive collaboration with The Preservation Hall Jazz Band, no soundtrack was ever issued for the film, which is a shame.
The film's tagline was: Woody Allen takes a nostalgic look at the future.
Reception
Sleeper earned $18,344,729 at the US Box Office. It was the 16th highest grossing film of 1973.
Another big success for Allen. Adjusted for inflation, it is Allen's 5th most successful film in the US.
The Writers Guild Of America voted Sleeper as the 60th funniest film of all time in 2015. It was the second highest ranking Allen film after Annie Hall (1977). 
Fans of this film include director Lynn Shelton.
A rather fantastic British band from the 90s named themselves Sleeper after this film. Their first two albums are classics. 
"When I asked my mother where babies came from, she thought I said "rabies." She said you get them from being bitten by a dog. The next week, a woman on my block gave birth to triplets... I thought she'd been bitten by a great dane."

"I'm what you would call a teleological, existential atheist. I believe that there's an intelligence to the universe, with the exception of certain parts of New Jersey."

"I haven't seen my analyst in 200 years. He was a strict Freudian. If I'd been going all this time, I'd probably almost be cured by now."

"This stuff tastes awful. I could make a fortune selling it in my health food store."

"My brain? It's my second favorite organ!"

"Oh, he was probably a member of the National Rifle Association. It was a group that helped criminals get guns so they could shoot citizens. It was a public service."

"Sex and death - two things that come once in a lifetime... but at least after death, you're not nauseous."

"Yes, well, freedom is wonderful. On the other hand, if you're dead, it's a tremendous drawback to your sex life."