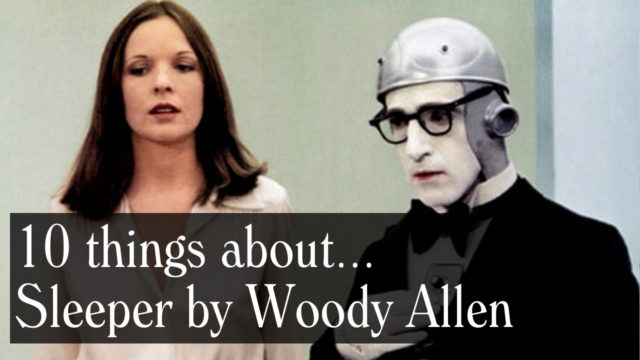 We're continuing our video series, looking at some of fun facts and trivia of Allen's films. It's all part of The Woody Allen Pages The Watcher's Guides. Our latest is Woody Allen's 4th film – Sleeper. It was a big early success for Allen, and the first time Diane Keaton appeared in a Woody Allen film.
But how well do you know the film? Watch the video.
We cover
It was a co-write with Marshall Brickman
Allen wanted to make a silent film
He sought guidance from Isaac Asimov
Diane Keaton, of course.
Director Joel Schumacher's early role.
That amazing Sculptured House
Woody Allen is on the soundtrack with the Preservation Hall Jazz Band.
Douglas Rain reprises his role as an evil robot
The deleted scenes
The trailer has some new footage
Here's the entire series so far in one playlist.
Only 42 to go? It will probably be 43 by the time we get there…