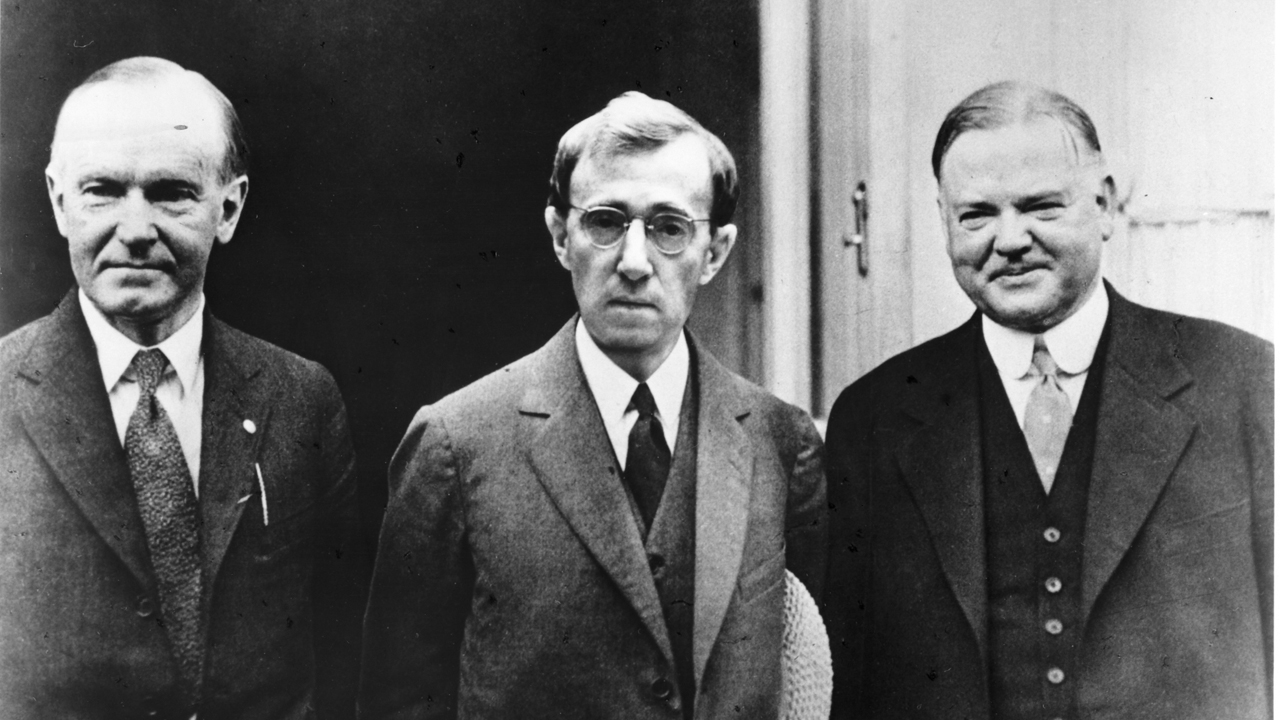 The 11th film written and directed by Woody Allen
Zelig is not one of Allen's most recognised films, and perhaps it's the strange title. It's certainly a far cry from his witty, neurotic, New York comedies. But it is touching, funny, clever and a spectacular special effects ride. For others this is a career defining film.
Woody Allen stars as Leonard Zelig – the human chameleon. This film is presented as documentary on his life in the 20s, this strange man who could take on the characteristics of the people around him. He is studied as a scientific curiosity, and forms close ties with one of his doctors, Dr Eudora Fletcher, played by Mia Farrow.
Conception
The original idea for Zelig came to Allen very quickly. Says Allen [2]:
"I wanted to do a story about a person whose personality changed all the time to fit in everywhere. He wants so badly to be liked that he changes his personality to fit in with every group that he's with. Then I thought it would be very interesting to see the physical changes. He becomes who he is with."
What tied the idea together was the documentary format - something he had done for his first film, Take The Money And Run (1969). In fact, Allen wanted that film to be the black-and-white newsreel, and he would finally it make with Zelig.
Allen's initial idea was a contemporary story, with his main character working at a public broadcaster. It was only later that Allen moved it to the Jazz era, a time period he would return to again and again. Says Allen [2]:
"Zelig was never meant to be a documentary when I started to write it. I remember the first few pages were about a guy who worked at public television, and it gradually happened in contemporary time as a realistic story. Then I thought to myself, This would be a very good period documentary. So it was a conflation of two things."
Allen made his character an international phenomenon from in 1920s, capitalising on that era's fondness for crazes. And he proceeded to write the script, but would revise it as he continued to watch and research documentary formats.
Allen's good friend and TV presenter Dick Cavett provided another piece of the puzzle. Cavett was hosting a series of historical specials for HBO, and part of the production included Cavett being inserted into archival footage. The effect intrigued Allen, and he saw a way to make his historical film.
The film went through a lot of names, such as: The Cat's Pyjamas, Bees Knees (both affectionate terms from the 1920s) and The Changing Man (later used as the name of the film within the film). Allen also considered Identity Crisis and Its Relationship To Personality Disorder. Says Allen [2]:
"I had a title derby with my friends over dinner. We'd shoot titles down. The only fun was the next person's contribution. That was very unproductive. Finally I shot several titles and ran them through with the film. The second I saw it with Zelig I knew."
It ended up being Zelig, a name that would go on to mean much more than the film. It would become part of popular culture. The Zelig of…something would become a common headline. Allen told Stig Bjorkman [2]:
"It just rolled off my tongue as I was writing. I just named the character Leonard Zelig and it sounded a perfectly fine name. But I never thought of titling the movie Zelig. That was a long, long afterthought."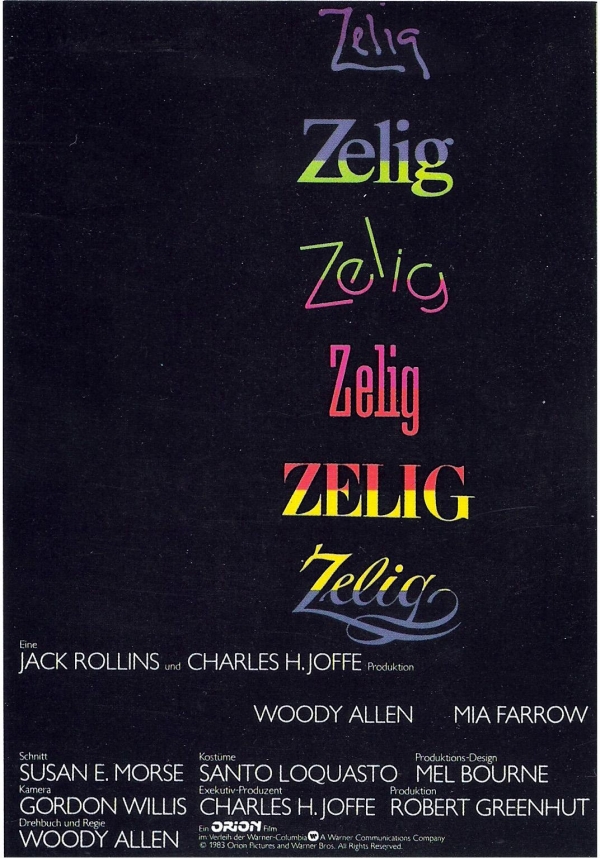 Production
Production for Zelig crossed over with Allen's previous film - A Midsummer Night's Sex Comedy (1982). Parts of Zelig was shot in the house created for 'Midsummer…', whilst waiting for the weather to be right. As Zelig was shot mainly indoors, it was easier to shoot. Of course, Mia Farrow was also around.
The talking heads - full of celebrities - were shot around the interviewee schedules. Other shots were done on blue screen. There was additional shooting a Allen's studio of choice - Kaufman Astoria Studios in Queens.
But it was post production that would prove the most challenging. Zelig is probably Allen's most ambitious film when it comes to special effects. Allen and cinematographer worked hard to make the film match an old documentary. They bought lenses and audio equipment from the 1920s. They scratched and tweaked the negatives. They used every trick they could think of. Some film lab technicians who had worked on films in the 30s were called out of retirement. Says cinematographer Gordon Willis [3]:
"The period look came from how I exposed the negative and what light I chose to do it in - most of the shooting was underexposed, then duped in various ways."
Another challenge was the editing. With much of the stock footage only available on video, it was up to editor Susan E Morse to cut the entire film on video, as opposed to film. This made the project take even longer.
Many of the extras and small parts were unprofessional actors, giving the film an even more 'found footage' feel. The famous faces, the weighty cultural commentators like writers Susan Sontag and Saul Bellow mainly play themselves, although Allen wrote their lines. None of the experts were told much about the film's story,  Allen as usual keeping story details a secret.
A couple of people Allen approached turn him down or couldn't make it work, including Greta Garbo and Jack Dempsey (who appears in archival footage). Lillian Gish was interviewed but did not make the final film.
Even after all this, the film was drastically under time, some reports saying it was 45 minutes. Allen bulked the film out with archival footage and narration.
For music, Allen went to his record collection, and went to an era of music he loves and knows well. Dick Hyman, now Allen's regular music collaborator, scored additional scenes. He also came up with a number of original songs used in the story [1].
"On Zelig we used a mixture of records that I chose, along with scoring behind the newsreels written by Dick. I'm amazed at the scenes with music he has given us."
The film also uses recordings by The Charleston City All Stars, who had featured Hyman on piano.
The film took 12 weeks to shoot all up - a long shoot by Allen's standards. But post production took over a year. Nine months was just editing.
The final film runs just 79 minutes, making it Allen's shortest film. And even then there is maybe 72 minutes of actual screen time, excluding credits.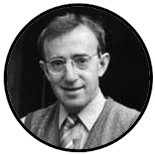 Release date
15th July 1983
Studio
Orion Pictures
Duration: 79m
US Rating: PG
Rotten Tomatoes 100%
IMDB: 7.8
US Box office: $11,798,616

US Adjusted Box Office: $32,137,200
Screenshots
Cast
Woody Allen plays Leonard Zelig.
Mia Farrow plays Dr Eudora Fletcher. The name was taken from Allen's old school principal. This was Farrow's second appearance in an Allen film, and the first time Allen wrote for her in mind, playing to her strengths. Says Allen[2]:
"I wrote it for Mia, knowing she would play the part of the psychoanalyst who treats Leonard Zelig. She was very nervous playing it because it was the first time she was working with me."
Patrick Horgan is the narrator. The British actor has lots of TV credits and appeared in The Thomas Crown Affair (1968). He would work with Allen again in The Curse Of the Jade Scorpion (2001). Sir John Gielgud recorded the entire narration. However, Allen felt the Shakespearean actor's performance was too grand.
Locations
7th Avenue, NY
Times Square
Rockefeller Estate
John Jay College of Criminal Justice
42nd Street Library
Crew
Gordon Willis returns as cinematographer, his 4th film with Allen, his second in black and white.
Santo Loquasto is the costume designer. He would work on and off (mainly on) with Allen for the next three decades plus, starting with costumes, and moving into production design. Loquasto would work on over two dozen Allen films with Allen so far. Say Loquasto[8]:
"I started out doing costumes for him. I was asked to do a film called Simon that Marshall Brickman, Woody's collaborator on Annie Hall and Sleepers, wrote and directed. He must have liked working with me, because he recommended me to Woody."
Assistant to Loquasto is Jeffrey Kurland. Kurland would go on to work with Allen many times.
Dick Hyman performed on piano and arranged some of the music for the film, several pieces that are used as incidental music. This including some Cole Porter classics as well as original compositions. Hyman was a prolific and versatile Jazz pianist, and he would work with Allen, on and off, on music for the next several decades, from small incidental music to arranging the entire film. 
Susan E Morse returns as editor. This is her second film with Allen as lead editor.
Juliet Taylor is casting director. This is her 4th film with Woody Allen.
Brian Hamill was once again the on-set photography.
Charles H Joffe and Jack Rollins, Woody Allen's managers, return as executive producers. Robert Greenhut also returns as producer.
Release
The film was selected to screen in competition at the Venice Film Festival in 1983 where the picture won the Pasinetti Award for Best Film at the fest. which is strange for Allen - he usually only allows his films to run at film festivals out of competition. Neither Allen nor Farrow attended.
It was released to the US public on 15th July 1983. At the time, topping the US box office was Staying Alive, the maligned sequel to Saturday Night Fever (1977).
Despite the original songs by Dick Hyman, no soundtrack was ever issued. There's no way to get those songs.
Reception
Zelig earned $11,798,616 in the US.
Adjusted for inflation, this is Allen's 13th highest earning film in the US.
The enduring legacy of this film will be the word 'Zelig'. Every year there is several large publications that will use the word Zelig to describe someone, with no mention of Allen or this film. Usually it's is that someone is the Zelig of some scene, some discipline.
Zelig was voted 408th in Empire's The 500 Greatest Movies Of All Time in 2013.
Fans of this film include director Ramin Bahrani.
Awards & Nominations
| Film | Academy Awards | Golden Globes | BAFTAS |
| --- | --- | --- | --- |
| | | | |
56th Academy Awards
2 nominations
- Best Cinematography - Gordon Willis
- Best Costume Design - Santo Loquasto
41st Golden Globe Awards
2 nominations
- Best Film - Musical or Comedy
- Best Actor - Musical or Comedy - Woody Allen
37th British Academy Film Awards
5 nominations
- Best Original Screenplay - Woody Allen
- Best Cinematography - Gordon Willis
- Best Special Effects
- Best Editing
- Best Supporting Makeup
Writers Guild Of America Awards
1 nomination
- Best Comedy Written Directly for the Screen
What did you you think? "I'm 12 years old. I run into a Synagogue. I ask the Rabbi the meaning of life. He tells me the meaning of life... But, he tells it to me in Hebrew. I don't understand Hebrew. Then he wants to charge me six hundred dollars for Hebrew lessons."

"The Ku Klux Klan, who saw Zelig as a Jew, that could turn himself into a Negro and an Indian, saw him as a triple threat."

"It shows exactly what you can do, if you're a total psychotic!"

"My brother beat me. My sister beat my brother. My father beat my sister and my brother and me. My mother beat my father and my sister and me and my brother. The neighbors beat our family. The people down the block beat the neighbors and our family."

"I worked with Freud in Vienna. We broke over the concept of penis envy. Freud felt that it should be limited to women."

"I love baseball. You know, it doesn't have to mean anything. It's just very beautiful to watch."

"I have this masturbation class. If I'm not there they start without me."