The trailer for Crisis In Six Scenes, the first series written and directed by Amazon, has landed. It debuts on Amazon at the end of the month. As usual, we've broken down the trailer shot for shot.
Minor spoilers – although we really don't know anything. Here's the trailer again if you've not seen it.
We open on a house at night. It's the house at Briarcliff Manor, north of Manhattan, where the production spent weeks filming. 508 Scarborough Rd.
Inside are four people.
Elaine May. We don't know her character's name – we'll just call her Elaine for now.
Kali Vernoff and Douglas McGrath play the couple.
And Woody Allen. He plays Sid Waterman. He and Elaine are married.
They are watching footage of a protest on a university campus. It looks like real stock footage of some sort. Not sure where it's sourced.
The music is unknown, but it sounds unbelievably hip for Allen.
Title card. Allen is sticking to his usual credit, and his usual font, and his usual white on black.
Sid returns to his home. Also Briarcliff Manor.
Sid gets a haircut. The barber is played by Max Casella.
The location is York Barber Shop, 981 Lexington Ave, New York.
They talk about him writing for TV. This seems to be part of his character's journey. Writing for TV is often used as the worse thing possible in Allen films. Here, it could be a meta-joke.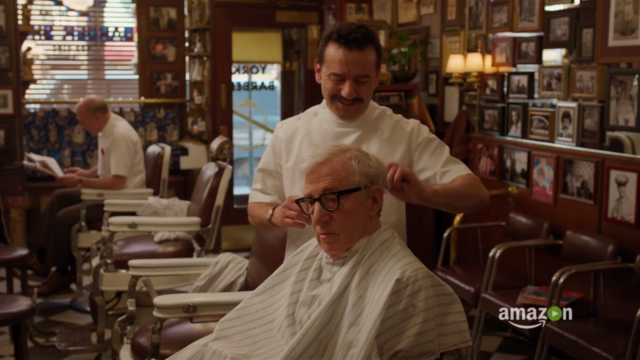 Sid and Elaine then welcome a guest in their home.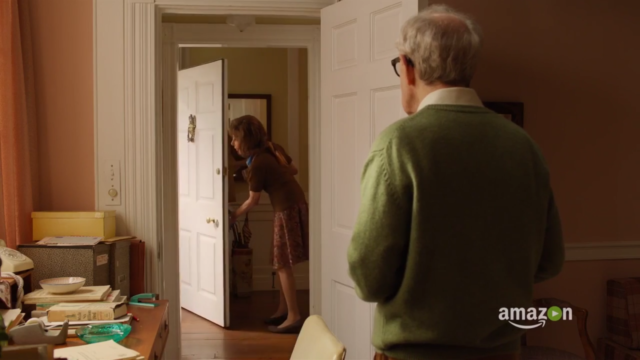 Elaine artwork. She's a marriage counsellor. He customers are played by Lewis Black and Becky Ann Baker.
A quick shot of Sid closing a door.
John Magaro. He plays Alan. He's at Briarcliff
Miley Cyrus. She plays Lucy. She then talks to Sid about weed.
On the streets near Briarcliff, Sid encounters a cop. Played by Michael Rapaport.
Sid and Elaine in their kitchen. Note the vintage stuff there. Great props.
Elaine and Lucy look over a note.
The book club ladies. The one to Elaine's right is Joy Behar.
The music changes. It's Jefferson Airplane's Volunteers, taken from the 1969 album of the same name.
After a quick shot of Sid and Elaine, we see Rachel Brosnahan. Character name unknown. Let's call her Rachel.
Location unknown.
Sid and Elaine are on the street. A phone booth and a briefcase. This shooting was in New York, near 120 E 75th Street. They also run across some rooftops.
A folksinger (unknown) in a club. There was reports of filming in the Beekman pub in New York. This could be it.
A couple of black panthers turn up.
The shocked folks in the hallway. Boris McGiver (who we didn't even know was in the show) on the very left. It looks like Deborah Rush behind him (she appeared in Zelig and The Purple Rose Of Cairo and again, not announced). Christine Ebersole in the cream coat. Tom Kemp is the man in the tie.
After some titles, David Harbour as the cops. I hope he's playing a young version of his Stranger Things character, pre drunkenness.
Gad Elmaleh and Nina Arianda, on the sofa, clients of Elaine's. We didn't know about Arianda. Both appeared in Midnight In Paris. (Thanks @lagslagslags)
Some more shots of Sid, Elaine and Luc around the house. No wonder they shot there for weeks.
Sid and Elaine, in New York, at some cafe it seems.
Then the book club again.
What's Sid putting in his car? We wont say here, but we have seen some pictures…
And then Sid and Elaine in an alley, talking about God.
There's still a lot we don't know, and a lot of actors we know that are in the show we haven't seen. There's even one we didn't even know was in the series. and it's not like we've seen very much of the main cast.
Lot's to learn, and we will on 30th September.