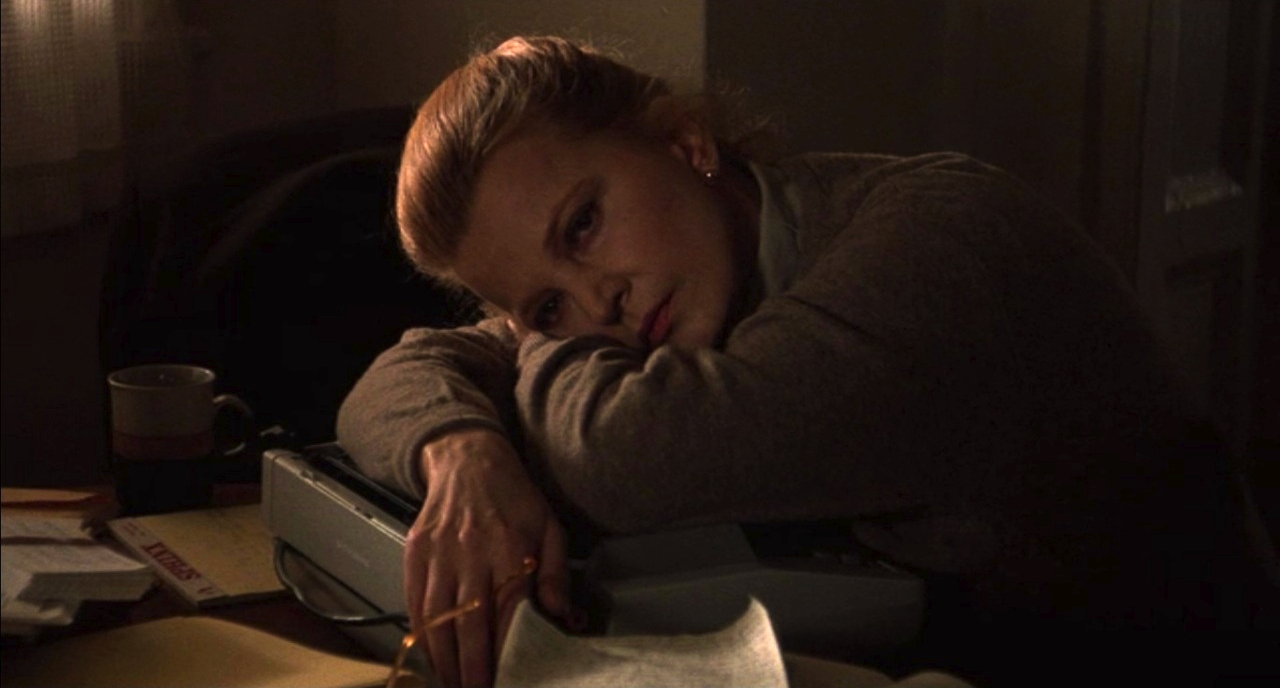 The 17th film written and directed by Woody Allen
This is another serious drama, only his third drama by this point.
Gena Rowland stars as Marion Post. A professor on a writing sabbatical, she rents an apartment next to a therapist. An air vent allows her to overhear the patients, and one woman's story (Mia Farrow) really touches her, and she starts to notice the failings in her own life.
Conception
The central conceit of Another Woman is based on a woman overhearing the therapy sessions of another. The idea had occurred to Allen as a comedy, but years later turned the idea into the basis of a drama. He would turn the idea back into a comedy in one of the stories for Everyone Says I Love You (1996).
That eavesdropping idea may have been planted by Mia Farrow. Farrow had lived in an apartment next to an analyst, and would see sometimes famous people come and go.
Therapy and analysis had been a key motif in Allen's work over the decades. Therapy was a key topic in Allen's humour in the 60s, just when it that kind of thinking was starting to become popular. But Allen himself was also in analysis, and has used therapists to help express character moments in many of his films.
At the heart of the story is Marion Post. Allen has mentioned how much he personally relates to the character. She is a character with a lot hidden, which for Allen was a huge potential for drama. Says Allen[1]:
"The notion of someone with a closed life came, of someone who kept a wall around her but now in her fifties could no longer wall her emotions out - feelings started to seep in and reality was forcing itself on her even through closed walls."
Allen has expressed that Marion is perhaps the character he feels most connect to - from living a closed life, to not having children. He told Eric Lax[2]:
"Everything I felt about turning 50 I put into that character."
Another aspect of this film is the rich German element. Marion studies German philosophers like Martin Heidegger. There's German poetry of Rainer Maria Rilke, German playwright Bertolt Brecht, painter Gustav Klimt and the music of Johann Sebastian Bach.
This was only Allen's third drama. And like his earlier ones, there is a deep debt to to work of Ingmar Bergman. This film in particular appears to nod to Bergman's Wild Strawberries (1957), another story about a professor reflecting on life through dream sequences. Allen, of course, denies any direct connection.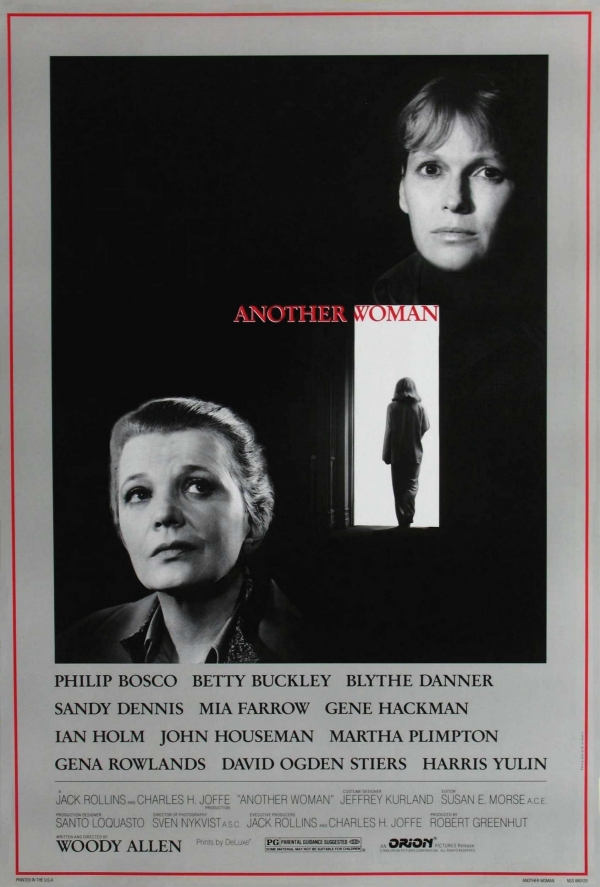 Production
Allen returned to shooting in Manhattan, in contemporary times. After his film Manhattan (1979), Allen has shied away from showing his island home in a glamorous, romantic light. That continues here, with New York serving more as a backdrop than a setting. Apart from one key location of the Cherry Lane Theatre, most of the film takes place indoors, in flats and offices.
Allen had considered shooting the film in black and white, something he had not done since Broadway Danny Rose (1984). In the end he went with colour, and would return to black and white with Shadows And Fog (1991).
Most troublesome for the production was the casting. Allen had wanted to use his two regular female leads - Mia Farrow and Dianne Wiest. But neither actor was able to play the roles that Allen envisioned. Wiest got ill and was unable to be in the film at all. Farrow was pregnant, and was unable to play the lead. Farrow switched to the supporting role, and that character was written to be pregnant, out of necessity.
Allen decided that without Farrow, the lead character of Marion could now be someone different from what he wrote. He decided to go older, a character who had built up more years of regret. It also opened up more casting potentials.
Which led Allen to Gena Rowlands. It is worth noting that Allen had written a couple of ensemble films, but had not made a film where the central character was not himself or Mia Farrow. And apart from Farrow, Allen is working with almost all new cast members to him.
The film's troubled pre-production also led into troubled post production. Many scenes were deleted. A storyline with Mary Steenburgen, who had appeared in A Midsummer Night's Sex Comedy (1982), was eliminated completely (with some of the role going to Frances Conroy). Ben Gazzara was announced as part of the cast, but did not appear in the finished film.
An alternative opening featuring Rowlands walking with groceries was not used. There was also philosophical discussions between Marion and Laura as they drove up to Marion's father's house. Allen reportedly drove his team crazy by reshooting a scene that didn't end up in the finished film anyway.
Allen decided on a low key title deliberately. Says Allen[1]:
"It does have some resonance. Marion hears another woman, she hopefully becomes another woman, and she sees her husband with another woman."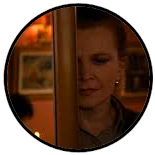 Release date
14th October 1988
Studio
Orion Pictures
Duration: 84m
US Rating: PG
Rotten Tomatoes 64%
IMDB: 7.4
Roger Ebert: 4/4
US Box office: $1,562,749

US Adjusted Box Office: $3,400,300
Screenshots
Cast
Philip Bosco plays Sam. Bosco has had a long and acclaimed character acting career in films such as Trading Places (1983), Three Men And A Baby (1987) and The Money Pit (1986). Due to secrecy around the film, Bosco apparently had no idea of his role until he turned up on set. It didn't seem to deter Bosco from working with Allen again in Deconstructing Harry (1997).
Betty Buckley plays Kathy. The Tony Award winning actress had not appeared in many films before this, although she did have a memorable role in Carrie (1976). She would go on to more memorable roles on Broadway, as well as films like The Happening (2008).
Blythe Danner plays Lydia. She appears in films such as Futureworld (1976) and Brighton Beach Memories (1986). She would go onto much greater fame, and also work wth Allen again in Alice (1990) and Husbands And Wives (1992).
Sandy Dennis plays Claire. Dennis was a Tony Award winning actress who didn't have many film roles, but the ones she had were memorable such as Splendour In The Grass (1961), Who's Afraid Of Virginia Woolf? (1966), The Out Of Towners (1970) just to name a few.
Mia Farrow plays Hope, although the character is never named in the film, only reveals in the credits.. Farrow was to play Marion, but was pregnant and unable to commit to the shooting schedule.
The character of Hope also became pregnant to accommodate Farrow, although Allen would use it to great effect. Farrow gave birth during production and reshoots featured Farrow with a padded stomach.
There is some conjecture that she is the same character from September (1987), but it seems rather unlikely as Allen gave her a different name, and looked to cast a different actress at one point.
Gene Hackman plays Larry Lewis. Hackman was already a superstar fly the time of this film, with roles in films like Bonnie and Clyde (1967), The Conversation (1974), Mississippi Burning (1988) and more. Hackman was only sent part of the script, and never saw the finished film. Although he seemed to have enjoyed the experience. Says Hackman:
"I did [like it], surprisingly. There was no great responsibility. He just told me I was to play a writer from Santa Fe, and this woman - Gena Rowlands - was my ex-girlfriend. At the time, he didn't know I was living in Santa Fe."
Ian Holm plays Ken Post. Holm has played so many memorable roles in huge films, from Alien (1979), Chariots Of Fire (1981) and The Lord Of the Rings films.
Jack Houseman plays Marion's father. Houseman was an producer in Orson Welles' theatre troupe, including helping to stage his War Of The Worlds radio play, which Allen dramatised in Radio Days (1987). He had a memorable role in The Paper Chase (1973). This film was released two weeks before he passed away, aged 86.
Martha Plimpton plays Laura. She starred in many films in the 80s, such as The Goonies (1985) and Parenthood (1989). Her grandfather, John Carradine, appeared in Allen's Everything You Always Wanted To Know About Sex (1972), 16 years earlier. Plimpton would work with Allen again on stage, starring in the production of Allen's play A Second Hand Memory in 2004.
Gena Rowlands plays Marion Post. She took over the role after Farrow was unable to commit. Allen changed the role to be an older character. Rowlands is best known for a remarkable run of 10 films she made with her husband, director John Cassavetes. That run ended with Love Streams in 1984, made when doctors had told Cassavetes he only had six months to live. At the time of this film, Cassavetes had outlived that prognosis but was facing many health problems. This is the backdrop for Rowland's performance.
Allen had previously offered her a role in September (1987). Says Allen[1]:
"She's one of our great actresses. She has a huge talent and she's completely professional."
Says Rowland of Allen[4]:
"He's cursed with the ability to make people laugh. So when he makes a serious film, it's not as well received. But from an acting point of view, it was a terrifically interesting picture."
David Ogden Stiers plays Young Marion's father. Stiers is best known for his role in the TV version of MASH. This is the first of five times that Stiers would work with Allen, and would return next for Shadows And Fog (1991).
Harris Yulin plays Paul. Yulin has had lots of memorable roles in films such as Scarface (1983), Ghostbusters II (1989) and more. Yule was cast in Interiors (1978) but pulled out after rehearsals. Says Allen[1]:
"He's wonderful type and a fine actor."
Another Woman
is featured in our book
The Woody Allen Watcher's Guide
Book 1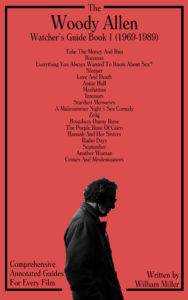 Locations
Sneden's Landing
Bleecker St
Cherry Lane Theatre
Chumley's
30 West 24th Street
Inscope Arch
Crew
Sven Nykvist is the Director Of Photography. This is the first of four times he would work with Allen. Nykvist was the primary cinematographer for Ingmar Bergman for many years, which is no doubt how Allen discovered his work. For Allen, working with Nykvist was a long held ambition. He would return for Crimes And Misdemeanors (1989). Says Allen[1]:
"I think Sven is one of the few great cameramen in the world, and that's great about him is that he has a feeling for work. His work together with Bergman is extraordinary."
Santo Loquasto returns as production designer. This is the 6th time he's worked with Allen. He last worked on September (1987).
Jeffrey Kurland returns as costume designer. This is his 6th time in a row with Allen.
Susan E Morse returns as editor. This is her 10th film with Allen as lead editor.
Juliet Taylor is casting. This is her 12th film with Woody Allen.
Charles H Joffe and Jack Rollins, Woody Allen's managers, return as executive producers. Robert Greenhut also returns as producer.
Release
Another Woman was released on 14th October 1988. At the time, Sci Fi noir Alien Nation was the number 1 film at the US box office.
Another Woman played the 39th Berlin Film Festival, which ran from 10-21 February 1989. It played out-of-competition. It was the third Allen film to play the festival.
No soundtrack was issued for the film.
Reception
Another Woman has earned $1,562,749 in the US.
It is Allen's third lowest earning film in the US.
Amongst the films fans are French director Arnaud Desplechin.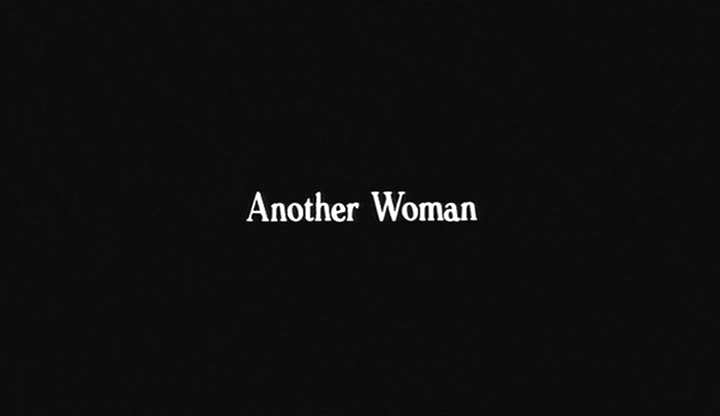 "If someone had asked me when I reached my fifties to assess my life, I would have said that I had achieved a decent measure of fulfillment, both personally and professionally. Beyond that, I would say I don't choose to delve."

"Fifty. I didn't think anything turning thirty. Everybody said I would. Then they said I'd be crushed turning forty, but they were wrong. I didn't give it a second's thought. Then they said that I'd be traumatized when I hit fifty, and they were right. I'll tell you the truth, I don't think I've ever recovered my balance since turning fifty."