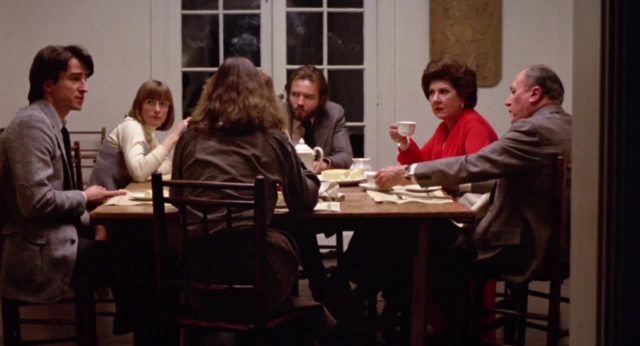 Twilight Time continues their release of Woody Allen's early films on Blu-Ray in 2017 with Interiors. The first dramatic film by Woody Allen comes to high definition on 14th February 2017.
Twilight Time have been releasing Allen's early films on Blu-Ray sporadically for the last several years. Each title is limited to just 3000 copies. Also on the schedule is the previously announced Stardust Memories set for 13th December 2016.
Interiors was Woody Allen's first drama. It features fantastic performances by Geraldine Page and Maureen Stapleton, both of whom were nominated for Academy Awards. It also features two Allen regulars – Diane Keaton and Sam Waterston. It was seen as an anomaly in the 70s when it was released when Allen was best known for his comedies. Watching it now, it fits in with the dozens of dramas Allen has produced since.
We recently featured Interiors in one of our video essays.
This leaves just two titles left for Twilight Time to release, both are amongst Allen's worse performing films – September and Another Woman. It remains to be seen if those titles will be released.
Those in Blu-Ray region B can pick up Interiors and the early catalogue via new box sets through Arrow Academy.
Here's the trailer to Interiors.