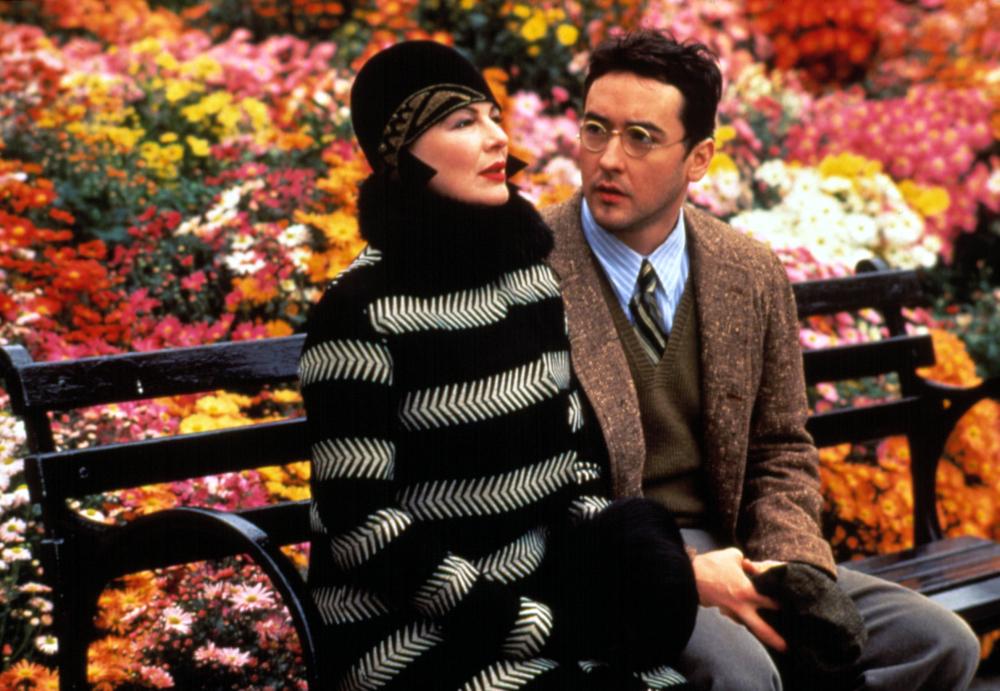 The 23rd film written and directed by Woody Allen
Woody Allen said in Manhattan (1979) that art is what living is for. But is it worth killing for? That's the big question at the heart of this delightful film. Full of humour and crazy characters, but also deeply resonate and with big ideas. It has a style and substance that is part of all his best works – of which this film can count as one of them.
John Cusack stars as David Shayne, a struggling playwright who agrees to take some mob money from gangster Nick Valenti (Joe Viterelli) to put on his latest play. The catch, he has to cast Valenti's floozy girl, Olive Neal (played wonderfully by Jennifer Tilly), and overseen by her bodyguard Cheech (Chazz Palminteri). When Cheech turns out to have a flair for theatre, everyone's plans start spiralling out of control.
Conception
Allen co-wrote the film with Douglas McGrath. McGrath was a friend of Allen's who had once been a writer at Saturday Night Live. However, the main motivation for Allen asking McGrath to co-write was simply that Allen thought he would be good. Says Allen[1]:
"He is a personal friend of mine, in the same sense that Marshall Brickman is a personal friend of mine. And every so often, every sixth or seventh picture, I just get lonely writing myself. I mean, after doing it year after year after year, you know, and then getting prepared for the experience again, I think, 'Why not give myself a little reward and call one of my friends who I like to spend time with, and collaborate with him?' Then it becomes a much more pleasant process."
Having decided to collaborate, Allen presented McGrath with a number of ideas he had brewing. The idea for Bullets Over Broadway was the one that McGrath liked best. Allen claims it wasn't one of his favourite ideas, but McGrath's enthusiasm won him over. Other ideas in consideration would later become Small Time Crooks (2000) and The Curse Of the Jade Scorpion (2001). Says Allen on working with McGrath[1]:
"We worked much the same way as I do with Marshall. He came over to my house. We chatted, planned, structured. Then he went off and I wrote the script down and made the movie. It worked out very well."
The initial idea was the mob boss who wanted to put his talentless girl in a show. As the script developed, the character of Cheech emerged. A natural talent that becomes so obsessed over his script that he kills the girl. Says Allen[1]:
"I felt the story really had something to say. It said that you couldn't really tell who the artist was, and that the relationship between the playwright and the gangster was based on a mutual passion, a passion for the art. That's what sold me."
Allen seemed to be talking at himself with the big ideas of art. Allen drew on his own troubled experiences of defending his work, drawing particularly on his early days with films like What's New, Pussycat? (1965) and other films of that era. Allen also makes clever reference to Hannah And Her Sisters (1986) in Cheech's final line.
Allen's contention has always been that talent is a gift. There's things you can learn, but true talent is not something you can attain. The analogy in the film is one that Allen had used before in interviews - drawing seems logical to someone who can draw.
Allen returned to the past, having played around in modern times in most of his recent films. It was the jazz age that he loves so much. Says Allen[1]:
"In New York the three great decades were the twenties, the thirties and forties. There was great music and great automobiles and great nightclubs, and theatres and clothing styles and gangsters and soldiers and sailors. It was just a great colourful time."
The film's title comes from a sketch from by Sid Caesar dating back to the 50s. Allen once wrote for Caesar and called him for permission to use the name.
Production
The film was made in New York, with production starting on 27th September and finishing 7th December 1993. The film's reported budget was $16m (some say it was $20 million), quite high for Allen at the time. That additional cost came from the period setting. Says Allen[6]:
"Usually I make less expensive films. This one had a number of million dollars added on because of the problems recreating a period. The problems are so vast and so complicated and so expensive. The production manager would always be happy if I had him a script that is contemporary."
According to Allen, the locations were mostly found and supplemented, rather than the expense of being built. Says Allen[4]:
"It's true that it was shot on location - the theater, the nightclub, the apartments are authentic places - because we couldn't afford the studio! New York has a very rich variety of places and we scouted a lot of locations to find the scenes that corresponded to what we wanted. Then my artistic director added the minimum necessary to achieve precisely the desired effect."
Allen and his team recreated 1920s New York on a budget. From colourising old footage, to shooting in parts of Brooklyn pretending to Manhattan, the team used every trick to make the setting work. Jeffrey Kurland, Allen's longtime costume designer, made the matching outfits for all the walks of life. Says Kurland[5]:
"I made a big study of the movies and magazines, a quite extensive research into the period, what it must have been like, with hindsight, to be there, back at that time, the 1920s. I spent a great deal of time in museums and libraries and I must have looked at many, many hundreds of photographs and books from the period."
New York, of course, agrees with Allen. Those muggy days are his favourites, and Allen spoke about how that weather helped in a scene in Central Park. Says Allen[5]:
"We don't shoot on sunny days, and haven't in twenty years. On an overcast day like that, when you have flowers in the background for that matter, you get a rich saturation that you don't get on a sunny day."
Coming off two films with a hand-held erratic feel, Allen and cinematographer Carlo Di Palma return to a more conventional shooting style here. What they do keep is a new thirst for long unbroken takes. This film features many scenes that break the 2 minute mark, and some of the longest scenes in his career. A testament to the actors that they were able to pull it off. Says Allen[4]:
"The camera moves a lot, practically in every shot. In Husbands and Wives, we used a handheld camera a lot. That's the difference. In this film, the camera moves with the actors, it mustn't be felt by the spectator because it would be antithetical to the atmosphere of the twenties."
What did carry over from his last film was Allen's own struggle to capture the violence.
There are many gangsters playing bit parts. Allen had hired some actual ex-cons, some from the neighbourhood where he grew up, and had friends in common. One, Tony Sirico, would go on to work with Allen six more times.
The film had another ending, although Allen changed it before filming started. The alternate ending had Cheech living, and word getting out that he was a true talent. But Cheech's new fate of being a writer for theatre ends up being more cut throat than his life as a gangster.
For music, Allen used his usual jazz recordings. Dick Hyman returned to perform and arrange the numbers heard at the Three Deuces nightclub. Allen also returned to Let's Misbehave, a Cole Porter song he first used in Everything You Always Wanted To Know About Sex (1972).
Although a complicated shoot, it was relatively painless. Allen claims that he only had to reshoot one scene - the final one where David and Ellen reunite.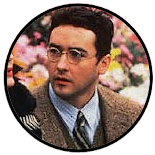 Release date
4th September 1994 (premiere, Venice Film Festival)
14th October 1994 (US release)
Studio
Sweetland Films
Miramax (US distributor)
Duration: 98m
US Rating: R
Rotten Tomatoes 100%
IMDB: 7.5
Roger Ebert: 3.5/4
Rateyourmusic: 3.55
US Box office: $13,383,747

US Adjusted Box Office: $27,696,000
Screenshots
Cast
Jim Broadbent plays Warner Purcell. He is one of Britain's best and longest serving character actors. He's been great in a series of films for Mike Leigh, the Harry Potter series, the Bridget Jones series and more. Says Broadbent[7]:
"He's brilliant. I had some good advice before. Don't expect him to be particularly communicative unless it's going badly, and don't expect praise, as long as you go in with the right..."
Says Allen[6]:
"I always thought he would be a funny character. Not only did he not disappoint, he was much greater than I anticipated. He was wonderful from the first day and made many contributions. He was funny, he improvised, and I was very fortunate to have gotten him for that."
John Cusack plays David Shane. This is Cusack's second time working with Allen, having last appeared in Shadows And Fog (1991). Since that time he had started to fight against his teen heartthrob image for interesting runs with acclaimed directors. Says Allen[1]:
"He's a fabulous actor and completely believable as an intellectual. I've worked with him a few times and I would work with him again in a minute. Whenever you see a movie with John Cusack, whether the movie is good or bad, he is always good. He has that special quality."
Harvey Fierstein plays Sid Loomis. An actor on stage and screen, and an award winning librettist, Fierstein had worked with Allen before, but his part in Annie Hall (1977) didn't make the finished film. His memorable screen roles include Mrs Doubtfire (1993), Independence Day (1996) and much more.
Mary-Louise Parker plays Ellen. Parker was still ten years away from her acclaimed role in the TV series Weeds. She had been in consideration for a role in Shadows And Fog (1991), and had appeared in films like The Client (1994).
Chazz Palminteri plays Cheech. At the time, he had some TV roles, but this was his first major film role. He would follow it up with The Usual Suspects (1995), and a long career in gangster films from A Bronx Tale (1993) and Analyze This (1999). Says Allen[1]:
"The second I saw him, I said to myself, 'That's what I was thinking of when I wrote the part.' You couldn't get better casting."
Says Palminteri[2]:
"He would encourage me to do whatever I wanted, to ad-lib or improv, but I didn't really need to. He really wrote a great script. Shooting that was just a wonderful experience, and Woody is really smart, he really knows comedy."
Rob Reiner plays Sheldon Flender. He came to fame in the TV series All In The Family, and has had huge successes as a comic actor but also as a director. His name graces classics such as When Harry Met Sally (1989), Spinal Tap (1984), and so much more. Says Reiner[3]:
"It's fun, because he'll basically let you do whatever you want. There's a script there, but then he says that if you want to say these things, you can. And if you want to say something else, you say something else. He's pretty open and loose about all that stuff."
Jennifer Tilly plays Olive Neal. She had appeared in films such as The Fabulous Baker Boys (1988) and Made In America (1993). She would go on to appear in many films, from Liar, Liar (1997) to Bruno (2000) to Monsters, Inc (2001). Parker Posey auditioned for the role.
Tracey Ullman plays Eden Brent. The wonderful comic actress has starred in many of her own shows, and also sung some killer pop singles. She would work with Allen again in a starring role in Small Time Crooks (2000).
Joe Viterelli plays Nick Valenti. Viterelli is best known for his gangster roles, coming to most prominent fame in the Analyze This (1999) series.
Jack Warden played Julian Marx. He last worked with Allen in September (1987), and since that time had appeared in films such as Problem Child (1990) and Toys (1992). He'd be back for Mighty Aphrodite (1995).
Dianne Wiest plays Helen Sinclair. This is Wiest's 5th film with Allen, having taken a break after September (1987). Wiest was apparently hesitant to take the role, as she was not normally asked to play someone so broad. She also found Sinclair's catchphrase troubling, but discovered it worked better if she lowered her voice to say it. Says Allen[1]:
"I gave her the script and suggested the part to her, she said 'I can't do this. This is not for me.' But I said, 'Yes, you can,' and it took me a couple of talks to convince her. When she got it, that was it and it was great."
Says Wiest[5]:
"I feel like I get to go on adventures with Woody that I couldn't get to go on with any other filmmaker."
Alan Arkin was announced as part of the cast. It is unclear if he was replaced or his part was cut.
Woody Allen doesn't appear in the film. It's his first time away from the front of the camera since Alice (1990). He would have played the Cusack role if he was younger. Says Allen[6]:
"I'm too old. And there's no way that I could have played that role. I'm thirty years too old to play that. It's about a young, idealistic writer who falls in love with an older woman. There's no chance in the world I could do it."
Bullets Over Broadway
is featured in our book
The Woody Allen Watcher's Guide
Book 2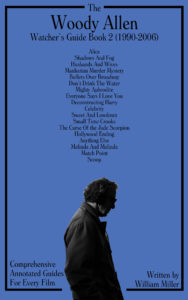 Locations
The New Yorker Hotel
Caffe Vivaldi
Luxor Hotel
110th Street/Riverside Drive
Commodore Theatre
Edison Hotel
Belasco Theatre
Cort Theatre
Conservatory Garden, Central Park
Prospect Park
Greenwood Hotel, Brooklyn
Claremont Riding Academy
MacDougal Alley
Crew
Douglas McGrath co-wrote the script. McGrath is only the third co-writer Allen has worked with on a film, following Mickey Rose and Marshall Brickman. McGrath would not write with Allen again, although they would work together with McGrath taking on several cameo roles, starting with Celebrity (1998). He would also direct Allen in a brief cameo in his own film Company Man (2000).
Carlo Di Palma returns as cinematographer, continuing his fruitful relationship with Allen, having last worked on Manhattan Murder Mystery (1993). This was his 8th film with Allen, and would return for Don't Drink The Water (1994).
Joining the crew is Graciela Daniele as choreographer for a couple of dance numbers. An experienced dancer and choreographer from Broadway, she would work with Allen twice more, next being Mighty Aphrodite (1995).
Santo Loquasto returns as production designer. This is the 12th time he's worked with Allen.
Jeffrey Kurland returns as costume designer. This is his 12th time in a row with Allen.
Susan E Morse returns as editor. This is her 16th film with Allen as lead editor.
Juliet Taylor is casting. This is her 17th film with Woody Allen.
Charles H Joffe and Jack Rollins, Woody Allen's managers, return as executive producers. Sweetland Films execs Jean Doumanian, J.E. Beaucaire and Letty Aronson also return.
Robert Greenhut also returns as producer. Helen Robin co-produces.
Release
Bullets Over Broadway premiered at the 51st Venice Film Festival, screening on 4th September 1994. It was Allen's third film to play at the festival. Neither Allen nor any of the cast attended.
Bullets Over Broadway also played the 19th Toronto Film Festival, screening on 16th September 1994. Again, no one from the film attended.
Bullets Over Broadway also played several US festivals - the 20th Telluride Film Festival (2nd-5th September 1994), the 32nd New York Film Festival (23rd September-9th October 1994) and the 30th Chicago Film Festival (6th-23rd October 1994).
The American red carpet premiere took place on 11th October 1994 at the Ziegfeld Theater in New York. Allen attended, as well as John Cusack, Mary Louise Parker, Chazz Palminteri, Jennifer Tilly and Dianne Wiest.
Bullets Over Broadway was released in the US on 14th October 1994, distributed by Miramax. At the time, action thriller The Specialist was number 1 at the box office. It was headlined by two people who had first appeared in Allen films early in their career - Sylvester Stallone (Bananas, 1971) and Sharon Stone (Stardust Memories, 1980).
Perhaps as part of the new deal, Allen allowed quite a commercial looking film poster. His 80s output had been marked by mysterious, Bergman-esque, often colourless posters. He now let big smiling faces on there.
An official soundtrack was released by Stage & Screen, on 1st November 1994. It is the first film of Allen's to get an official soundtrack since Radio Days (1987).
The (kinda) tagline: Woody Allen's new comedy is the toast of the town.
20 years after the film opened, Bullets Over Broadway became a musical in 2014. Allen had sometimes discussed or was asked about musicals, especially after he made one in Everyone Says I Love You (1996). Over the years, Allen had been approached about turning some of his films into musicals, with Bullets Over Broadway and The Purple Rose Of Cairo (1985) being the main contenders.
One of the big holdbacks was music. What songs would go with the musical? That problem was solved when Allen decided to use (and rearrange) songs from the era, exactly the type of songs that Allen was associated with. Allen was also reportedly envious of his good friend Marshall Brickman's success penning Jersey Boys.
The team assembled were Susan Stroman (director and choreographer), Santo Loquatso (production design), William Ivey Long (costumes), Glen Kelly (music arrangements) and Doug Besterman (orchestrations). The cast was Brooks Ashmanskas, Zach Braff (who appeared in Manhattan Murder Mystery, 1993), Nick Cordero, Marin Mazzie, Vincent Pastore, Betsy Wolfe, Lenny Wolpe, Heléne Yorke and Karen Ziemba. Allen wrote the book, which stuck mostly to the story of the film.
The show began previews on 10th March 2014, and opening on 10th April 2014. The show ran for just over 100 performances before closing on Broadway, with Cordero being nominated for a Tony Award. Despite a lacklustre first run, the show was popular enough to herald tours across the US in the years that followed.
Awards And Nominations
| Film | Academy Awards | Golden Globes | BAFTAS | WGA |
| --- | --- | --- | --- | --- |
| | | | | |
67th Academy Awards
1 win from 7 nominations
Best Actress In A Supporting Role - Dianne Wiest
Best Actor In A Supporting Role, Chazz Palminteri
Best Actress In A Supporting Role, Jennifer Tilly
Best Director, Woody Allen
Best Writing, Screenplay, Woody Allen & Douglas McGrath
Best Art Direction-Set Decoration, Santo Loquasto & Susan Bode
Best Costume Design, Jeffrey Kurland
52nd Golden Globe Awards
1 win from 1 nomination
Best Performance By An Actress In A Supporting Role In A Motion Picture - Dianne Wiest
48th British Academy Film Awards
1 nominations
Best Original Screenplay, Woody Allen & Douglas McGrath
Writers Guild Of America Awards
1 nomination
Best Original Screenplay, Woody Allen & Douglas McGrath
Reception
Bullets Over Broadway has earned $13,383,747 in the US.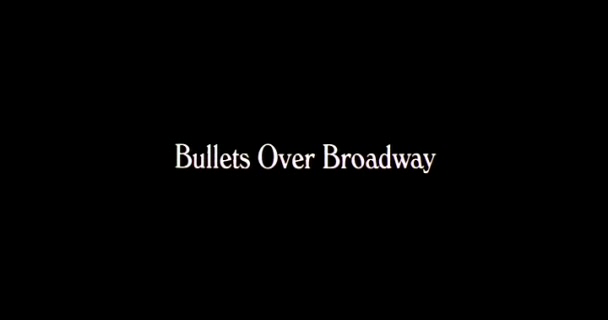 "For me, love is very deep, sex only has to go a few inches."

" She's perky all right. She makes you want to sneak up behind her with a pillow and suffocate her."

"Let's avoid confusion. She'll get some lines, or I'll nail your knee caps to the floor."

"That dame doesn't have a nerve in her body. I don't think her spinal cord touches her brain."

"I don't write hits. My plays are art. They're written specifically to go unproduced."

"Don't speak. Please don't speak."