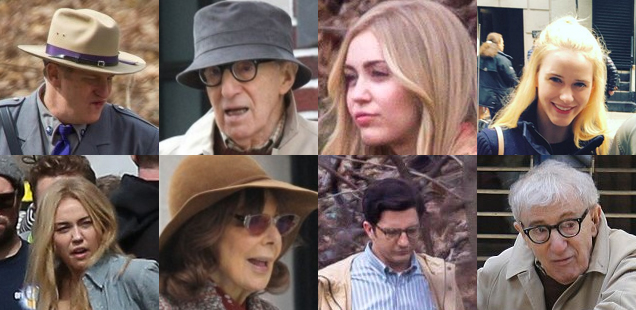 18 months after Woody Allen signed a surprise deal with Amazon to create a series, we finally have a name – Crisis In Six Scenes – and a premise. As usual for the secretive Allen, it doesn't give much away. But here's everything we do know about the upcoming film – as well as some educated guesses and wild speculation.
The conception
We know that Allen had been writing the series for some time, during 2015 and 2016. The first time he mentioned anything about the story was saying he would star in it. That seems to have worked out and Allen's first idea worked.
Allen also expressed several times that writing a serialised story was initially a challenge. Looking at the title, and the IMDB listings, it looks as though it will be six interconnected stories. A long list of the actors on IMDB only appear in one episode, but more on that later.
We know it's 6 half hour episodes, the only mandate that Amazon gave to Allen.
The official synopsis
Here's the premise from Amazon.
Crisis In Six Scenes takes place in the 1960s during turbulent times in the United States when a middle class suburban family is visited by a guest who turns their household completely upside down.
1960s, and its turbulent political and social changes, is alluded to in the first clip. It's seems as though that culture clash will be central to the series. We expect that guest is going to be Miley Cyrus, who was dressed like a free spirited hippy, versus a buttoned up couple in Allen and Elaine May.
The rest of the family, we can only assume, includes either Rachel Brosnahan or John Magaro, or both. Which brings us to:
The cast
The main stars are Woody Allen, Miley Cyrus and Elaine May.
Casting Miley Cyrus caused headlines around the world. Aside from a couple of comedic cameos, this will be the least mainstream acting role she has ever taken, and her first significant role since Wrecking Ball took a wrecking ball to her look and her image.
We saw a few photos of her on set, and she definitely fits the reports that she is playing a free spirited flower child. Which is great casting.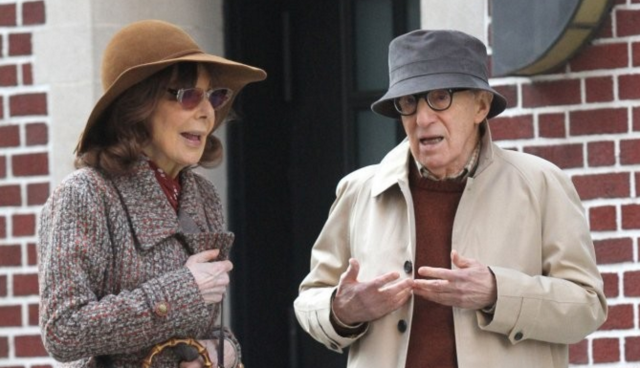 Elaine May has worked with Allen before. They were part of the same comedy circles in the 60s, and worked together on stage. She had a starring role in Allen's Small Time Crooks in 2000.
Images of May and Allen together suggest they are a couple, who argue. She's going to give an Allen a run for his comedic money – so this will no doubt be great.
Allen's character is the only one we have a name for – Sidney Munsinger (not 100% sure of the spelling). He is a writer, and not a terribly respected one. There were also reports of Allen and May's characters arguing about writing and success.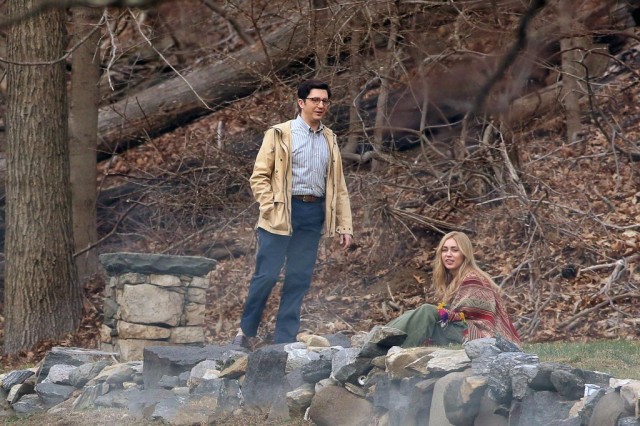 Two others get 'recurring guest stars' billing. John Magaro, who was spotted in at least one scene with Cyrus, and Rachel Brosnahan. IMDB reports they will appear in every episode in some capacity – but that could change. Brosnahan was not seen in costume at all.
Almost all the rest of the cast are billed for one episode, suggesting different stories and situations that are resolved and they don't return. Amongst the significant names in the cast are: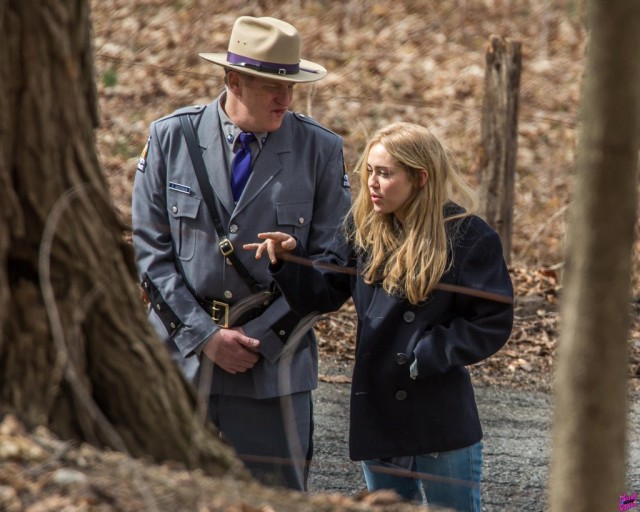 Michael Rapaport. This is the actor's third time working with Allen, following appearances in Mighty Aphrodite and Small Time Crooks. There were photos of him playing a cop.
Lewis Black. The comedian appeared in Hannah And Her Sisters.
Max Casella plays a barber. He appeared in Blue Jasmine.
Douglas McGrath. He co-wrote Bullets Over Broadway with Allen, and had cameos in Celebrity, Small Time Cooks, Hollywood Ending and Café Society.
Joy Behar. She appeared in Manhattan Murder Mystery.
Comedian Bobby Slayton also appears, and apparently has a significant scene with Allen. We also want to point out David Harbour, who was so brilliant in Stranger Things, also makes an appearance.
The production
Allen shot the film over 6 weeks in March/April. It looks like there may have been some reshoots around July.
It filmed in New York at various locations. There was a visit to lower Manhattan, on Beekman Street. There were weeks of filming in Briarcliff Manor, north of Manhattan along the Hudson River.
The scene from the released clip is from York Barber, 981 Lexington Ave, New York.
There wasn't much public filming (and not a lot of New York exteriors that still looks like it did in the 60s), so it looks like many scenes will take place indoors.
We don't know much about the music, but it's nice to see Allen's regular font.
The deal
Amazon has really bought into the business of Woody Allen in the last two years. Starting with this series, they have since bought up rights to his 2016 film Café Society, and are looking to pick up his 2017 film (although no deal has been set). This is the first of Allen's work to go to appear on Amazon's service exclusively.
Allen says that the story of these characters are done after this season, and there's no more story left to tell. He's also not looking to repeat the format of television. But who thought he would do it in the first place, so we don't know what the future holds. However, Amazon have expressed interest in more from series Allen.
One of the bigger mysteries is the international roll out. Amazon is not in many world markets, and many of Allen's fans live outside of Amazon Video's operating markets of US, UK, Japan, Germany and Austria. France is arguably Allen's biggest market, followed by Spain, Brazil, and a strong following in Australia.
What next?
With just over 7 weeks to go, we expect a lot more. Clips, photos, more artwork, character information and a lot more.
We also hope to hear about international release dates soon.