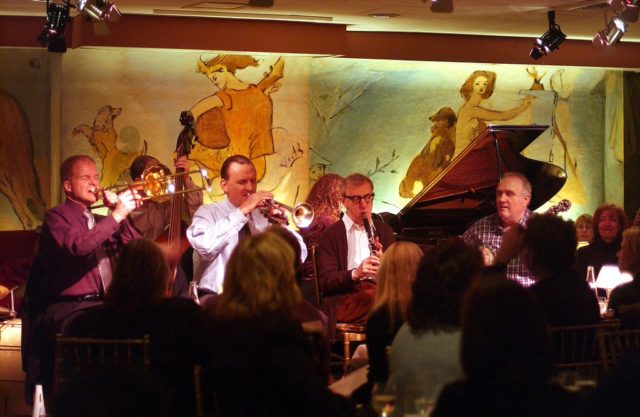 There are still some things you can rely on. After their usual summer break, Woody Allen and the Eddy Davis New Orleans Jazz Band will be returning to their seats at the Carlyle for their regular Monday Night residency. It is a slot they have occupied since 2005. Before the Carlyle, Allen has been performing Jazz in small clubs in New York on Mondays since the early 70s.
Shows resume on September 12th, 2016. They will run every Monday night until Christmas, where the band will take a short break and resume for the new year.
The Carlyle
35 East 76th Street
New York, NY 10021
212-744-1600
Performance time approximately 8:45 p.m.;
Cover: $165 per person, $30 drink min ($120 bar + $25 drink min), Premium Seating $205 per person. – All bar seats are only available on a first come, first serve basis.
Pricing does not include tax/gratuity.
For information and reservations, call 212.744.1600.
For all the latest details on the shows, the best places are the websites of the band members Conal Fowkes and Jerry Zigmont.
Tickets are not always easy to get, so if you think you will be in New York, then act fast.
These dates coincide with the production of Allen's 2017 film, scheduled to be in New York. September will also see the release of his latest film Café Society in the UK and other countries, and the launch of Crisis In Six Scenes, his Amazon series. That's busy month, for someone who is not 80…