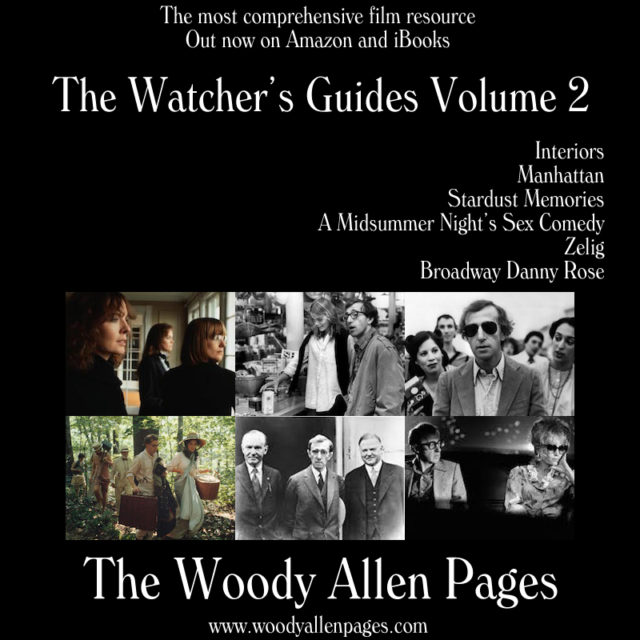 The second volume of our book series is out now!
We've been working on the most comprehensive Woody Allen film guides out there, gathering together every bit of information we can on all 46 of Woody Allen's films to date. Volume 1 was released back in May, and our latest volume is out now.
Volume 2 covers 1978-1984, and the films:
Find out everything you ever wanted to know about these films – filming locations, music cues, film references, cars they drive, literary illusions, California jokes, trivia, Easter Eggs, deleted scenes and much, much more. There's also recommendations on films to follow, and stories on key songs.
Highlights for volume 2 include
The locations of that opening sequence in Manhattan
The story behind Rhapsody In Blue
How Allen made two films at once
Brent Spiner's cameo in Stardust Memories (and many others)
Why Allen calls Broadway Danny Rose his Italian film
All the historical references in Zelig
Because they are ebooks, we are adding new information to the books and updating them (and correcting mistakes). Since we published volume 1, we've had readers help us find more filming locations, for example. Volume 1 is up to version 1.4. This last update, we redesigned the covers for both volumes.
Amazon US
Amazon UK
iBooks Coming Soon
Both volumes are just $3 US – and it's a really good way to support this website and keep it going. Less than the price of a beer, and better than a donation – you get a free ebook.
You may have also noticed, we've been making video essays for every film in volume 1, and videos for volume 2 are coming. Check out the previous ones we made to promote the book. There's 60 cool things about Allen's first six films.