The 16th film written and directed by Woody Allen
This film marks the beginning of a series of serious dramas, many of them troublesome, that Allen directed. It is one of Allen's most humble films – with one setting and a handful of characters, it is a play on film. It's so humble that Allen actually shot the whole thing with two different casts.
It is a story set in one holiday house over a couple of nights. Mia Farrow stars as Lane, a woman who's recovering from a suicide attempt. She is spending the summer there with a friend Stephanie (played by Dianne Wiest). Two men, both who live nearby enter their lives, as well as Lane's mother Diane (Elaine Stritch) and her husband.
Conception
Like so much of Allen's output in this period, September is a reaction to what came before. After the ambitious, kaleidoscopic scope of Radio Days (1987), Allen turned completely the other direction - a small chamber piece in one location. Says Allen[1]:
"I've always wanted to make some chamber pieces with a small cast in one location, or a limited location, and one way to do that is to work in play form deliberately. I wanted to put it in four acts, which I did. This thing, I could just publish the script, an acting version of it, and you could probably put it on in a theater with almost no changes at all. But it's not stagy because it was conceived for film. I mean, it was not a play that I put on or bought the rights to."
Allen has often expressed his desire to write serious drama, and September represents one of his boldest attempts. There is nothing close to a laugh for its short running time. 
Allen was originally inspired by the setting - a real house in Connecticut owned by Mia Farrow. Allen had wanted to write a story that could be filmed in that house. Says Allen[1]:
"I was lounging around up at her home and thinking, My God, what a Chekhovian atmosphere this is up here; it's a house on many acres isolated on a little piece of land with water and trees and a field here and a swing out there. [Pauses and laughs.] No wonder people kill themselves."
The family story seems to be at least in part inspired by the story of actress Lana Turner, whose 14 year old daughter killed Cheryl Crane killed her gangster lover Johnny Stompanato. But Allen wanted only to use that incident as a kick off point, and to lead to a character exploration. He says[2]:
"I had kicked around for years, that a traumatic incident will happen in one's life and there are kinds of personalities that just simply get wrecked by it and there are other kinds of personalities that it just washes off them."
The works of Russian playwright Anton Chekov was also an inspiration, in particular Uncle Vanya. Allen has also mentioned fellow Russian writer Ivan Turgenev. There's also shades of Allen's various heroes of drama, from playwright Eugene O'Neill to director Ingmar Bergman.
Allen considered making the film broader, and incorporating more characters and even fantasy elements - including fantasy sequences from various dead former spouses. But he decided to stick with the strict discipline of six characters, one location. Says Allen[1]:
"But then after a while I thought, No, don't. What you've always wanted to do here is a "realistic" chamber piece, a little story that doesn't get too mysterious."
With the focus on just six characters, Allen set about telling the story of people who react differently to the challenges life throws at them.
Each of them are escaping ghosts. The only character not dealing with lingering feelings of a former spouse is Stephanie, who is in an unhappy marriage. They've all found themselves escaping to this house, and now their summer is coming to an end.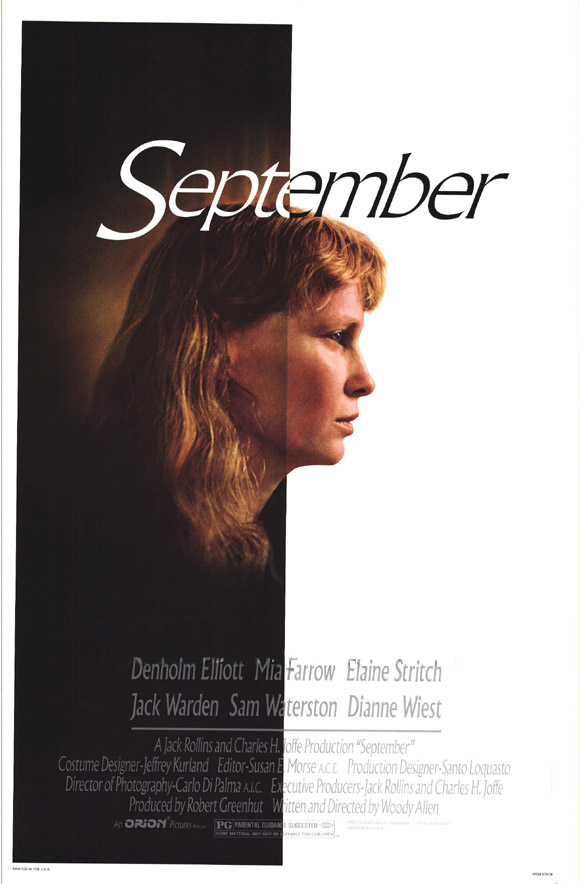 Production
September is notorious in Woody Allen's filmography as the film he shot three times - twice in its entirely. Of course, it was easy to do so when you have one set. Each time the film was shot, there was a different cast.  Apparently he didn't tell all the members of the older set of actors that he was remaking the film.
Allen hasn't been forthcoming with the reasons why he shot the film so many times. Allen did apparently rewrite scenes and dialogue for each version. But at least part of the casting changes came down to unavailability of the original actors as the production rolled on. Allen was treating the first version as if it was previews of a play. Says Allen[2]:
"It's no different than any playwright with a show out of town. In Philadelphia, you sit in the hotel room and rework scenes. I was doing the same thing. It's just more cumbersome to do it on film."
It is worth noting that reshoots are a common part of Allen's process. Given the simple set up of the film, the production of each pass of the film was less cumbersome than Allen's usual reshoots.  He only came in slightly over budget in the end, and used part of his fee to help make up the difference. And it in the end, it was still one of the cheapest films he had ever made.
Allen had originally wanted to use Mia Farrow's house in Conneticut, but by the time production was ready it was winter, and the weather was not appropriate. Says Allen[1]:
"When it came down to actual scheduling time it would have brought us up there in the winter, and that's not the feel I wanted—the bare trees and the cold and, you know, then you don't walk around the lake and you don't do those things and it doesn't have the same feeling. Plus, the thought of living in the country for a few months while shooting it was enough to turn it into a studio picture."
The studio shooting meant that scenes Allen had wanted to shoot outdoors and by nearby lakes had to be written. The house was built at Allen's preferred studio - Kaufman Astoria in Queens. The set was designed by Allen regular, Santo Loquasto. Allen and Loquasto took great care to get the house right. Allen saw it as a very important player in his story. Says Allen[3]:
"Since the whole movie took place in the house, to provide the house with lots of perspectives that were interesting. I wanted to be able to see deep all the time, that rooms were not too flat off and separated from eachother. And I wanted a warm colour for the house. That was important to me. It should we warm and homey."
In an interesting filmmaking move, Allen made the outdoor pitch black, but used the sound of weather and insects to create an illusion of outdoors.
The use of music was perhaps another reaction to Radio Days (1987). Music was used sparingly, and usually used as part of the world of the film. Most of the score is solo piano, performed in the film by the character of Stephanie, although it is performed by Allen regular Bernie Leighton.
One of the last pieces of the puzzle was the film's title. It was deliberately mysterious, not wanting to colour audiences expectations. Says Allen[1]:
"I want a title that doesn't promise much. That's my confidence. I try to take a soft sell, nonpretentious approach, like one-word titles."
By this point, five of his 14 previous films had one word titles. He would only have three more in the next 30-plus films.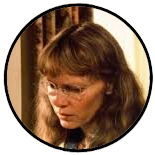 Release date
18th December 1987
Studio
Orion Pictures
Duration: 82m
US Rating: PG
Rotten Tomatoes 58%
IMDB: 6.7
Roger Ebert: 3.5/4
US Box office: $486,434

US Adjusted Box Office: $1,077,400
Screenshots
Cast
Denholm Elliott plays Howard. He had a long career in films, from Alfie to the Indiana Jones series to Trading Places (1983) and much more. Allen had considered using him for 1978's Interiors. Elliot originally played the role of Lloyd, but switched after the first recasting.
Mia Farrow returns, and plays Lane. This is her 7th film in a row with Allen, at a time when her acting career was exclusively Allen films. She would return for Allen's next effort, Another Woman (1988).
Elaine Stritch plays Diane Frasier. This was the first of two times that she would work with Allen - she would return for Small Time Crooks (2000). She actually was cast two other times in Allen films, but had her roles cut in Everyone Says I Love You (1996) and Celebrity (1998). Stritch was a huge star on Broadway, appearing in the Stephen Sondheim musical Company and many more. This was one of her most prominent film roles up to this point. 
Originally cast in the first version was Maureen O'Sullivan, who had just worked with Allen on Hannah And Her Sisters (1986) - and Mia Farrow's real life mother to boot. She became unavailable for the reshoots/remakes. Allen also offreed the role to Gena Rowlands at one point.
Jack Warden plays Lloyd, replacing Denholm Elliott in the role. Warden had been appearing on the silver screen since the 50s, in films such as 12 Angry Men (1957). He would have acclaimed roles in Shampoo (1975), All The Presidents Men (1976), Heaven Can Wait (1978) and much more. He would work with Allen twice more, next in Bullets Over Broadway (1994). Says Allen[1]:
"I love Jack Warden. He's a wonderful actor who's got a big range. He's totally believable in the most serious parts and hilariously funny."
Sam Waterston returns as Peter. This was Waterston's third time working with Allen, his last being Hannah And Her Sisters (1986). He would return for Crimes And Misdemeanors (1989).
Christopher Walken was originally cast in the role. Walken had appeared in Annie Hall (1977). Says Allen[2]:
"We couldn't get copacetic on what to do and decided that instead of his making concessions and my making concessions, we'd work on something else down the line."
Walken has yet to work with Allen again on one of Allen's films. But they both appeared in the voice cast for Antz (1998).
Sam Shepard was then cast in the role, but he was unable to make the final reshoot, and didn't seem to enjoy the time he had with Allen. Says Shepard, in a question discussing both Allen and director Robert Altman[4]:
"They may be great filmmakers, but they have no respect for actors. Individually, each understands zip about acting. Allen knows even less than Altman, which is nothing."
Allen then rewrote Peter to more suit Waterston. Says Allen[2]:
"Sam Shepard's quality is that of a kind of inarticulate, attractive loner from the plains, whereas Sam Waterston has a more Eastern, Boston quality."
Dianne Weist also returns, playing Stephanie. This is her fourth film in a row with Allen, having last appeared in Radio Days (1987). She would work with Allen once more, in Bullets Over Broadway (1994). Says Allen[3]:
"I always have her in mind. She's one of our greatest actresses."
Not counting Radio Days (1987) where Allen narrated and his presence is felt onscreen, this is only the third time that Allen did not star in one of his own films.
September
is featured in our book
The Woody Allen Watcher's Guide
Book 1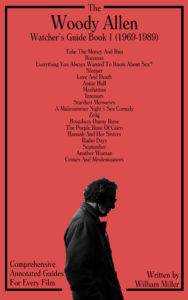 Crew
Carlos Di Palma returns as cinematographer. This is his third film, and third in a row with Allen. He last worked on Radio Days (1987). He would return for another run of Allen films, starting with Alice (1990).
Santo Loquasto returns as production designer. This is the 5th time he's worked with Allen. He last worked on Radio Days (1987).
Jeffrey Kurland returns as costume designer. This is his 5th time in a row with Allen.
Susan E Morse returns as editor. This is her 9th film with Allen as lead editor.
Juliet Taylor is casting. This is her 11th film with Woody Allen.
Charles H Joffe and Jack Rollins, Woody Allen's managers, return as executive producers. Robert Greenhut also returns as producer.
Release
September was released in the US on 18th December 1987. It followed Radio Days (1987) by 11 months, but was in the same calendar year.  At the time, Throw Mama From The Train was the top of the US box office. 
September played the 38th Berlin Film Festival, which ran from 12th-23rd February 1988. It played out-of-competition. It was the second Allen film to play the festival after Love And Death (1975).
No soundtrack was issued for the film.
Reception
September has earned $486,434 in the US.
It is Allen's lowest earning film, both in the US and internationally.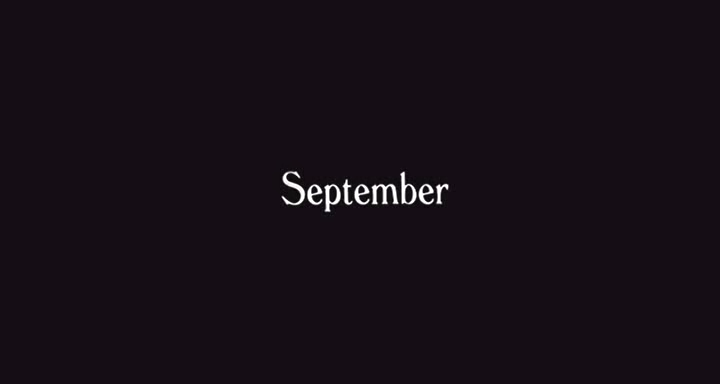 "God is testing us and I for one am gonna be prepared. Where's the vodka?"

"It's hell gettin' older. Especially when you feel 21 inside. All the strengths that sustain you all through your life just vanish one by one. And you study your face in the mirror, and you... you notice something's missing. And then you realize it's your future."

"Look at my hands. Now really, I am too young for liver spots. Maybe I can merge them into a tan."

"How do I look? Nobody say, 'Old and fat!'"

"It's got my diaphram in it... isn't it silly? I still travel with it. It's my lucky charm, maybe I should donate it to the antique fair."