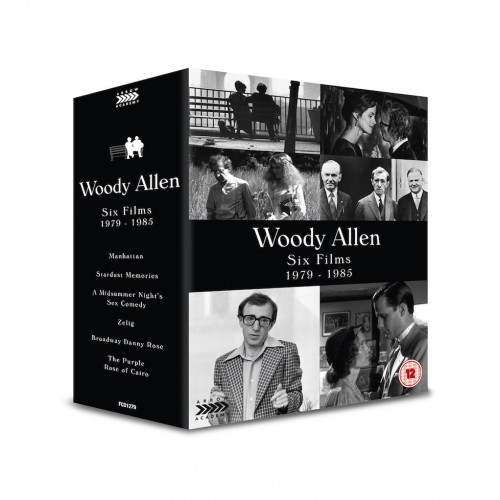 Just in time for Christmas, a new batch of Woody Allen blu-rays have been released in the UK, and one new title in the US. We also have new dates for two titles hitting blu-ray for the first time.
In the UK, Six Films 1979-1985 is out now, from Arrow Academy. It is a second of a series of three box sets that collects 19 of Allen's early films. The blu-ray box set collects the following films:
1. Manhattan (1979)
2. Stardust Memories (1980)
3. A Midsummer Night's Sex Comedy (1982)
4. Zelig (1983)
5. Broadway Danny Rose (1984)
6. The Purple Rose Of Cairo (1985)
Exclusive to the box set is Manhattan, which is not available separately, and a 100 page booklet featuring essays old and new about Allen's films. You can order the box set now from Amazon UK.
Three titles are also newly available separately – Stardust Memories, A Midsummer Night's Sex Comedy and Zelig (get them too from Amazon).
In the US, Stardust Memories is now available from Twilight Time. In the US, this is a limited edition and can be ordered from their website. Here's the artwork for their release.
Arrow Academy has also announced two more standalone titles for the UK – September and Another Woman. They are part of their next and final box set – Seven Films 1986-1991. It is the first time they will be available on their own, and they have never been released in the US. They are two of Allen's lowest box office films.
Here's the box art for both titles:
Twilight Time in the US will follow the Another Woman release with a US version on 11th April.
These blu-rays are definitely the best way to own Allen's classic films in a physical format. Let's hope somehow the rights to the Tri-Star and Sweetland Films – the next 10 or so films – will get this lavish treatment soon.