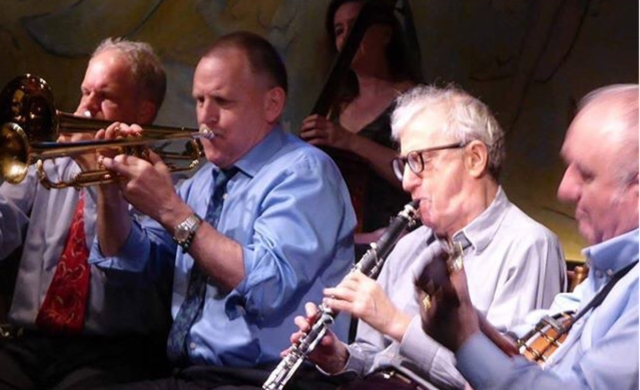 For decades, Woody Allen has been a fixture of of New York, not just in films but I. The music scene. Most Mondays since the 70s, Allen has been playing Jazz in New York, and for the last 11 years his home has been the Carlyle Café in New York. That long lasting residency is set to continue for another few months yet.
Woody Allen and the Eddy Davis New Orleans Jazz Band will be playing every Monday from 9th January 2017 til 19th June 2017.
The Carlyle
35 East 76th Street
New York, NY 10021
212-744-1600
Performance time approximately 8:45 p.m.;
Cover: $165 per person, $30 drink min ($120 bar + $25 drink min), Premium Seating $215 per person. – All bar seats are only available on a first come, first serve basis.
Pricing does not include tax/gratuity. 
For information and reservations, call 212.744.1600.
More details are on Jerry Zigmont's website.
This is Allen's regular pattern. The band are on a break over the holidays, and Allen usually takes a break in the middle of the year to promote a new film (his 2017 film), and make another (his 2018 film, his 48th). Shows usually return around September, running to the end of 2017.
Here's one of the highlights from the year past. Jazz legend Chick Corea got on stage for a song.
These Woody Allen jazz shows are a New York institution. If you find yourself in the area, you should go catch a show!