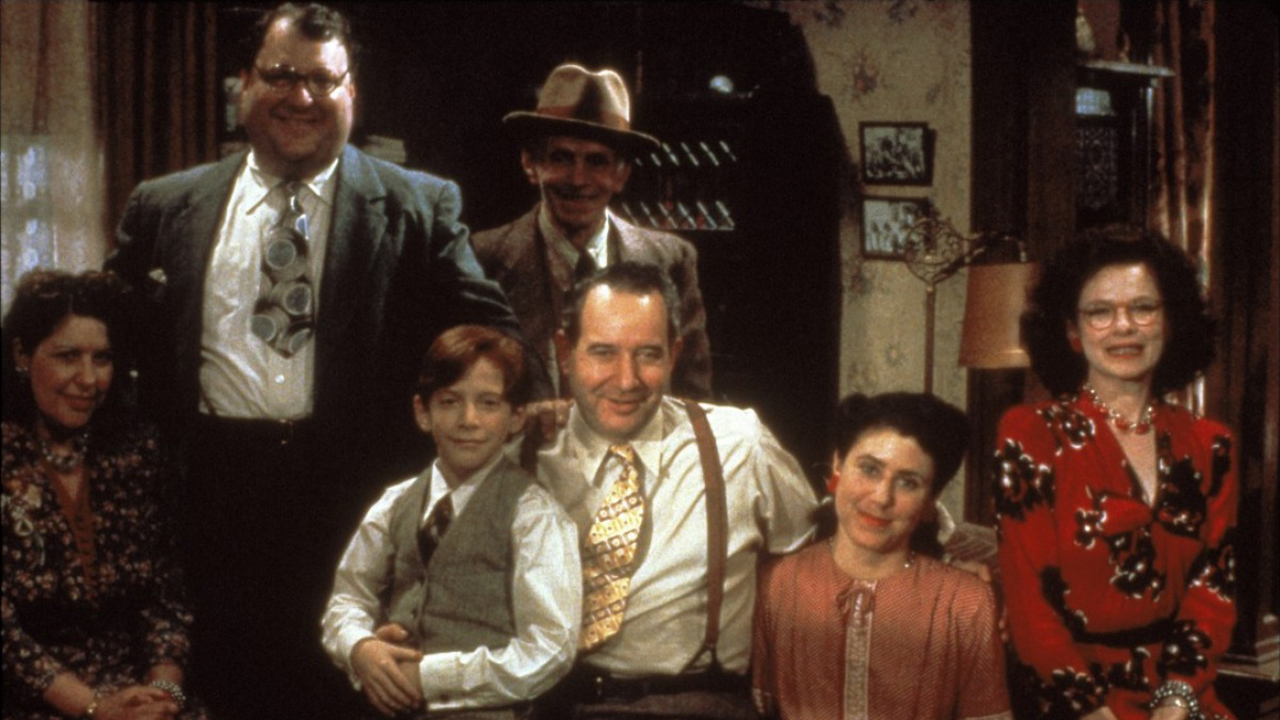 The 15th film written and directed by Woody Allen
Radio Days marks the culmination of everything Woody Allen had done to that point. Featuring plenty of Allen's past cast, and mixes European feel, directing flair, old time entertainment, the documentary form and something very American into a great film.
Woody Allen narrates an almost biographical story, about a child who grows up in the time of World War II, but falling in love with the stories on the radio. It's a tour de force – it's actually questionable if Allen's work ever felt this confident again. We follow the young boy Joe, played by Seth Green, and his charming, crazy family, as their lives are connected to the radio.
Conception
For a film so steeped in music, it's no surprise that it was the music that came first. It also marks another return to the past, this time Allen's own years growing up in New York, in particular 1938-1944, during the bulk of World War II. He would have been around 8 years old, and he already had a record player and was falling in love with music. Says Allen[2]:
"I wanted to do a whole movie of scenes based on memories of songs of my childhood, like Artie Shaw's "Begin the Beguine" and Bing Crosby's "Pistol Packin' Mama" and "Mairzy Doats." It was that kind of nostalgia; self-indulgent pleasure that one gets re-creating one's childhood atmosphere."
What emerged was a large, ambitious, rambling script that paid tribute to the golden age of radio. It would be through his own personal experience. Says Allen[2]:
"That's what the evenings would be like. They'd be listening to the war news on the radio and my uncle and my father or my aunts and my father were playing gin rummy and my mother would be knitting and the radio would be on and you'd get reports on how the war was going on the seven o'clock news or the nine o'clock news."
As usual, Allen would react against his previous films, rather than build on them. This time, he wanted to move away from the intimacy of his previous film, Hannah And Her Sisters. Says Allen[3]:
"Hannah was a living-room picture. It becomes dull, so you look for something different to do, just to break the monotony. And so I thought it would be fun to do something that was episodic and full of music and cartoonlike and nostalgic."
For the stories, Allen called upon many stories from his childhood. Allen's father took him to a military exhibition. Seeing his father drive a cab was also a real Allen memory. And the family, with the array of aunts and uncles, mirrors Allen's upbringing.
He also looked at real events that happened at the time. In particular, Orson Welles' legendary War Of the Worlds broadcast, the fear of German U Boats being in New York and the little girl stuck in the well. Some things, like The Masked Avenger, were generic versions of such superhero shows.
Allen, or course, brushes off any calls of autobiography. Says Allen[2]:
"I'm relying on information in my life, but that's why I say it's not autobiographical. It's much more exaggerated to make the story better."
Allen also, as usual, lightly brushes off influences. But there is much of Italian director Frederico Fellini in the film, in particular Amarcord (1973).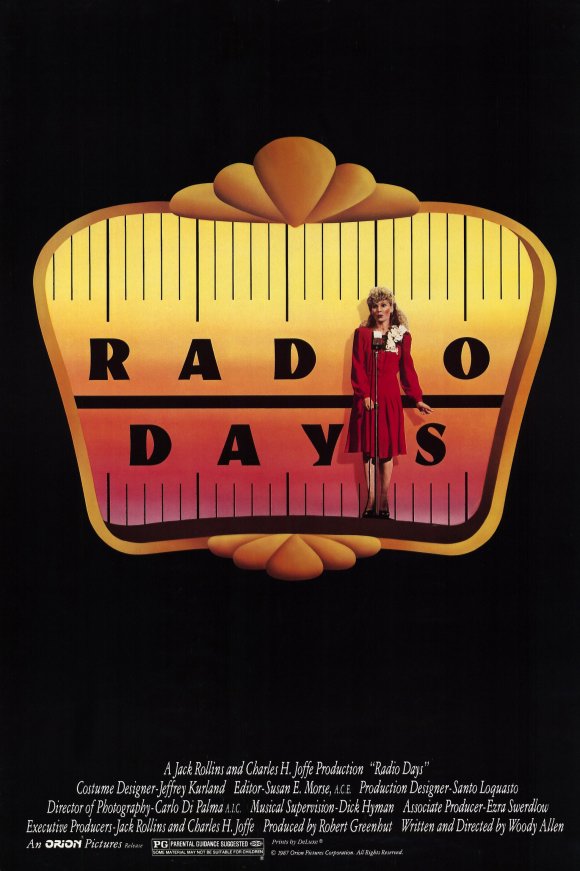 Production
Production began on 5th November 1985.
Allen, as usual, made the film in New York. But with so little of New York left to match the period, a lot of work was done in the studio. Production designer Santo Loquasto created much of the sets at the Kaufman Astoria Studios in Queens, Allen's go-to film studio in New York.
Casting such a big film wasn't easy, with 150 roles to fill. Casting director Juliet Taylor held open casting calls, in particular public schools in Queens for the kids. She went through her extensive files and even found people off the street.
The huge cast and ambition also made the production more complicated. Said producer Robert Greenhut[4]:
"It's not like most movies, where there`s a discernible spine--a single plot line that you can hang scenes on and, frankly, get away with less planning, because you know that, for example, the suspense can carry you through a rough patch.
Here every minute had to count because he was telling so many stories. I think he is always trying to frighten himself, and that`s part of his greatness."
Allen added to the biographical nature of the story by setting the main family home in the same neighbourhood where he grew up. Yet, it was a recreation tainted by memory and time. Says Allen[5]:
"I think of Radio Days basically as a cartoon. If you look at my mother, my Uncle Abe, my schoolteacher, my grandparents, they were supposed to be cartoon exaggerations of what my real-life people were like."
Another location was the Playland amusement park. Like the amusement park in The Purple Rose of Cairo, it had closed by the time of the film's production, and torn down shortly after.
The film was full of music from the era, from swing and big band. Allen, who has an encyclopedic knowledge of this era of music and a record collection to match, was able to use big hits and rare tracks with great aplomb. Allen's usual music collaborator Dick Hyman, also helped.
In the end, a whopping 43 songs are used in the film's soundtrack, although many of them are just snippets. From Count Basie, Duke Ellington and more, it is a great introduction to the music of the era.
Allen went to great lengths to make the film authentic. Above and beyond the costumes and cars, the Time Square rooftop recreated several signs that once existed. There's also a story of extras wearing 40s style garters that no one would see.
Much of Allen's original script was cut before and during production. Other scenes were shot and not used. Says Allen[3]:
"That was such a hard job physically for me. It was exhausting to direct. Not all the film made the picture; originally there were 200 speaking parts. You have to do musical numbers and crowd scenes and nightclub scenes."
A number of scenes were cut, or not filmed at all. These included:
A sequence involving an escape artist called The Astonishing Tonino, performing a stunt with lots of reporters and the mayor. He was played by Verne G Williams.

Various scenes of people, neighbours, men at a street corner, listening to various shows.

A 'history of radio' sequence, going back to the making of the first wireless messages, the first sound recordings, and the first radio stations.

More shows including a sound effects show (featuring John Rothman), a talent hunt show and the actual Whiz Kids show.

Uncle Walt radio show. Based on the urban legend around kids radio presenter Uncle Don. Apparently, he made a rude comment about kids when he didn't realise he was on air, and was fired.

Sally's story, including her rise through a variety show called the Herbie Hanson show. Hanson was played by Steve Mittleman.

Sally saying goodbye to a soldier boyfriend at Grand Central Station, as part of the larger war sequence.

Another scene featured Chris Elliott, with a moustache. His entire storyline was cut.
As usual, Allen filmed many of his ideas, much of his first draft, but continued to rewrite and reshoot as the film progressed. For example, he had not locked down the specifics of Mia Farrow's character when production began. Says Allen[2]:
"The first scene of hers we shot for Radio Days I did about thirty-five takes of it and she did thirty-five different voices and I looked at them all and picked one and that's the one we used for the picture. And of course [he laughs], that scene never made the picture."
At a reported $16 million to produce, it was Allen's most expensive film up to that point. A significant amount of the budget went to clearing the rights for all the music.
Overall, Allen found the production, which lasted most of a year, many actors, locations and storylines and the many reshoots, exhausting. He would go completely the other direction for his next film, September (1987).
French film writer and UCLA graduate Thierry de Navacelle was allowed to capture the production of Radio Days for a book, which became Woody Allen On Location (called Woody Allen, Action! in France). He was on set every day and kept a diary of the entire experience.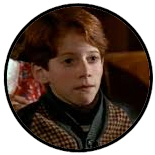 Release date
30th January 1987
Studio
Orion Pictures
Duration: 88m
US Rating: PG
Rotten Tomatoes 88%
IMDB: 7.6
Roger Ebert: 4/4
US Box office: $14,792,779

US Adjusted Box Office: $32,763,500
Screenshots
Cast
There is such a large ensemble cast for this film, with several who have appeared in Allen's films before.
Woody Allen narrates the film, but does not appear. He would also narrate, but not appear, in Café Society (2016). He is actually uncredited for this work.
Seth Green stars as Joe. This was one of his first roles, before he found fame in the Austin Powers films, Buffy The Vampire Slayer and one of the creative forces behind Robot Chicken.
Mia Farrow plays Sally White. This was her 6th appearance in an Allen directed film. She would return for September (1987).
Diane Keaton returns in essentially a cameo role, her sixth film with Allen, and her first since Manhattan (1979). She had been working in more serious roles such as Reds (1981) for which she was nominated for Best Actress at the Academy Awards. She would work again with Allen on Manhattan Murder Mystery (1993). Allen took great care to pick a song for Keaton to sing. Says Allen[6]:
"I wanted to make sure, since Diane was making one little appearance in the picture, that the song was potent."
Tony Roberts is back. This was the last of five Allen films for which he would appear, although he would continue a close friendship with Allen and be seen in public together, and would appear in Allen's 2002 short film Sounds From A Town I Love. His father, Ken Roberts, was a radio announcer and his voice can be heard in the film.  
Dianne Wiest also returns.  This is her third Allen film in a row. She would return twice more, next in September (1987).
Allen also cast several cameos from the golden age of radio. They included sportscaster Guy Le Bow, radio announcer Jackson Beck (who narrated Take The Money And Run back in 1969), radio singer/actress Kitty Carlisle Hart, who had not been in a film for 43 years, and future Saturday Night Love announcer Don Pardo.
The film also has several other significant acting cameos.
Jeff Daniels returns, having appeared in The Purple Rose of Cario (1985). He plays Bill Baxter, a name close to Tom Baxter, one of his characters in The Purple Rose of Cairo. Like much of the cast, he was only given script pages for his scenes, and was largely in the dark about the film.
Larry David has a blink and you'll miss role as a grumpy neighbour. He would work again with Allen on Oedipus Wrecks (1989) and then find huge fame and acclaim with Seinfeld and then Curb Your Enthusiam. He would star in Allen's Whatever Works in 2009. Says David[7]:
"I didn't see any cameras, so I turned to someone on the crew, and asked, 'Where is the camera?' And he pointed up, way up on the roof. And then, when I saw the movie, all I could see was my bald head."
Wallace Shawn returns, the second of five appearances in Allen films. He last worked with Allen in Manhattan (1979) and would return next for Shadows And Fog (1991).
Radio Days
is featured in our book
The Woody Allen Watcher's Guide
Book 1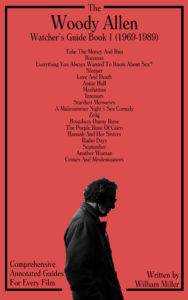 Locations
Beach 115th Street
King Cole Dining Room, St Regis Hotel
Breezy Point
PS70
Radio City Music Hall
GE  Building/30 Rock
Metropolitan Life Tower
Crew
Carlos Di Palma returns as cinematographer, the second in a run of 12 feature films with Allen. Says Allen[2]:
"He knew that I like great warmth all the time anyhow and that in a period film we're really able to lay it on with a trowel. And we had all these wonderful locations that are slightly distorted by memory, or heightened by memory, so you don't have to light it realistically, you can light it beautifully, so it came out good."
Santo Loquasto returns as production designer. This is the 4th time he's worked with Allen, out of a total of 27, but his first as production designer, having previously worked as costume designer, the last time being Zelig (1987). Along with set designers Leslie Bloom, Carol Joffe and George DeTitta Jr, he was nominated for an Academy Award for his work here.
Dick Hyman is back as composer. He arranged and performed a variety of music used in the film, including radio themes for the fictional shows.
Susan E Morse returns as editor. This is her 8th film with Allen as lead editor.
Juliet Taylor is casting. This is her 10th film with Woody Allen.
Charles H Joffe and Jack Rollins, Woody Allen's managers, return as executive producers. Robert Greenhut also returns as producer.
Release
Radio Days was released in the US on 30th January 1987. At the time, the Richard Pryor comedy Critical Condition was the top of the US box office. 
Radio Days played the 40th Cannes Film Festival, which ran from 7th-19th May 1987. As usual for Allen, it played out of competition and neither Allen or any of the cast attended. It was his fifth film to play at Cannes, and the fourth in a four-in-a-row run.
The film also played the 1987 United States Film Festival in Utah, the third Allen film in a row to do so, but also the last. This festival would become the Sundance Film Festival.
A soundtrack album was released in 1987. Only 18 of the 43 tracks in the film made the final soundtrack.
Reception
Radio Days has earned  $14,792,779 in the US.
Adjusted for inflation, this is Allen's 12th highest earning film in the US.
Allen made a rare appearance to talk about one of his old films in February 2012, when he revisited Radio Days before a screening. He was joined on stage by old friend Dick Cavett and it was presented at the 92Y in New York. When asked about his feelings on the golden age of radio, Allen was typically unsentimental. He told the crowd[8]:
"When you go back and hear the old radio shows so many of them were garbage. As a child I sat rapt listening to them but now there are only a few that hold up, most notably Jack Benny. But many that thrilled us as kids, you listen to now and you think "My god how could I have been enchanted by that?'"
People who count this film amongst their favourites of Allen's are Colin Firth.
Voted 304th in Empire's The 500 Greatest Movies Of All Time in 2013.
Awards & Nominations
60th Academy Awards
2 nominations
- Best Writing, Screenplay Written Directly for the Screen, Woody Allen
- Best Art Direction-Set Decoration, Santo Loquasto, Carol Joffe, Leslie Bloom, George DeTitta Jr
40th British Academy Film Awards
2 wins from 7 nomination
Best Costume Design, Jeffrey Kurland
Best Production Design, Santo Loquasto
- Best Actress In A Supporting Role, Dianne Wiest
- Best Editing, Susan E Morse
- Best Film, Robert Greenhut, Woody Allen
- Best Screenplay - Original
- Best Sound, Robert Hein, James Sabat, Lee Dichter
Writers Guild Of America Awards
1 nomination
- Best Screenplay Written Directly for the Screen
What did you you think?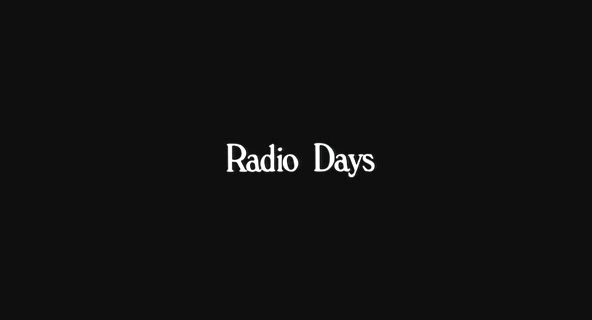 "It's so beautiful. Boy, what a world... it could be so wonderful, if it wasn't for certain people."

"I've never forgotten any of those people or any of the voices we would hear on the radio. Though the truth is, with the passing of each New Year's Eve, those voices do seem to grow dimmer and dimmer."

"This is a coincidence. I meet nobody from the old neighbourhood in years. I finally do, and I gotta kill her."

"Boy, that was fast! Probably helped I had the hiccups."

"It was the first time I'd ever seen the Radio City Music Hall and it was like entering heaven. I just never saw anything so beautiful in my life."

"Who is Pearl Harbor?"