Music Of Woody Allen Films – an irregular feature about the musical compositions that have helped to make Allen's films sing.
Hannah And Her Sisters is one of Allen's most beloved films – and it celebrates 30 years this year. However, it doesn't seem like there is one particular song that characterises the film. But look closer and the we can see the film has been tied together with a very appropriate, and beautiful, pop standard –Bewitched, Bothered And Bewildered.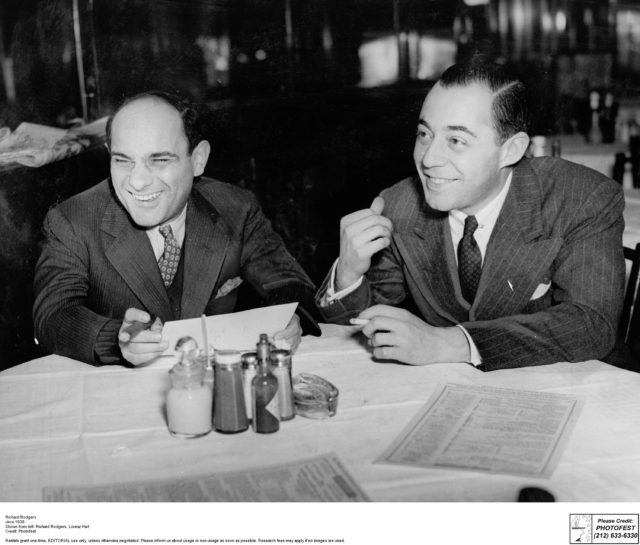 The song was written in 1941 by Richard Rodgers and Lorenz Hart, the world beating composers of many hit musicals and the finest songs of any genre. They wrote this for the musical Pal Joey. Allen has used their music a lot, and the character of Rodgers appears briefly at a party in Radio Days. They also wrote Blue Moon, featured in Blue Jasmine.
Bewitched, Bothered And Bewildered is first heard being played by Evan, the father of the sisters of the title, played by Lloyd Nolan (in his last ever role), and sung with his wife Norma (played by Maureen O'Sullivan) – that 80 second version appears on the soundtrack.
But it is the use of the melody in the wider score that makes it the most important song in this film. Played simply on piano by Allen's regular composer Dick Hyman, it cuts into our story for several characters, in their most dramatic moments. It's subtle and romantic – the sound of thoughtfully, carefully, giving into love in Manhattan, mid 80s.
The character it's most tied to is Elliot, played by Michael Caine. It plays when he has to face his feelings for Lee, played by Barbara Hershey.
It also appears for Hannah (Mia Farrow) goes to see her parents, when she glimpses at what marriage looks like, many years in the future. The song also appeared for Mickey (Woody Allen) and Holly (Dianne Wiest) when they meet again and fall in love. Marriage, romance and even happiness are in their future.
More than being tied to one character – or one recording – Allen uses the melody as a love theme for his film. The lyrics are not heard, but the songs associations with marriage, but also being knocked out and confused by love, bring an extra level to its use.
Bewitched, Bothered and Bewildered would have made a great title for this film. It also shows a different use of music for Allen, caring less for a known recording and a more interesting use of popular song as score. It also highlights marriage and the nature of love in this sprawling, nicely like story.
Here's Rita Hayworth singing the song from the film version of Pal Joey (its actually Jo Ann Greer's vocal)