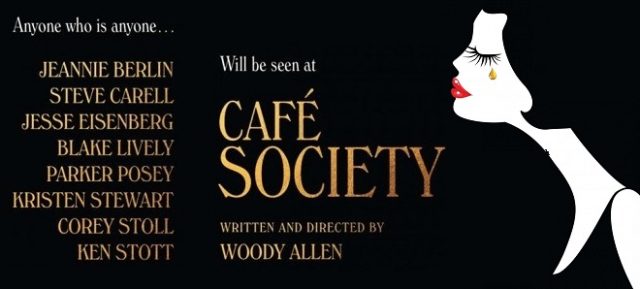 Today's the day. Café Society, the latest film written and directed by Woody Allen, is out in limited release in the US. New York and Los Angeles only this week – with more cities and countries to come. It was premiered at the Cannes Film Festival earlier this year (playing the prestigious opening night), and was released in France at the same time.
The film has Allen's usual packed bench of talented actors. Jeannie Berlin, Steve Carell, Jesse Eisenberg, Blake Lively, Parker Posey, Kristen Stewart, Corey Stoll and Ken Stott are the film's headline stars, many of them working with Allen for a second time.
Shot last summer, it is a period romantic drama, set in the 1930s, and spanning two coasts and three scenes – poor working class Brooklyn, glamorous old Hollywood at her best and the bustling nightclubs of Jazz-era New York. By all accounts, the sets, the outfits and the cinematography by Academy Award winner Vittorio Storaro.
It's had some pretty good reviews and it sitting on 80% on Rotten Tomatoes – Woody Allen's best since 2013's Blue Jasmine. It is the highest release this week (with enough for a consensus anyway).
It is the 46th film by Woody Allen, the 46th chapter in the career of an unique auteur in all of cinema.
Whatever happens, Allen is already onto his 47th chapter. He's written and cast his 2017 film, starring Jim Belushi, Juno Temple, Justin Timberlake and Kate Winslet. He has an Amazon series released later this year, starring Miley Cyrus, Elaine May and himself.
Here's the trailer, one more time.