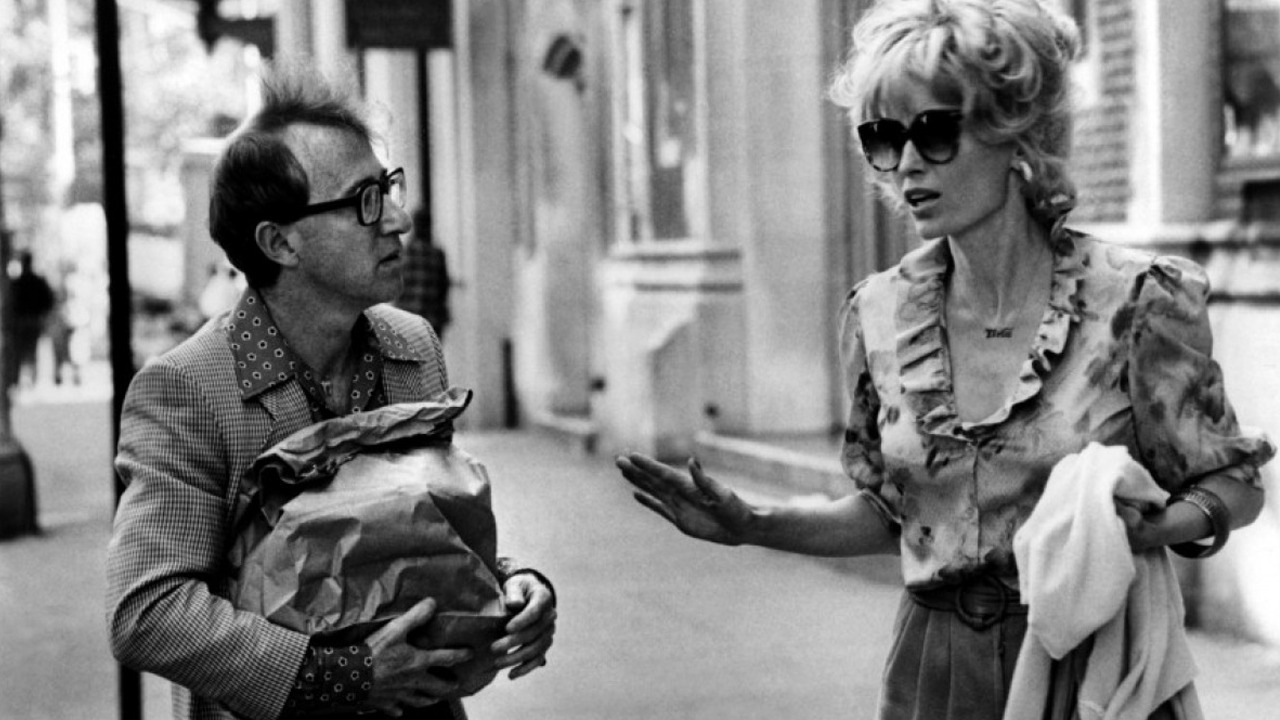 The 12th film written and directed by Woody Allen
A love letter to his comic roots, Broadway Danny Rose marks the time when Allen managed to synthesise his European influence and his American humour into something all his own.  It's a small story – and a short one – but Allen's story is full of heart and he creates two of his best characters in Danny and Tina. It also marks the first knockout performance by Mia Farrow in a Woody Allen film.
Woody Allen stars as Danny Rose. The character's name has become a character archetype – a naive but lovable talent agent, who would do anything for his acts. In a great chequered suit, Rose represents all that Allen loves about show business. In fact, despite not being a funny film, it's Allen's love letter to comedy.
Conception
This was Allen's third film in a row set in the past. This time, it was a past that Allen lived in to some degree. Broadway Danny Rose was a tribute to the cabaret comedy scene that nurtured a young Woody Allen. It was where he started his career, but that scene went away.
Allen wrote about the characters he met as a comic. A lot of it was based on real events and people. In particular, Allen was paying tribute to comics who played the so called Borsch Belt, a stretch of the Catskill Mountains frequented by Jewish families, entertained on their holidays by a particular brand of comedy.
A number of Borsch Belt comics appear in the film, and their are references to venues. Above the comics, there were many singers that performed, and light entertainment acts. Allen was not only giving the scene a nod, he was perhaps saying goodbye to it too.
Danny Rose was inspired, many say, by Jack Rollins, Allen's own manager (and appears in the opening scene). Rollins, in his early days, had devoted his life to a singer (Harry Belafonte) and helped launch his career before being dumped for a more powerful manager.
The name Rose was possibly a nod to Mickey Rose, Allen's early writing partner and co-wrote Take The Money And Run (1969) and Bananas (1971).
Allen was also interested in writing very different roles for himself and Farrow. Farrow apparently wanted to act like Annie Rao, of the legendary New York Italian restaurant Rao's. Says Allen [2]:
"Mia wanted to play Mrs. Rao, Annie Rao, who we knew and would see up at the restaurant all the time. And I wanted to play a different kind of character, not a neurotic, literate New Yorker. And one of the characters I can play, as I said before, is a lowlife. It just comes kind of naturally."
Other details were taken from experience. Rose's signature phrase - 'Star, smile, strong' - was something Allen heard being said by another comedian.
Allen wanted to set the film in the 40s, but there was no locations that hadn't been modernised, or covered in junk. Instead, the story moved to the late 60s. Says Allen [3]:
"We looked, and there wasn't a half block that hadn't been ruined, junked up. It's too bad. I would've liked to have been around in those days when all the show-business people got together at restaurants and clubs late, after their shows…. The only thing I ever experienced that came close to that was in the late 1960s."
For many years Allen referred to this as his Italian film. He wanted it to be street level characters, black and white, perhaps in the vein of Vittorio De Sica, director of Bicycle Thieves (1948). It was also the street level characters, the downbeat ending and the various Italian characters and songs. Says Allen [2]:
"For some reason I saw it in black and white because I wanted to make a 1950s Italian movie. And Gordon Willis understood instantly. He said, "It just feels better to me in black and white, too.""
Allen already nodded to Italian cinema in Everything You Always Wanted To Know About Sex (1972) and would go all in with To Rome With Love (2012). But perhaps the biggest nod to Italian cinema and De Sica is the resoundly downbeat ending, and the hopeful tragedy.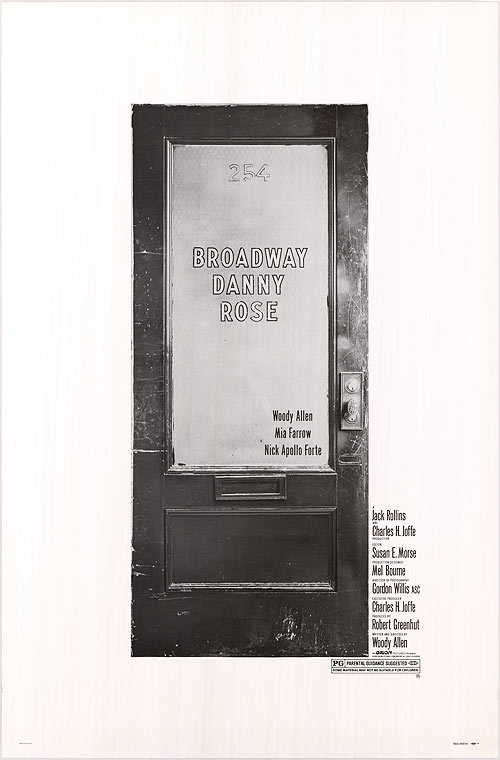 Production
Allen returns to black and white, his fourth in his last five films. It wasn't the simplest path to shoot black and white, and Allen at this time had built his own lab just to make it work. His next b&w film would be Shadows And Fog (1991).
A big part of the production was to build the world of the comedians and entertainers. From late night deli hangouts, Time Square offices and glitzy/cheesy nightclubs. Allen used his beloved Manhattan, but not the big glamorous, tourist-y locations. This was a more street level story.
Interestingly, Allen has said that Broadway Danny Rose was the film he's made that best captured New York as he saw it. Not the romantic wonder of Manhattan (1979), but the real streets, with garbage and graffiti on the walls.
Allen managed to cast several real Borsch Belt comics to be several scenes, playing themselves. They sat around Carnegie Deli just telling jokes, far more than Allen needed for the film, and so many of it was cut. There are many legendary out takes in Allen's long career - this is definitely one of them. Says Allen[2]:
"All those people who were in that group in Broadway Danny Rose, they are all the real thing. They are all comedians or ex-comedians and they have all done that."
Milton Berle, Howard Cosell, Joe Franklin and others also play themselves. There's references to Frank Sinatra and other entertainers. Like the famous faces in Zelig (1983) it added to the real world authenticity of the film. Says Franklin [4]:
"He's a very dear friend of mine and I enjoy his work. I think he's a genius film maker and I can only tell you that when he makes a movie, there's no script. He just tells you to – he just gives you the flavor of the movie role and it's just a fantastic, the kind of mind he's got. He's just brilliant."
It was up to Juliet Taylor in casting to find all of Rose's novelty acts. And she had to go to the source - the then-dying Borsch Belt resort circuit. Says Taylor [5]:
"For me, it was the most fun of all of his movies to work on. We had a day when we saw nothing but novelty acts, and I talked to agents who were disappearing at the time who did the Catskills. They were in New Jersey and Long Island - they weren't in New York City anymore - and they were still booking these clubs with women who played the glasses and crazy stuff."
The film opens at Carnegie Deli. Allen actually looked at several locations before settling onto the Carnegie. The Carnegie agreed, but because of their long hours (they only close for two and a half hours a day), the production was unable to shoot overnight. So they bought out the place, filmed from 6am to 6pm, used the real wait staff and allowed the deli to take phone orders throughout the shoot. 
He also looked at several actors to play the owner, but in the end used Leo Steiner, the real owner and a retired comic himself, and had retained his Screen Actors Guild card. Carnegie Deli for its part has paid tribute to this film and Allen by naming sandwiches after them.
The Danny Rose had corned beef, pastrami and a side of coleslaw. The Woody Allen sandwich is a whole stack of pastrami and a whole stack of corned beef in a double decker. It looks intense.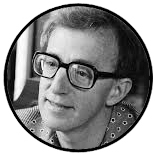 Release date
27th January 1984
Studio
Orion Pictures
Duration: 84m
US Rating: PG
Rotten Tomatoes 100%
IMDB: 7.5
Roger Ebert: 3.5/4
US Box office: $10,600,497

US Adjusted Box Office: $27,069,100
Screenshots
Cast
Woody Allen stars as Danny Rose. He is one of Allen's best characters - certainly amongst his best male leads.  Allen gives a wonderful performance too, playing a very particular role, not just his usual persona.
Mia Farrow stars as Tina Vitale. This is her third film in a row with Allen. Allen and Farrow tried lots of things to get to her character's look. Most significantly was the sunglasses, which she wears almost through the entire film. They also tried to make her look physically bigger and even wore some light padding.
Nick Apollo Forte stars as Lou Canova. Allen had seen and screen tested a lot of actors, known and unknown for the part. Sylvester Stallone, who appeared in Bananas (1971), was apparently offered the role. Danny Aiello, Robert Goulet, Robert DeNiro, Steve Rossi and Jerry Vale have all been mentioned over the years as having been in contention. It was Juliet Taylor who found their Lou. Says Allen[5]:
"Juliet was browsing in the Colony Record Shop on 42nd Street and saw an album cover with Nick's picture on it. He was a guy from Connecticut who worked these little clubs, and he did a nice audition."
Forte had been a lounge singer for many years before he met Allen. He was in the musicians union at age 16, and was self releasing his own recordings. He was not expecting to be in films, and thought the first call from Allen's team was a prank. He realised he wasn't when he finally met Allen. Recalls Forte[6]:
"He looks at me from my nose to my toes and he goes, 'Uh huh,'. He says to me, 'Would you do a movie with me in September?' I says, 'Yea. But I got to tell you the truth. I never seen any of your movies'."
Allen actually showed his finalists to Diane Keaton, who helped confirm Forte as the best choice.
Says Taylor[5]:
"The funny thing about Nick Apollo Forte was that it was as if he knew this was going to happen to him. He was like, 'This is my big break and I knew it was going to come.' He had so much confidence, which is what enabled him to do the part."
Yet, Broadway Danny Rose would be Forte's only film role. He looked at several other roles, none of which worked out. He actually shot roles, that were cut from the final product, and he turned down many roles including for The Sopranos. He returned to his first love, playing music and, as of 2016, is still doing it.
Forte, above acting, also sang in the film. He even presented Allen with two original songs - Agita and My Bambina - which Allen used prominently in the film.
Broadway Danny Rose
is featured in our book
The Woody Allen Watcher's Guide
Book 1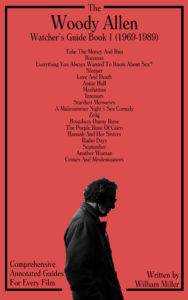 Locations
Carnegie Deli
Times Square
Colony Records
Danny's Apartment (200 West 54th Street)
George Washington Bridge
Jersey City
Hotel (420 W 73rd Street)
Columbus Circle
Macy's Parade Studio
Waldorf Astoria Hotel
Roosevelt Hospital
PJ Clarke's Saloon
Crew
Gordon Willis is back, his 7th film in a row with Woody Allen, and his 4th in black and white.
Mel Bourne returns as Production Designer, his 7th time working with Allen, and his last. He would go on to work on films such as Cocktail (1988) and The Fisher King (1991). He died in 2003. Says Allen [7]:
"He was a terrific art director and a wonderful guy. He made wonderful contributions to my films."
Bourne's son, Timothy Bourne, recalls of his father [7]:
"He and Gordon Willis and Woody Allen were like a triangle. He really enjoyed that intellectual stimulation."
Having worked on a few Allen films as an assistant, Jeffrey Kurland steps up to be Costume Designer. He would work on another 13 films with Allen.
Dick Hyman returns as Composer. He rearranges various songs, including Forte's Agita, into several versions. He also supplies incidental music. This is his 4th film with Allen.
Susan E Morse returns as editor. This is her 5th film with Allen as lead editor.
Juliet Taylor is casting. This is her 7th film with Woody Allen.
Charles H Joffe and Jack Rollins, Woody Allen's managers, return as executive producers. Robert Greenhut also returns as producer.
Release
Broadway Danny Rose premiered at the 37th Cannes Film Festival, Allen's second film to do so. It was held on 11th-23rd May 1984. Neither Allen nor the cast were in attendance. This was the first of a four film run for Allen at Cannes.
It premiered in the US on 27th January 1984. At the time, Terms Of Endearment was topping the US box office.
An officially branded soundtrack was never released. However, Nick Apollo Forte released his two original songs used in the film as well as other tracks on an album called Songs From Broadway Danny Rose And Other Pearls Of Culture. It was released on Milan Records in 1984.
Reception
Broadway Danny Rose earned $10,600,497 at the US box office.
Fans of this film include Peter Capaldi, Michael Peña, writer Phil Rosenthal.
Director Paul Thomas Anderson was inspired by the look of this film, that almost 40 years later he asked Panavision for the same lenses used by Gordon Willis to make The Master (2012).
Awards & Nominations
| Film | Academy Awards | Golden Globes | BAFTAS | WGA |
| --- | --- | --- | --- | --- |
| | | | | |
57th Academy Awards
2 nominations
- Best Director - Woody Allen
- Best Original Screenplay - Woody Allen
42nd Golden Globe Awards
1 nomination
- Best Actress - Musical or Comedy - Mia Farrow
38th British Academy Film Awards
1 nomination
- Best Original Screenplay - Woody Allen
Writers Guild Of America Awards
1 nomination
- Best Comedy Written Directly for the Screen
What did you you think?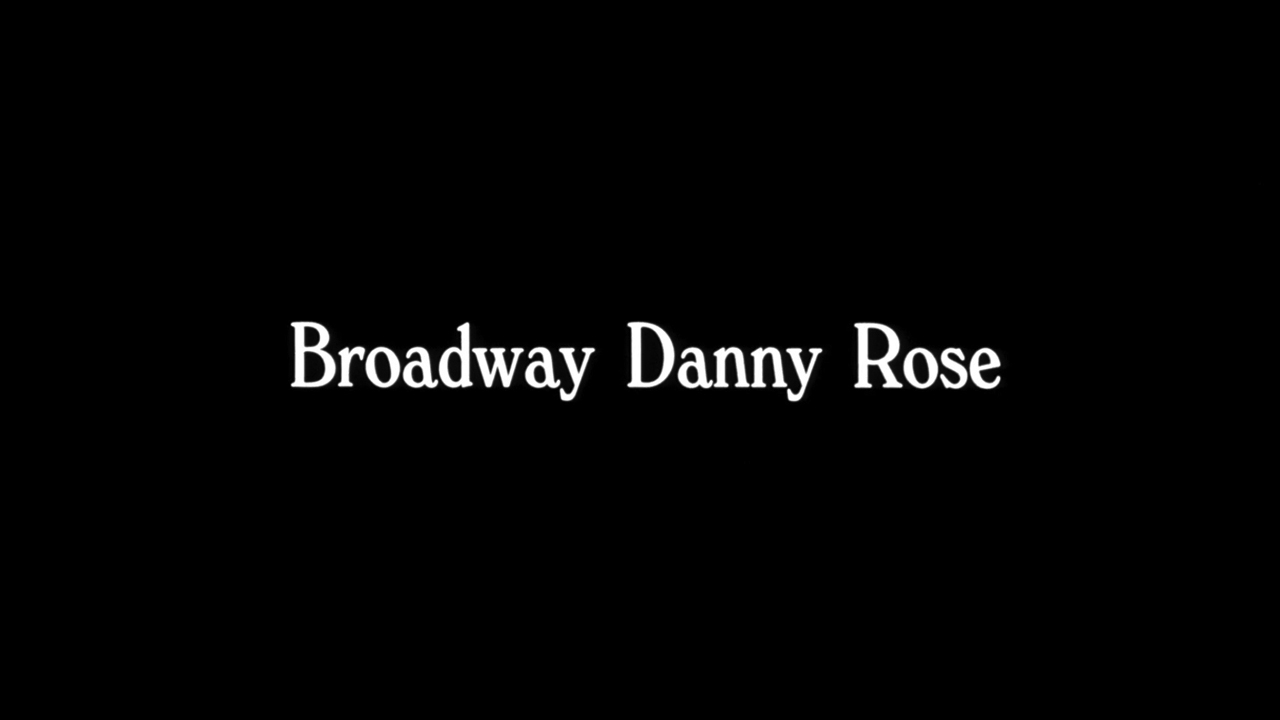 "The days before you'll go onstage you gotta look in the mirror and you gotta say your three S's: star, smile, strong!"

"I don't wanna badmouth the kid, but he's a horrible, dishonest, immoral louse. And I say that with all due respect."

"It's very important to be guilty. I'm guilty all the time and I never did anything."

"I don't see you folding balloons in joints, you're gonna be folding balloons in colleges and universities!"

"I love driving. You run across so many interesting people."

"It's important to feel guilty. Otherwise, you're capable of terrible things."