Woody Allen's legendary manager Jack Rollins has turned 100. A very special party was held in his honour, and the Hollywood Reporter has some details. Allen, along with many others, were in attendance.
Rollins has been managing Allen's career pretty much from the beginning, and was later joined by Charles Joffe. Even to this day, Rollins' name graces every new Allen film. He took a shy joke writer and made him a brilliant stand up. He took a TV funny man and guided him to be a master film maker. None of these steps could have happened without Rollins.
According to THR, a party was thrown by Rollin's daughters at his home. Allen, along with Woody Allen: A Documentary director Robert Weide were in attendance. Marshall Brickman (who co-wrote Sleeper, Annie Hall, Manhattan and Manhattan Murder Mystery) was in attendance, Dick Cavett was there, and director Howard Storm, who appeared in Broadway Danny Rose, turned up too.
'Broadway Danny Rose' was in many ways Allen's tribute to Rollins. Danny Rose and his relationship with Lou Canova (played by Nick Apollo Forte) parallels Rollins and Harry Belafonte. Rollins appeared in that film. His only other onscreen appearance in an Allen film was in Stardust Memories.
From THR
One memorable moment for the roughly 60 attendees, Weide says, was the unusual sight of Allen, Cavett and Storm removing their hearing aids, then comparing and contrasting the different styles as they tried to sell Rollins — their senior by many years — on the idea that he should consider getting some of his own.
Rollins discovered lots of talent over the years, many of which had some association with Allen. Robin Williams, Billy Crystal (both appeared in Deconstructing Harry), Diane Keaton and Louise Lasser – just to name a few.
Another reason my wife and I are in NYC this week. Happy 100th birthday, Jack Rollins! http://t.co/IFbdSmKux7 pic.twitter.com/ZbbPBQdVfJ

— Bob Weide (@BobWeide) April 7, 2015
In related news, Rollins recieved an honorary Lifetime Achievement Award from the National Conference of Personal Managers. A photo from DCA Productions' Facebook.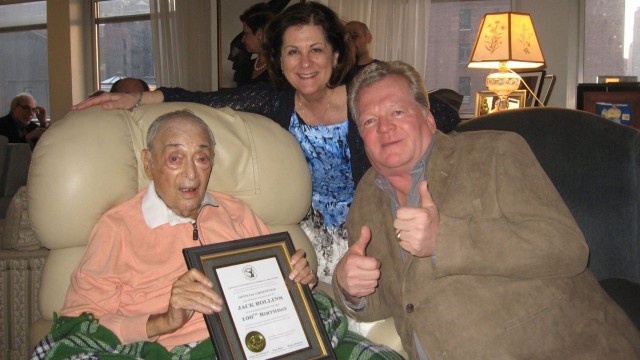 Rollins is a legend, and Allen called him (and Joffe) the Rolls Royce of Management. Here's a clip from The Stand-Up Years: 1964-1968.
Happy 100th birthday Jack Rollins. You've had quite a century. Thanks for finding all these amazing people.