The 10th film written and directed by Woody Allen
Woody Allen continues his tribute to European cinema, and delivers a tribute to Ingmar Bergman's Smiles On A Summer Night (1955). Allen's at his most romantic, and this small film with just 6 actors and one set is one his most unashamed love stories. It helps that one of those six actors is Mia Farrow, who would inspire Allen to make his best run of films.
Woody Allen plays Andrew, an inventor who is married to Adrian (Mary Streenburgen). The pair are hosting a weekend in the country with Leopold (José Ferrer) and his much younger new wife (Farrow), as well as their friend Maxwell (Tony Roberts) and sweet and naive Dulcy (Julie Hagerty). Through old connections and new passions, the partners swap thorughout the weekend, as the characters explore what's in their hearts.
Conception
Allen had wanted to make something deliberately simple and light. But it started off as serious, as a counterpoint to the comedy of Zelig (1983), which was the next film to follow. Says Allen [2]:
"I thought I wanted to do a film about poignant relationships, a film about a guy who missed an opportunity and was haunted by the thought and a girl who was about to throw in her lot with a much older man, not really the right one for her. The genesis was not a comedy but a kind of serious Chekhovian story, in the style of Interiors almost. That serious a thing. Then I started to think, God, it sort of cries out for a comic treatment—a group of people at a summer house on a weekend and the silvery moon in concert with the animals and flowers. Why not take a comic approach to it? Let the seriousness be a subtext."
Allen also wanted to look at making a film in the country. Allen famously hated the country, but wanted to find a way to make it appeal to him. Having made the urban jungle of Manhattan look so beautiful, he set his eyes on cinematic countryside.
The script for Zelig (1983) was completed at this point, and producers were trying to organise the complicated shoot. It was in that waiting time that Allen wrote the entire script. Says Allen[3]:
"I wrote that thing in no time. It just came out in six days - everything in perfect shape. I did it, and it was not well received."
The biggest inspiration for the film came from the director that Allen has often said was his favourite - Ingmar Bergman. In particular, 1955 Smiles Of A Summer's Night, which shares a similar plot in its latter half - several couples mix partners in a day in the country. That same film was also the inspiration for the musical A Little Night Music, for which Stephen Sondheim wrote the music including Send In The Clowns.
Along with Bergman, Allen took a nod from William Shakespeare. In particular with the film's title - a play on Shakespeare's A Midsummer Night's Dream. That story also features mystical, fantastic elements.
Production
Both A Midsummer Night's Sex Comedy and Zelig (1983) was shot together. Only Mia Farrow and Allen crossed over into both films. Because this film was more weather dependent with all the outdoor scenes, Zelig was fit around this schedule. Says Allen[2]:
"In order to take maximum advantage of our scheduling, not just sit and wait all the time for the sun to be in the right place at the right time of day, we could shoot other things for the black-and-white movie."
Zelig, with a more complex production, started first. Both films eventually ran over time, and ultimately overlapped with Broadway Danny Rose (1984). With production stretching past summer, the crew actually had to paint the leaves green. At the time, Allen seemed to revel in the physical challenge, but would later decide it was too hard to think of two films at the same time. Says Allen[1]:
"We just budgeted eight or ten weeks for it. Then, as you know, I had tried to overlap the shooting of the films and ran into some problems."
The film was shot mostly in the one place - on the Rockefeller Estate in Pocantico Hills, just one hour out of New York. The house was built by the production, and was fine for filming. It was later improved to make it livable. The design of the house was picked by Allen out of a magazine.
With Allen busy with two films, and his usual shy self, it was left to the cast to bond. They lived together, and Mary Steenburgen brought her five month old child. José Ferrer brought books to share with the rest of the cast. 
For music, Allen went to a different source than his usual jazz. Felix Mendelssohn was German composer who made very pretty music. Mendelssohn's music was also used in 1935's film version of A Midsummer Night's Dream. And like Manhattan (1979), the music was one of the things that came early. Says Allen[4]:
"I knew all the Mendelssohn music and that was the kind of mood I was thinking of. Just light prettiness."
Allen wanted to pay tribute to the country, and a particular type of country fantasy of butterfly nets, picnicking and magic Forrest spirits. Yet, he still hated the country, and drove home every night to sleep in his own bed in Manhattan [1]. 
"I wanted it to be light. I just wanted it to be a small intermezzo with a few laughs. I don't say this was any great picture at all, but in general this atmosphere is something that nobody cares about here in the United States. For me it was fine. I had a great time doing it. I wanted to do for the country what I'd done for New York in Manhattan (1979). I wanted to show it in all its beauty . . . I thought it was good when I wrote it, and I thought it was good when I made it."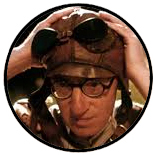 Release date
16th July 1982
Studio
Orion Pictures
Duration: 88m
US Rating: PG
Rotten Tomatoes 74%
IMDB: 6.7
Roger Ebert: 2/4
US Box office: $9,077,269

US Adjusted Box Office: $26,861,300
Screenshots
Cast
Woody Allen plays Andrew.
Mia Farrow plays Ariel Weymouth. This is her first appearance onscreen with Allen, although she started work on Zelig (1983) first. Farrow had a long acting career, in memorable roles such as Rosemary's Baby (1968) and The Great Gatsby (1974). She had just begun a relationship with Allen, after her divorce with André Previn. This was the first of a 12 film run with Allen.
Farrow, for her part, had a difficult time adjusting to working with her romantic partner. Says Farrow[5]:
"I was overpowered by such a paralysis that I couldn't understand who the characters were supposed to be or what they were doing. Woody, now my director, was a stranger to me."
Allen was blissfully unaware[6].
"I calmed her but I was not completely sympathetic, because I didn't realize the dimensions, the gravity. I knew she'd be wonderful in it. It never occurred to me she'd disappoint me."
Allen had first considered Diane Keaton for the role of Ariel, but she was unavailable. Mia Farrow's sister, Stephanie Farrow, was Mia's stand in. 
José Ferrer plays Leopold. He came to fame for his role in Cyrano de Bergerac (1950), for which he won the Academy Award for Best Actor. He also had memorable roles in Lawrence of Arabia (1962), Dune (1984) and also directed several features.
There is a story, whose details change with every telling, that Dustin Hoffman played a trick on Ferrer whilst in Allen's office. Hoffman was apparently dressed as a woman, his character in Tootsie (1982), and came by Allen's office, chatted with Ferrer and sexually proposed to him. Ferrer turned him/her down.
Julie Hagerty plays Dulcy Ford. She is best known for her role in Airplane! (1980), but she also appeared in great films such as Lost In America (1985) and Storytelling (2001). Says Hagerty[7]:
"Dulcy was honest and free-thinking in her ideas. I could identify with her."
Tony Roberts plays Maxwell Jordan. His character's name is no doubt a play on Max, the nickname that Allen and Roberts have for eachother (and used in Annie Hall, 1977). This is his third film with Allen. He would return for two more, the next being Hannah And Her Sisters (1986).
Mary Steenburgen plays Adrian. Steenburgen had just won an Academy Award for her role in Melvin And Howard (1980). She would appear in many more great films such as Parenthood (1989), Back To The Future Part III (1990), Philadelphia (1993) and much more. She would work with Allen again on Another Woman (1988) but her scenes were ultimately cut.
A Midsummer Night's Sex Comedy
is featured in our book
The Woody Allen Watcher's Guide
Book 1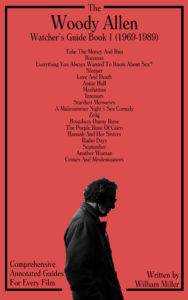 Crew
Gordon Willis returns as cinematographer, his 4th film with Allen, his second in black and white.
Santo Loquasto is the costume designer. He would work on and off (mainly on) with Allen for the next three decades plus, starting with costumes, and moving into production design. Loquasto would work on over two dozen Allen films with Allen so far. Say Loquasto[8]:
"I started out doing costumes for him. I was asked to do a film called Simon that Marshall Brickman, Woody's collaborator on Annie Hall and Sleepers, wrote and directed. He must have liked working with me, because he recommended me to Woody."
Assistant to Loquasto is Jeffrey Kurland. Kurland would go on to work with Allen many times.
Dick Hyman performed on piano and arranged some of the music for the film, several pieces that are used as incidental music. This including some Cole Porter classics as well as original compositions. Hyman was a prolific and versatile Jazz pianist, and he would work with Allen, on and off, on music for the next several decades, from small incidental music to arranging the entire film. 
Susan E Morse returns as editor. This is her second film with Allen as lead editor.
Juliet Taylor is casting director. This is her 4th film with Woody Allen.
Brian Hamill was once again the on-set photography.
Charles H Joffe and Jack Rollins, Woody Allen's managers, return as executive producers. Robert Greenhut also returns as producer.
Release
A Midsummer Night's Sex Comedy was released in the US on 16th July 1982. At the time, E.T. the Extra-Terrestrial was enjoying it's 6th week topping the US box office.
An official soundtrack was issued by CBS in 1982. It featured the music of Felix Mendelssohn.
Reception
A Midsummer Night's Sex Comedy has earned $9,077,269 at the US box office.
Awards & Nominations
This is the only Allen film to ever be nominated for a Golden Raspberry Award. Mia Farrow was nominated for Worst Supporting Actress.
What did you you think?
"The saddest thing in life is a missed opportunity."

"I'm not a poet. I don't die for love. I work on Wall Street."

"Don't be silly. Trust me, it's me, Andrew. Trust me anyhow."

"I think I fractured my last remaining nose."

"He's a wonderful guy and a terrific doctor. Never lost a patient. Got a couple of them pregnant, but never lost one."

"It's a silly apparatus that takes the bones out of fish, and if you prefer, although there's no point to it, it puts bones in fish."

"Only a drunken, infantile idiot shoots himself over love, not an internist."

"How can it be disgusting? I don't even have my clothes off."