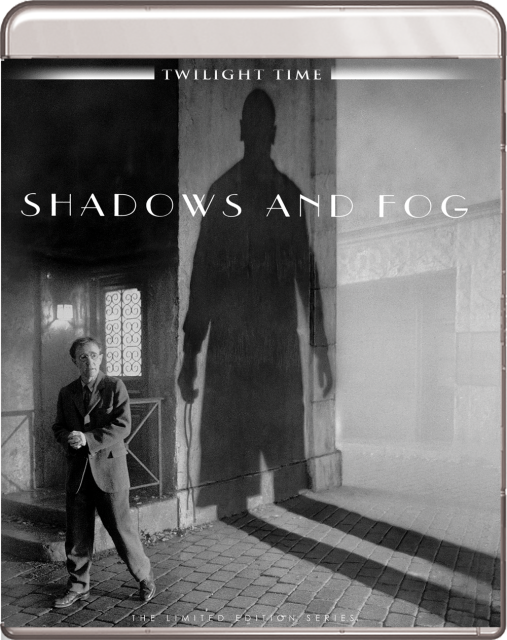 Shadows And Fog is the newest Woody Allen film to hit Blu-Ray. The release comes from Twilight Time who have been releasing Allen films on limited edition Blu-Rays for the last couple of years. Like all their releases, 'Shadows And Fog' is limited to 3000 copies.
'Shadows And Fog' was first released in 1991. At the time, it was the most expensive film Allen had ever made at (an honour later crushed by The Curse Of the Jade Scorpion), largely due to the large set. Allen essentially built an entire city to set the story, a murder mystery that paid tribute to German Expressionist cinema. Also filmed in black and white, it flopped. Who knew.
Despite that, if you can adjust to the film's distinct flavour, it is a lot of fun. And it has a stellar cast – Allen stars with Kathy Bates (Midnight In Paris), John Cusack (Bullets Over Broadway), Mia Farrow (lots of others), Jodie Foster, Fred Gwynne, Julie Kavner (again lots of others – see this list), Madonna, John Malkovich, Kenneth Mars, Kate Nelligan, Donald Pleasance and Lily Tomlin.
Perhaps more interesting is the deep number of cameos, cast for the interesting faces, some before they really found fame – William H Macy, John C Reilly, Wallace Shawn, Kurtwood Smith and more.
Here's the trailer.
The new Twilight Time edition doesn't come with any special features, as is usual.
You can buy 'Shadows And Fog' on Blu-Ray at the Twilight Time website. A number of Allen titles are still available – Love And Death, A Midsummer Night's Sex Comedy, The Purple Rose Of Cairo and Radio Days.
Here's the booklet and case art.