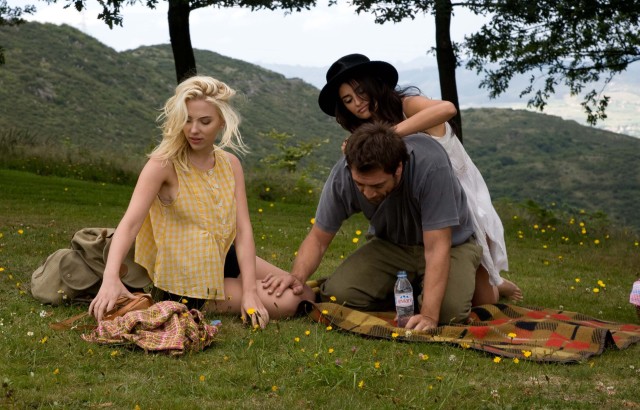 'Vicky Cristina Barcelona' is the 38th film written and directed by Woody Allen.
Woody Allen's London period became a European period with 'Vicky Cristina Barcelona'. And unlike his London films, which were re-written from American settings, Spain is a deep part of this film. A mix of romance and morality, it is rightly considered one of the highlights of his later career.
Rebecca Hall stars as Vicky, and Scarlett Johansson stars as Cristina. Two friends who have decided to spend the summer in Barcelona. The two friends have very different views on love, and their lives take very different paths when they encounter Juan Antonio (Javier Bardem) and his ex-wife Maria Elena (Penelope Cruz).
'Vicky Cristina Barcelona' News Stories (show all)
Screenshots
Awards & Nominations (show all)
| Film | Academy Awards | Golden Globes | BAFTAS | WGA |
| --- | --- | --- | --- | --- |
| | | | | |
Cast & Crew
Scarlett Johansson's third and final film with Woody Allen.
Penelope Cruz's first Allen film. She would return for To Rome With Love.
Trivia
The original story was to be set in San Francisco. When Allen and his team secured Spanish funding, Allen went back and rewrote this story for Spain. He would finally make a film in San Francisco with Blue Jasmine.
Allen did not write the Spanish dialogue in the film. Those scenes were improvised by Javier Bardem and Penelope Cruz.
This was a runaway success for Allen, and his most profitable film ever at the time. Midnight In Paris would overtake it.
Locations (show map)
'Vicky Cristina Barcelona' was shot in Spain, in the cities of Aviles, Barcelona and Oviedo. There was also some scenes shot in New York City.
Oviedo actually has a statue of Woody Allen, unveiled in 2003.
Trailer
Gallery