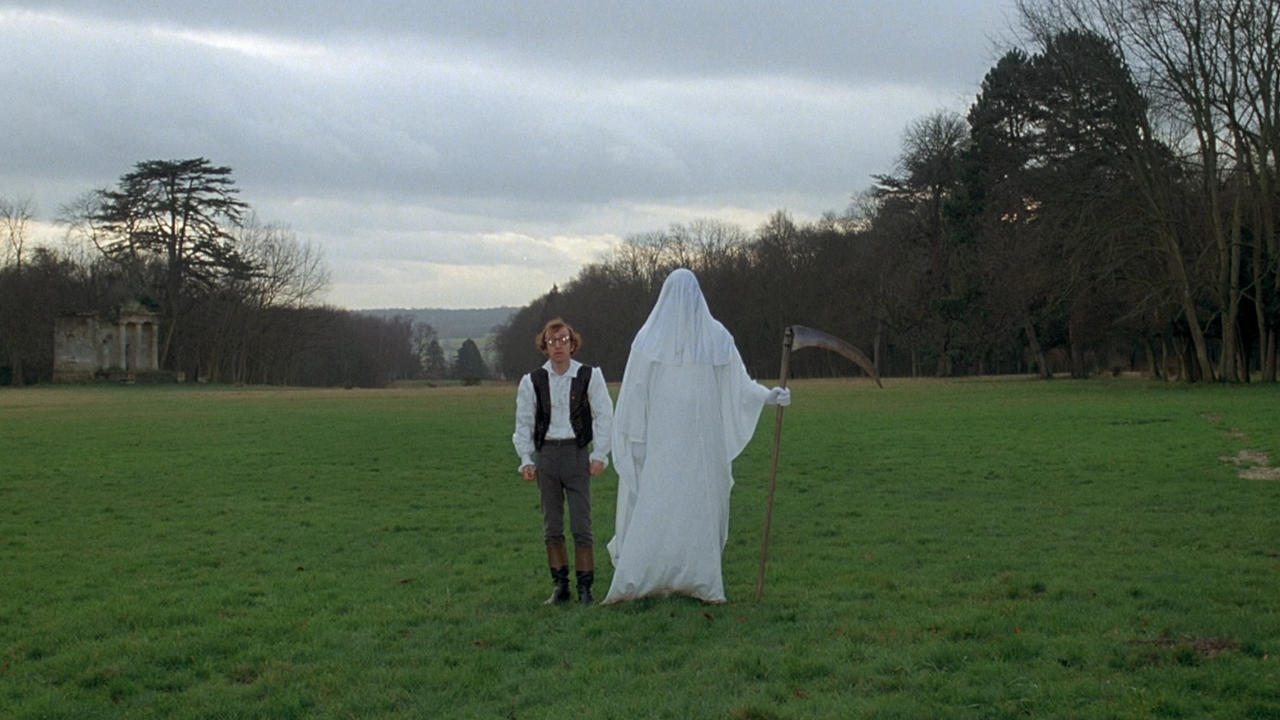 The 5th film written and directed by Woody Allen
Love And Death marks the end of Woody Allen's 'early, funny' period. Although not as openly mad and frenetic as his previous films, it sees Allen flirting with influences beyond his stand up and TV persona. It's one of his funniest films, but it also hints at something a lot bigger.
Woody Allen stars as Boris Grushenko, a Russian coward in the time of war with Napoleon. He is in love with his cousin, Sonja (played by Diane Keaton), and he explores the meaning of life and existence over years of adventure, much like a long Russian novel.
Conception
"There are worse things in life than death. I mean, if you've ever spent an evening with an insurance salesman?"
The story goes, whilst struggling with the script that would be Annie Hall (and Manhattan Murder Mystery), Allen spotted a book of Russian literature in his library. He abandoned the troubled New York script and wrote something completely new. Two weeks after he told United Artists his New York set murder mystery was not happening, he handed in his first draft of Love And Death.
We don't know which book is was, but chances are it was something by Fyodor Dostoevsky or Leo Tolstoy. Allen has always talked down his literary credentials - he never read in school, and only read later to make himself more attractive to intellectual women.
But he did read them and the Russians made a particular impact on Allen. Dostoevsky's views, literally, on both crime and punishment would play out in several more Allen films. It is interesting how some passing ideas in these early comedies would become deep themes that last over Allen's career - from Crimes And Misdemeanors (1989), Match Point (2005), Irrational Man (2015) and others. Allen has said himself that the film is not set in Russia, but in Russian literature.
That deliberately prosaic title comes from the similar titles of works by the Russian masters - War And Peace, Crime And Punishment and so forth. The Napoleonic war ideas come from War And Peace.
It would not be the first time that Allen would abandon a script and quickly knock out a new one to make deadline. Sometimes it shows, and here, we get another film of the same slapstick and sex jokes. The premise, of Allen's New York persona in another time is never explained. We just accept it is screen Woody Allen moving through this world.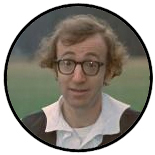 Release date
10th June 1975
Studio
United Artists
Duration: 85m
US Rating: PG-13
Rotten Tomatoes 100%
IMDB: 7.8
Roger Ebert: 3.5
US Box office: $20,123,742

US Adjusted Box Office: $85,403,200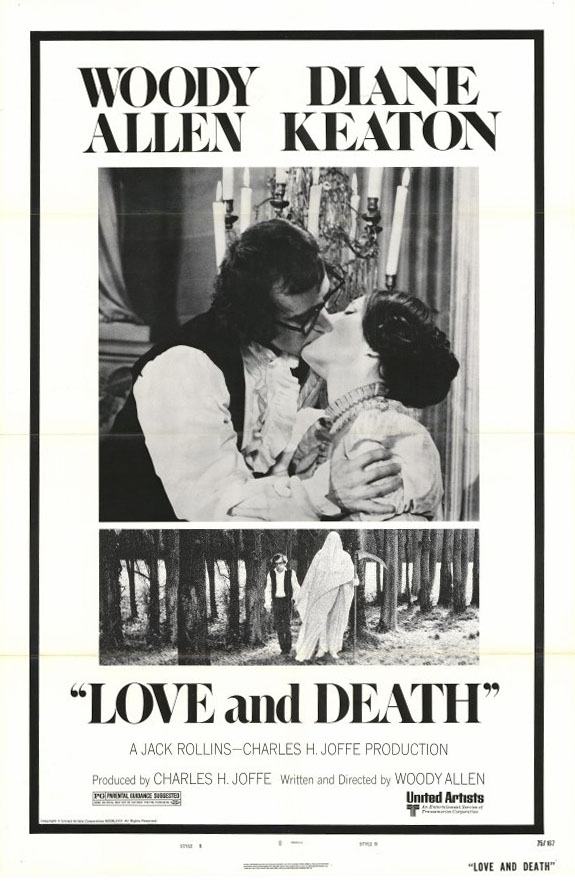 Production
Production took place in France and Hungary. Interesting to note that five films in, Allen has not made a film that was set in New York, the city that would come to define him (although there are some scenes in Bananas and Sleeper).
Allen enjoyed his time in France. But the production in Budapest, Hungary, was more troubled. Allen told Esquire [2]:
"When good weather was needed, it rained. When rain was needed, it was sunny. The cameraman was Belgian, his crew French. The underlings were Hungarian, the extras were Russian. I speak only English - and not really that well. Each shot was chaos. By the time my directions were translated, what should have been a battle scene ended up as a dance marathon. In scenes where Keaton and I were supposed to stroll as lovers, Budapest suffered its worst weather in twenty-five years."
Allen also only ate canned foods from the US, and bottled water. Which was apparently prudent as the rest of the cast got sick. A reel of film from the expensive banquet shoot was damaged and needed to be reshot. One actor broke both legs. Diane Keaton got poked in the eye.
Allen would stop going abroad to make films after this. He would make twenty or so films in New York only - pretty much outside his front door.
The filmmaking is full of references. Most prominent is Swedish director Ingmar Bergman, one of Allen's favourites and a profound influence. Several shots, and the appearance of the Grim Reaper, is taken from Bergman.
The music throughout comes from Sergei Prokofiev, the powerhouse Russian composer. Born in 1891, Prokofiev wrote ballets, operas and scored films. It wasn't Allen's first choice.
Originally I had wanted it to be [Igor] Stravinsky. But I found that when I put Stravinsky behind the scenes, it made it unfunny. It was too heavy [3].
"Ralph Rosenblum, the editor, would say, 'Why don't we forget about Stravinsky? He's not working. Why don't we try Prokofiev?' And we did and it was just fine. It lightened the whole mood, it was brilliant and gay, whereas Stravinsky was always strange and off-putting and disturbing."
Prokofiev's Troika, a part of the suite known as Lieutenant Kije, is used in the credits and throughout the film. As with Russian film convention, he is credited as S. Prokofiev.
What was new was Allen's growing ambitions as a director. With generous production budgets and full control, the thought of writing a large battle scene in France was not only possible, it was contractually guaranteed.
"I felt this is theoretically a Russian story and it should have some of the style of the Russian films to it—the big battle sequences and strange camera angles—and that would be part of the film. But it was still a comedy in the end. It was one of my funniest films, as I recall."
What isn't new is Allen's slapstick acting. There's still plenty of Chaplin, Hope and Marx.
Love And Death
is featured in our book
The Woody Allen Watcher's Guide
Book 1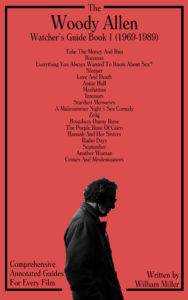 Screenshots
Cast
Woody Allen plays Boris Grushenko.
Diane Keaton is back as Sonja Volonska. This is her second film in a row in five film run of Allen films. She not only has more screen time, we actually follow her story without Allen on screen. She is definitely a co-lead here. Just a year earlier, film go-ers would have seen her in The Godfather: Part II (1974).
The Supporting Cast:
Despo Diamantidou plays Boris' mother. Diamantidou did not have many English roles, but she appeared in over 70 films and TV series in her native Greece.
Sol L Frieder plays Leonard Voskovec, Sonja's husband. He was an experienced stage actor who appeared in productions such as Cabaret and Fiddler On the Roof. He appeared in two more Allen films - A Midsummer Night's Sex Comedy (1982) and Crimes And Misdemeanors (1989). He also appeared in 2014's Fading Gigolo, directed by John Turturro and starring Allen. He was 94 when he appeared in that film, making him one of the oldest ever working actors in America.
Countess Alexandrova is played by the beautiful Olga Georges-Picot. The daughter of a French diplomat, she appeared in several films, but this was her most successful. She suffered from depression most of her life, and died in 1997.
Harold Gould plays Anton. Gould had a long TV career, appearing famously in The Golden Girls, as well as films such as The Sting (1973), The Front Page (1974), Patch Adams (1998) and more. He told the Bergen Record in 1996 [4]:
"I remember sitting in the cold at 6:30 in the morning at some fire built out in the forests, freezing, and holding plastic coffee cups. [Allen] would look dolefully at me and say, 'Tough dollar, huh?'"
Jessica Harper appears as Natasha. She had a couple of cult film roles before this, but this was her most significant film role at the time. She would play a bigger role another Allen film - Stardust Memories (1980).
Alfred Lutter III plays Young Boris. He had a short career as a child actor, appearing in this and films such as The Bad News Bears (1976). He gave it up by the time he was an adult.
Zvee Scooler plays Boris' father. He was in both the stage and film versions of Fiddler On the Roof (1971). This was his most significant other screen role.
James Tolkan plays Napoleon Bonaparte, and his decoy lookalike. He would have big success in the 80s, starring in films such as Back To the Future (1985) and Top Gun (1986).
Locations
Paris
Hungarian Opera House
Crew
This was Juliet Taylor's first time casting a Woody Allen film. She was 25 years old at the time, and she described the job as terrifying at the time. She would turn out to be the longest professional relationship Allen would ever have. She's worked on every Allen film after this one to date, over 40 years of films.
Taylor worked for Marion Dougherty, a legend in casting circles, who had cast Bananas (1971) and Play It Again, Sam (1972). She was too busy for this film and suggested her assistant. Said Dougherty [5]:
"Juliet Taylor had been, to drastically understate it, my secretary, assistant, colleague, and much more for years. Woody was still reluctant, so I promised him that if he hired Juliet, I would work with her to take care of him. He followed my advice and hired Juliet; and she's been casting for him ever since, quite brilliantly, I might add and without any help from me."
Allen [6]:
"By the path of least resistance, I inherited her. That was very lucky for me, and I've just worked my whole life in film with her."
Also new to Allen was French cinematographer Ghislain Cloquet. This is the first time Allen went out of America to find a cinematographer, approaching someone whose work he saw in a foreign film. Cloquet, who worked on dozens of French films including Au Hasard Balthazar (1966) and Night And Fog (1955), does a wonderful job here, his only collaboration with Allen.
Ralph Rosenblum is back as editor, his fourth time working with Allen. He would work with Allen twice more. He not only did his usual great job, he was responsible for bringing all that Prokofiev music. Says Rosenblum [3]:
"It was a heart-warming moment for me, the first time I sat through the screen credits and saw "Score by Prokofiev" - in part because of my fondness for the composer, but more because of my kindness for the director and the freedom he had given me to contribute to his work."
It is also an important step for Allen to be using pre-recorded music. So far, as was vogue at the time, he employed composers to write scores and record new music. This would become his regular habit with a couple of notable exceptions.
Of course, Jack Rollins and Charles H Joffe are executive producers on the film and manage Woody Allen.
Release
Love And Death was released in the US on 10th June 1975. French Connection was topping the US box office for a third week at the time.
Love And Death was shown in competition for the 25th Berlin International Film Festival. This would become a rarity for Allen - he would allow his films to be shown at festivals but only out of competition. The film did not win (it lost to Hungarian film Adoption). Allen did win a Silver Bear award at the festival, for his work in cinema to date.
The first of a run of black and white posters. This was also Ingmar Bergman's influence, that stark, bleak look of his poster designs. It's also a marked stepped from the colourful comic posters of his earlier films.
Reception
Love And Death earned $20,123,742 at the US Box Office. It was the 21st highest grossing film of 1975.
Adjusted for inflation, this is Allen's 6th highest earning film in the US.
Love And Death was voted 301st in Empire's The 500 Greatest Movies Of All Time in 2013.
In the 2015 They Shoot Pictures List, it was included in the unranked 1001-2000 list.
The wonderful English singer/songwriter Billy Bragg took a line from this film and put it on the cover of his second EP, Brewing Up With Billy Bragg (1984). He subtitled it "A Puckish Satire On Contemporary Mores" - something Boris says in this film.
Those who count this in their favourite Woody Allen films include Adam Carolla, Colin Firth, Bill Hader, Joaquín Phoenix, Sarah Polley and Emma Stone.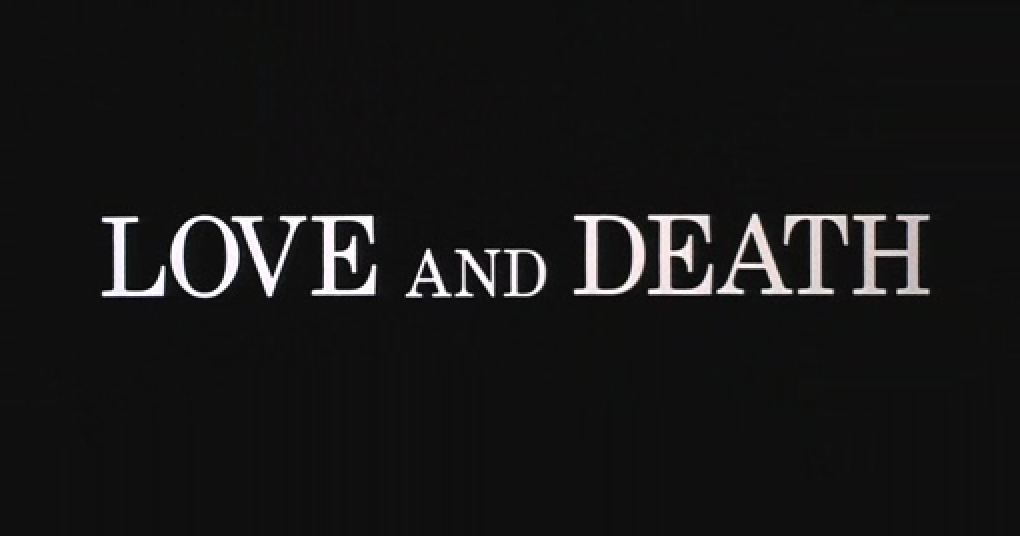 "If it turns out that there is a God, I don't think that He's evil. I think that the worst you can say about Him is that, basically, He's an underachiever."

"It's not the quantity of your sexual relations that count. It's the quality. On the other hand, if the quantity drops below once every eight months, I would definitely l would definitely look into it."

"Isn't all mankind ultimately executed for a crime it never committed? The difference is that all men go eventually, but I go six o'clock tomorrow morning. I was supposed to go at five o'clock, but I have a smart lawyer. Got leniency."

"Oh, if only God would give me some sign. If He would just speak to me once. Anything. One sentence. Two words. If He would just cough."

"- Sex without love is an empty experience.
- Yes, but as empty experiences go, it's one of the best."