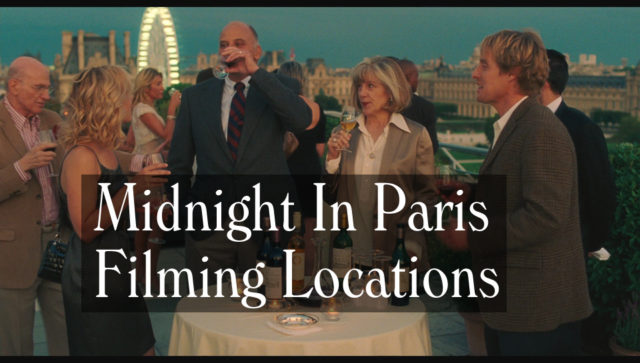 Allen had worked in Paris before (Whats New Pussycat, Love And Death, Everyone Says I Love You), but his love of the city is best shown in Midnight In Paris. And audiences and critics alike flocked to the film.
Of all his European travels, he has never made a city look so impressive. It helps that the city gave Allen and his crew special access to shoot locations that the public would have no access.
There are so many great locations in this film – here's our guide to just about all of them.
For a complete look at the locations from the opening sequence, see here. Although, many locations in the opening sequence also appear throughout the film.
Claude Monet's home
84 Rue Claude Monet, Giverny
Or more accurately, the garden attached to the home of the legendary painter. Located north-west of Paris.
Hotel Le Bristol
112 rue du Faubourg St Honoré
This was actually the real hotel where Allen stayed during production. We see it several times throughout the film. Including the lobby and inside the rooms. We also see the hotel's restaurant.
Le Grande Véfour
17 Rue du Beajolais
Lunch with the in-laws.
Palace Of Versailles
Place d'Armes, Versailles
The amazing grounds of the palace is used in an early scene.
Later, the detective is tapped inside the palace itself. Allen was given special access to film inside.
Chopard Boutique
1 Place Vendôme
Looking at rings in a shop on this square. Place Vendôme is also featured in the opening sequence.
Musée Rodin
77 Rue de Varennes
The museum dedicated to master sculptor Rodin, it is used in a couple of scenes.
Le Meurice
228 Rue de Rivoli
This hotel rooftop has a bar where our characters go for a drink. We later see them leaving out the front.
Rue Edouard Quenu
Gil's first wander, he walks north along this street, towards the roundabout. (Note: according to Google Maps, he has walked at least 50 minutes to get here).
Saint-Etienne du Mont
Place Sainte-Geneviève
The church. We see plenty of the surrounding streets. First the small path running along the north side, rue Saint-Etienne du Mont. Gil's ride drives up rue de la Montagne Sainte Geneviève. This spot is now a minor tourist attraction. (Note: he has walked another ten minutes, although in a different direction from when we last saw him).
53 Quai de Bourbon
Their first stop, and first party. Located on Île Saint-Louis, the smaller of the two islands in the heart of Paris. We assume the interior matches the exterior.
15 Rue Malebranche
Heading west, this street is near Jardin du Luxeumbourg. Story-wise, they are on the way to Bricktop's, a real establishment in Montmartre. They are nowhere near the real location.
Later on the same street, Hemingway takes Gil to see Gertrude Stein. We assume her house is inside.
Lapérouse
51 Quai des Grands Augustins, 6th Arr
Inside the so-called Bricktop's. It's actually this restaurant.
Cremerie-Restaurant Polidor
41 rue Monsieur le Prince
Where Gil meets Hemingway.
16 rue des Patriarches
The laundromat that has replaced the Polidor when Gil returns to modern times. In real life, nowhere near the Polidor.
112 Boulevard de Courcelles
Gil, Inez and Helen go antique shopping here.
Le Marché Paul Bert
96-100 rue des Rosiers
These markets are real, but these stalls were created for the film, on a day when the market was closed. Used a few times throughout the film.
Musée de l'Orangerie
Jardin des Tuileries
The home of Claude Monet's amazing Water Lilies. They later view another painting there, La Baigneuse.
Musée des Arts Forains
53 Avenue des Terroirs de France
This fabulous museum is devoted to old fairground equipment.
Restaurant Paul
15 Place Dauphine
Adriana and Gil head outside. They first walk into this square on Île de la Cité. They actually walk along here twice, and sit outside Restaurant Paul.
Rue du Chevalier de la Barre
Adriana and Gil continue their walk on the street in the lovely Montmartre region, about and hour away from where we last saw them. The Sacré Coeur is behind them.
Rue Duperré
Near Place Pigalle, once an infamous red light district in Paris. Around 15 minutes from where we last saw them.
Pont Neuf
The path below this bridge, where it meets Quai des Orfèvres, is where they see Zelda. 45 minutes from where we last saw them.
Later, Gil walks past the same spot in day time.
Duluc Detective
18 rue du Louvre
A real place. Interiors match – we can see the sign behind the detectives.
Quai de Montebello
Gil buys a book from the vendors along the river. We think it's near Notre Dame.
Square Jean-XXIII
4 Parvis Notre-Dame – Pl. Jean-Paul II
With Notre Dame behind them, Gil finds Adriana's book.
Deyrolle
46 rue du Bac
This taxidermy store, looks amazing.
Maxim's
3 rue Royale
Legendary French nightspot.
La Cigale
120 boulevard de Rochechouart
Standing in for the Moulin Rouge, which is not far away.
Café L'île de France
59 Quai de la Tournell
Gil sits at this cafe near the river.
Shakespeare And Company
37 rue de Bûcherie
The famous bookshop along the river in Paris (and used in the great film Before Sunset)
Pont Alexandre III
Paris, in the rain.
And here's one we don't know. Anyone know it?
Unknown Filming Location from Midnight In Paris. Anyone know this café? pic.twitter.com/kano2Iz2oH

— Woody Allen Pages (@WoodyAllenPages) June 8, 2017
We are going through and doing details filming locations for all of Allen's films. Check out the Filming Locations articles. Or help us identify the Unknown Filming Locations.