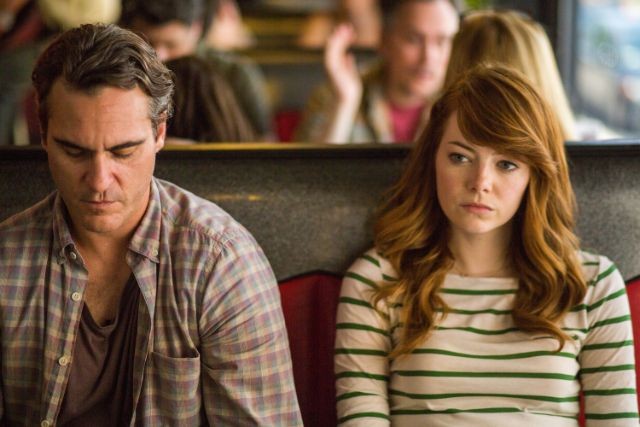 Irrational Man, the newest film written and directed by Woody Allen, has been out for five weeks in the US and is starting to roll out across the world. We have a box office update, and tidbits about a book used in the film and comments from real life philosophers.
'Irrational Man' has now earned $3,300,141 in the US. It was the 19th highest earning film last week, a drop of two places. It continues the disappointing box office run for the film by Allen's standards.
It is now the 36th highest grossing film for Allen, overtaking You Will Meet A Tall Dark Stranger ($3.2m) and trailing Melinda And Melinda ($3.8m). With it leaving many theatres, it will have to make some effort to even crawl to $4m.
The film now rolls out internationally. It is out now in major markets of Brazil and Australia. Box Office Mojo doesn't really do international numbers so we will try and report what we can.
In Irrational Man, there is a scene with Emma Stone and Jamie Blackley at a library. One of the books they look at was 'Your Ticket To the Universe'. Written by Megan Watzke and Kimberley Arcand, Watzke actually tweeted about it this week.
Emma is perusing "Your Ticket to the Universe" in a scene from the new movie "Irrational Man". pic.twitter.com/niyhEPqXQ4

— Megan Watzke (@megwatzke) August 18, 2015
What's the library? Why it's the Providence Athenaeum.
The true muse in #WoodyAllen's new #IrrationalMan is the local @ProvAth1838. Libraries are love! pic.twitter.com/qjivg1xStp

— MacKenzie Abernethy (@shelftraveler) August 18, 2015
Philosophy plays a big part in the film and brilliantly, the Daily Nous asked several Philosophers about the film.
Finally, it probably comes as no surprise that we love Carl Reiner. He's big on social media and had nice things to say about 'Irrational Man'.
After admiring & enjoying 50 of Woody Allen's films I found his new film
"Irrational Man" a winner-thoughtful,instructive & entertaining.

— carl reiner (@carlreiner) August 21, 2015
Another update next week.