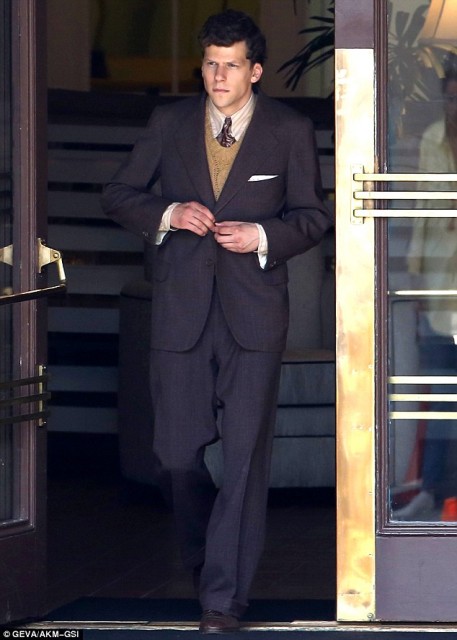 We are in the first week of production for Woody Allen's 2016 film. We now have a second sighting of star Jesse Eisenberg. Co-star Kristen Stewart has talked about her audition for her role and we have other pics as well.
First up – Eisenberg. Daily Mail got the pics and gives the location as Pasadena. He is looking sharp in a period suit and talking to costumed extras.
It is the second sighting for Eisenberg and we also have a pic of some vintage cars from the set. With all these exteriors, it seems unlikely that Los Angeles is standing in for New York. We now wonder if the film is set in LA and that Allen will do studio shooting in New York next month.
Woody Allen closed down our street and took us back to the 1930's.#woodyallen #kristenstewart https://t.co/iprC67EBOt pic.twitter.com/jvuJwcbfDW

— Anna R. (@A_nchena) August 19, 2015
And nope, no other stars seemed to be there. Eisenberg is looking likely to be the lead.
#JesseEisenberg filmando la nueva pelícua de Woody Allen. pic.twitter.com/FYDNXnWlgC

— Aracelly Urbina (@florara27) August 20, 2015
Jesse Eisenberg Films a New Woody Allen Movie in Los Angeles http://t.co/y3SWdoE44N pic.twitter.com/NQfewzRW5V

— Celebimgs (@celebimgs) August 20, 2015
The crew were also spotted shopping at Crossroads Of the World. Eisenberg was filmed in a built vintage phone booth in Cherokee Plaza, on Sunset Boulevard.
Kristen Stewart talked about her audition. She and Eisenberg have a new film out – 'American Ultra' – and she has been doing press. On 'Live! with Kelly and Michael', she spoke about her audition. It starts at the 4 minute mark.
Finally, Allen was also spotted. Anyone pick the street?
I found Woody Allen. pic.twitter.com/sEM5AUbp0O

— ジニー (@mahoumelonball) August 19, 2015
Find all our news about the 2016 film.