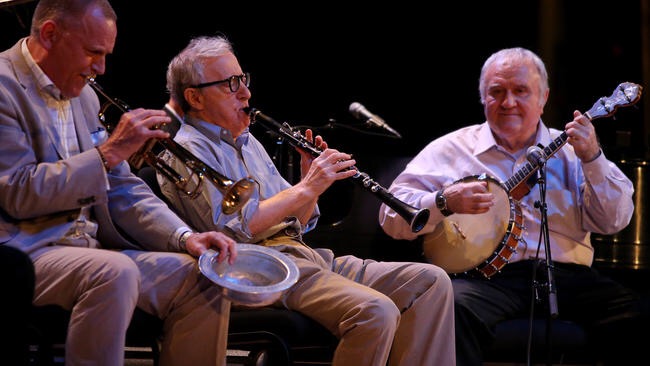 In news that should surprise no one, Woody Allen is returning to his regular Jazz residency in New York. Accompanied as usual by the Eddy Davis New Orleans Jazz Band, Allen will be playing Monday nights at the Carlyle Cafe in New York. The first show back from the summer break will be 14th September 2015.
Allen usually takes two breaks a year from his Jazz shows – over Christmas and over summer to make a film. This season of shows will run from September til December, and likely restart in January. Allen is scheduled to return to New York mid September and continue shooting his 2016 Film until October.
Shows happen at:
The Carlyle
35 East 76th Street
New York, NY 10021
212-744-1600
Performance time approximately 8:45 p.m.;
Cover: $155 per person, $30 drink min ($110 bar + $25 drink min), Premium Seating $205 per person. – All bar seats are only available on a first come, first serve basis.
Pricing does not include tax/gratuity.
For information and reservations, call 212.744.1600.
So if you are in New York in the next few months, make sure you catch the show. Interestingly, Allen will be playing a show at the Carlyle on 30th November, the night before his 80th birthday.
Best place to keep up with the show schedule is the websites of band members Jerry Zigmont and Conal Fowkes.