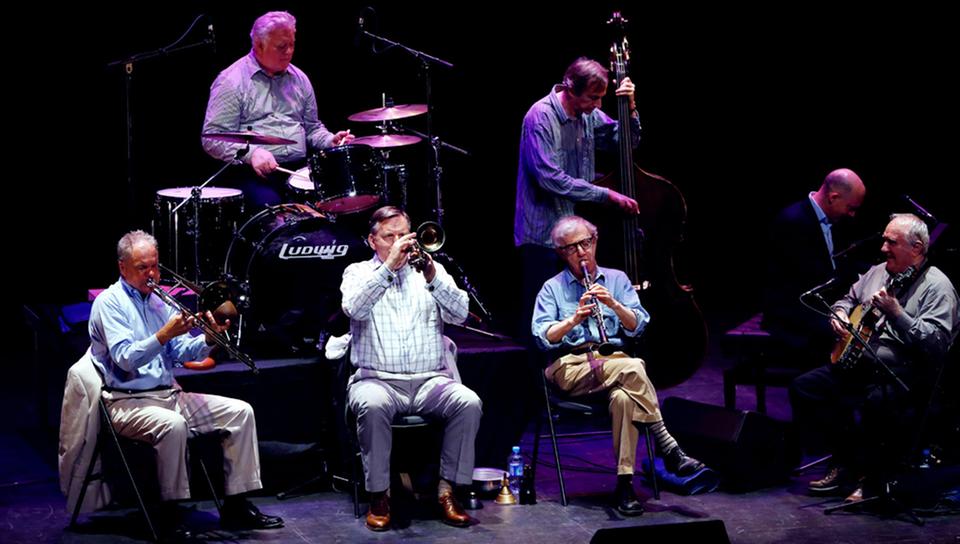 Woody Allen performed two concerts this summer in France with the Eddy Davis New Orleans Jazz Band this summer, taking their regular Monday night New York show across the pond. The two concerts, one in Lyon, one in Antibes, were held in the middle of Allen making his 2014 film. Now the band have posted a new recording from that concert, as well as some video.
The track comes from trombonist Jerry Zigmont, who has posted it on his website (Jerry is definitely worth following on twitter, for any Woody Allen fan. He's @jerryz). The song is "When You Wore A Tulip" written by Percy Wenrich and Jack Mahoney in 1914.
Zigmont's blog also has a couple of videos of the French concerts. One is a news report from Antibes featuring Allen being mobbed by a crowd and him speaking French! He even tells a joke in French with his very particular timing intact!
The second is the band in full swing, from Lyon, performing "Kid Thomas's Boogie Woogie".
Woody Allen and the Eddy Davis New Orleans Jazz Band and due to return to their Monday Night residency at the Carlyle Hotel in New York on September 9th.