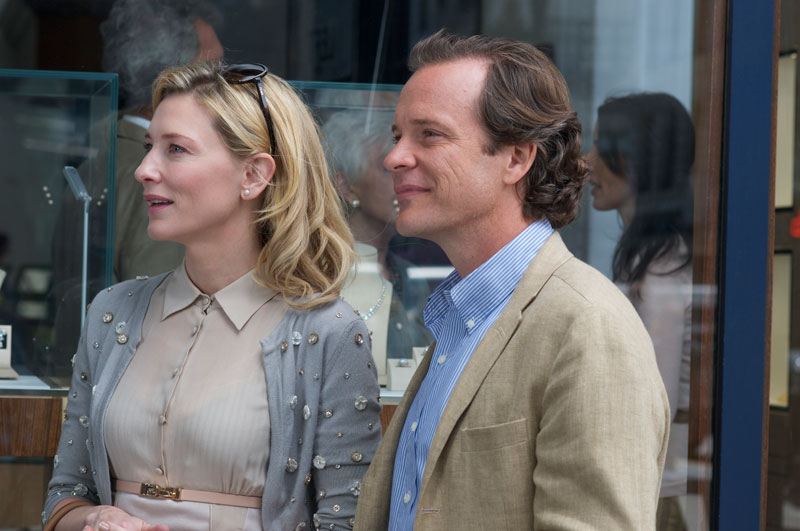 There is no shortage of publicity for Blue Jasmine, the 43rd film written and directed by Woody Allen that is released in cinemas in New York and Los Angeles this week. We have plenty more videos with Cate Blanchett and the rest of the cast. We also have some excellent interviews with some of the crew who worked on the film.
First up – the videos.
Cate Blanchett, Andrew Dice Clay and Peter Sarsgaard with the Hollywood Reporter
Blanchett with Anne Thompson
Blanchett on E News
Sarsgaard talks to I Am Rogue
Louis CK talks to CBS
Clip from the NY Premiere
Clay on the View
Alisa Lepselter is Woody Allen's Editor. She has worked with Allen for 15 years, since Sweet And Lowdown. She spoke to The Credits in a really fascinating interview. Some quotes.
When I got the job [for Sweet and Lowdown, in fall 1998], I was told Woody cuts on film and don't even think about asking to do it any other way. And I asked to do it another way and he said OK! Sometimes people underestimate how flexible Woody is. He's very open-minded.
And something we've always wondered – how many more stories has Allen got left in the tank?
He already has said he has way more ideas for movies than he can possibly make in his lifetime. That's what his real genius is. Nobody's prolific like that.
Suzy Benzinger first worked with Woody Allen on the TV film 'Don't Drink the Water'. She worked with Allen on 'Blue Jasmine' and discussed the process at Lucky Magazine. Here's a quote about sourcing Jasmine's distinctive jacket.
I called up Karl Lagerfeld and, I have to tell you, I was astounded. I sent a note and in two days he shipped out two custom made jackets for Cate Blanchett with the most beautiful note. And I just thought, 'Oh my god,' and he just said 'For Cate, I'd do anything.' When the jackets arrived, I said, 'How could he do this?' It was right during the fashion shows and everything and he turned them around and sent them to me. Cate put it on and it was perfect.
Finally, two actors that got their start spoke about getting their roles. Find out how Max Rutherford and Annie McNamara made their way into a Woody Allen film.