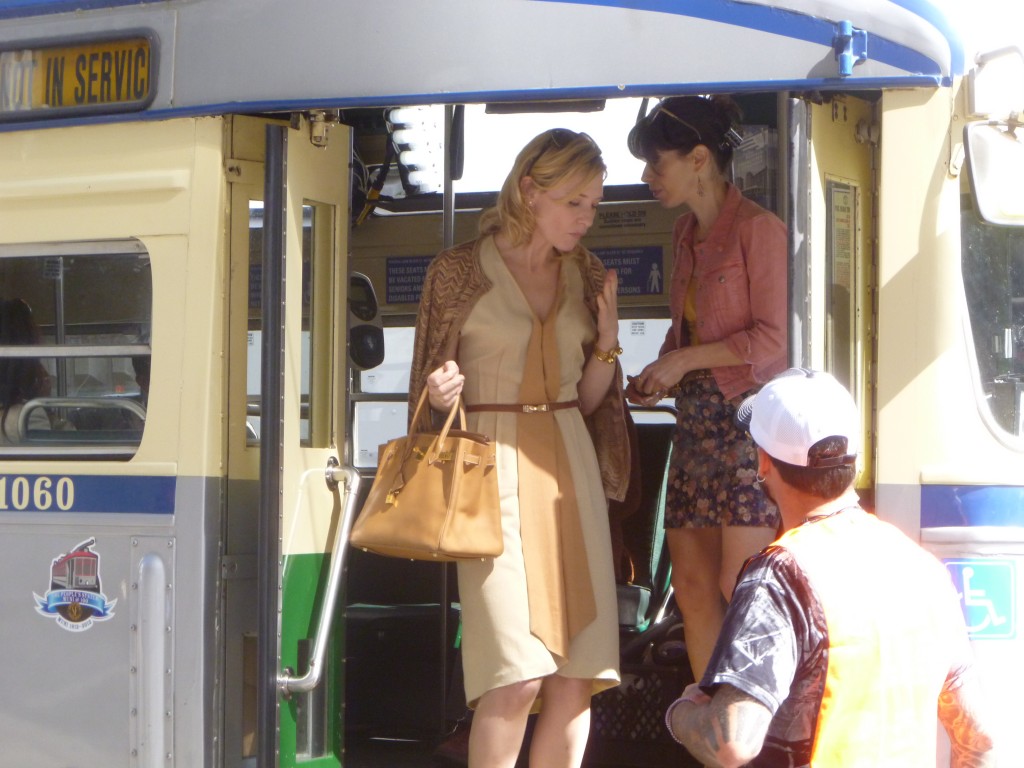 Woody Allen has wrapped shooting his next film in San Francisco. The untitled 2013 film (being made under the title 'Woody Allen Summer Project') has been shooting in San Francisco since 6th August. The final week saw Allen shoot in many more public locations, as well as what could be a number of reshoots.
The most exciting new location of filming was an iconic San Francisco streetcar. Allen has a knack for bringing out a city's charms on film. Using a streetcar in his new movie will no doubt make San Francisco look even better. Demotix has a great gallery.
The filming in the streetcar featured Cate Blanchett and Sally Hawkins. Cinematoghrapher Javier Aguirresarobe (who previously worked with Allen on Vicky Cristina Barcelona) was also spotted. The streetcar passed through Market St, near Twitter's headquarters.
A new location was the cocktail bar Aub Zam Zam, on Haight St. The site Uppercasing have great coverage of the day. Another was a dentist office in West Portal. Other locations included Gaspares and South Park again. Even the filming notices suggest these are reshoots.
Amongst the highlights of the other photos is Letty Aronson, Woody Allen's sister and long time producer, obviously discussing some scene. And Cate Blanchett visiting a Giants game.
KQED reports that Woody Allen has wrapped filming in San Francisco. The fact that there were re-shoots, and that the images and tweets have dried up seem to agree. The 2013 film will also film in New York. We still have yet to see Alec Baldwin, Michael Emerson or Andrew Dice Clay. Filming is nowehere near finished.
We will round up everything we know about Woody Allen's new film in a coming post. Meanwhile, we've collected several videos that people have managed to record of the filming that have made it to YouTube.
None give very much insight, but it gives you the spirit of what Woodyspotting has been like for the people of San Francisco this past month.