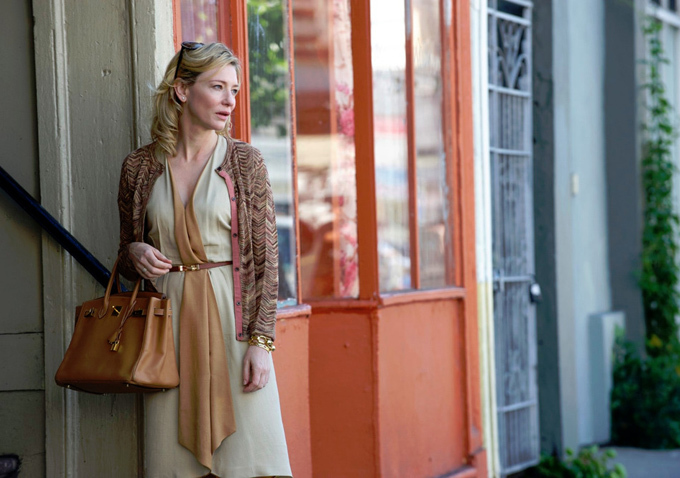 'Blue Jasmine' is the 43rd film written and directed by Woody Allen.
Cate Blanchett stars as the titular Jasmine. A well-to-do kept woman who finds herself broke. Her financial criminal husband (Alec Baldwin) is no longer in the picture so she moves in with her working class sister Ginger (Sally Hawkins) to try and find a new life.
The film was a financial and critical success for Allen and in particular Blanchett. It is one of Allen's biggest box office earners, making over $90 million at the box office. Blanchett won the Academy Award for Best Actress for her role as Jasmine French.
'Blue Jasmine' was filmed in San Francisco and New York City, making it his second US film in almost ten years.
'Blue Jasmine' New Stories (show all)
Screenshots
Promotional Images
Awards & Nominations
(
show all
)
| Film | Academy Awards | Golden Globes | BAFTAS | WGA | César |
| --- | --- | --- | --- | --- | --- |
| | | | | | |
Trivia
Bradley Cooper and Michael Emerson were both tied to roles but dropped out. They were replaced by Peter Sarsgaard and Michael Stuhlbarg respectively.
Louis CK originally read for the role that went to Andrew Dice Clay
Locations (show map)
'Blue Jasmine' was filmed primarily in San Francisco and New York City.
Jasmine and Hal's holidays with rich friends around Nyack, NY and Quogue, Long Island, NY
Ginger's apartment – 305 South Van Ness Avenue, SF. It's part of the Mission district. It's quite near the New Central Cafe. The interiors however were films in an apartment on 20th and Lexington streets, SF.
Augie's apartment – 2181 48th Avenue, SF
Dr Flicker's dental office, where Jasmine gets a job – 790 Ulloa Street, SF. A real dental office currently resides there.
The restaurant where Jasmine meets Chilli for the first time is The Ramp (855 Terry A Francois Boulevard, SF)
Jasmine, Ginger, Chilli and Eddie walk through San Francisco's Chinatown
Dr Flicker takes Jasmine for a drink at Aub Zam Zam – (1633 Haight Street, SF)
Jasmine and Dwight go antique shopping at Historic Escalle Winery (771 Magnolia Avenue in Larkspur), north of SF
Ginger and Al stroll along Ocean Beach, along the west coast of SF, with Seal Rocks behind them. They also head to Motel Capri (2015 Greenwich Street, SF)
Jasmine gives Ginger's kids tipping advice at Gaspare's Pizza House & Italian Restaurant (5546 Geary Street, SF)
Jasmine and Dwight are confronted by Augie whilst looking for a ring at the window of Shreve & Co (200 Post Street, SF), on Union Square.
The supermarket where Ginger works (and Chilli comes after her) is Casa Lucas Market (2934 24th Street, SF)
Jasmine and her friend shops and complains about her sister at Mauboussin (714 Madison Avenue, NY)
Jasmine takes Ginger shopping at Fendi (677 5th Avenue, NY)
Ginger and Augie go sightseeing from a limo at South Street Seaport (cnr South Street and Fulton Street, NY) and is now closed.
Ginger spots Hal kissing another woman at the cnr Church St and Walker St, New York.
Jasmine meets Dwight at a house party on Britton Avenue, Belvedere, Marin County, SF
Dwight buys a house in Paradise Cay, north of SF.
We leave Jasmine sitting on her own at South Park, near the South Park Café (108 South Park Street, SF)
Trailer
Gallery