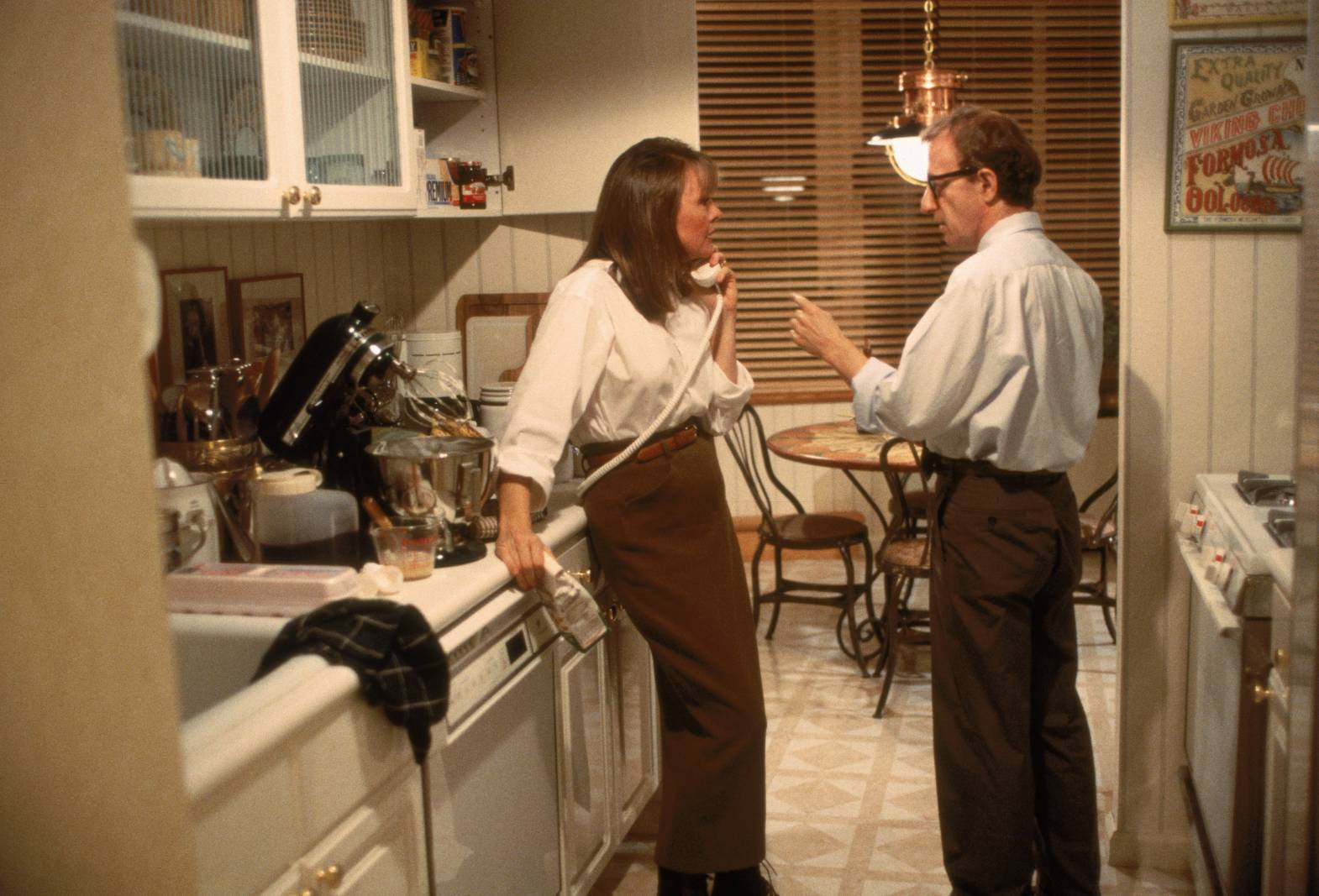 The 22nd film written and directed by Woody Allen
After his longest run (yet) of intense dramas, Allen returns to something that is brightly comedic with Manhattan Murder Mystery. It's a much needed breath of fresh air, coming from all the tabloid dramas that surrounded Husbands And Wives (1992). And in a crowd pleasing move, it reunited Allen with Diane Keaton for the first time since Radio Days (1987).
Woody Allen stars as Larry Lipton. Keaton plays Carol, his wife, and they live in an apartment building, across from an elderly couple. One night, the elderly woman dies from a heart attack, and nothing seems strange. But Carol starts to suspect something – and she can't let it go despite the doubt from her friends and husband.
Conception
Manhattan Murder Mystery has one of the stranger paths towards to the big screen, even for Allen. It started life as a script in the 70s, and was part of the film that became Annie Hall (1977). Initially a murder mystery, Annie Hall was mainly rewritten around Diane Keaton's character. But that initial murder mystery remained a cinematic idea in Allen's mind. 16 years later, he decided to return to it.
Annie Hall was co-written with Marshall Brickman, a long time friend of Allen's, who collaborated on works early in Allen's career, including Allen's stand-up. Allen offered to star in a film of that idea if Brickman wanted to develop it, and even direct it. That project never got off the ground, until Allen decided he would try to revive it. He asked Brickman back to be co-writer. Says Allen[1]:
"I developed this idea years ago and decided that Marshall [Brickman] should write it and direct it and I'd be in it. He got sidetracked in the writing and it didn't work out. So I said, "Look, you can keep the script and if you can sell it elsewhere, it will be yours." But he didn't. Then it just lay dormant. Then years later I said to him, "Why don't we fool around on that script? Why don't you give it back to me and see if I can write it?" I really knew what I wanted to do with it."
Allen describes working with Brickman[1]:
"We'd sit in my living room and talk for an hour, an hour and a half. Then one of us would say, "Come on, let's go for a walk" and we'd take a walk around and get some fresh air and keep pitching ideas. Then we'd go to dinner together and talk over dinner and sometimes come back to my house. There was a heavy social component, but we were working all the time. He's very companionable, witty, and creative, wonderful to work with."
The core idea for the murder next door came from Allen. In his stand up days, he had gone on tour to return home to find the wife of the dearly couple next door had died. Her husband seemed to be fine about it, and that reaction stuck with Allen through the decades.
The original victim, back when it was part of what would be Annie Hall, was Dr Levy, an optimistic professor. His outlook would be what set our couple off into thinking an apparent suicide was not the case. Allen ended up using the character of Levy for a deeper purpose is Crimes And Misdemeanors (1989).
Allen has always been fascinated by cinematic murder and mystery and had, over the years, collected ideas for crime and murder in his drawer. But here, Allen seemed to be aware he was making his version of the classic detective film. Throughout the film there are references to Alfred Hitchcock. The ending is a tribute to Orson Welles' murder mystery The Lady From Shanghai (1947). The characters go see Double Indemnity (1944). And Allen has noted films like The Thin Man (1934) as inspirations.
Allen had wrote the film to co-star Mia Farrow. When Diane Keaton stepped in, Allen wrote the part to be funnier, as she was a natural comedienne. There was some conjecture about Farrow still playing the part, but it seems to be legal wrangling for damages. Also extraordinary are Allen's claims that since Keaton was funnier than him, he merely swapped the main roles. Allen would play the anxiety driven pragmatist earmarked for Farrow. Keaton took the bumbling detective role meant for Allen himself. Says Allen[1]:
"I wrote that for Mia, then everything fell apart and Keaton stepped in to do it. She is such a strong comedienne, such a vibrant comedienne, that the whole emphasis shifted and she became the funny one. If Mia had been in it, I would have been the funny one because I'm a more naturally comic person than Mia."
With Keaton on board, and the script's origins in Annie Hall, it's easy to see this as some sort of sequel - or at least one version of what might have happened to those characters. Both play close to their established screen personas.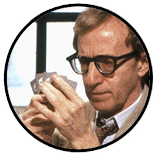 Release date
18th August 1993 (US release)
Studio
Tri-Star Pictures
Duration: 104m
US Rating: PG
Rotten Tomatoes 93%
IMDB: 7.4
Roger Ebert: 3/4
Rateyourmusic: 3.47
US Box office: $11,330,911

US Adjusted Box Office: $23,674,500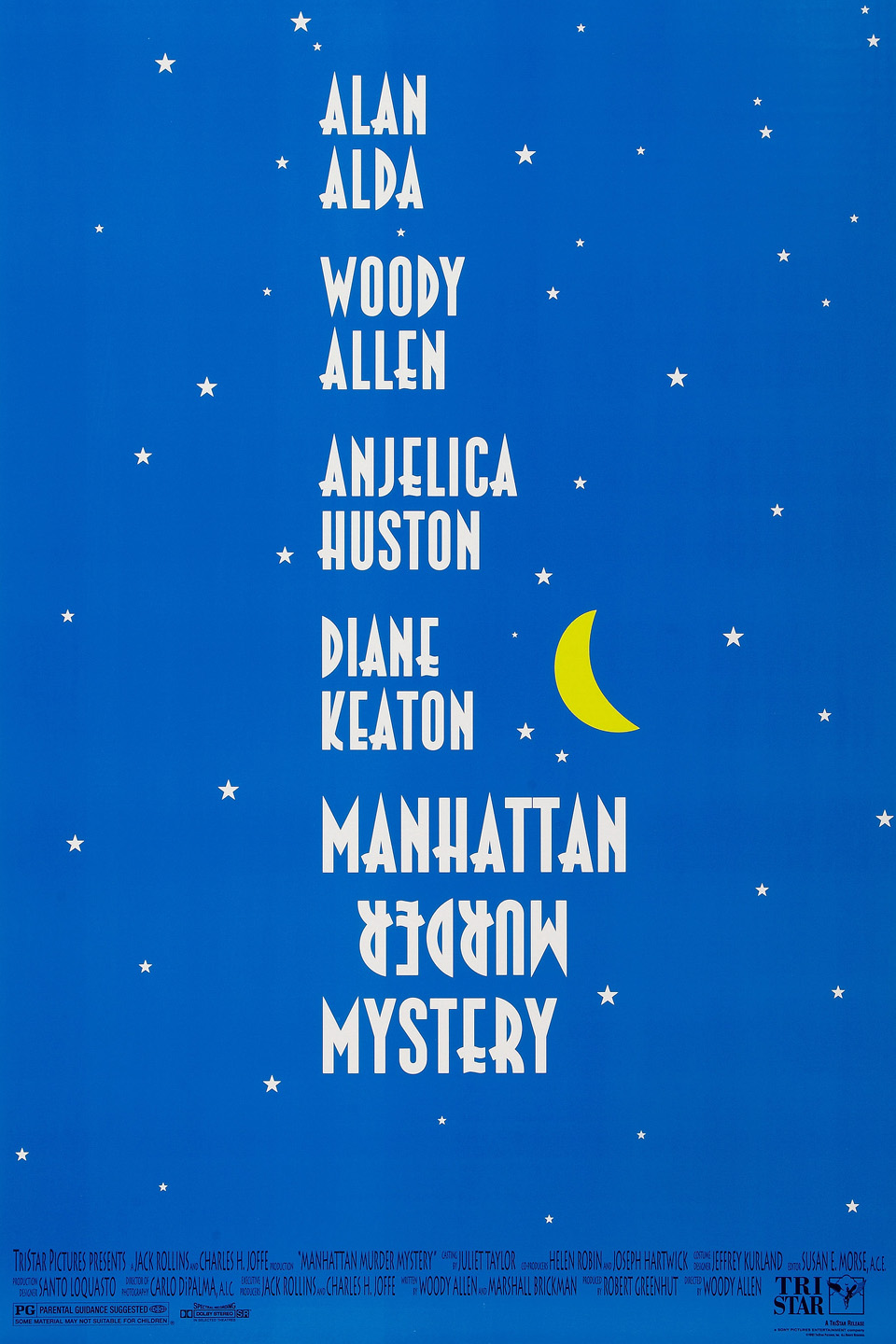 Production
Allen, as the title suggests, shot the film exclusively in New York. Production took place in 1992, with reshoots into early 1993.
It is also back to Allen's romantic view of New York, contrasting the stark realism of his last several New York films. There are fancy restaurants, gorgeous streets and many tourist sites. Two prominent aerial shots feature in the film show off New York. Both shot at night, we see Madison Square Garden sweep into view from Midtown (including Times Square). We also see the magnificent Brooklyn Bridge at night.
The return to New York is also reflected in a key music choice. Under the credits, we hear I Happen To Like New York, written by Allen favourite Cole Porter, and performed by Bobby Short (who appeared in Hannah And Her Sisters, 1986). Otherwise, Allen leaned on his usual music habit of pre-recorded jazz cuts. The film also features Sing, Sing, Sing (with A Swing) performed by Benny Goodman and His Orchestra, a track that Allen would use again several times.
Although not as prominent, Allen and cinematographer Carlo Di Palma continues the style he started with Husbands And Wives (1992). Long takes are the norm, with several scenes extending over 2 minutes.
One of the more acclaimed sequences in the film comes at the climax. Using mirrors behind an old cinema as Orson Welles' The Lady From Shanghai (1947), the shootout was dramatic and cinematic, for a director not known for his action. It took a while for Allen to find that scene, and production designer Santo Loquasto work was instrumental. Says Allen[1]:
"I was trying to get one of those tour de force scenes which I frequently leave out of my scripts and just say "We'll find some tour de force scene," and then I say to Santo, "I've got to get some tour de force location."
The only reported cut scenes was more time spent with Marcia Fox (Huston) and Larry (Allen). A scene was filmed where the two actually kissed, but the height difference was apparently so comical that it ruined the scene. Their storyline ended up being reduced.
Manhattan Murder Mystery was the working title for the film, and it ended up being the finished title. Other titles considered included Dancing Shiva and The Couple Next Door.
Screenshots
Cast
Alan Alda plays Ted. This is Alda's second appearance in an Allen film, last appearing in Crimes And Misdemeanors (1989). He would work with Allen once more, for Everyone Says I Love You (1996).
Woody Allen plays Larry Lipton.
Anjelica Huston plays Marcia Fox. This is Huston's second time working with Allen, also having also appeared in Crimes And Misdemeanors (1989), although she had no scenes with Alda. She would continue to be one of cinema's greats, in particular in several roles for Wes Anderson.
Diane Keaton plays Carol Lipton. Keaton, of course, starred in some of Allen's greatest works. However, she last worked with Allen in Radio Days (1987). This would be her 7th time in an Allen film, and her final appearance to date. She continued to appear in many films including the Father Of the Bride series and more romantic comedies. She would present Allen with a Golden Globe Award in 2014 (which Allen did not attend). Says Allen[2]:
"Diane is equal to the greatest screen comediennes we've ever had. I think she's top of the line. The two best female comedians would be Diane Keaton and Judy Holliday. It's always fun to work with Diane."
Both sides have been asked over the years if they would work together again. Allen says Keaton earns too much money making other films and can't afford to work for Allen's low pay scales. Keaton, for her part, laughs off Allen's comments and says he never asks. Although they are still spotted together every so often.
Manhattan Murder Mystery
is featured in our book
The Woody Allen Watcher's Guide
Book 2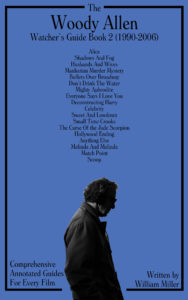 Locations
Madison Square Garden
200 E 78th Street
Lincoln Center
Elaine's
10 East 53rd Street
Bryant Park
21 Club
National Arts Club
Martin Beck Theatre, Al Hirschfield Theatre
E 23rd Street and Avenue C
Stuyvesant Square
Hotel 17
Café Des Artistes
Hotel Chelsea
East 17th Street
Brooklyn Bridge
Lanza's
Time Café
9th Precinct
Crew
Marshall Brickman returns as co-writer. This is Brickman's 4th (and to-date final) film with Allen, having last worked on Manhattan (1979). In the 80s, Brickman worked on several film scripts, including directing his own film Simon (1980). Brickman would hit huge success when he penned the Jersey Boys musical (and the subsequent screenplay for the 2014 screen version). Says Allen[1]:
"As a writer, he's wonderful to work with. He's so smart, so funny. Some of the best memories I have are times I worked with him writing a film."
Carlo Di Palma returns as cinematographer. This was his 7th film with Allen, having last worked with Allen on Husbands And Wives (1992). He would return for Bullets Over Broadway (1993).
Santo Loquasto returns as production designer. This is the 11th time he's worked with Allen.
Jeffrey Kurland returns as costume designer. This is his 11th time in a row with Allen.
Susan E Morse returns as editor. This is her 15th film with Allen as lead editor.
Juliet Taylor is casting. This is her 17th film with Woody Allen.
Charles H Joffe and Jack Rollins, Woody Allen's managers, return as executive producers.
Robert Greenhut also returns as producer. Helen Robin co-produces.
Release
Manhattan Murder Mystery was released on 18th August 1993 in the US, distributed by Tri-Star Pictures. At the time, The Fugitive was enjoying it's second of six weeks at number 1 in the US box office.
The film played at the 50th Venice Film Festival, which ran from 31st August til 11th September. It was his second ever film to play there, following Zelig (1983). Allen, and none of he cast, attended.
No soundtrack for the film was released.
Reception
Manhattan Murder Mystery has earned $11,330,911 in the US.
Fans of this film include Chloe Sevigny.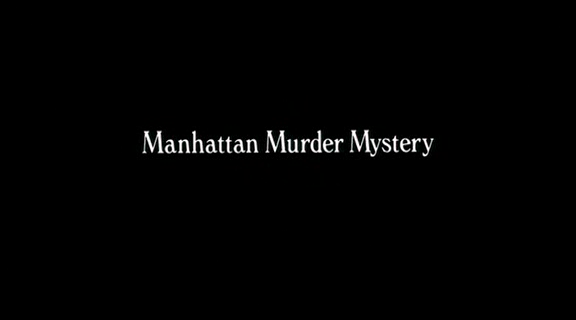 "I can't listen to that much Wagner, ya know? I start to get the urge to conquer Poland."

"I'm a detective. They lowered the height requirement."

"I think it's a reasonable assumption that if you're dead you don't suddenly turn up in the New York City Transit System."

"Ted sees himself as Rick in Casablanca; I see him more as Peter Lorre."

"My life is passing before my eyes. The worst part about it is that I'm driving a used car."

"Claustrophobia and a dead body - this is a neurotic's jackpot!"

"New York is the city that never sleeps! That's why we don't live in Duluth. That, plus I don't even know where Duluth is."