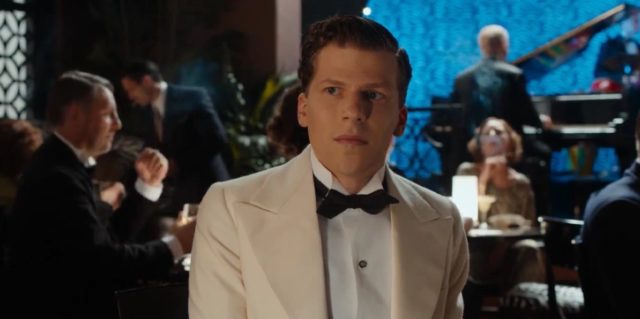 Café Society is the latest film written and directed by Woody Allen. It's currently rolling out across Europe and South America, where it had a strong week in Spain and the U.K. We have a box office update and our usual wrap up of what has gone on in the film's world.
Café Society has now earned $25,888,595 worldwide.
US leads the charge with $10,754,671. France follows ($7.1m), a new entry with Spain ($2.2m) and Russia ($1.8m). We should see a couple more countries cross the 1 million mark next week.
In the UK, it was Allen's 4th best performing film and opened at 9th in the box office. Spain it sits at 6 and Argentina at 2.
In the US, it should eventually cross $11m. It has passed both 2015's Irrational Man and 2014's Magic In the Moonlight. It is currently sitting as Allen's 18th highest grossing film although passing Manhattan Murder Mystery's $11.3m seems unlikely.
But with the DVD/Blu-Ray release already announced, we are definitely winding down. $35 million is still a good target globally.
This week will see the film released in South Korea. The US Embassy is Seoul actually held a special screening for the film.
Thank you for joining our VIP screening of Woody Allen's #CafeSociety last night! pic.twitter.com/oD8UUo90KI

— U.S. Embassy Seoul (@USEmbassySeoul) September 8, 2016
Here's some cool merch from South Korea
카페 소사이어티 집중탐구에서 받은것들 pic.twitter.com/xuQH7JGag6

— 아무말 닐★ (@Indiana_PinkHat) September 10, 2016
@Indiana_PinkHat 엽서도 이쁨 pic.twitter.com/BC9TLeqUvP

— 아무말 닐★ (@Indiana_PinkHat) September 10, 2016
Not sure if these posters are real, but they look great.
<카페 소사이어티, Cafe Society> 1차 포스터. 우디앨런 감독. 2016년 9월 개봉. design by. 빛나는 pic.twitter.com/DydLwosPaX

— Park Si Young (@dadayama) August 25, 2016
In other news: The Jewellery Editor has written up a great article about the film's use of fashion, in particular Chanel. They spoke to costume designer Suzy Benzinger.
I couldn't really design this film and not address Chanel. In the 20th century, Chanel was the epitome of style, luxury and glamour. If I was to portray Café Society properly I would have to use Chanel. It is a vital part of history.
Allen also used Chanel prominently in Blue Jasmine.
Richard Osman, who we love from Pointless and other things, loved the film.
Really enjoyed 'Cafe Society', wall-to-wall terrific performances and beautiful scenes.

— Richard Osman (@richardosman) September 8, 2016
Allen was recently in Venice promoting the film. The next big country for the film to open is Italy on 29th September.
#BiennaleCinema2016 It's been a great pleasure having #WoodyAllen on board.
The King of Comedy in #Venice. pic.twitter.com/FHe0zfQNaZ

— Blitz Exclusive (@BlitzExclusive) September 8, 2016
Another box office update next week!