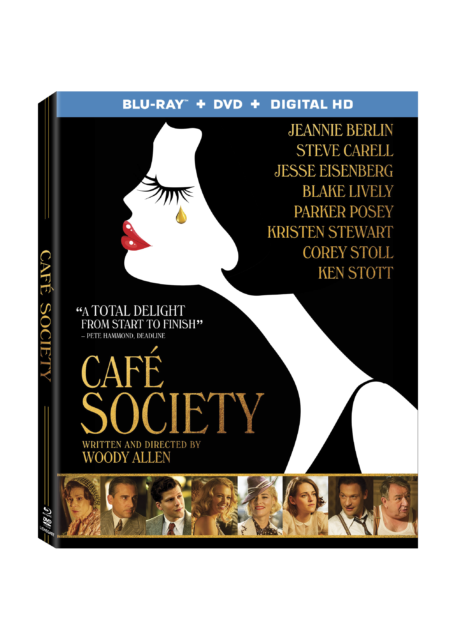 Café Society is the latest film written and directed by Woody Allen. It has been out in the US for two months and is winding down its theatrical run in that country. Distributor Lionsgate have now announced details for a DVD and Blu-Ray release.
There is not many specal features, but there looks to be a short feature on the red carpet premiere (likely the New York one). This seems to be common for recent Allen releases.
Here's the box art for both the DVD below, and the Blu-Ray above. Its a slight variation on the theatrical poster, with the faces of stars such as Kristen Stewart, Jesse Eisenberg and more added.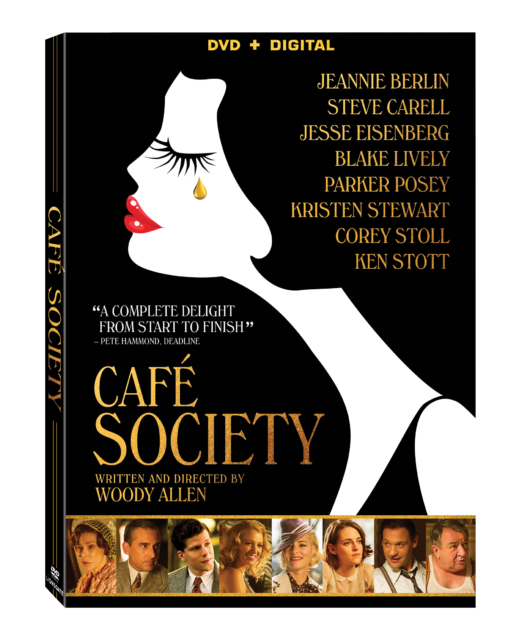 The press release:
Proving once again that high society life is captivating and amusing, four-time Academy Award® winner Woody Allen (Best Original Screenplay, Midnight in Paris ̧ 2012; Best Original Screenplay, Hannah and Her Sisters, 1986; Best Director and Best Original Screenplay, Annie Hall; 1977) wrote and directed Café Society, arriving on Blu-ray Combo Pack (plus DVD and Digital HD), DVD (plus Digital), Digital HD and On Demand October 18 from Lionsgate. The all-star cast of this 1930s romantic comedy includes Jeannie Berlin (Inherent Vice), Academy Award® nominees Steve Carell (Best Actor, Foxcatcher, 2014) and Jesse Eisenberg (Best Actor, The Social Network, 2010), alongside actors Blake Lively ("Gossip Girl"), Parker Posey (Irrational Man), Kristen Stewart (Twilight franchise), Corey Stoll ("House of Cards") and Ken Stott (The Hobbit franchise.)

Set in the 1930s, Woody Allen's romance Café Society follows Bronx-born Bobby Dorfman (Jesse Eisenberg) to Hollywood, where he falls in love, and back to New York with his colorful Bronx family, where he is swept up in the vibrant world of high society nightclub life.

The Café Society home entertainment release special features include a look at the red carpet at the Café Society premiere and a photo gallery. Café Society will be available on Blu-ray Combo Pack and DVD for the suggested retail price of $39.99 and $29.95, respectively.
It's interesting that it will be released on DVD or Blu-Ray at all. With Amazon picking up the distribution rights for the film, they will be looking to have some exclusive to the digital streaming rights. Their competitors like Netflix don't have physical releases.
It seems films fall under a different standard for Amazon than their series. We still don't know if Allen's Amazon series Crisis In Six Scenes will be released on home formats.
Amazon US will release the digital version on the same day – 18th October.
In related news, here's the box art for the French DVD. It will be released on 13th September. You can get it on Amazon France.