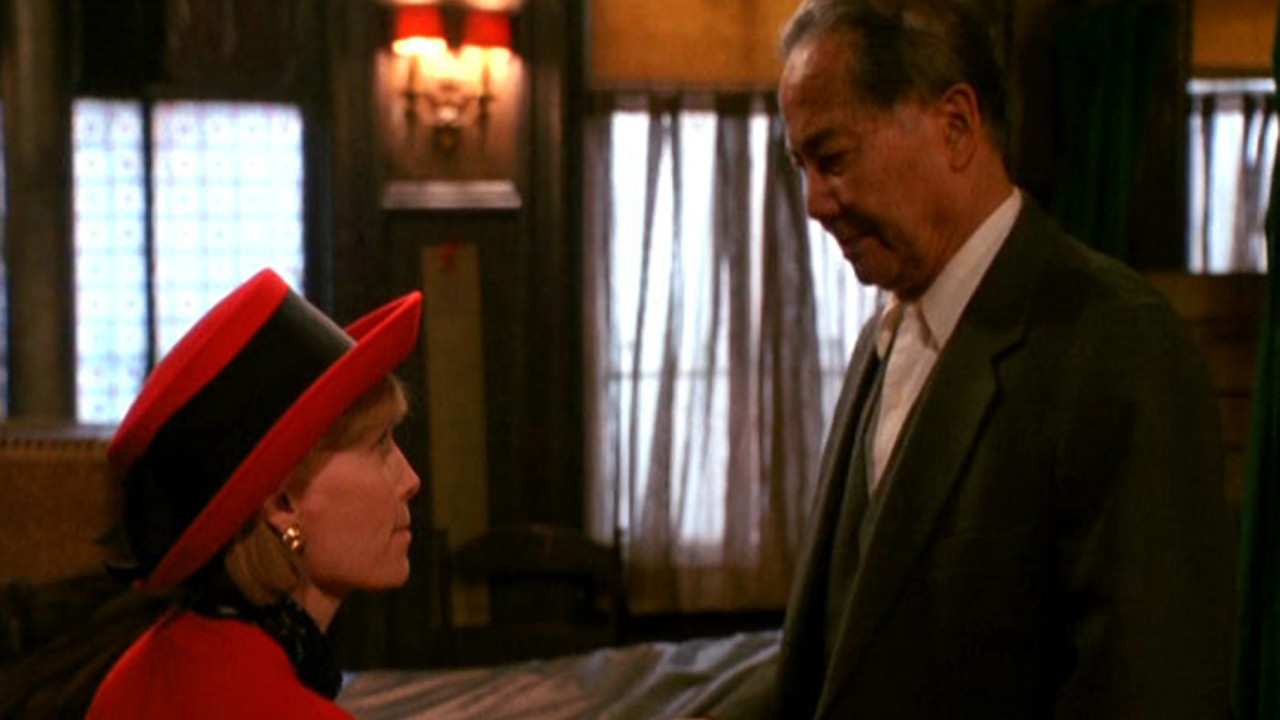 The 19th film written and directed by Woody Allen
This is a lovely film, and highly under-rated. It has all the hallmarks of a great Woody Allen film – heart, fun, movie-magic – and a great cast anchored by Mia Farrow's best performance. It really deserves to be more acclaimed.
Farrow stars as the titular Alice Tate. An upper class New York kept woman, she finds her animal instincts calling when she meets and find herself attracted to Joe Ruffalo (Joe Mantenga). When she explores her feelings, with the help of the mysterious Dr Yang (Keye Luke), she finds more to herself, and her past.
Conception
The original idea and inspiration for the film can be gleaned from the original title - The Magical Herbs Of Doctor Yang. Allen, ever the hypochondriac, had encountered the culture of Chinese herbalists. In particular, Allen had a sty in his eye. Having tried traditional medical treatments, a friend suggested an Eastern herbalist, who used a cat's whisker to try on his tear duct. The process, of course, did nothing.
"That whole world interested me. And I remember at that time friends were going to a quack doctor in Chinatown, sucking up these herbs and paying a fortune for them. They could have been dangerous, but they certainly weren't helpful."
Allen also saw the fascination with Chinese herbs in people he knew, and in particular a type of Upper East Side woman. Allen saw them (and their nannies) picking up kids from school and grew fascinated with that lifestyle. And that provided a fascinating character for Allen.
"I would see these mothers in sneakers and running suits with a Blackglama sable or mink coat over it and I always got a kick out of that. Now, there are people that resent that kind of thing. I'm not one of them. I am amused by it, affectionately."
Again reacting to what he last worked on, Allen wanted to make something likeable. In fact, Allen himself has stated that in some ways this film is a romantic, humorous flip side to Another Woman (1988). Both lead characters go on similar journeys.
Mia Farrow returns to the lead role, and she inspired the part. This would be Farrow's most significant performance in an Allen film, a real chance for her to shine. Also, Farrow was raised a Catholic and considered being a nun. Allen used that as a part of Alice's character.
"She was raised Catholic, and it was always interesting to me to hear about it. I've always been interested in the aesthetics of Catholicism. It's such a lovely religion to an outsider from an aethestic point of view."
Once again, Allen draws inspiration from Italian director Frederico Fellini. Many critics noted the similarities to Juliet Of The Spirits (1965).
The character's name, and the film's title, spoke to Allen. Says Allen:
"[It's a] quintessential kind of rich WASPy name. It's not a Jewish name, an Italian name, an ethnic name. I wanted Alice a clean, blonde, rich person."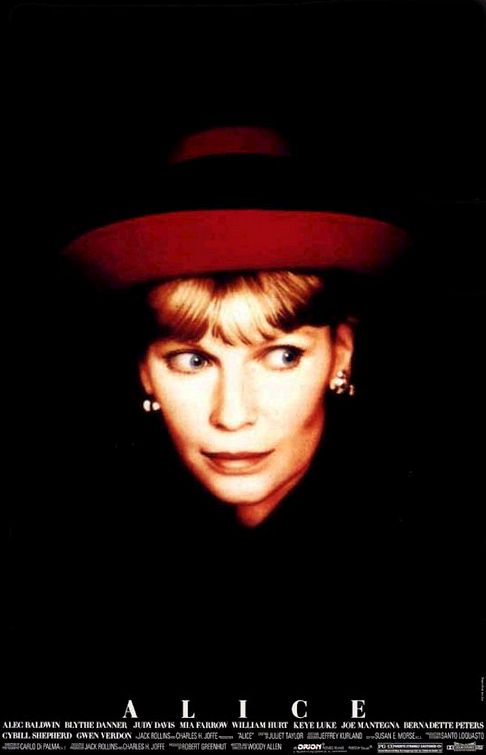 Production
Allen continued working in modern New York City, his home, for production. Production began on 6th November 1989 and wrapped in April 1990 (including reshoots). Joe Mantegna had to balance shooting The Godfather Part III (1990) in Italy, and return for reshoots.
Unlike his previous modern New York films, Allen returned to making New York look pretty. Allen used touristy locations again to create a fictional New York. He also retreamed with cinematographer Carlo Di Palma. Says Allen:
"Alice is the only one that I ever did where we stylized it so much that if you look at Alice and turn the sound off and just look at the color and the pictures, it's quite pretty."
Also adding to the film's appealing look was the Alice's apartment, that was made in studio, created by production designer Santo Loquasto. Allen also returned to the Kaufman Astoria Studios in Queens for many locations.
The shoot was very tough on Mia Farrow, and Allen. Farrow had just given birth to Satchel, and was juggling to be the lead in the film and care for a baby. The struggle proved a toll on their personal relationship.
Alice would also feature special effects scenes for various magical sequences, like the flying. Allen had not had much history with effects work (outside of the practical effects of Zelig, 1983 and some double work in The Purple Rose Of Cairo, 1985).
Allen also returned to one of his most loved motifs - the red dress. He used it in films like Interiors (1978) and would use it again in films like To Rome With Love (2012). But here, Allen uses it most explicitly. With that hat and coast, Alice is one of Allen's most memorable looking characters. If only this film was more successful, Alice Tate would be a great Halloween costume for film fans everywhere.
Release date
25th December 1990
Studio
Orion Pictures
Duration: 102m
US Rating: PG
Rotten Tomatoes 77%
IMDB: 6.6
Roger Ebert: 3/4
US Box office: $7,331,647

US Adjusted Box Office: $14,993,300
Screenshots
Cast
Alec Baldwin plays Ed. Baldwin was already a huge star at this time, starring in films such as Beetlejuice (1988) and The Hunt For Red October (1990). He would go on to have a career as a reliable leading man, comic foil or dramatic support - a true actor. He would work with Allen again twice more, next in To Rome With Love (2012), in à not totally dissimilar role.
"I just had a few days, my scenes were all just a couple of days, sprinkled over a couple of weeks. And Carlo Di Palma was the D.P. It was great to work with Carlo, who I admire so much. In terms of working with Woody, it was like all the other people I've worked with who are this great iconic people."
Blythe Danner plays Dorothy. It is her second time working with Allen, having previously appeared in Another Woman (1988). She would work with Allen again on Husbands And Wives (1992). Says Danner on Allen:
"He's remarkable. He knows exactly what he wants and doesn't have to worry about the money men. He has complete freedom with his films."
Judy Davis plays Vicki. This was the first of five films she would make with Allen, becoming one of his most reliable leading ladies. At this point she was best known for breathtaking performances in films from her native Australia like My Brilliant Career (1979). She would work with Allen next on Husbands And Wives (1992).
Mia Farrow stars as Alice Tate. This was Farrow's tenth film with Allen, and tenth in a row. She also returns in a leading role, her first since The Purple Rose of Cairo (1985). Says Allen:
"She's an extraordinary actress. And she's solid like a rock. She shows up and can always do it. If you ask her to play nasty, she does it. If you ask her to play something sexy, she does it."
William Hurt plays Doug Tate. His career spans decades, and at this point was coming off a series of films that made his early reputation - The Big Chill (1983), Kiss Of the Spider Woman (1985), Children Of A Lesser God (1986) and Broadcast News (1987). His career would include Marvel blockbusters and acclaimed indie work. Says Allen:
"I wanted a perfect kind if blond WASPy banker husband. I never thought William Hurt would do it. I thought he might read the script and say 'It's too unlikeable a character and too small a part. There's nothing to do with it.' But no, he did it, and he was great. He was fun to work with, and he did a great job."
Keye Luke plays Doctor Yang. Luke had a decades long career in Chinese cinema, and some significant roles outside including all the Charlie Chan films. This was Luke's final film role. He died three weeks after the film was released.
Joe Mantegna plays Joe Ruffalo. Mantegna started his career in the stage in productions of Hair, Glengarry Glen Ross and more. He appeared in several of David Mamet's films like House Of Games (1987) and films such as The Godfather Part III (1990). He is probably best known to certain audiences as the voice of Fat Tony in The Simpsons. He turned down a role in Crimes And Misdemeanors (1989) and would work with Allen again on Celebrity (1998). Says Allen:
"Joe's a totally natural talent. He makes any line of dialogue should like a real person talking."
Mantegna on Allen:
"He's so quiet and shy and retiring. But I went into it thinking 'It's Woody Allen. I love what he does.'"
Bernadette Peters plays the muse. Peters was best known for her stage work, originating roles in the Stephen Sondheim musicals Sunday In The Park With George and Into The Woods. She appeared in films such as Pennies From Heaven (1981) and was a much loved recurring guest on The Muppet Show.
Cybill Shepherd plays Nancy Brill. She started her career with acclaimed performances in The Last Picture Show (1971) and The Heartbreak Kid (1972). At the time, she was best known for starring in the hugely popular TV series Moonlighting.
Gwen Verdon plays Alice's mother. Verdon is better known for her stage work, although she appeared as a dancer in many film musicals in the 1950s. She also appeared in films such as Cocoon (1985) and Marvin's Room (1996).
Sean Young had a role that was cut. Her role was also cut from Crimes And Misdemeanors (1989).
It's also worth noting that Allen didn't appear in the film, which was not a box office success. Following the relative box office failure of September (1987), Another Woman (1988), it led studios to believe that Allen needed to appear in films to be a success.
Locations
Central Park Zoo
Kaufman Astoria Studios
Krizia, 805 Madison Avenue
16 Doyer St
Valentino's, 825 Madison Avenue
Times Square
Barbetta, 321 West 46th Street
Ralph Lauren, 867 Madison Avenue
7 96th Street
Bowery Mission, 229 Bowery
Crew
Carlo Di Palma returns as cinematographer. This was his fourth film with Allen, having last worked with him on September (1987). He would return for Shadows And Fog (1991), and work with Allen 12 times overall.
Santo Loquasto returns as production designer. This is the 8th time he's worked with Allen.
Jeffrey Kurland returns as costume designer. This is his 8th time in a row with Allen.
Susan E Morse returns as editor. This is her 12th film with Allen as lead editor.
Juliet Taylor is casting. This is her 14th film with Woody Allen.
Charles H Joffe and Jack Rollins, Woody Allen's managers, return as executive producers.
Robert Greenhut also returns as producer. Assistant/co-ordinator Helen Robin is promoted to co-producer.
Release
Alice was released in the US on 25th December 1990 through Orion Pictures. It was actually set to be released in October 1990, but Orion decided to push it back to Christmas, to given it a better chance in awards season. At the time, Home Alone was 6 weeks into a 12 week run as the number one film in the US Box Office.
No soundtrack was issued for the film.
Awards And Nominations
| Film | Academy Awards | Golden Globes | WGA | César |
| --- | --- | --- | --- | --- |
| | | | | |
63rd Academy Awards
1 nomination
Best Original Screenplay, Woody Allen
48th Golden Globe Awards
1 nomination
Best Actress In A Motion Picture - Comedy/Musical, Mia Farrow
César Awards
1 nomination
Best Foreign Film
Writers Guild Of America Awards
1 nomination
Best Original Screenplay
Reception
Alice has earned $7,331,647 in the US.
It was a particular success in France, where the film earned $11 million, more than the US (which is five times its size). It was the fifth highest earning film in France for 1990.
"Geez, nothing shocks these New York cab drivers!"

"There's nothing sexier than a lapsed Catholic."

"I've done things I didn't know I had in me."

"When it came to me and your dad, you had stars in your eyes."

"You have a nice personality and you know sweaters."

"You know I couldn't resist the taste of salt around the rim of a glass."