Music Of Woody Allen Films – a new irregular feature about the musical compositions that have helped to make Allen's films sing.
Sweet And Lowdown is one of Allen's most music filled films. The story of Emmet Ray, a jazz guitarist with a great talent but a greater ego, the score is filled with guitar driven jazz. One of the most memorable scenes features a tune most tied to Django Reinhardt, whose presence haunts the film.
Sean Penn starred as Emmet Ray, and he took guitar lessons to get the look of guitar playing right. Those lessons were with Howard Alden, who would perform all of Ray's parts on the soundtrack. Penn's guitar playing might have been panned by eagle-eyed viewers, but Alden's performance was superb.
In a critical scene from the film, Ray turns up late to a club, and expectations are low. He slowly lulls the crowd with a bit of a French tune – Parlez-moi d'amour – before cribbing the intro to Django Reinhardt's Mystery Train before breaking into Limehouse Blues. The scene wins over the crowd – and us.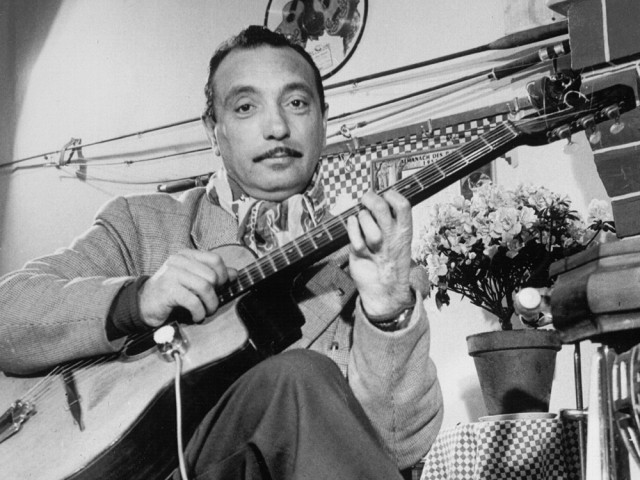 Ray's hero is Django Reinhardt, who famously recorded a breathtaking version of Limehouse Blues. Reinhardt is considered one of the greatest guitar players who ever lived. He grew up poor in France and picked up a banjo at 12, and was already making a living in music by 15. He had no lessons and no education.
His talent simply could not be stopped. Even after an accident left his hand injured and he could only use two fingers on his left hand – he still became a better guitar player than anyone else. His epic career took him all over the world. He created a new style of jazz guitar and tried to go even further when World War II hit. He made over 900 recordings. He was retired when he died at the age of 43.
Someone make the biopic, please.
One of those 900 recordings was Limehouse Blues. He actually recorded it multiple times. The tune was named after an area of London, and was composed in 1922 by Philip Braham with lyrics by Douglas Furber, both composers for theatre. Lyrics were written (with slightly racist overtones now, as Chinatown used to be in Limehouse), but it lives as a jazz instrumental these days.
And what an instrumental. It's distinctive, exotic mode made it a challenge to great players. The upbeat energy made it fun for everyone involved. It's been recorded on dozens of instruments, in dozens of styles. Here's Sidney Bechet's masterful take.
Woody Allen loves Django and uses his music often – in Stardust Memories most prominently before this. He also used Limehouse Blues before, performed by Jackie Gleason & His Orchestra, in Alice. Credit must also go to Howard Alden, the guitarist that performs as Emmett Ray in Sweet And Lowdown. He's an unbelievable musician, and worth checking out.
There are many great songs on this soundtrack – one of Allen's very best. Jazz might have been a big part of his films, but this was a pure love letter to music.