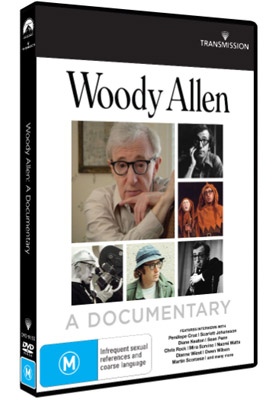 Woody Allen: A Documentary was first released at the end of last year in the US. It has now slowly made it's way around the world. Here's a round up of the current ways you can go see this wonderful documentary.
Note there are two versions – a 2hr theatrical version, and a 2-part, 3 and 1/2 hour version.
United Kingdom
The theatrical version is still in cinemas, most prominently at the Prince Charles and ODEON on Panton Street, both near Soho in London. There are screenings in other cities too – check your listings.
The UK DVD and Blu-Ray won't be released until the 24th September 2012. You can pre-order both versions at Amazon UK.
US, Canada
The full version of …A Documentary is now available on Netflix Watch Instantly in the US. If you are a subscriber you can watch this right now.
Amazon are offering the full version on their Instant Video service.
Of course, they also stock the DVD in the US and Canada (however, no Blu-Ray).
iTunes in the US also have the 2 part version available to buy.
Germany, Denmark, Sweden, Netherlands, Belgium
…A Documentary opens in cinemas in Germany and Denmark today. It was released last week in Sweden (29th June) followed by the Netherlands (26th July) and Belgium (1st Aug).
No DVD release date has been set in wider Europe
Australia, New Zealand
…A Documentary is available in Australia on ABC iView, completely free, for another 11 days. Once again, this is the full version, over 2 parts.
The DVD and Blu-Ray (with a new cover) is also available in Australia and New Zealand.
It is also available on iTunes in those markets.
Spain, Italy
Currently set for a cinema release in September. Exact dates pending.
Japan
Currently set for a cinema release on 10th November
Also in the works are Brazil and South Korea. We will keep you updated as we get more information.