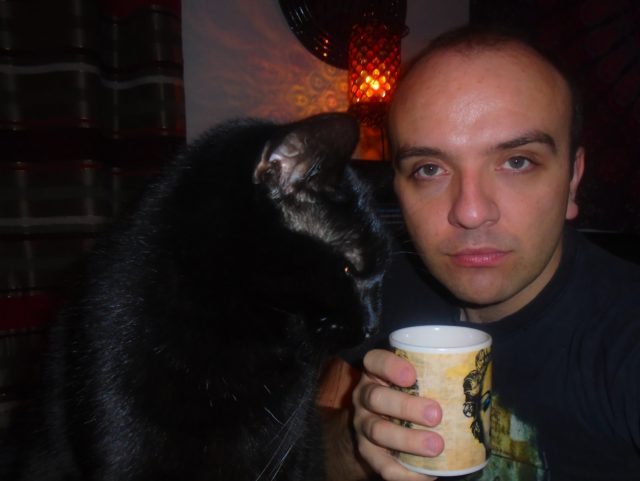 After a rush of books last year around Allen's 80th birthday, there seems to be a slow down this year. Breaking the glut is a new ebook by Chris Wade, who has written books on subjects as diverse as The Kinks to Sharon Stone.
Chris's new book is called WOODY ALLEN ON SCREEN, and it tackles every Allen appearance on screen, with essays on Allen's directed work, and the films where he appears as an actor.He also has new interviews with people who have worked with Allen.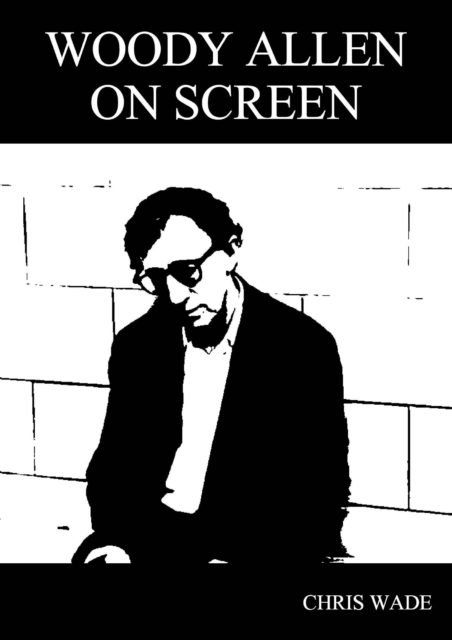 We asked Chris some questions about his new book, which you can get now on Amazon.
WAP: What was the first Woody Allen film you ever saw? And what did you think of it?
CW: Well the first Woody film I saw was Antz when I was about thirteen at the cinema. Then my dad got into collecting all his movies on VHS. The first one I saw properly was Play It Again Sam, which I loved. Then I distinctly recall watching Small Time Crooks on one of those ex rental tapes. I've been a big fan since then. It' became a thing between me and my dad, like a private film club, watching them one by one, which my partner Linzi is now in on. Love and Death became me and my dad's real favourite. "The wheat..the wheat…"
WAP: How did you go about discovering the entire catalogue?
CW: Once I was hooked, we started seeing them all as they came out quite naturally, and also going back to the classics. When I was a teenager I loved Everything You Always Wanted to Know About Sex, Bananas and all the madcap ones, but as I've got older, I appreciate his later works. When I started doing the book, there were only a few bits and pieces I'd not already seen a few times, like his cameo roles and a couple of oddities. So I already had a lot on DVD when I started the book too, so it was a pleasure re-watching them.
WAP: Your book features new essays on every film. How did it felt to tackle to the big classics like Annie Hall or Manhattan?
CW: Well they are such intimidating classics that you kind of feel weird approaching them. But I realised how Annie Hall basically formed the new approach to romantic comedies from then on, it changed the genre. They became kind of more natural, with street dialogue and lacking in schmaltzy sentimentality, no scenes of lovers running towards each other and kissing. Hundreds if not thousands of films have copied it. But I also think I'd have preferred Annie Hall if it had been made in the way Woody originally wanted to make it, with the more stream of consciousness approach. And I was reminded that Manhattan is one of the most beautiful looking films ever made, and any filmmaker could take a lesson from the direction in that film. I also learned from a couple of cast members in Manhattan how straight forward and direct Allen is as a director. When you really study them you get a different view point of these movies.
WAP: One of the best things about your book is you don't shy away from the lesser known films. What is a film or era in Allen's career you feel is underrated?
CW: For me, it's often the ones he just acts in for other directors that are really undervalued. I love a little oddity called Picking Up the Pieces, where his wife's hand becomes a divine object in a remote Mexican village. People don't seem to like it but I think it's great. Also John Turturro's Fading Gigolo where Allen pimps him out, that's a fantastic little film. As for Woody's own directorial movies, I think the early 2000s are kind of underrated too, films like Anything Else and The Curse of the Jade Scorpion are nice in an understated way. There are things to enjoy in all his movies, but I suppose with such a huge filmography some are bound to drift into more obscure, undervalued areas.
WAP: Your book features new interviews with people who have worked with Allen, including Jerry Lacy, Heather MacRae and more. How did Allen come across when you talked to people?
CW: They all loved working with him. They had nothing but good things to say. I even spoke to Karen Allen, who went on to star in the Indiana Jones films, and she worked for a day on Manhattan; she said it was just very professional and he knew what he was doing. Jerry Lacy worked with Woody on an actor-actor basis, so he had a different slant on it, and said he was very professional, funny and didn't seem to feel uncomfortable being directed by someone else. So with the few people who decided to open up about Allen with me, it was all positive. I suppose you either understand his approach or not. But I do like how he has no room for ego or superstar behaviour in his films. Everyone is equal. Maybe that's why bigger stars have a problem sometimes, they need to be pandered to and Woody doesn't do that.
WAP: Your book takes us right up to present day. Crisis In Six Scenes and Café Society. It's always hard to assess work that has just been released, but how do you think Allen's 2010s will be remembered in the light of his vast catalogue?
CW: I'm not sure really, because the critics seem to praise one film and then slam the next two. I literally think it's down to if they're in the mood for him this year or not. In retrospect though I think they'll be remembered fondly. If he made a film every five years they'd be these huge events where everyone would be going nuts over them, but because he's Woody and he does one a year, making them non events, they take him for granted a little. For me, I loved Crisis in Six Scenes but it got terrible reviews and Woody hated writing it. It's weird, because it made me laugh more than any of his new movies for quite a while. I just suppose the slow rhythm of it didn't quite fit with modern TV. I hope people value it in time.
WAP: If you had to choose, desert island time – between Annie Hall and Manhattan, which would you choose?
CW: Out of the two, Manhattan, but they're not my personal favourites of his movies. If I could take five with me, it'd be Shadows and Fog, Stardust Memories, Love and Death, Crimes and Misdemeanors and Manhattan Murder Mystery. Next week though I might choose five completely different ones.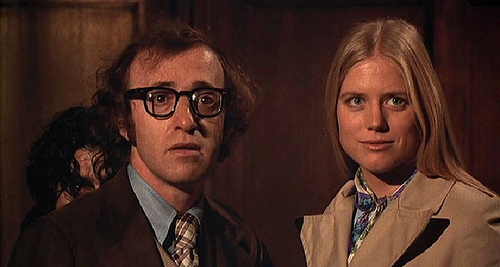 Chris also gave us permission to run an interview from his book. Our favourite is the one with Heather MacRae, who starrred in a segment of Everything You Always Wanted To Know About Sex. She gave some great insight into the production, some stories we have not heard before.
What was Woody like to work with?
Woody was wonderful to me. We became friends, and I would drive my rented car to pick him up at the Beverly Hills Hotel (he didn't drive). We would have dinner at Lucy's El Adobe or the Formosa. We had fantastic conversations. And when we were filming, he would ad lib all the time. There are some shots where you can see me and Igor shaking with laughter. It was so silly and great fun. John Carradine would do different things each take. One time, he licked my face with his big tongue. One of my favorite memories is the scene when Dr. Bernardo tells Woody that he is going to measure my respiration 45 while I get gang banged by a group of Boy Scouts! So crazy. And Woody had all these little Boy Scouts in this room, and this shot of them reacting in very strange ways. I always wondered what direction he gave them to get them to look so lascivious!
There were some pretty off the wall stuff in that movie weren't there?
There was a real hippo in this one shot, but in the corner of the room where they kept the hippo, was an elephant. He was off camera, but apparently they were very attached to one another, and you couldn't hire one without the other. And, if you recall when the experiments go haywire, a giant breast escapes and terrorized the countryside. Well, there was a break in the filming, and we had to go back for some pickup shots of the big breast. But it had deflated quite a bit, so they had to blow it up again to look like it did before. Woody was so great with all the actors; easy to get along with; funny, brilliantly smart, and a joy to work with. It was one of the best experiences of my career.
You can get's Woody Allen On Screen right now from Amazon. Find out more about Chris here.